It goes without saying that in a business, you have a myriad of documents that you need to create and keep track of – like proposals, agreements, letters, and contracts.
Documents are the building blocks of any business, and that is why you need to have the right documents in place if you want to run a successful business.
If you don't already know what these "right documents" are, worry not – we are here to help. In this article, we're covering 9 pivotal documents types that your business should create to run successfully.
So without further ado, let's get into it…
Types Of Documents Your Business Needs To Know About 
1. Plans 
Business plans cover all the aspects of your business and every nook and cranny of that aspect. All these plans include directions to achieve an ultimate goal and evidently, they can make or break a business!
For example, a marketing plan covers everything you need to achieve via a marketing campaign and how you plan to do so. Whereas, a mitigation plan covers succinct details about how to reduce the impact of a certain risk.
In the same manner, there are many other plans that your business may need too. Some of them are Risk Management Plan, Tactical Plan, Contingency Plan, Business Development Plan, etc.
2. Proposals 
Proposals are similar to pitches, in the way that you're trying to sell an idea to your client or your manager. You have to articulate your understanding of a certain problem, propose a solution, define the route you are going to take with the proposal.
And in a business, creating proposals is inevitable, and that is why this is another document you should definitely focus your energy on.  Some of the many types of proposals are Sales Proposals, Project Proposals, Marketing Proposals, and more.
3. Reports 
Running a business is no cake-walk and you'll constantly find yourself in deep waters. At such times, business reports come in handy.
Using business reports, you can analyze situations (either a real situation or case studies) and apply business theories to find a range of solutions and suggestions.

This way reports help you to not only improve your existing performance but also get yourself out of tough roadblocks. Some types of business reports are:
4. Contracts and Agreements 
Establishing a business from the ground up requires the fulfillment of a lot of legalities, from signing leases, creating employment contracts, and more.
These contracts and agreements are legally binding and enforceable in a court of law. Without the right legal documents, you could derail your business from success.
Also, these documents help avoid misunderstandings and disputes that can drain your business of its resources and lead to expensive lawsuits.
Some types of agreements and contracts are:
5. Policies 
A policy is a rule that is set by the managers of a company to make sure that everyone has an understanding of the companies' work environment. These policies can be related to the maximum amount of leaves an employee can take or anything else.
These policies tend to protect the functioning of firms and need to be effectively documented. Some policies are Customer Service Policy, Refund Policy, Work From Home Policy, and more.
6. Letters 
Business letters are sent as a form of written communication either between two companies, or people within a company, or a company to a client. These letters can be to supply orders, or send a new employee their offer letter, or to reply to some question posed by a client.
Although letters may seem old-fashioned, they are great as a piece of evidence and record-keeping. Some known types of letters sent by businesses are:
7. HR Documents 
A sound HR professional will tell you about the importance of good documentation!
HR Documents are vital to record all the transactions, activities, and events related to the organization. HR documents help in the overall administration of any business.
Some of the many pivotal HR documents are Instruction Manual, Training Manual, Employee Handbook, and Operations Manual.
8. Research Papers
Research Papers consist of deep research regarding a certain topic. It also includes a complete analysis of the research along with the author's interpretation of the finding and further use cases.
These studies help businesses to explore new avenues and that is why it is just as important to include this into your list of documents! Some types of Research papers are Marketing Research & UX Research.
9. Financial Documents 
Financial documents help keep the business on track in terms of its spending, losses, profits, assets, liabilities, and more. Only with the help of the right financial documents can you analyze how your firm is doing, and devise changes that will help you succeed.
These documents will also come in handy legally when filing for taxes and government audits etc. Thus having all the right financial documents in place is a must!
Some types of financial documents used by businesses are Cash Flow Statements, Income Statements, Balance Sheets, and more.
Over to you!
Like we said earlier, documentation is a crucial aspect of your business. Having a centralized system in place to create and store your documents is of the highest importance.
And that is why we want you to check out Bit.ai. Bit is a new-age software documentation and knowledge management tool that helps you collaborate, share, track, and manage all company documentation in one place.  Here are some awesome features Bit provides:
1. Stunning, Fully Responsive Templates: No matter which business document you want to create, there's a gorgeous template for that on Bit. With over 90 pre-built, fully responsive, and gorgeous templates, Bit has made the complicated and long process of creating business documents a walk in the park.
2. Design Automation: Creating business documents is not an easy feat. It takes so much of your time that you end up having no energy to format the document and make it look appealing. Well, Bit solves that problem for you by automating the design aspect for you. With just one click, you can change the look of your entire document. You can change the layout of the theme and update the color of your document too.
3. Interactive Documents: Why give someone a boring, static document they'll never open when you could turn it into something much more engaging? Yes, Bit lets you add PDFs, cloud files, maps, surveys/polls, charts, videos – basically all kinds of rich media in your document. Right now, there are over 100 rich media embed integrations on Bit!
4. Real-Time Collaboration: Documents are important, and you certainly can't create one entirely on your own. That's why this feature of Bit is the BOMB. Using Bit, you can collaborate with your team on your documents in real-time, no matter where they are located. You can co-edit, make inline comments, access version history, chat via document chat, @mentions, and much more!
5. Smart Workspaces: Organizing and managing all your business documents can be a pain, but Bit is here to take it away. Bit lets you create as many workspaces as you want around different teams and departments, invite guests into the workspace, and manage everything much more efficiently.
And, now that you know the documents you need to create, along with a tool to assist you, we leave the rest up to you! If you have any queries do tweet us @bit_docs and we'd love to help you out!
Good luck.
Further reads: 
9 Project Documents You Must Create For Your Project!
10 Top Performing Business Metrics Your Business Must Know About!
Technical Documentation: What is it & How to Create it? (Steps Included)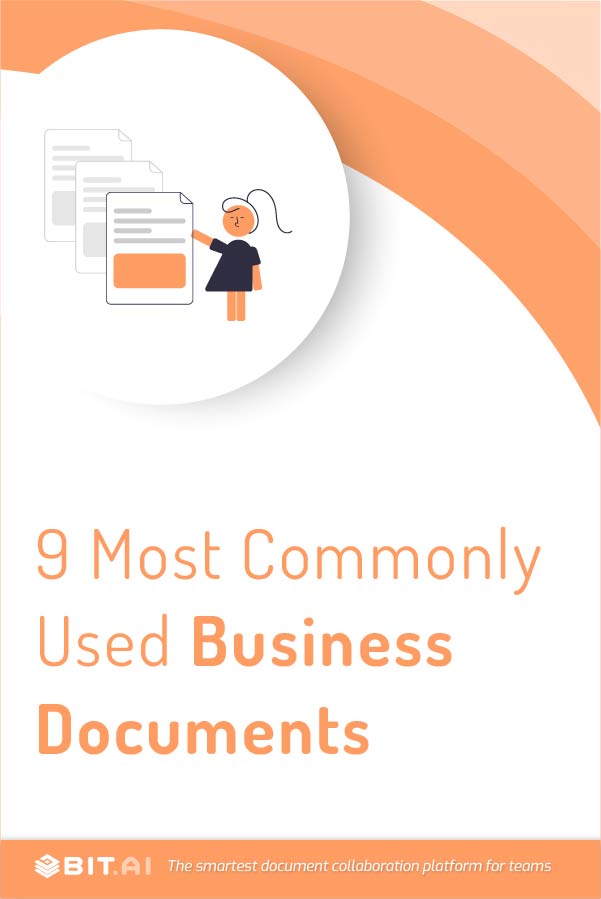 Related posts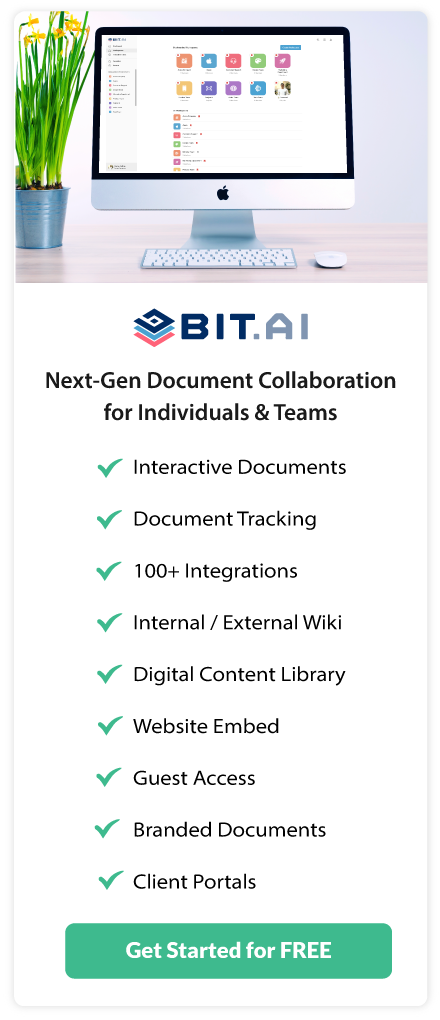 About Bit.ai
Bit.ai is the essential next-gen workplace and document collaboration platform. that helps teams share knowledge by connecting any type of digital content. With this intuitive, cloud-based solution, anyone can work visually and collaborate in real-time while creating internal notes, team projects, knowledge bases, client-facing content, and more.
The smartest online Google Docs and Word alternative, Bit.ai is used in over 100 countries by professionals everywhere, from IT teams creating internal documentation and knowledge bases, to sales and marketing teams sharing client materials and client portals.
👉👉Click Here to Check out Bit.ai.