"Communication and communications strategy is not just part of the game – it is the game."
You want to stand out and you want to be different.
But it's so easy to get confused and sound like every other brand in an oversaturated market.
If you've seen the hit sitcom Schitt's Creek, you must remember the time when David tried explaining his entrepreneurial venture to his to-be business partner…
His description went something like, "It's a general store, but it's also a very specific store. It's also not just a store, it's like a place where people can come and get coffee or drinks, but it's not a coffee shop, nor is it a bar…it's more like a branded immersive experience."
Yeah, that's a lot to take in!
And although David's business went on to be a success, if you are unsure like him when talking about your brand, you'll lose customers!
That's why you need to know how to communicate your brand in an alluring yet concise way to your customers. Don't worry because this is where a marketing communication strategy comes in.
Marketing communication strategy is key to focusing on your vision, delivering it in a passionate way to your audience, and enticing them to your brand.
No matter what your next marketing campaign is, a communications strategy is your go-to for establishing your presence in the market.
All you need is planning, research, and a few test runs before you can devise a sure-fire marketing communications strategy.
And we are here to get you prepped on your journey and rest assured that if you follow it, you will never go off track!
What is Marketing Communications Strategy? (Definition)
Not knowing how to describe your brand effectively is a huge drawback if you are looking to scale and acquire new customers.
A marketing communications strategy is a range of processes that will help you send the right message, to the right audience at the right time!

It is a great way to make a difference in your marketing without breaking your bank, and we're here to help you create one. So, buckle up!
Read more: Go-To-Market Strategy Guide for Businesses!
6 Steps To Plan Your Marketing Communications Strategy
Step 1. Who's Your Target Audience?
Who you want to reach out to with your marketing plans is a great foundation to build your marketing communications strategy on.
When your target audience is everyone – it is like shooting arrows in the dark. You'll be spending time, money, and all your plans on the probability that it might actually hit the target.
And nobody likes unwanted mails and ads – 70% of millennials are frustrated with brands sending them irrelevant marketing emails and prefer personalized emails over batch and blast communications. (Source)
When you find your target audience, you find the answers to a lot of questions like:
Why are people buying your products?
How are you addressing their needs?
When you know such details, you can curate a specific marketing communications strategy that is highly effective.
How do you get started? All you need to do is ask your audience.
Use surveys, interviews, google analytics to understand your clients better. Always consider the outside-in approach which evaluates the audience's needs first and then works on marketing strategies.
When you lack vital target audience research, you'll end up creating an ineffective marketing communications strategy. To learn in-depth about how to identify target audiences – check out our blog on Target Audience.
Read more: Marketing Brief: How to Write it? (A Step-By-Step Guide)
Step 2. Identify Your Unique Selling Proposition
Your Unique Selling Proposition or USP is the reason that your business is better than the others. And you'll need to identify this. A clear USP is a great way to position your brand as the best in the industry.
To find your USP, conduct a SWOT Analysis and ask yourself questions like: "What makes you different from the rest?"  & "Why should a customer prefer you over others."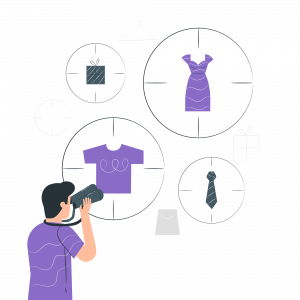 Once you define your USP, it'll be consistent and reflected in every marketing effort.  An example of a successful business USP is:
FedEx: When it absolutely, positively has to be there overnight.
FedEx's USP clearly expresses not only what they do but also their delivery speed, which differentiates them from other deliverers.
Step 3. Choose Marketing Channels
Marketing communication channels are mediums you will use to share the content that you want your audiences to engage with. Depending on your business, you can use any or all of the following channels:
Website/Blogs
Online Advertising
Social Media Marketing
Email Marketing
Offline Advertising like newspapers, television ads, etc
Search Engine Optimization
And statistics say that these are highly efficient channels for your content:
About 64% of marketers actively invest time in search engine optimization. (Source)
Blogs are among the primary three forms of media used in content strategies today. (Source)
If you've got a large corporation, you can easily afford and handle all these marketing channels. But for a small firm, with a limited budget, it would be wise to start off with a few.
You can start with blogs, social media, which are not only inexpensive but also yield great results!
Step 4. Curate Effective Messaging 
Now that you know where you need to post – decide what content and messaging will go on at what platform.  Once you know that, it's all about keeping them up and running with consistent content.
You need to be constantly looking for ways to innovate your content – let your creativity run wild if you wish to deliver promising content to your customers.
Make sure your content is educational and helps audiences identify the solutions that you are offering. Here are three tips for your messaging:
Be Concise: Always remember you're not the only one offering solutions. So be straight to the point with your content. Keep it short yet insightful. Make it bold enough to drive engagement!
Be Relevant: If you want your message to draw headlines or stir a conversation, make sure it's current and relevant. We live in a fast-moving world and your content needs to keep up with it.
Be Consistent: Make sure your USP and brand consistently shine through your content. If you don't want to be ignored, stay active on your channels – this way you'll also be up to date with what content is relevant or not.
 Read more: Market Targeting: What is it & How to do it Perfectly? (Steps Included)
5. Quantify your goals 
Since your marketing communications strategy is all about engaging with your audience and cutting through all the noise, you'll need to set goals and see if it's working or not…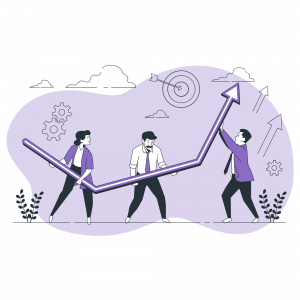 These metrics can be:
Your website visits need to increase by 15%
Revenue goals
A certain number of new leads
Engagements, likes, or views
Regardless of what platforms you use, make sure your communications strategy is helping you drive awareness and value. Not to forget that, goal-setting marketers are 376% more likely to report success. (Source)
Use these metrics to keep tabs on your journey, if you ever find yourself going off track, correct your course.
6. Put your plans into action
Now, all you need to do is set deadlines as to when a campaign or content will be released. Stay ahead of dates and make sure you're not leaving your audiences waiting.
Wait! Don't go yet! We are so glad that you made it to the end of this blog, but did you really think we were just going to give you some tips and walk out? Of course not!
We know creating a marketing communications strategy is not an easy task, that's why we have something special in store for you – something to make your planning process a piece of cake!
Want to find out what we are talking about? Then, scroll down!
Bit.ai: The Ultimate Document Collaboration Tool for Marketers
Nobody wants to sit down for a discussion just to make a plan. It seems like a waste of time, and truth be told, a boring process. That's why we would like to introduce you to an amazing tool called Bit, where anything and everything related to documentation becomes a fun and exciting process!

Take a look at some of the features of Bit that make it an awesome tool for creating your documents:
1. Auto-Formatting – The last thing you want to think about while creating a marketing communications strategy is the format of your document. With Bit's auto-formatting feature, your entire document will be uniformly formatted for you! It even provides you with its own collection of themes and you can change the color of the document with a click too!
2. Real-Time Collaboration: Working on a marketing communication strategy is not a one-person job, it is a team effort. In moments like those, Bit's real-time collaboration feature is truly a blessing. With Bit, you and your team can collaborate and work together on the same document, making changes and edits in real-time. It even lets you highlight sections, leave comments and mention people as well.
3. Smart Workspaces: You might work with multiple teams when you are creating a marketing communication strategy, which is why it is important that everything is organized. Bit lets you create infinite workspaces and folders around projects and teams to keep all your work organized. This lets you store all your information in a neat and orderly manner, making your work more efficient.
4. Fully Responsive Templates: Bit provides you with a great variety of templates for your marketing-related documents. They are all fully responsive on every kind of device and make your process super easy!
5. Interactive Documents: What if you could make your marketing communications strategy document interesting and fun? Bit lets you do just that! You can add any kind of rich media such as videos, presentations, charts, maps, surveys and so much more in your documents and make them come to life!
All-in-all, Bit has everything that your marketing documents need. So, what are you waiting for? Do yourself a favor and get Bit right now!
Our team at bit.ai has created a few awesome marketing templates to make your marketing process more efficient. Make sure to check them out before you go, your marketing team might need them!
Over to you…
A marketing communications strategy is all about creating powerful messaging and delivering it to the right audiences through the right channels.
Again, don't be overwhelmed – there are only 24 hours in a day and a marketing communications strategy requires time and effort.
Start from the basics and use our tips. As long as you research and plan, you will be on the right path. And if have any queries, do let us know by tweeting @bit_docs and we'd be more than happy to help you out.
Further reads: 
Communication Plan: What is it & How to Create it? (Steps included)
Marketing Campaign Plan: What is it & How to Create it?
Marketing Management: What is it, its Importance, and its Process!
SMART Marketing Objectives: What are they & How to Write them?
17 Marketing Terms You Must Be Aware Of!
Marketing Proposal: What is it & How to Create an Effective One?
12 Marketing KPIs Every Marketing Team Should Monitor!
Communicate Effectively: How to do it in Workplace! (Types & Techniques)
Collaboration Strategy: Definition, Benefits & Process!

Related posts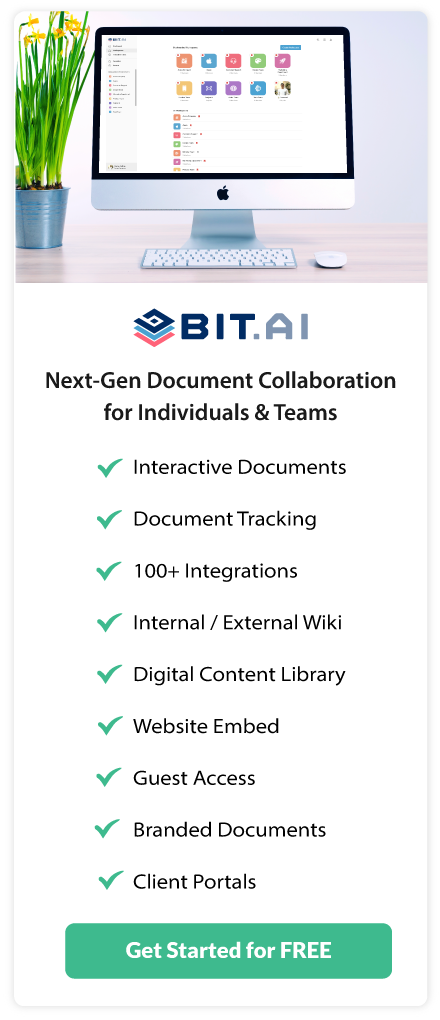 About Bit.ai
Bit.ai is the essential next-gen workplace and document collaboration platform. that helps teams share knowledge by connecting any type of digital content. With this intuitive, cloud-based solution, anyone can work visually and collaborate in real-time while creating internal notes, team projects, knowledge bases, client-facing content, and more.
The smartest online Google Docs and Word alternative, Bit.ai is used in over 100 countries by professionals everywhere, from IT teams creating internal documentation and knowledge bases, to sales and marketing teams sharing client materials and client portals.
👉👉Click Here to Check out Bit.ai.