A marketing proposal can make or break your business.
It holds great power to either land your next big client or let your competitors get ahead of you.
Chances are, you already tried creating a marketing proposal but didn't get the expected result. It is not your fault.
These proposals can be a tricky business.
Especially when your competitors are bidding on the same big sharks of the industry!
According to stats, 80% of marketers want to win 20% of the businesses.
Due to this fierce competition, it is crucial that your proposal stands out and gets a YES.
Well, we will make it happen by helping you create a fantastic proposal that no prospects can turn down. We will also take you to step by step into the whole process of creating a proposal.
Sounds good? Let's get into it by first understanding the concept of marketing proposals and how they benefit your business.
What is a Marketing Proposal? (Definition)
A marketing proposal is a document prepared by marketers, marketing agencies, PR firms, advertising companies, or any individual pitching his/her marketing services to a client.
A marketing proposal basically says "let us handle all your marketing and we assure you will receive more clients, build customer trust and increase your overall revenue."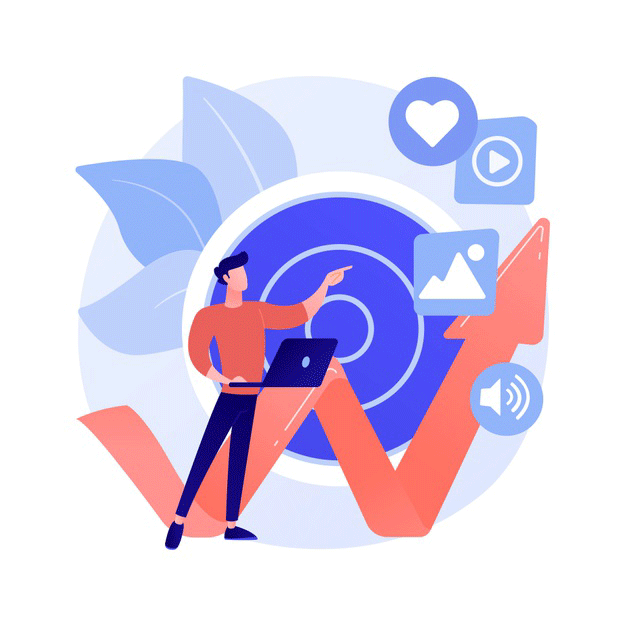 It should be a perfect blend of persuasion and professionalism because if you're unable to convince the company, how will you market their services to the retail customer?
An effective marketing proposal attracts the prospect to your services and makes them realize their Return on Investment (ROI) if they opt for your services.

But, what is an 'effective' marketing proposal like?
Let's find out by looking at the top mistakes marketers do that make their proposals fail and how you can avoid them!
5 Common Mistakes Marketers Make while Writing a Marketing Proposal
Here are common mistakes to avoid while drafting a marketing proposal:
Mistake 1: Making it about you
The top mistake people make while writing a marketing proposal is highlighting their achievements, past case studies, and bragging about the results obtained.
Sure, the client wants to know your company, but it should not be the highlight of your proposal.
Your company work adds credibility but tells nothing about how you will help the client who is reading your proposal.
Solution: Make your Proposal Client-oriented
Your marketing proposal should focus on the unique needs of the client.
You want to let them know that the marketing tactics you will take will be entirely customized according to their businesses.
Read more: Marketing Funnel: What is it & How to Create it? (Steps included)
Mistake 2: Chaotic Structure of the Proposal
In an effort to add a lot of details to your proposal, it becomes messy and unstructured.
Sudden jumps from one topic to another, scattered questions, vague information, and the absence of logical sequence are all elements of a chaotic document.
This will make all your hard work of compiling information go to waste.
Solution: Adhere to a Consistent Structure
Write your proposals in a very consistent manner.
Give headings, sub-headings, pointers, and include graphics wherever necessary.
The proposal should be free-flowing for the reader and topics should be interconnected with one another. It should be easy to read and understandable by anyone.
Mistake 3: Adding Irrelevant Details
Marketers sometimes add details that are not relevant to the specific client or his company.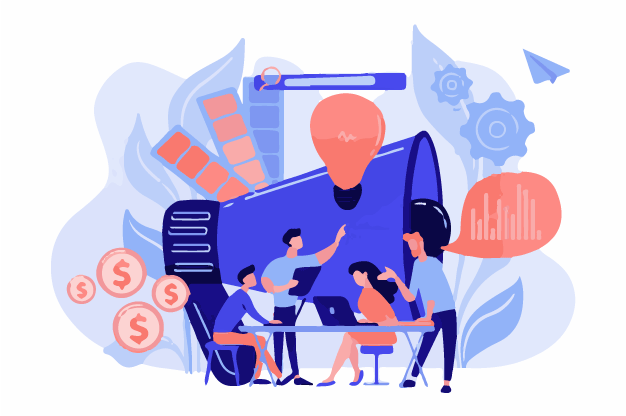 It might be talking about some pain point that the client does not have or stuffing industry words and trying to explain to him the technicalities of the work the marketer will do.
Solution: Keep It Concise
A client is a person, not a machine.
So write the proposal in a manner that conveys all your points without making it boring for the reader.
Be precise and to the point.
Remember, it's not a race of writing the maximum words or making the lengthiest proposal.
Mistake 4: Getting Too Technical
While preparing a marketing proposal, one can easily delve into technicalities and marketing jargon to show that they're an expert in the field.
However, your client is not a marketing professional. That's why he/she is coming to you.
Adding too much jargon can make the document difficult to read.
Solution: Write in a Friendly Tone
Eliminate all jargon from your marketing proposal.
You should make it sound friendly yet confident. It should have a storyline while changing topics.
Mistake 5: Using a Different Tool for Every Task
People usually use Word or Google Docs to frame the document, then Slack for communicating with the team, Zoom for video calls, Cloud to store media, Canva to design graphics, and finally Gmail to send it over to the client.
This consumes a lot of time and energy as every time a new client has to be pitched, a new template is created and the whole process is repeated.
Solution: Use a Single software
Use specific software that adheres to all your needs.
You should automate the operations to save time as much as possible and get all your team under a single virtual roof.
This gets the work done quickly and more efficiently.
Now that you know what to do and what not to do, it's time to look at the actual steps of writing your marketing proposal. Read on as we uncover all the elements that you need to include and the structure to follow.
How to Create a Marketing Proposal in 5 Easy Steps?
Follow these steps to draft a fantastic marketing proposal :
Step 1: Conduct Client Research
As mentioned in the first tip, your marketing proposal should be client-oriented i.e focused on the needs of the client.
Thus, the first step to developing a winning proposal is thorough research of the client. Look for their existing marketing strategies and the reason why it is not working.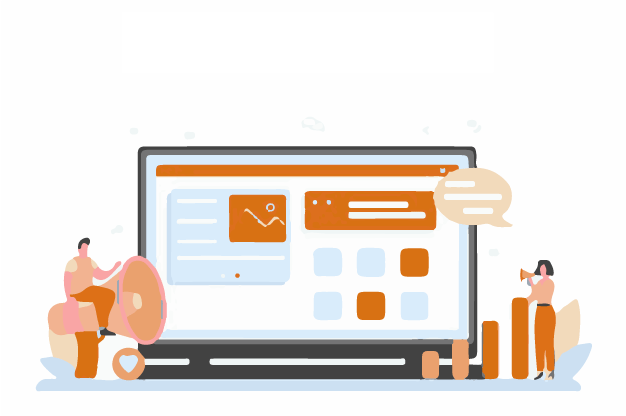 Study their competitors to find out what they're doing to attract the client base, and study the overall history of the company.
If it's a new company with no existing marketing plan, study their target audience, find out the pain point of their audience, and how your client's company can solve it.
Step 2: Develop a Strategy
Now that you've done your homework, frame a strategy as a marketer. At this stage, answer questions like:
How are you going to help the client?
What actions will you take?
How will you surpass their competition?
How will you leverage the prices?
Who is your client's target audience?
Creating a strategy will clear things up and make a smooth-flowing direction for your marketing proposal.
Step 3: Create an Outline of the Proposal
In this step, you will create an outline of tasks that you need to perform in accordance with the strategy implemented.
Come up with unique tactics that will improve your client's marketing.
The clearer your outline of steps is framed, the better your proposal will be drafted.
Read more: Social Media Proposal: What is it & How to Create it?
Step 4: Implement Metrics
Metrics are the measurements you will see to identify the success or failure of your work.
In this step, you should recognize and decide the tools you will use to measure the client's marketing strategy.
If it is to increase traffic, then employ traffic trackers.
If you are running digital ads, then use Adsense and if you need to increases sales, then employ sales tracking tools, and so on…
Step 5: Pen Down the Proposal
Finally, you are ready to write down the proposal. Include the following elements in it, in the same order:
Executive summary
Your company credentials
Situational analysis/case study
Competitor analysis
Strategy employed
Goals of the client
Implementation
Financials i.e budgeting and pricing
Any other terms and conditions
And, it's done! Proofread the document and edit out any unnecessary elements.
To ease up your process, we have a tool that can automate all your operations from design to tracking.
It will not only save your precious time but also help you make a professional proposal, absolutely free of cost!
Bit.ai: The Ultimate Tool to Create Marketing Proposals

Creating a proposal that wins clients includes many aspects. From researching the client to forming a strategy and then implementing it, you have a lot of work to do.
Bit.ai helps you bring all your documents and knowledge under a single virtual roof and ease your work.
There are over 70 professionally designed templates available on Bit under different genres from an academic report to the sales pitch and marketing proposal. You'll get the whole draft ready. Just fill in your customized content and you're good to go!
But this is not it.
Bit differentiates itself from a usual document creator by allows rich media embeds. It is integrated with popular tools like Google Drive, Ms-office, Spotify, Tableau, Dropbox, Flicker, and much more. So exporting media from any of these and embedding it on your marketing proposal is easier than ever!
It also lets you create different workspaces and allows you to collaborate with your team in real-time. You can tag each other, work on the marketing proposal together and track each other's activities.
When you create a document on Bit, you get a unique link for it. Your clients can access the document with your link. You can also use this link to directly embed your document into your website or to track the performance of your document.
The tracking feature gives very useful insights like who opened the proposal, how much time did they spend on it, etc. How amazing is that?
Bit is indeed the one-stop solution for all your documentation needs!
Our team at bit.ai has created a few awesome marketing templates to make your marketing process more efficient. Make sure to check them out before you go, your marketing team might need them!
Conclusion
Creating a marketing proposal may look exhausting.
However, using Bit's smart templates and user-friendly interface, you can get the job done in half the time and gain more business.
Are you ready to try Bit? Do let us know your experience by tagging @bit_docs on Twitter!
Further reads:
How to Write a Business Proposal: Step by Step
Marketing Management: Definition, Importance, and Process!
Proposal Writing: Everything You Need to Know!
Social Proof: 8 Ways to Use it to Get More Sales!
Marketing Report: Definition, Types, Benefits & Things to Include!
Brand Voice: What is it & How to Define it for your Business!
Marketing Research: Definition and Process to Follow!
Related posts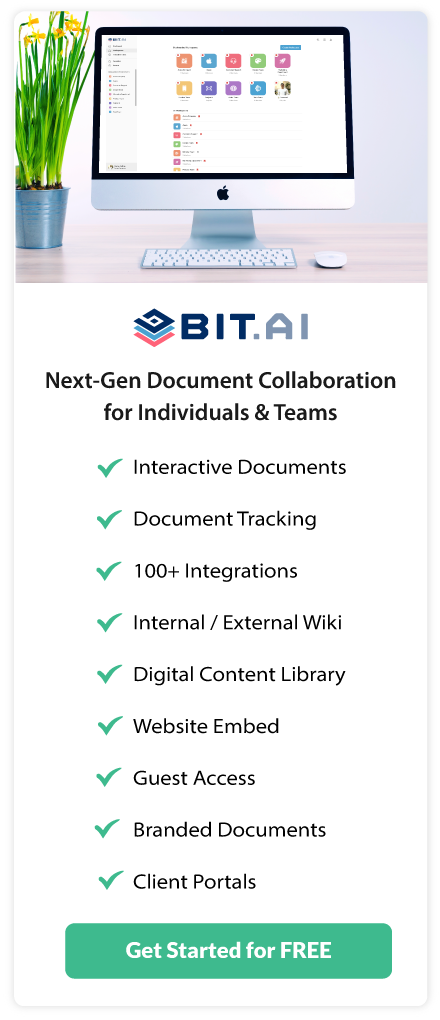 About Bit.ai
Bit.ai is the essential next-gen workplace and document collaboration platform. that helps teams share knowledge by connecting any type of digital content. With this intuitive, cloud-based solution, anyone can work visually and collaborate in real-time while creating internal notes, team projects, knowledge bases, client-facing content, and more.
The smartest online Google Docs and Word alternative, Bit.ai is used in over 100 countries by professionals everywhere, from IT teams creating internal documentation and knowledge bases, to sales and marketing teams sharing client materials and client portals.
👉👉Click Here to Check out Bit.ai.