There's one world where research is always a hot topic – the world of marketing.
Whether you're part of a multinational company or manage a local retail store, you need the right information to make the right decisions, and marketing research helps you do just that.
Let's take an example.
If you know things like 94% of diners choose a restaurant based on online reviews, it'd help you put into place the strategies to get more customers, right?
The point being, marketing research is a substantial factor in many firms' prosperity, providing you with all the information you need to make the best moves and avoid wasting time on the bad ones.
So if you're launching a new product, trying to improve your existing ones, or just wanting to be one step ahead of your competitors, you simply can't avoid doing marketing research.
And, in this post, we're going to tell you all about it. Let's start with understanding what marketing research is!
What is Marketing Research? (Definition)
If you want to accurately understand and predict the behavior of industries, people, and products, you need to take some calculated steps before you make any proclamations or modify your business practices.
And this is exactly where marketing research comes in.
Marketing research is a way for you to collect information from target markets and audiences.
It helps you get quantifiable and qualitative evidence that you need to make informed decisions, get profitable outcomes, and modify the products and procedures that don't work.
See, before you carry out your marketing research, the market and your prospects are just one big group of anonymous faces for you.
You can only 'guess' what their needs and wants are.

But, after you carry out the marketing research, you know exactly who your target audience is, and you can decide which marketing activities you need to prioritize.
The results will help you in identifying the most effective marketing channels and coordinating the efforts that resonate the best with your customers.
Well, now that you know what marketing research is, let's explore the entire process of marketing research step by step!
The 5-Step Marketing Research Process
1. Define the Problem & Research Objectives
In marketing research, there's a saying:
"A problem half-defined is a problem half-solved."
Many marketing efforts are doomed from the start because the problem wasn't properly defined.
Take the famous 'New Coke' example from the 1980s. Research and focus groups were extremely approving of the new coke flavor of Coke.
However, the brand failed to take into consideration the importance of brand affinity and the nostalgia that consumers had with the original taste.
They didn't think about the wider environment and brand impact before making the decision, and hence the "New Coke" fell through.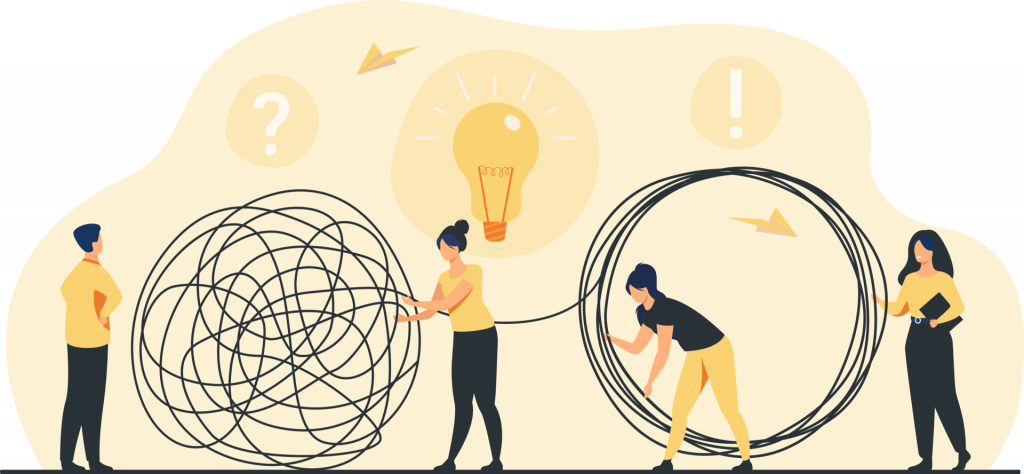 This is exactly why your problems and research objectives should be well-defined and precise.
If they are too vague, you'll just end up wasting your time and resources…and if they are too narrow, you won't be able to draw a good conclusion.
In order to define the problem appropriately, you must have a clear answer to questions such as:
Why are we doing the research?
Who are our customers?
Why are they choosing us over others?
Are we meeting their needs completely, or do they want something more?
What's our competition doing?
Are we marketing ourselves appropriately?
The list can go on and on, so just ask the questions that'll help you get the information you actually need to solve all the respective problems.
Read more: Marketing Funnel: What is it & How to Create it? (Steps included)
2. Develop Your Marketing Research Plan
After you've boiled down exactly what you're trying to solve, it's time to take action. Create a research plan that outlines the steps you will take to conduct the research.
Firstly, identify the marketing research method. You can use your research objectives to pick research methods that effectively match the two together.
Some of the most common research methods are:
Interviewing prospects and customers.
Conducting surveys.
Running user tests on websites or landing pages.
Experiments using control and test groups.
Direct observation through ethnographic research.
Creating focus groups.
Now, think through specifics about how you'll identify and choose your sample:
Who are you going after? Is it your customers, internal staff, or both?
How many participants are needed to obtain the appropriate sample size?
Where will you find them?
How should research participants be selected, randomly or by design?
Once that's done, plan out where you'll be conducting your research – via emails, telephone, in-person, internet, or any other method.
For example, if the majority of your respondents are millennials, you can send your survey via the Internet.
If you're targeting Americans in the age group of 60 to 75, reach them with a phone call.
Yes, it's easy to stump yourself during this step, but don't overthink the process. All you need to do is find the strategy that works best for you and your market!
Read more: Scientific Paper: How to Write it? (Steps and Format)
3. Collect Relevant Data & Information
Here come the meat and potatoes of marketing research. This is the time to put pen to paper and turn your plans into actions.
Craft the surveys, assemble your focus groups, examine case studies, commence interviews, or any other method that you've selected.
During this process, you can gather both quantitative and qualitative data.
Quantitative data consists of numbers and hard data and helps you answer questions about how much, how often, or how many.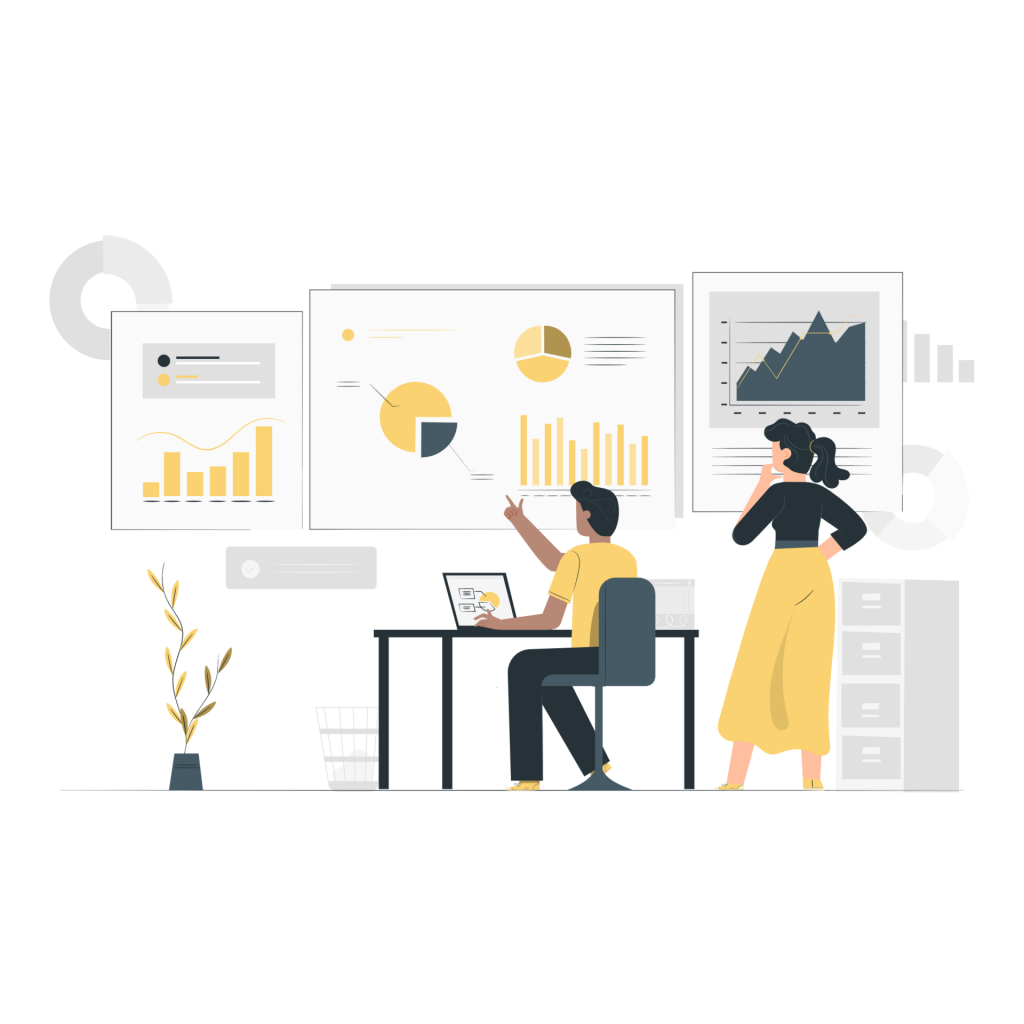 Qualitative data, on the other hand, is observational, descriptive, and non-numerical. It can help you learn more about people's feelings or attitudes toward something.
While collecting data, you need to make sure that it is valid and unbiased. We mean, it is easy to look for information that supports your opinion, but this will threaten the validity of your research.
So, never ask the person you're interviewing something like: "You think that we should offer a higher pricing tier with additional services, correct?"
Because this question will clearly influence the interviewee's response.
Instead, ask them: "What income range best describes our brand?"
Keeping an open mind during your research will help you get data that will actually be useful for you.
Remember, each nugget of information is crucial and will be part of the conclusions you will soon draw!
4. Analyze the Information & Present its Findings
You've collected all the data and have got heaps of raw data sitting in your lap. Now, you've to analyze it.
Remember, you can have all the data and information in the world, but if you can't analyze it properly, it's meaningless.
So, carefully analyze the data, draw conclusions and come up with a list of action items based upon it.
Don't forget to summarize all the results into a report, including the process that you followed and the conclusion!
This is important because you and your team will forget the details a month later, and you need to be able to refer back to something.
Even if you aren't a seasoned research analyst, more often than not, arranging your data visually in tables, bar graphs, and pie charts can help you analyze it.
However, we highly recommend consulting an expert to further explain the data you've gathered because it's very easy to get overwhelmed with the sheer volume of information!
You don't want to end up miscalculating numbers and making the wrong interpretations, right?
5. Take Action Based on Insights
This is the part where you get to see all your hard work pay off.
It is where you put all your findings to the test, start developing your marketing strategies and get going.
Let's consider a scenario to understand it better.
After the marketing research, you found out about a certain negative sentiment that your customers have about your product.
You can now get your customer service team to contact the customers, resolve their issues and retain them.
But there's something that you need to remember: although all you've carried out all the necessary steps, the research isn't over.
The business environment and the market trends are constantly changing, which means your marketing research can never end.
So, keep analyzing the data and making changes according to the current needs of your buyers, industry, and your company.
The formula is quite simple – research, analyze, act, repeat!
You obviously want to take all the right steps, but that doesn't mean you won't face any difficulties along the way.
Sometimes it seems really simple to gather, record, and present all the marketing research data.
However, there are those times when you keep running into one challenge after the next while recording the data, slowing you down and adding stress to your life.
So, you need to plan ahead for the challenges you face during these steps of marketing research and hedge them off before they become a problem.
And the best way to do that is…*drumroll*….using Bit.ai – the ultimate documentation platform out there.
Read more: Top 12 Tools for Researchers in 2022
Bit.ai – The Tool That Will Assist You In Your Marketing Research



Bit.ai is a robust, new-age documentation and knowledge management tool that helps you collaborate, share, track, and manage all your marketing research under one single roof.
Using Bit's integrated, intuitive and powerful tools, you can create research documents that have the ideal format, are easy on the eyes, and a downright joy to read.
Want to know a few more reasons why you should use Bit for your marketing research? Read on!
1. Real-Time Collaboration: While collecting and recording your marketing research data, you obviously need inputs and insights from your entire team so that you don't end up miscalculating and misinterpreting numbers.
Well, Bit.ai helps you do that effortlessly. Bit lets you and your team collaborate on a Bit document in real-time. It is an amazing way for your team to handle different aspects of your marketing research together in one place. That means, no more communicating back and forth through emails and messages with your team!
2. Smart Workspaces: Research is something that can never be carried out using one piece of document, especially when it comes to marketing research. There is just so much different information that you need to gather from different markets and audiences – and storing all this information can be a pain.
But, Bit solves this problem for you. On Bit, you can gather your team and create workspaces around different markets, target audiences, and teams to keep all your research data organized.
3. Interactive Documents: What if you could keep all your important research files in one single document? We're talking about those excel sheets, presentations, charts, and more. Won't that make your research documents much more comprehensive? The best part – your team won't have to jump through different files to get information.
It's possible using Bit! Bit lets you add images, videos, social media content, music, cloud files, surveys/polls, charts, code, presentations, and any other rich media you can think of in your Bit doc. So cool, right?
4. Content Library: Be it a photograph of the billboard that you put up as a part of your previous marketing campaign, or a clip from your television advertisement – marketing research always involves a few important digital assets.
Bit gives you a place to store and access all these videos, images, files, and digital content. You can use and reuse them whenever you want. That means no more shoulder tapping and wasting time finding things in different places!
Bit.ai will make recording and presenting all your marketing research data super easy, you have our word!
Our team at bit.ai has created a few awesome marketing templates to make your marketing process more efficient. Make sure to check them out before you go, your marketing team might need them!
Wrapping Up
While there might not be a full-proof success mantra for anything in this world, there are certain things that can increase your chances of succeeding.
Carrying out marketing research is one of them.
You won't go on a holiday without a plan, right?
Similarly, you should never kick off your marketing strategy without having proper data and research to guide you.
As you must have understood by now, there are just too many benefits to conducting marketing research, and you certainly can't ignore it.
So, what are you waiting for? Start your marketing research and let us know how it goes by tweeting us @bit_docs!
Further reads:
Progress Report: What is it & How to Write it? (Steps & Format)
Marketing Resume: How to Write One to Impress Recruiters!
Market Targeting: What is it & How to do it Perfectly? (Steps Included)
Brand Voice: What is it & How to Define it for your Business!
14 Guerrilla Marketing Examples & Ideas You Must Explore!
Marketing Report: Definition, Types, Benefits & Things to Include!
Sales Report: What is it and How to Create One?
Collaborative Research: Definition, Benefits & Tips!
How To Create A Marketing LaunchPad Document?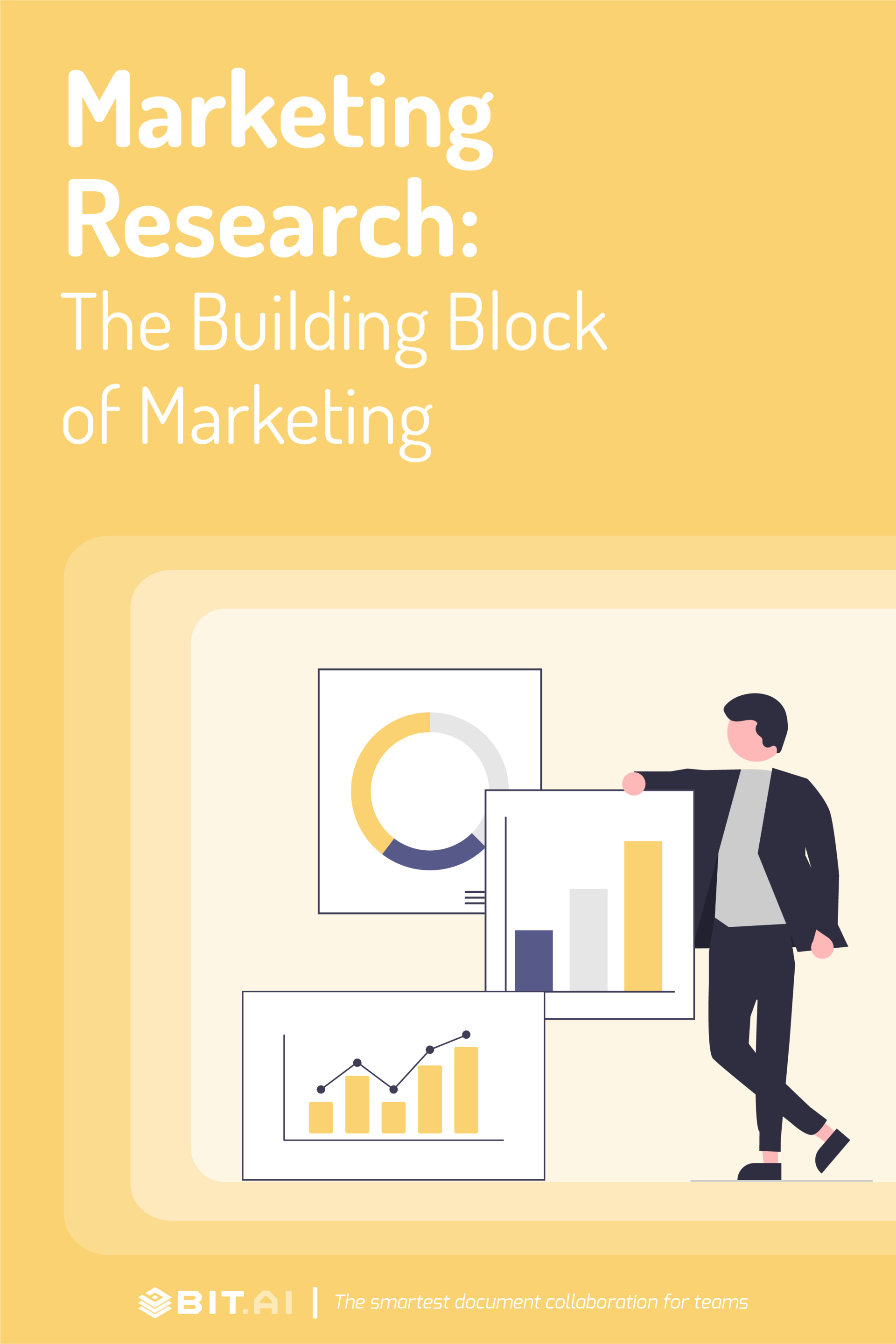 Related posts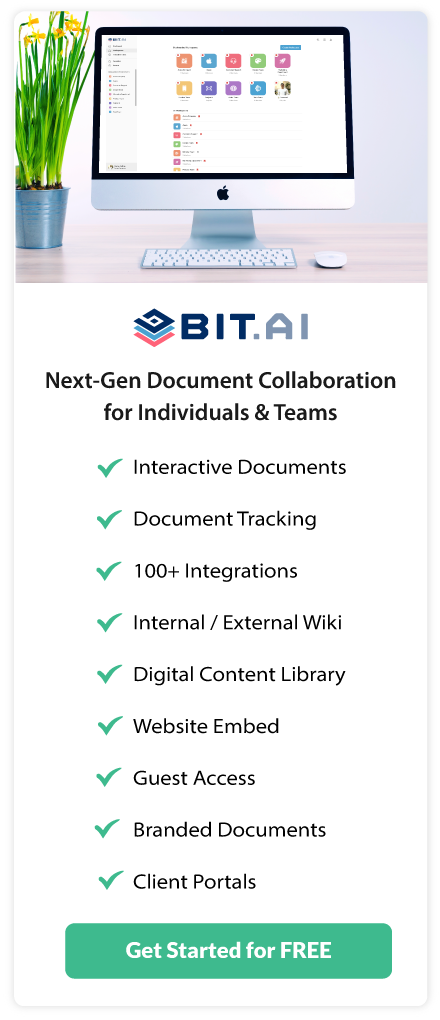 About Bit.ai
Bit.ai is the essential next-gen workplace and document collaboration platform. that helps teams share knowledge by connecting any type of digital content. With this intuitive, cloud-based solution, anyone can work visually and collaborate in real-time while creating internal notes, team projects, knowledge bases, client-facing content, and more.
The smartest online Google Docs and Word alternative, Bit.ai is used in over 100 countries by professionals everywhere, from IT teams creating internal documentation and knowledge bases, to sales and marketing teams sharing client materials and client portals.
👉👉Click Here to Check out Bit.ai.