Proposing your products and services to a client is a lot like pitching your startup to an investor. You have to articulate describe your understanding of the client's problem, propose your solution, define the route you are going to take, and assure your client why you or your team are the best to tackle this.
A business proposal highlights your value propositions and tries to convince other businesses to do business with you. However, writing a business proposal can be intimidating. Even if you are the most qualified service provider in the area, a below-par business proposal can cost you in terms of lost business.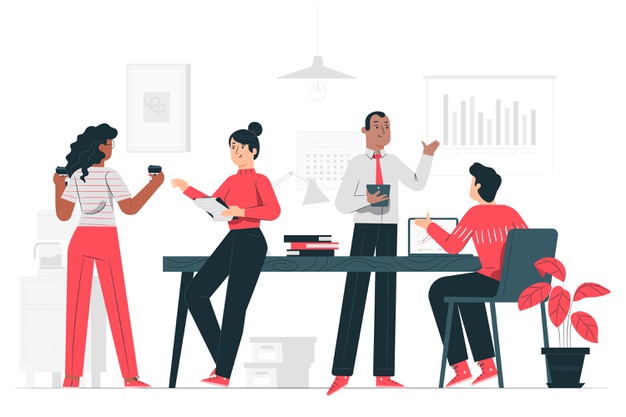 This is why we decided to make an awesome business proposal template for you that you can use to create remarkable proposals. But before we dive into the "how", let us first briefly discuss what a business proposal really is, why it is important, and what are the elements of a perfect business proposal. Read on…
What is a Business Proposal?
Business proposals are documents written to articulate your value proposition in order to close a deal with a client. However, they can also be written for internal purposes.
Business proposals provide a review of your company and what work/projects need to be focused on to achieve certain goals. Business proposals are usually written by B2B companies and are of two types: solicited and unsolicited.
Solicited business proposals are the ones that are requested by a prospective client. On the other hand, unsolicited business proposals are the ones you create for carrying out a cold approach with prospects in order to gain their business.
Read more: How To Write An Impressive Project Proposal
Why are Business Proposals Important?
Business proposals are important documents that help businesses sell their products and services to prospective clients and get new business.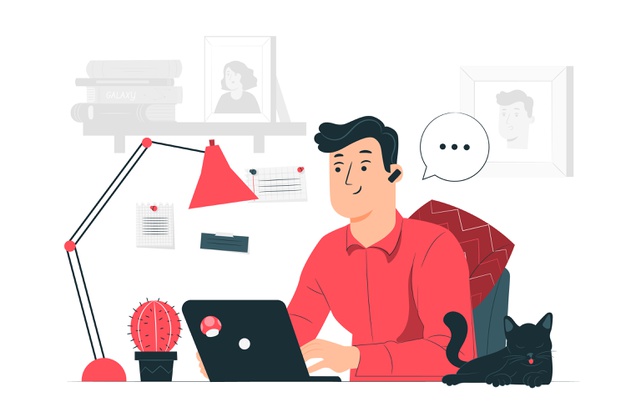 It also helps them understand what work needs to be completed and what resources are needed to achieve them. Business proposals can also be viewed as a sales document that highlights all the value your solution delivers to a client's problem.
What You Should Include in Business Proposals?
Before drafting your business proposal, it's important you understand the client/business you're writing the proposal for.
If the client has already sent you an RFP (request for proposal), make sure you go through it thoroughly so you know precisely what they're looking for. Once you've completed your research, it's time to begin writing your business proposal using the following elements:

Title
Company Overview: Provide an overview of your company. ‍
Executive Summary: What problem is it solving? What is it's vision and mission? ‍
Team: Who is involved in the team?‍
Client Testimonial: Add testimonials from clients‍
Scope of Work: What work needs to be completed‍
Project Overview: Provide an overview of the project ‍
Pricing: What does the budget look like for this project?‍
Contract: Add a contract that can be reviewed by the client‍
Agreement: Add signatures where all parties can sign off and be in agreement.
Read more: Everything You Need To Know About Project Management
Proposal Letter: What is it & How to Write it?
Key Benefits of Creating Your Business Proposal Document on Bit.ai
With a well-researched and well-articulated business proposal, you can quickly gain the client's confidence and convince them of all the benefits of partnering up with you. In order to create the right business proposal, you need the right tool. This is where Bit comes in.
Bit.ai is a new-age documentation and knowledge management tool that helps teams to collaborate, share, track, and manage all company knowledge in one place.

Bit documents, unlike your standard Word Docs, are interactive. This means employees and managers can easily create interactive business proposals easily.
Bit also supports document tracking using which you can create and share these business proposals with clients and see whether they viewed your business proposal or how far they scrolled!
Whether your team is creating business proposal documents, pitch decks, business plan, executive summary, investor update documents, business proposals, brainstorming documents, meeting minutes, SWOT analysis, competitive research, project management plan, etc, they can easily add Spreadsheets, Slideshares, Google Slides, YouTube videos, PDFs, Maps, Charts, Graphs, and more to your proposals and make them visually stunning.
Collaborate with other team members: Multiple people can simultaneously collaborate on a Bit smart document in real-time. It's a great way for founders to handle different aspects of the business proposal together under a single roof. Bit's sleek, minimal, and distraction-free editor makes a great tool for documentation.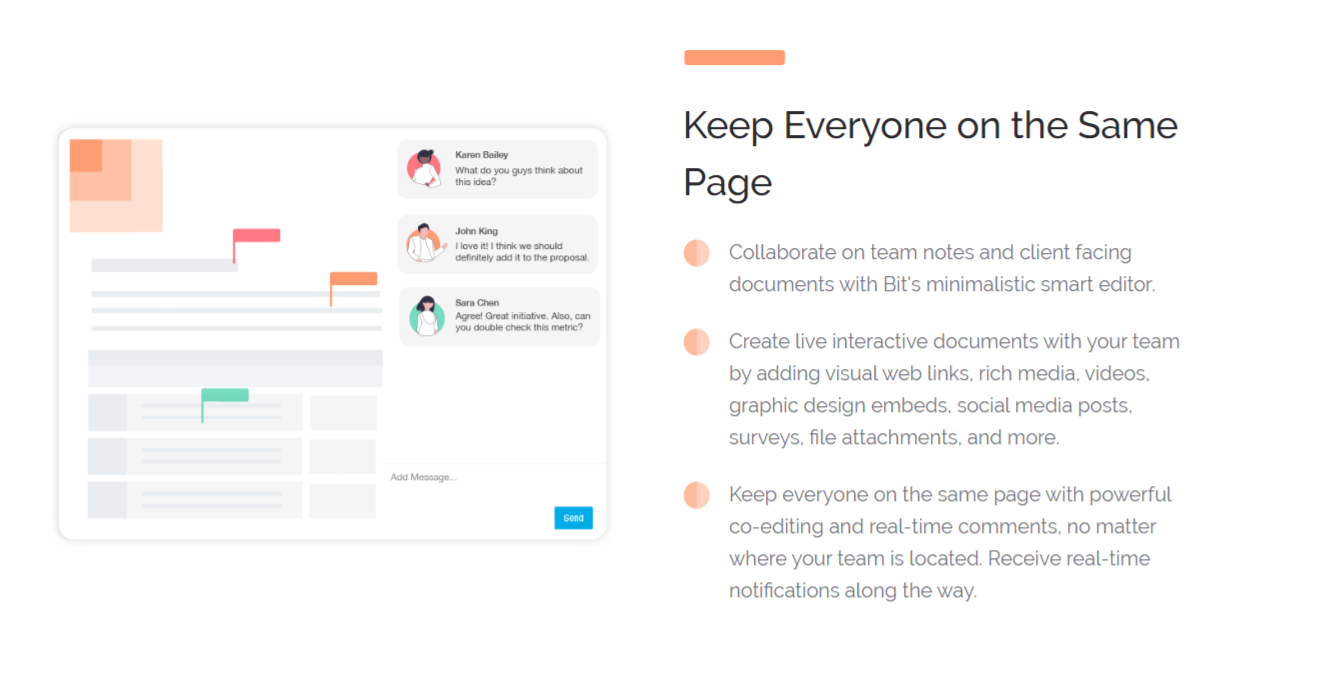 Create Interactive Business Proposals: Wow your clients by creating interactive business proposals with Bit. You can add content from over 100+ various applications that will live inside of your Bit documents.
Add Excel spreadsheets, PDFs, Google Forms, Gantt charts, social media posts, YouTube videos- basically anything on the internet with a link, and Bit will automatically convert that into live content living inside your proposal!
‍Recommended power links and files you can add to your business proposal:
Weblinks
Google Sheets, OneDrive Excel, Airtable
PDFs, PowerPoint in Google Drive/OneDrive
YouTube, Vimeo
Draw.io, Lucidcharts
Sketchfab, Figma, Marvel
Easy to Use: Bit has an amazing UI that's easy to understand by a new user, making onboarding easier. The user experience is phenomenal too as things flow from documents to workspaces swiftly. No matter if you want to create documents for personal use or professional use, Bit's amazing organizational capabilities help arrange your information easily.
Distraction-free and quick documentation: The best part is Bit's support for Markdown which allows users to quickly create and format text without any distractions. Once you are done creating your business proposal, you can easily export them as PDFs, Word files, Markdown, and much more.
Multiple ways to share: Bit documents can be shared in a live state meaning that all changes that you make to the document will update in real-time. If you are sharing your documents with investors, partners, or clients, they will always get your most up-to-date changes.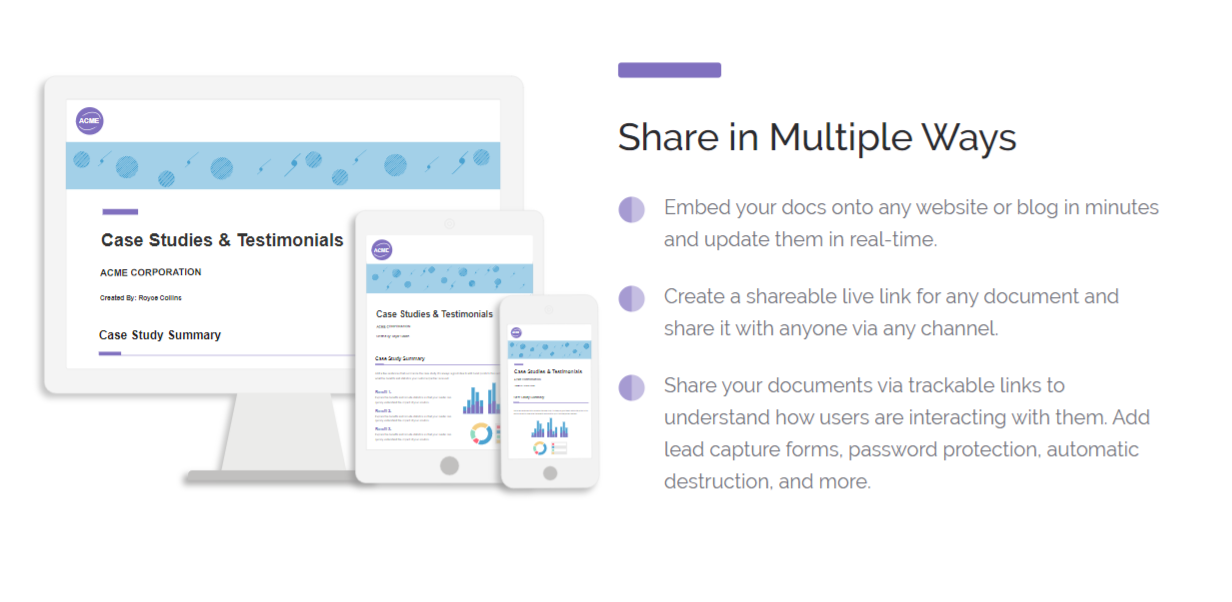 You can even embed Bit documents on any website or blog. Since Bit documents render and are responsive, any changes made to these documents will reflect live on the site! Moreover, features like document tracking, password protection, file access restrictions, etc. help keep your business proposals and other workplace documents safe.
Bit provides a common workplace for team members to collaborate, document, share their knowledge, brainstorm ideas, store digital assets, and innovate together. The best part is that this knowledge is safely secured in your workspaces and can be shared (or kept private) with anyone in your organization or the public!
Here are some of the main benefits of using Bit:
Collaborate in real-time
Interlink business proposals and other documents
Create fully responsive documents
Create private business proposals only visible to yourself or your team
Track engagement on shared business proposals with investors, partners, etc.
To make the process of creating your business proposal easier, we have created a ready-made business proposal template for you! Check it out below: 


How to use Business Proposal Template with Bit
The process of creating a business proposal document on Bit is insanely easy! Just follow these four simple steps to create a proposal quickly
Step 1: Create a Bit Account
Go the home page of Bit.ai and click on Get Started for Free or Sign Up to get started. Enter your email address to sign up. Once in, you can create your personal profile.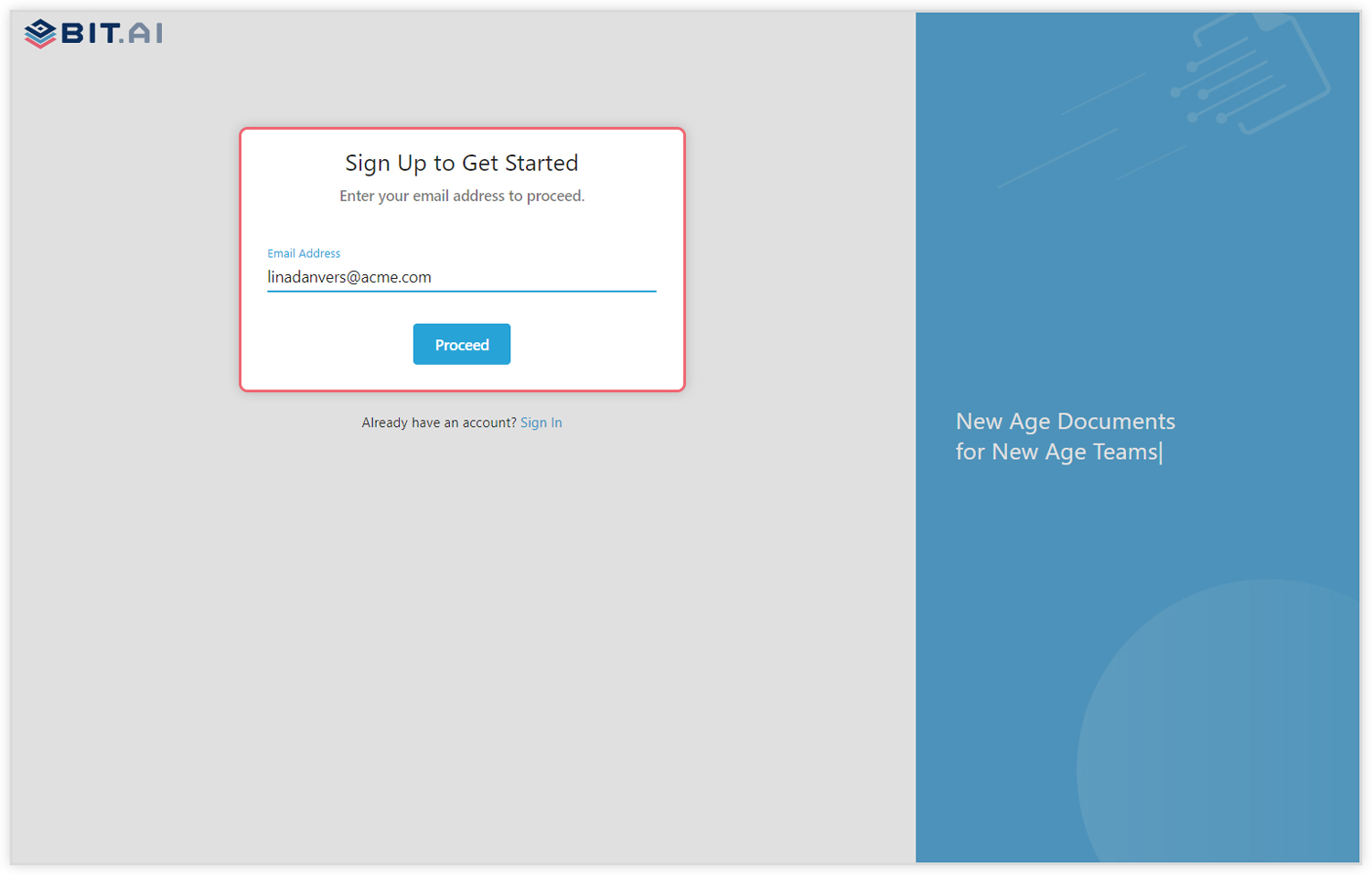 Step 2: Create a Workspace
Workspaces are where the work gets done. Click on the 'Create Workspace' button on the right. A popup will show up prompting you to add a name for your new workspace.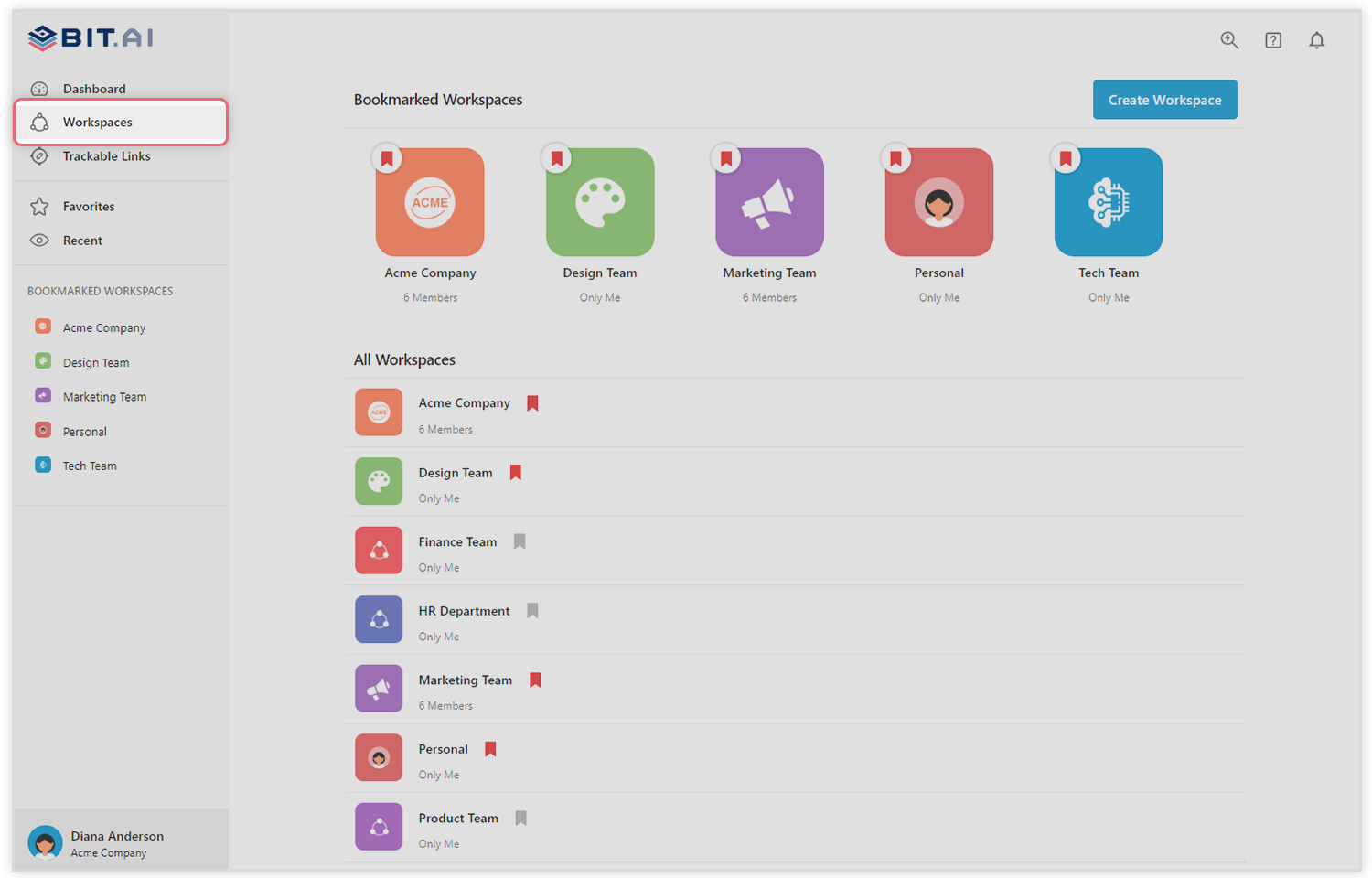 You can create a workspace around a team, department, large project, client, partner, etc. Inside each workspace, you can create an unlimited amount of Bit documents and access your content library (storage area for all of your digital assets – web links, files, cloud files, rich embeds, etc.).
Step 3: Add Team Members
Bit allows your team members to collaborate in real-time and get work done. Collaboration starts at the workspace level.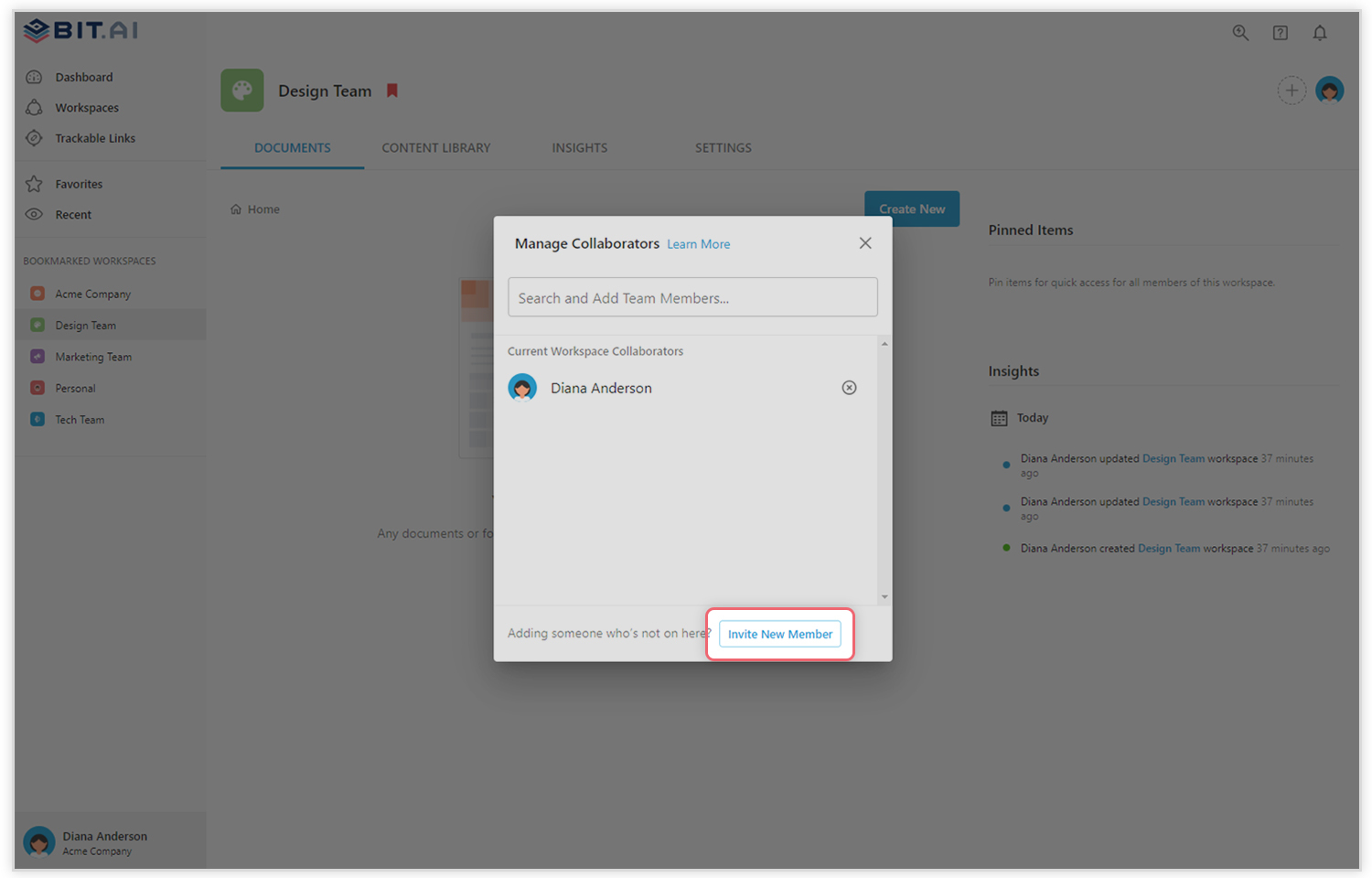 You create private workspaces by default. However, you can invite others to join you inside of a workspace and collaborate together with the knowledge, projects, documents, and content inside of the workspace.
Step 4: Create Your Desired Document
Once you are in the workspace, click on the 'Create New' button. Select 'From Template' in the dropdown. A pop up will display allowing you to select a template from the gallery.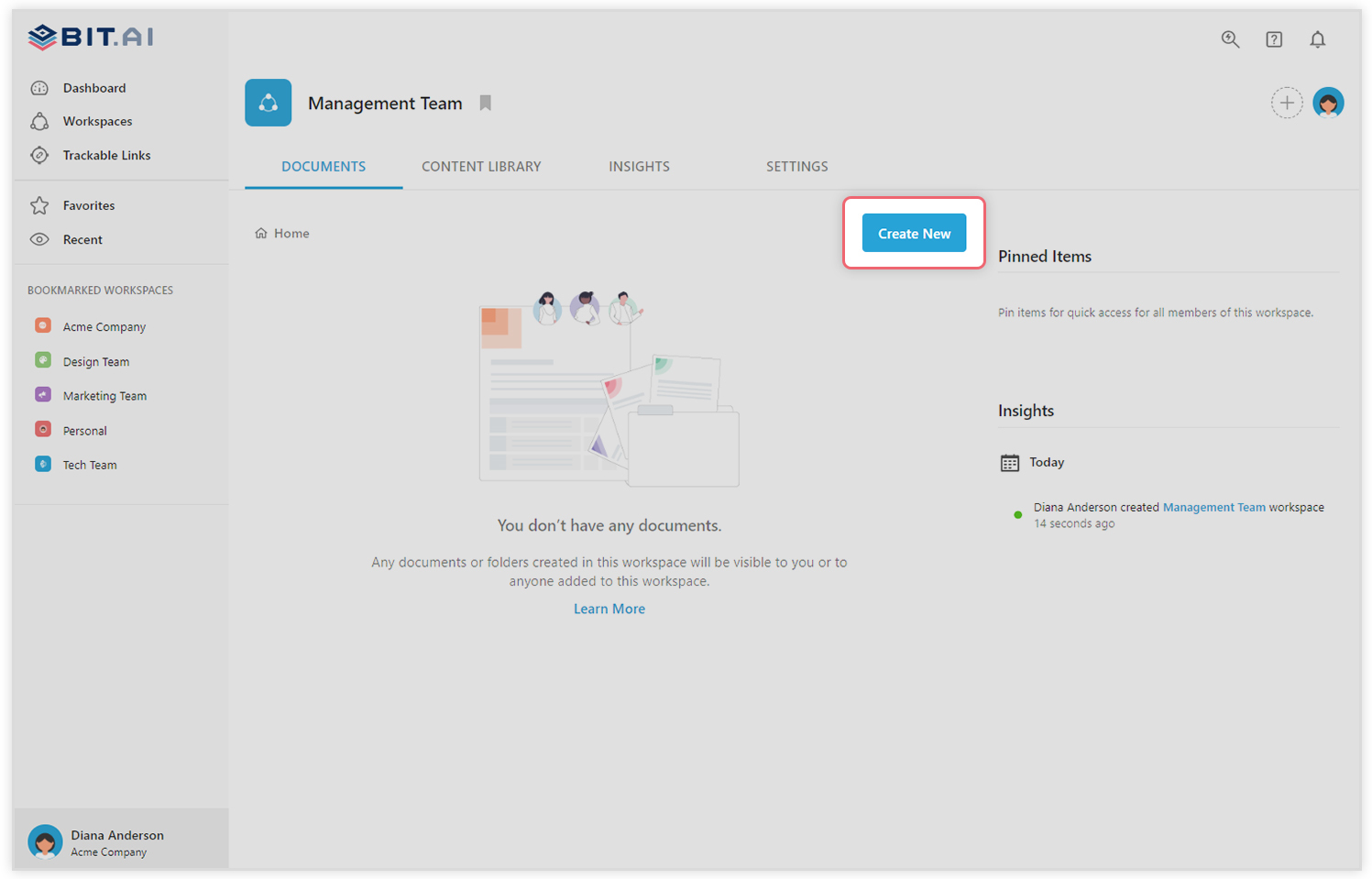 In the search box on the top left corner, you can search for "Business proposal template". Once your desired template pops up, click on it and click on the "Use Template" button on the bottom right corner.
That's it! Your business proposal document is ready for use!
🎥Watch this video to learn more👇
Over to you!
A business proposal provides an opportunity to showcase your abilities and strategy to meet a client's needs. Creating a powerful proposal is not an easy task.
However, using a business proposal template can significantly reduce the time and effort required to create such documents. If you need any help with the business proposal template or want to know how Bit can help your team, let us know by tweeting us @bit_docs. Cheers!
Further reads: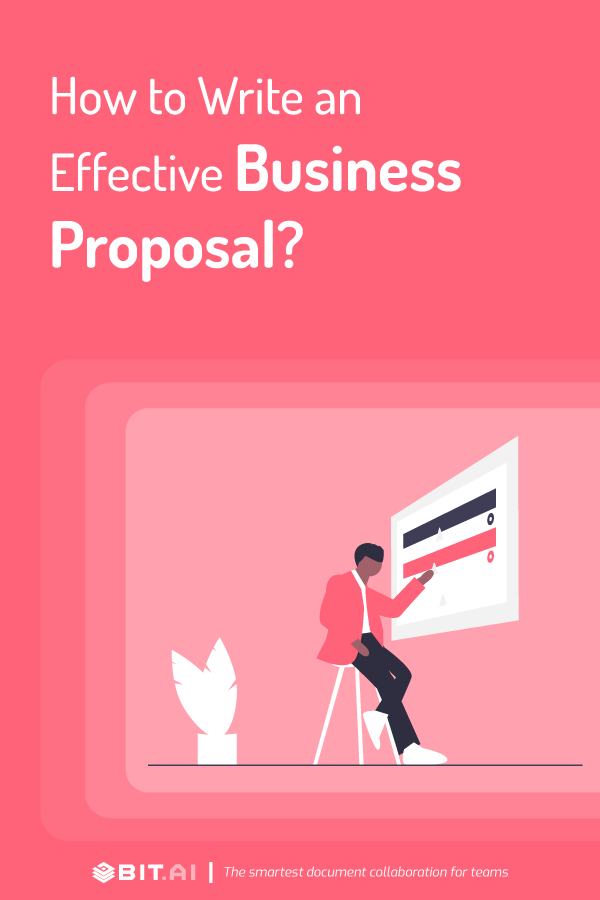 Related posts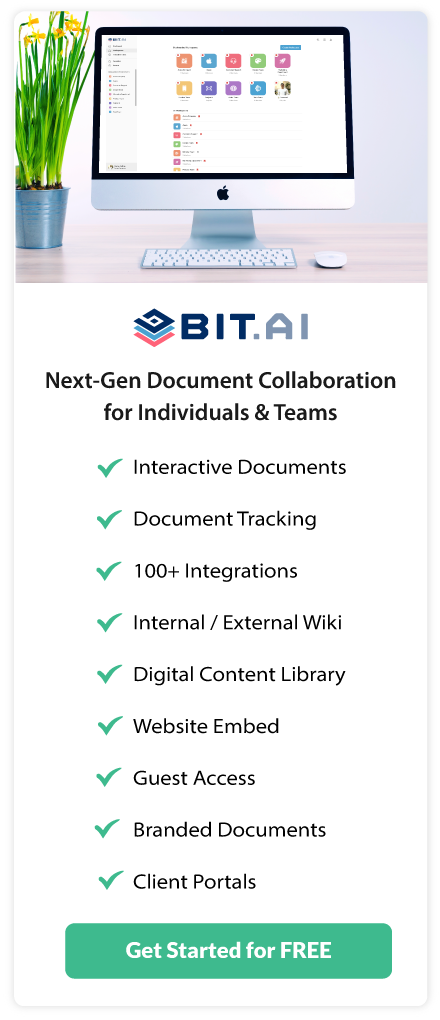 About Bit.ai
Bit.ai is the essential next-gen workplace and document collaboration platform. that helps teams share knowledge by connecting any type of digital content. With this intuitive, cloud-based solution, anyone can work visually and collaborate in real-time while creating internal notes, team projects, knowledge bases, client-facing content, and more.
The smartest online Google Docs and Word alternative, Bit.ai is used in over 100 countries by professionals everywhere, from IT teams creating internal documentation and knowledge bases, to sales and marketing teams sharing client materials and client portals.
👉👉Click Here to Check out Bit.ai.