It goes without saying – a business can never exist without customers, and customers aren't going to support a business that doesn't treat them nicely.
Therefore, if you want to turn lukewarm leads into customers and retain your existing customers – customer satisfaction is something you should focus on. These stats will surely convince you:
The biggest asset for any business is an army of happy customers. They stick around for a long time, buy from you again and again, and they love your product so much that they can't help but tell people about it.
In this blog, we are going to uncover 25 ways to improve customer satisfaction, exceed their expectations, and build customer loyalty. Let's delve right in!
1. Integrate Live Chat & Chat Bots
When people are browsing through your website, they might come across a few things they are curious about. And, there is nothing more exhausting than calling the customer support team and waiting for a response.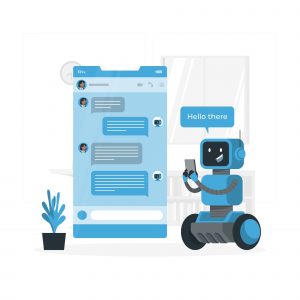 Most people out there are impatient, and it is much more convenient for them to type their questions in a live chat and receive a response within a few seconds.
73% of customers find live chat to be the most satisfying way to communicate with businesses. This stat proves that receiving an instant response from a company can improve customer satisfaction.
However, if your customer service team is not active 24/7, responding to queries instantly isn't really possible. That's where chatbots come into the picture!
You can integrate a chatbot into your website and program it with pre-written responses. The chatbot will then analyze the customer query and keywords and display a relevant response.
2. Embrace Transparent Communication
There's a good old saying: treat your customers the same way you would like to be treated. How? Show your customers that they matter. Engage in open and transparent communication with them.
Moreover, make an honest effort to help your customers. They should feel like you really want to help them and not just because it's in your job description. It's the key to improving customer satisfaction!

Also, never hide important information from your leads and customers. Don't try to make your product come off as something that it is not, just to get people to purchase it.
Yes, exaggerating the positives of your product might get you some new customers, but you will also lose them straight away. All you will gain is a bad reputation and we know that you don't want that.
3. Listen to Your Customers
Did you know that giving your customers exactly what they expect increases loyalty by 48%? This brings up the question: how can you make your customers feel heard and validated?
Well, you first need to know how they think and what they need. This information will guide your customer service strategy and you will be able to provide a better, higher level of support to your customers.
The best way to learn more about your customers is by asking them directly. You can use surveys, emails, phone calls, or other available resources to ask them about their concerns related to your product.
Most importantly, if the responses that you get offer some critical insights about your team or product, listen to them and try to understand the root cause of the problem.
In short, acknowledge the concerns of frustrated and disappointed customers, align with them, and assure them that you are going to do everything you can to solve their problems.
Read more: Customer Experience: What is it & How to Deliver it?
4. Make it Easier for Customers to Connect with You
64% of customers expect to get real-time support. Therefore, if you take forever to reply to queries from your leads and customers, you are bound to end up in their bad books.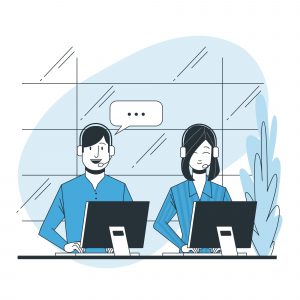 Customers absolutely despise it when they can't get the information they're looking for right away. In fact, it tops the charts when it comes to consumer complaints.
Furthermore, do not make it difficult for customers to reach out to you. Don't make them hop from one platform to another to get their queries resolved. You need to be where your customers are.
If a customer is asking you a query on Facebook, don't ask them to send an email or make a phone call. They contacted you on Facebook probably because it's the most convenient way for them to communicate.
5. Stick to Your Word
If you want to foster relationships with your customers, show them that they can trust you and rely on you every time. Instead of 'talking the talk', try to 'walk the walk'.
In other words, stay true to your words and don't promise what you can't fulfill. If your website says that you will respond to all customer queries within 24 hours, try your best to meet the deadline always.
Nevertheless, if you are unable to meet the deadline due to an unforeseen problem or circumstance, communicate it to your customers promptly and professionally.
Remember that customers who get their issues resolved efficiently can turn into one of your most loyal customers. They might even tell 4 to 6 people about their amazing experience!
Whereas, if you don't deal with the customers' concerns on time – they can poison the well for you. Unhappy customers share their experiences with 9 to 15 people.
6. Build Your Brand Authority
When you call a friend, family member, or anyone else with your question or concern, the last thing you want to hear is, "Well, I don't know." It's SO frustrating!
Similarly, if a customer calls up a customer service agent, they might get frustrated if they don't get any appropriate response. To avoid making them feel this way, you need to be an expert.
One of the easiest ways to improve customer satisfaction (and loyalty) is by showing that you know what you are talking about and you know what you are doing.
Make your customers feel that they can count on you for all the information they need related to a particular product/service – and also for a consistently great experience.
7. Measure Customer Satisfaction Actively
In a study done by Bain & Company, 80% of CEOs felt that they're providing a great customer experience. However, only 8% of the customers agreed with it. That's a huge gap!
These CEOs thought that their company is doing just fine, while their customers felt the opposite. This is why it is important to ask your customers how they feel about your product or brand, measure the data, and act on it.
There are many customer satisfaction and loyalty metrics such as Customer Service Satisfaction (CSS) and Customer Effort Score (CES). However, one of the most widely used metrics is the Net Promoter Score (NPS).
NPS measures how likely your customers are to recommend you to others. To measure it, all you need to do is ask, "On a scale of 1 to 10, how likely are you to recommend our product to a friend or colleague?"
Based on the responses, divide your customers into three groups: Detractors (0-6 score), Passives (7-8 score), and Promoters (9-10 score). Then, calculate the NPS using this formula: % of promoters – % of detractors.
8. Keep Your Team Members Happy (and Trained)
Your employees are the very first people a customer interacts with. If your employees don't like working at your company, then how do you expect your customers to be happy?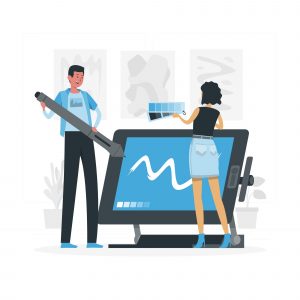 One of the finest ways to improve customer satisfaction is by keeping your employees happy and motivated. This will make them more likely to deliver solid customer service and make customers feel valued.
Also, make sure that every employee is well-acquainted with your product, industry, and company policies. This way, no matter which employee a customer interacts with, they are guaranteed a good experience.
Note: Even the best sales reps need to be comprehensively trained in order to ensure that they can deliver outstanding customer service from the very first day.
9. Assemble a Customer Success Team
Yes, you read that right. It's 'Customer Success' and not 'Customer Service' team. Want to know what's the difference between these two? Read on!
First things first, a Customer Success (CS) team is proactive. They don't wait for a customer to contact them when they have an issue with the product – they actively reach out to the customers themselves.
Basically, a Customer Success team conducts post-purchase service. It contacts the customers before they pick up the phone and contact the Customer Service team.
Instead of being the go-to person for a quick fix, Customer Success teams are more focused on helping the customers achieve their goals. This goes a long way towards improving customer satisfaction!
Considering that more than 90% of unhappy customers just leave without complaining, building a CS team and taking a proactive approach to customer service becomes extremely important.
Read more: Reputation Management: What is it & How to Do it?
10. Reward Your Customers For Their Loyalty
Once you convince a customer to purchase your product, the next step is to retain them. It's not an easy task and nearly 61% of retail companies say that retaining customers is their biggest challenge.
But, having good reward programs in place will ensure that your customers keep coming back to you. (Fun fact: a 5% increase in customer loyalty can increase the average per-customer profit by 25%-100%.)
Remember that no one wants to feel unappreciated, including your customers. So, you should always reward them for their loyalty – whether it's in the form of a free gift, personalized discount, or premium features.
Yes, this strategy might cost you a little time and energy, but the love (and monetary return) that you will get is from your customers is definitely worth it all.
11. Personalization is the Key
The marketplace is crowded, and it is now more critical than ever to make your customers and leads feel like they matter the most to you and your business.
An impersonal shopping experience, especially when it is online, makes consumers feel frustrated 71% of the time. Whereas, personalization can boost your revenue by 5% to 15% and drop acquisition costs up to 50%.
Hence, to improve customer satisfaction by leaps and bounds, try to include a little dose of personalization in your product, support responses, and marketing campaigns!
You can include the customers' names in your conversation, extend a birthday wish, send a personalized email every time they purchase a product from you or recommend specific products based on buyer behavior.
No matter how big or small the personalization is, when a customer feels that you're more than just a name on the list – they will eventually become your loyal customers and brand advocates.
Wrapping Up
In an era where competition is so fierce and negative feedback spreads like a wildfire – customer satisfaction is the key to winning new customers and retaining the existing ones.
It is the soul of any business. Do everything you can to improve customer satisfaction and you will have superfans who tell the world about your product and business.
We truly hope this blog has provided you with all the information you need to improve customer satisfaction and grow your business. Good luck, folks!
Further reads:
9 Customer Acquisition Strategies Your Boss Wishes You Knew!
Price Skimming: Definition, 3 Types of Phases, Pros & Cons!
Performance Report: What is it & How to Create it? (Steps Included)
Product-Market Fit: What is it & How to Achieve it?
Conversion Rate: What is it & How to Improve it?
Tripwires: Definition, How to Include them & Examples!
Customer Segmentation: Definition, Importance, Types & Process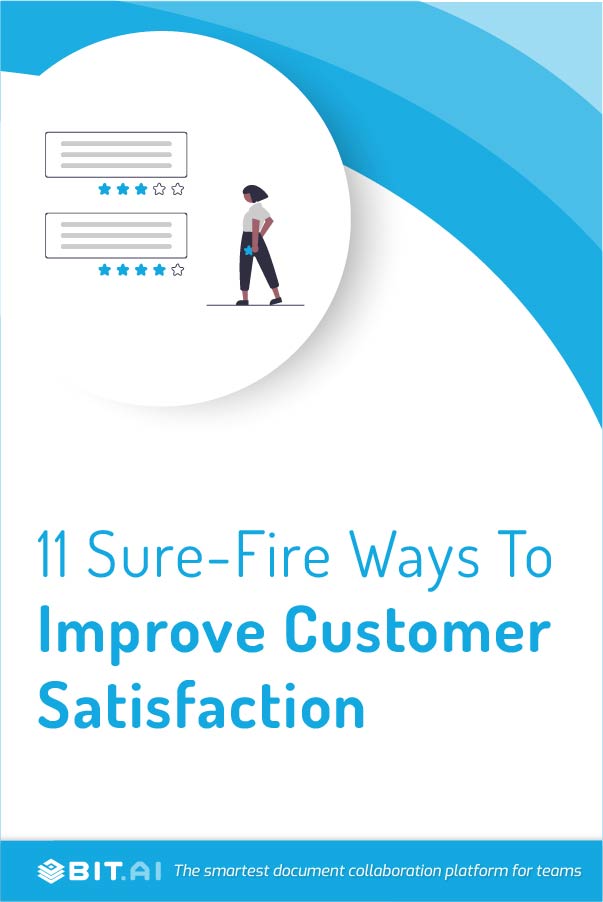 Related posts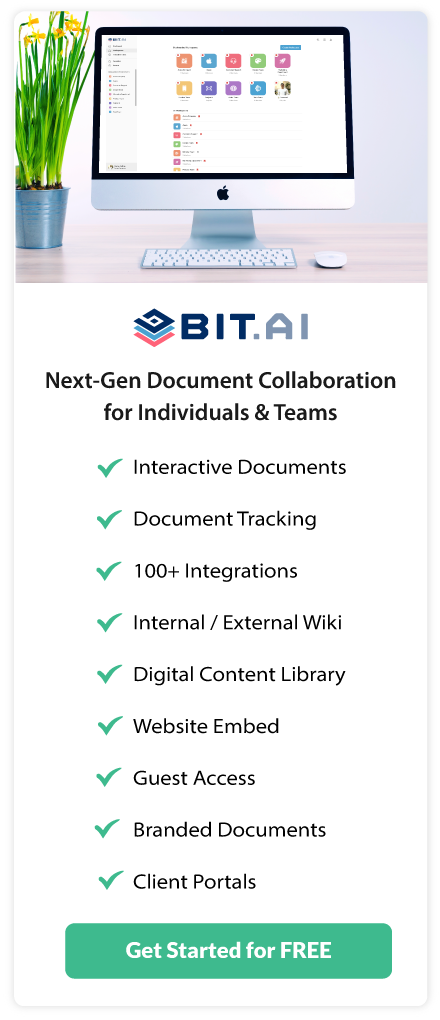 About Bit.ai
Bit.ai is the essential next-gen workplace and document collaboration platform. that helps teams share knowledge by connecting any type of digital content. With this intuitive, cloud-based solution, anyone can work visually and collaborate in real-time while creating internal notes, team projects, knowledge bases, client-facing content, and more.
The smartest online Google Docs and Word alternative, Bit.ai is used in over 100 countries by professionals everywhere, from IT teams creating internal documentation and knowledge bases, to sales and marketing teams sharing client materials and client portals.
👉👉Click Here to Check out Bit.ai.