Were you looking for free file-sharing sites? Here are some of the best ones out there!
The internet has made it extremely easy for anyone and everyone to share cloud-based files.
Whether you work for a company, work as a freelancer, or just want to share funny dog videos with friends, family, or business associates, file sharing is something everyone's familiar with.
There are many ways to share files over the internet, thanks to the "cloud revolution", but are they any good?
Let's take a look at some of the major free file sharing sites and how they stack up against one another.
List of 11 Free File Sharing Sites to Check Out!
If you are wondering what different free file sharing sites are out there, look no further.
We have curated a list of some of the best and free file sharing sites on the internet right now:
Google Drive
Jumpshare
Microsoft OneDrive
Box
Amazon Drive
Dropbox
Hightail
Mediafire
FileShare
Zippyshare
DropSend
Let's take a look at each of them in detail and decide which one is the best fit for you:
Let us kick off the list with the file-sharing service on the front page of the internet, aka Google!
Google Drive is Google's cloud storage service where you can store your documents, files, audio, videos– basically anything.
You can access your files stored in Google Drive from anywhere and from any device, as long as you know the login details!
Google Drive offers free 15GB of cloud storage to store all your documents, spreadsheets, and media files but you can always upgrade in case you need more.
Google offers quite robust and handy smartphone apps for their entire office suite so that you can work from anywhere, anytime.

Google Drive's intuitive, simple, and user-friendly design makes it easy for the average user to get onboard the platform and store and share content with friends.
Another great filesharing app is Jumpshare, a single platform for file sharing and visual collaboration.
Jumpshare combines file sharing, screenshots, video recording, GIF creation, and team collaboration – all in one awesome and easy-to-use platform.
You can simply drag and drop your files into the Jumpshare tray icon and a shareable link will be created instantly.
You can then share this link with our teammates and get their feedback.
No more back-and-forth emailing as Jumpshare allows you to share feedback on the file itself with the help of comments and tagging.
The platform also allows you to visually organize everything- from work files to personal images.
You can then organize such media in folders that can be viewed by you or your entire team.
Other notable features include capturing and annotating screenshots and converting screen recordings into GIFs!
Read more: Best File Management Software and Systems you must check out!
Microsoft's answer to GoogleDrive is OneDrive, a safe and secure cloud storage service.
OneDrive allows users to save files and photos to OneDrive and get them from any device, anywhere.
Microsoft provides secure ways to share and collaborate on content with coworkers and colleagues, both inside and outside your organization, thereby improving productivity and efficiency.
OneDrive is included with Office 365 and thus, enables you to seamlessly co-author Office documents across the browser, mobile, and desktop apps.
You can even make edits to your files offline and Microsoft automatically uploads the changes the next time you connect.
For a more professional crowd, Box is the go-to file sharing service. Box and Dropbox are often pitted against each other.
A main difference between the two is the fact that Box is specially designed for businesses and the IT sector to share, edit and secure files over the cloud, while Dropbox usually caters to the consumer crowd.
Box allows seamless transfer of data from your PC to the Box cloud.
You can invite teammates to collaborate, join in on any conversation, or edit files together for better results and understanding.
You can control who can view, share, edit, and upload files, giving you a lot of security and privacy options and sending large files quickly over the cloud.
The Business plan starts at $15 per user per month. It offers unlimited storage with a 5 GB limit, integration with Microsoft Office 365, and custom branding features.
The free plan has 10GB of storage space and a 250MB upload limit.
Apart from their enterprise-level storage solution known as AWS, Amazon also has a consumer-based cloud storage solution, previously called Amazon Cloud Drive, and now renamed Amazon Drive.
Amazon Drive allows users to store all their multi-media aka photos, videos, and files to Amazon's cloud and access it anytime and anywhere.
With Android and iOS available, users can set Auto-Save to back up the photos and videos on their phones.
For Amazon Prime members, Amazon Drive offers unlimited cloud photo storage and 5GB of video storage capacity.
For $60, you can get the Drive's 1TB plan, which according to market standards, is not expensive at all!
All in all, Amazon Drive offers a central place for all your files at a reasonable price, making it a great file-sharing tool.
Dropbox has been the gold standard for file sharing and storage for quite a while now.
Another giant in the file-sharing space, Dropbox offers cloud storage to keep all your files in one place.
It also offers desktop clients and mobile apps to keep all your files in sync and within reach.
Dropbox has become a crowd favorite due to its intuitive and simple design, hassles-free synchronization between desktop, cloud, and mobile, and reliable servers.
Dropbox allows integration with over 100,000 third-party apps, making it a cloud storage workhorse.
However, the free account starts out with a 2GB storage capacity which is way lower than what Google Drive or other services offer.
Hightail, formerly known as YouSendIt, is another file-sharing service but catered more towards team collaboration than individual sharing.
Hightail works on the premise of something they called "Spaces" which allows team members to share files like videos and images with one another and collaborate.
However, for the average user, this kind of interface might be confusing.
Hightail, however, makes it very easy to add files to their platform. Whether you prefer to select files, drag, and drop or import content from other services like Dropbox or Google Drive, Hightail makes it easy to upload and share your work.
The free plan of Hightail is a downer, allowing only 2GB of storage space with a 100MB file limit.
If you are looking for a casual tool to store and share files, Hightail might not be the tool for you.
Whether you're sharing photos, videos, audio, or docs, MediaFire can simplify your workflow.
File storage and sharing tool, Mediafire provides 10GB storage space for free and a 4GB file upload limit.
After uploading your files, you can then easily share them through email, link, or any social network.
Every month more than 840 million people use MediaFire to send and receive files with their friends, family, fans, colleagues, and clients, making it one of the go-to tools for casual file storage and sharing.
And with both Android and iOS mobile apps, Mediafire provides you a way to access your files anytime, anywhere.
Citrix ShareFile is a new file storage service by digital workspace giant Citrix.
Citrix file storage and sharing are especially aimed at enterprise companies wanting to share large files in the safest and most secure way possible.
A secure managed file transfer (MFT) software, Sharefile is extremely useful for companies that need to store and share highly sensitive data and proprietary information.
Starting at $16/month, Sharefile provides world-class security, password protection, an intuitive interface, and easy integration with third-party storage services such as Google Drive, SharePoint, Box, and Dropbox, making it one of the best MFT tools on this list.
We cannot talk about free file-sharing websites without mentioning Zippyshare now, can we?
Zippyshare is a free file-sharing website that contains no download and upload limits.
However, the catch is that you can only upload files with sizes up to 500MB and all files get removed from their servers after 30 days.
Zippyshare offers unlimited disk space and can be accessed without forcing you to make an account.
The uploaded files can be easily shared with anyone via email, message, or social media.
Even though Zippyshare does not have the most visually appealing user interface, its ease of use more than makes up for it.
DropSend advertises it to be "the" platform to send large files. However, by large files, DropSend means files up to 8GB in size.
If you are struggling with sending files as email attachments, DropSend allows you to upload files to its server and then send a download link to the receiver via email.
The files uploaded to DropSend are secured with 256 AES High-Level Encryption.
With DropSend Direct, users can easily drag & drop multiple files in a quick and easy way, right from their desktop.
You'll never have to worry about interrupted uploads and slow Internet connection as the upload resumes as soon as you get re-connected to a stable network.
The free plan has 4GB of storage but only 5 "shares" per month, which in reality, is not that good of a deal.
Before You Go, Check Out This BONUS Tool!
Invoices, agreements, plans, brochures, contracts, images, videos, datasheets, designs – every company has an incredible amount of files it needs to keep track of.
Basic filing systems and other solutions might have worked in the past but they surely won't work in the present age.
You need to bring order to your file-sharing chaos…and that's where Bit.ai comes in!

Bit.ai is a new-age cloud-based document creation platform that takes file sharing to the next level.
You can weave almost every kind of file into Bit's modern and interactive documents, and Bit will show it beautifully.
To put it simply, Bit lets you add anything from anywhere on the internet with a link in a Bit document – be it videos, google docs, spreadsheets, PDFS, or music. There are currently more than 100+ rich media embed integrations and growing!
The reader can either view the file directly in the Bit document or go to the original file. What's more?
Any updates made to the original content will automatically reflect inside of your Bit living document. Fascinating, right?
Bit's new-age documents will certainly revolutionize the way you and your team work together and share files inside and outside your organization!
Final Words
So there you have, some of the best free file-sharing websites on the internet right now.
Sharing files from one part of the world to another seems like a dream come true, especially if you are old enough to have witnessed the olden days of USB sticks and email attachments.
Now, you can free up your device's space and upload all your files to the cloud, access them from anywhere in the world, and share them with friends and family easily.
Did we miss your favorite file-sharing tool? Tweet us with your suggestions @bit_docs.
If you have another tool that deserves a review and a mention here or send us an email.
Further reads: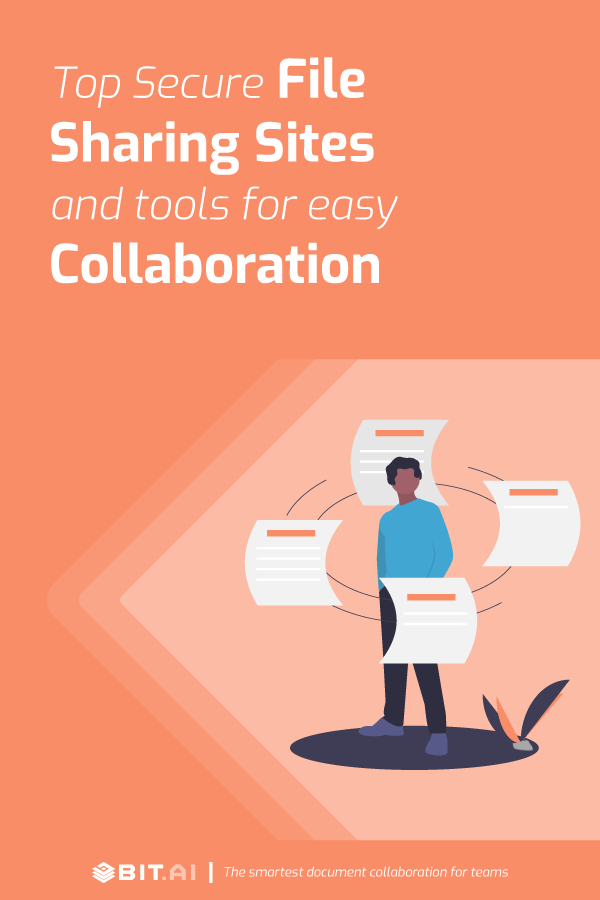 Related posts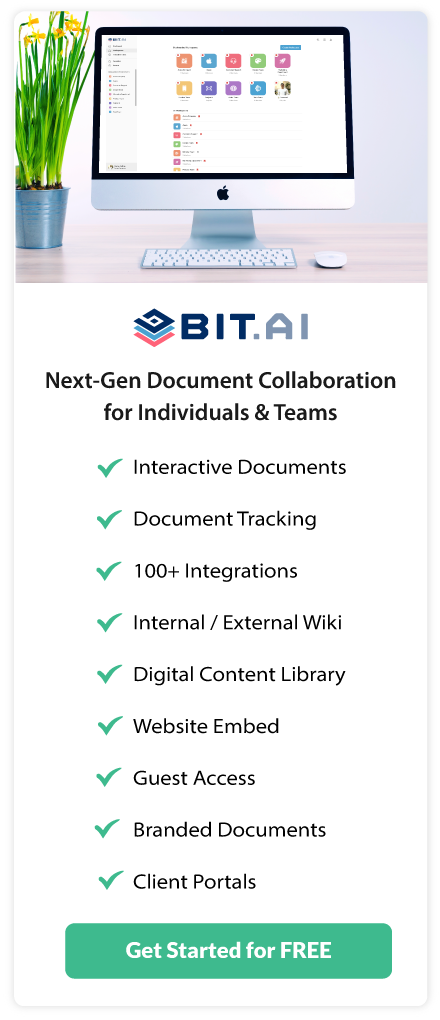 About Bit.ai
Bit.ai is the essential next-gen workplace and document collaboration platform. that helps teams share knowledge by connecting any type of digital content. With this intuitive, cloud-based solution, anyone can work visually and collaborate in real-time while creating internal notes, team projects, knowledge bases, client-facing content, and more.
The smartest online Google Docs and Word alternative, Bit.ai is used in over 100 countries by professionals everywhere, from IT teams creating internal documentation and knowledge bases, to sales and marketing teams sharing client materials and client portals.
👉👉Click Here to Check out Bit.ai.