With our businesses going virtual, thanks to the worldwide push for remote work, the need for digitization has increased multifold. From remote collaboration software to online meeting solutions, technology has been playing a huge role in supporting virtual teams to carry out their work in a remote environment. A big part of our work environment is our paper files and documents.
Businesses create and manage huge amounts of documents every single day- training manuals, onboarding materials, checklists, blog posts, approval docs, proposals, sales decks, HR guidelines, press releases, and more.
However, in a virtual environment, it becomes impossible to share paper documents. And the more we create such documents for business, the more important it gets to have practices in place to manage these documents. That's where a file management system comes in.
Why we need file management software and systems?
A file management system is a cloud-based service that facilitates the storage and managing (and sometimes creation) of all your documents and files from a single point of contact.
In other words, it's a filing system that operates in the cloud where you can store all your documents and company files and retrieve them whenever you want from anywhere around the world.
Remote working has brutally exposed the old paper-based document storage models that businesses have been using for decades, leaving them in despair. Even when working in a physical office, paper documents bring more chaos to the table than calm.
The chances of error and misplacement along with supplementary costs of storing and maintaining file cabinets are a few of the major hurdles businesses tackle every day. Besides, they are difficult to locate and access becomes impossible if your peers are working remotely.
The challenges are bigger than you think. Take a look at these stats:
A staggering 7.5% of all paper documents get lost.
Document challenges account for 21.3% productivity loss.
Companies with annual revenues between $500k and $1 million can save as much as $40k per year by switching to digital document management.
On average, a professional spends 18 minutes searching for a document, which adds up to nearly 50% of their total time on the job.
Around 20 percent of the business time – the equivalent of one day per working week – is wasted by employees searching for information to do their job efficiently.
File management system plays a significant role in making the management of files easier, faster, and more efficient.
The Many Advantages of a File Management System:
File management software and systems offer a lot of advantages when compared to physical files storage systems, some of which include:
Simple storage, surveillance, and retrieval of documents irrespective of location
Superior search abilities mean less time is spent on searching for important files
Lowered storage costs associated with physical files.
More security and privacy control over sensitive company data
Disaster recovery and backups
Real-time collaboration and improved teamwork
The version history of each document to see when edits were made
and much more!
Seeing that over 77% of business owners want to access files remotely, having a file management system in place seems like an obvious decision.
If you are looking for some of the best file management system out there, don't worry, we have done the heavy lifting for you!

List of Best File Management Software and Systems:
Below is a list of our picks for the best file management software and systems available today.
Microsoft Sharepoint
DocuWare
ProofHub
Google Drive
Alfresco
M-Files
OnlyOffice
LogicalDoc
Dokmee
Hightail

Next up is Sharepoint, a file management system by Microsoft. SharePoint empowers teams to store all company knowledge- documents, files, content, etc and find anything they need quickly. SharePoint allows team members to create dynamic team sites for projects, departments, as well as division. Inside these sites, employees can share data, news, files, and other important resources and collaborate inside and outside the organization.
With a tool like SharePoint, your employees can become more organized, and productive by having their files centrally located in team sites. Apart from being an amazing file manager, Sharepoint also combines many aspects of a calendar tool, messaging tools, project management tools, a company's intranet, cloud storage service, and even a content management system.
The platform is a part of the Microsoft 365 suite of apps and integrates with MS Office, Onedrive, Microsoft Teams, and more to bring all your collaboration in one place.
Some Key Features of Sharepoint
Share files from Teams, Onedrive, and more
Mobile apps to access files anywhere, anytime.
Annotate, highlight, and comment on files.
Pricing: 
Free with limited functionality
Paid plans start from $5 per user per month
Read more: 12 Secure File Sharing Sites and Tools for Easy Collaboration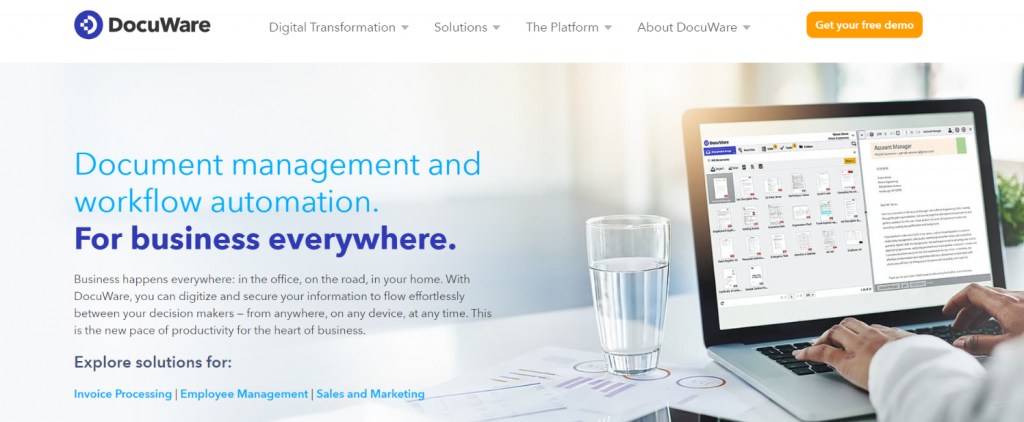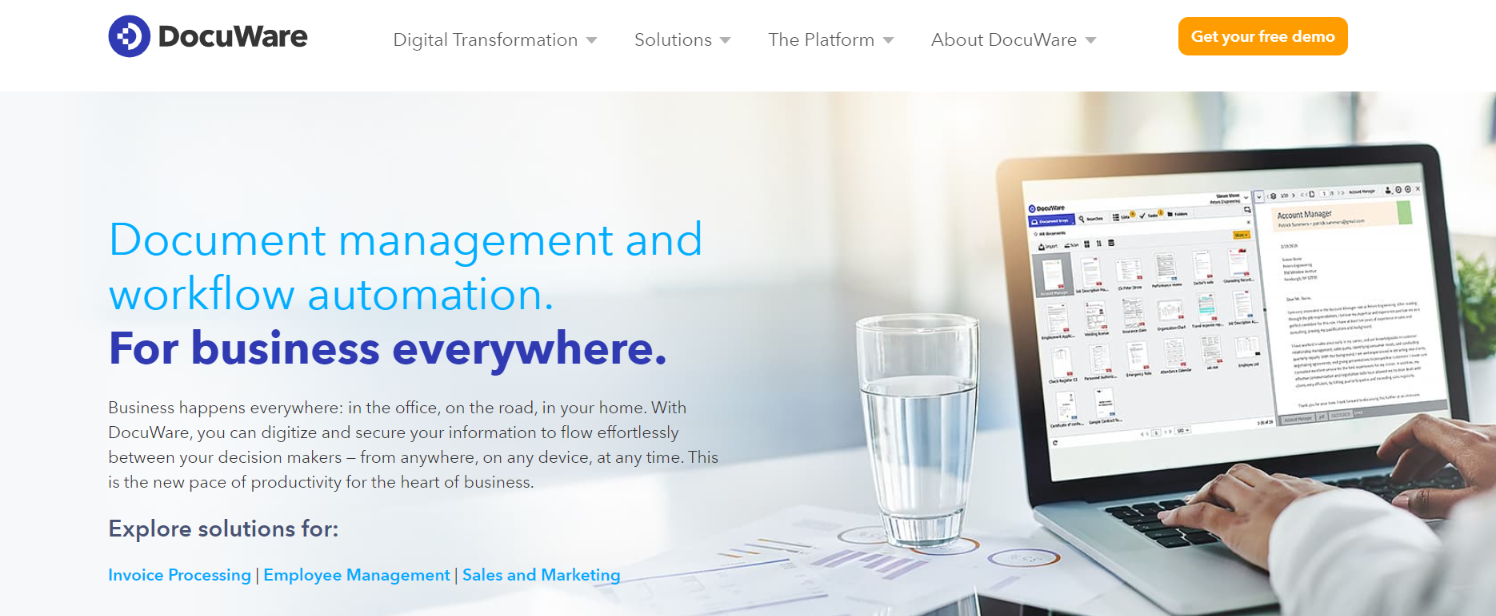 DocuWare says that employees spend 50% of their time searching for documents. If that's the case, we are in big trouble! Don't worry though, Docurware handles all our search worries easily by allowing users to store all documents and files on its cloud-based platform. Document management and workflow automation service, Docuware reduces time wastage significantly and help employees be more productive.
Docuware has advanced document indexing and storage abilities, making it easy to get a hold of your files, no matter where you are. With over 25 years of experience in the industry, Docuware has evolved into a robust file management system and continues to provide a great service.
Along with file management, Docuware automates business processes such as onboarding of new employees, invoice processing, or contract management. Furthermore, Docuware protects your files from unauthorized access by providing regulatory compliance safety features and disaster recovery benefits.
Some Key Features of Docuware
Process planner to plan out business processes
Barcode scanning and invoice processing
Integration with other cloud applications like Google Drive
Pricing: 
Paid plans start from Cloud Base (Includes 4 named client users with 20 GB storage), Cloud Professional (Includes 15 named client users with 50 GB storage), Cloud Enterprise (Includes 40 named client users with 100 GB storage), Cloud Large Enterprise (Includes 100 named client users with 250 GB storage)

When it comes to enhanced team collaboration and simplified project management, ProofHub is a cloud-based SaaS tool that needs no introduction. ProofHub offers a wide range of advanced features under one virtual roof, including efficient "File Management Software". Project teams also spend a considerable amount of time sorting and organizing their digital files and documents, but ProofHub's File Management system simplifies the whole process. 
The software enables project teams to upload, store, and organize all their documents in one place. You can easily access your files, share links and collaborate on them with widely distributed team members. "File versioning" allows you to store multiple versions of the same file, and "Advanced search" makes it easy to locate your documents by using relevant keywords and phrases. 
 You can also use ProofHub's File Management system on your mobile phone.  
Some Key Features of ProofHub's File Management Software: 
Online proofing allows you to review, proof, and annotate files with markup tools

Attach files and documents to tasks, discussions, chats, and notes

Real-time collaboration and feedback sharing on files 
Pricing: 
ProofHub offers two pricing plans – The Essential plan with all basic features at $45/month, billed annually, and the Ultimate Control plan with all basic plus premium features is priced at $89/month, billed annually.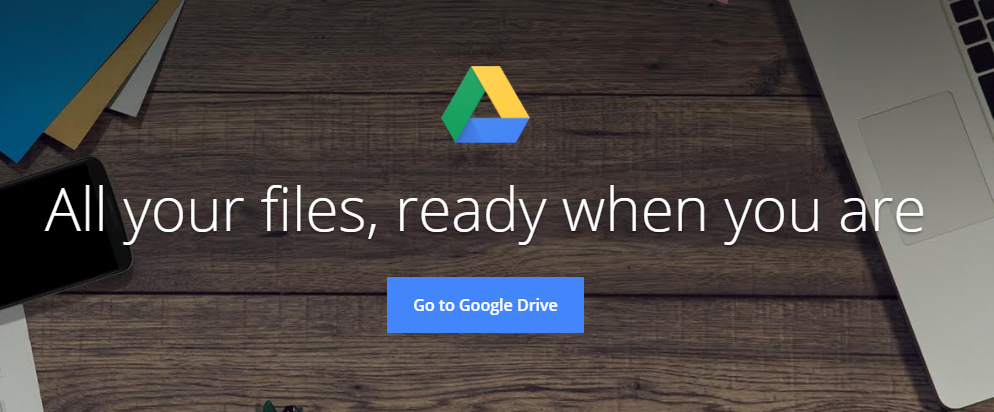 Need something casual? Check out Google Drive, a file management system by Goole. Even though not as powerful or robust as other file management software on this list, it still gets the job done and is a great tool for the average user. A free collaboration platform by Google, Drive integrates with Google Docs and Google sheets, allowing you to store all your documents and files inside Drive with one click.
Google Drive offers free 15GB of cloud storage to store all your files and you can upgrade to a pro version in case you need more. The platform is simple and intuitive to use, however it doesn't really scale when you have a large company. Drive also has smartphone apps for both iOS and Android so you can access your files on the go.
Some Key Features of Google Drive
User-friendly, simple design
Integrates with Google Docs and Google Sheets
Perfect for individual users
Pricing: 
Free 15 GB storage
Paid plans start from: 100GB for $1.99, 200GB for $2.99, and 2TB for $9.99 per month.
Read more: What is Knowledge Management and Why Your Organization's Success Depends on It?


Next up is Alfresco, an Enterprise Content Management Tool aimed to streamline your organization's knowledge. Alfresco removes content silos by providing users a single source of truth for all their data and files. No more searching emails and hard drives for content and documents!
Want to improve your workflow? Alfresco's document management lets employees find, share, and store all important files including legal contracts, marketing assets, customer files, and more. With document scanning and capture, get more out of your documents, and unlock business intelligence like never before. Alfresco's AI and machine learning capabilities can also extract information from AWS. Alfresco is available on the web, on desktop, and via mobile apps.
Some Key Features of Alfresco
Smart folders to find information quickly
Built-in workflows to simplify document review and approval process
Multiple layers of access permissions for added security
Pricing: 
Free trial
Paid plans start from Starter (supports 100 users), Business (supports 300 users), Enterprise (supports 1000 users)- customized pricing. Contact sales.


An intelligent information management system, M-Files is next up on our list. The platform organizes company files based on what the file is about and not where it's stored. By creating a central location for all files, M-files allows users to quickly find the file they are looking for, no matter where (desktop, cloud storage services, etc) the file is stored.
Simply tag the file, fill in the metadata, and click save and M-files will easily locate your data and would also notify you of any sort of duplication. M-Files is a platform and device-independent, meaning that users can choose between on-premises, cloud, or hybrid deployment of M-files and simplify their workflow. With enterprise-grade security, you would never have to worry about losing your data with M-Files.
Some Key Features of M-Files
Search across devices, services, and locations
Cloud-based, on-premise, or hybrid deployment
Integrates with Salesforce, Sharepoint, Google Gsuite, and more
Pricing: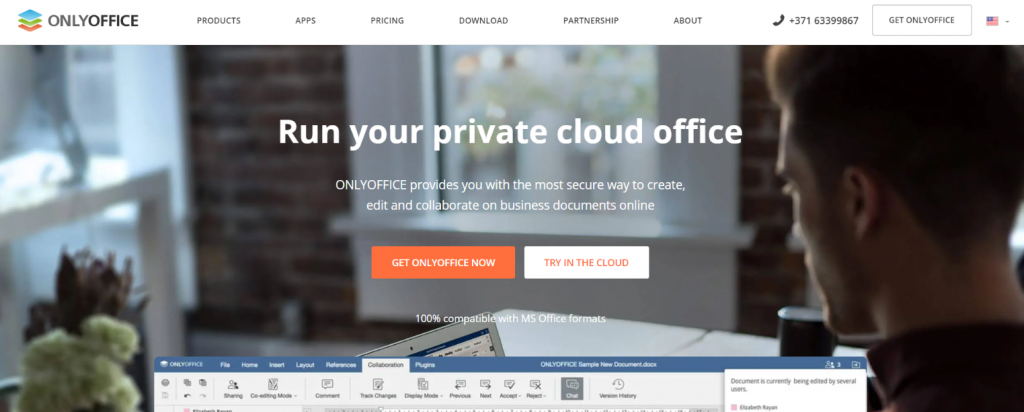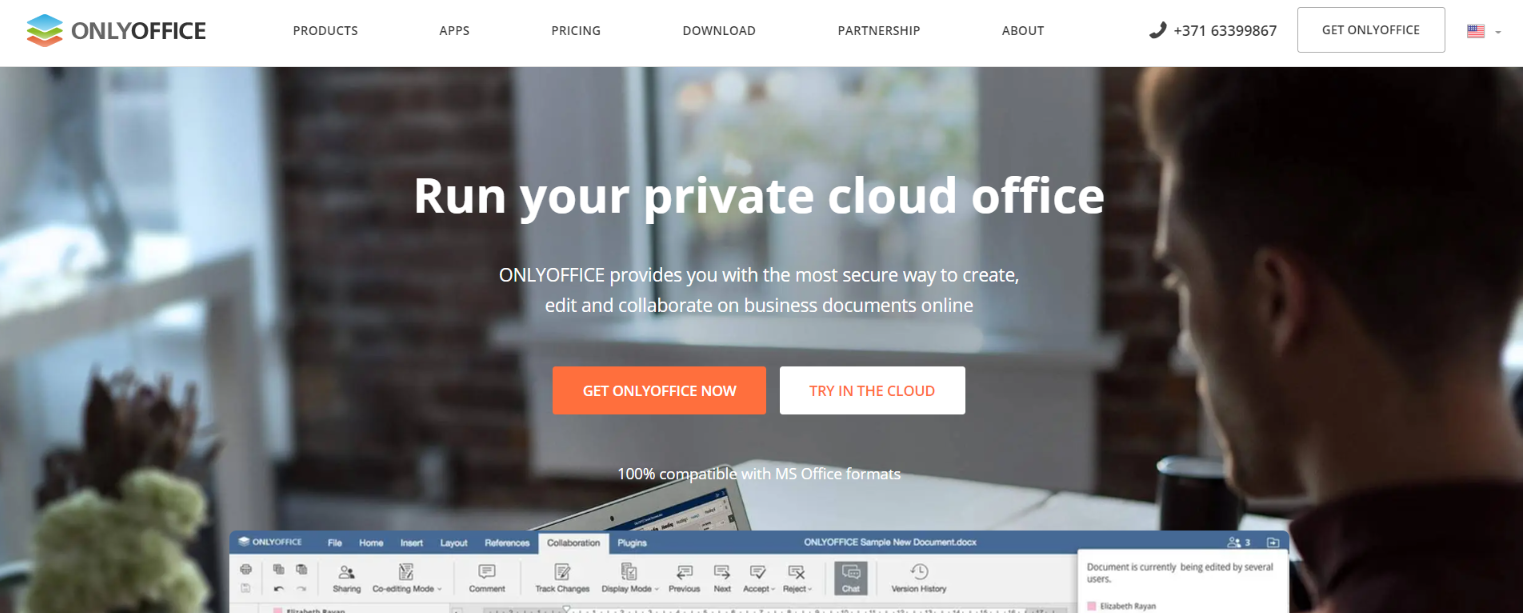 OnlyOffice wants your entire office files to be deployed on their platform for easy storage and retrieval. Employees can upload files, documents, presentations, spreadsheets, and other workplace data to Onlyoffice's web app and manage it online. OnlyOffice was awarded as the best document management software of 2018 by PCmag and we aren't complaining!
Apart from storing your files, OnlyOffice allows users to track changes, collaborate in real-time, leave suggestions, and access version history. Supporting all major file formats including PDF, DOC, CSV, TXT, and HTML, OnlyOffice makes sure all your files are secured on their platform.
Users can also connect their cloud storage services like Dropbox or Google Drive to bring all of their data under one roof.
Some Key Features Onlyoffice
Store and play videos in multi-format
Share files as read-only, review, comment, form filling, or full access.
Version and revision control system
Pricing: 
Free trial
Paid plans start from Enterprise Edition Start ($1200/server, lifetime access), Enterprise Edition Standard ($2400/server, lifetime access), Enterprise Edition Standard+ ($4800/server, lifetime access).
Read more: Virtual Data Rooms (VDR) Explained with Use Cases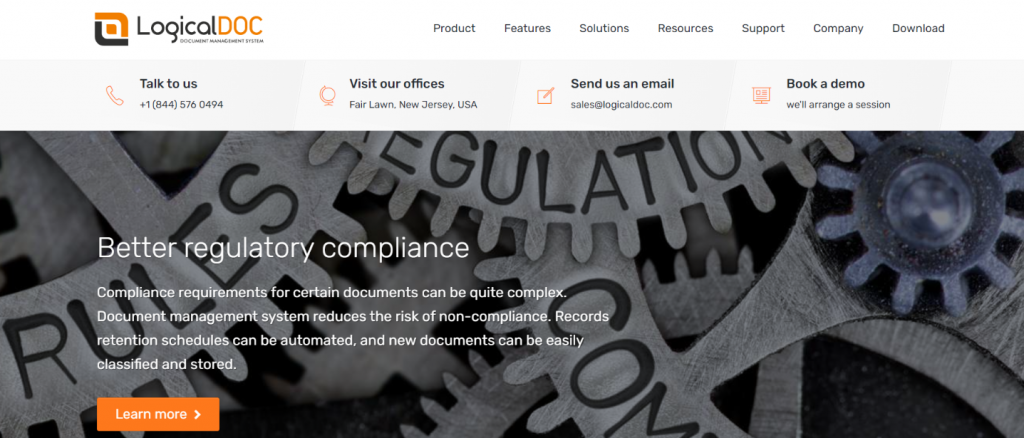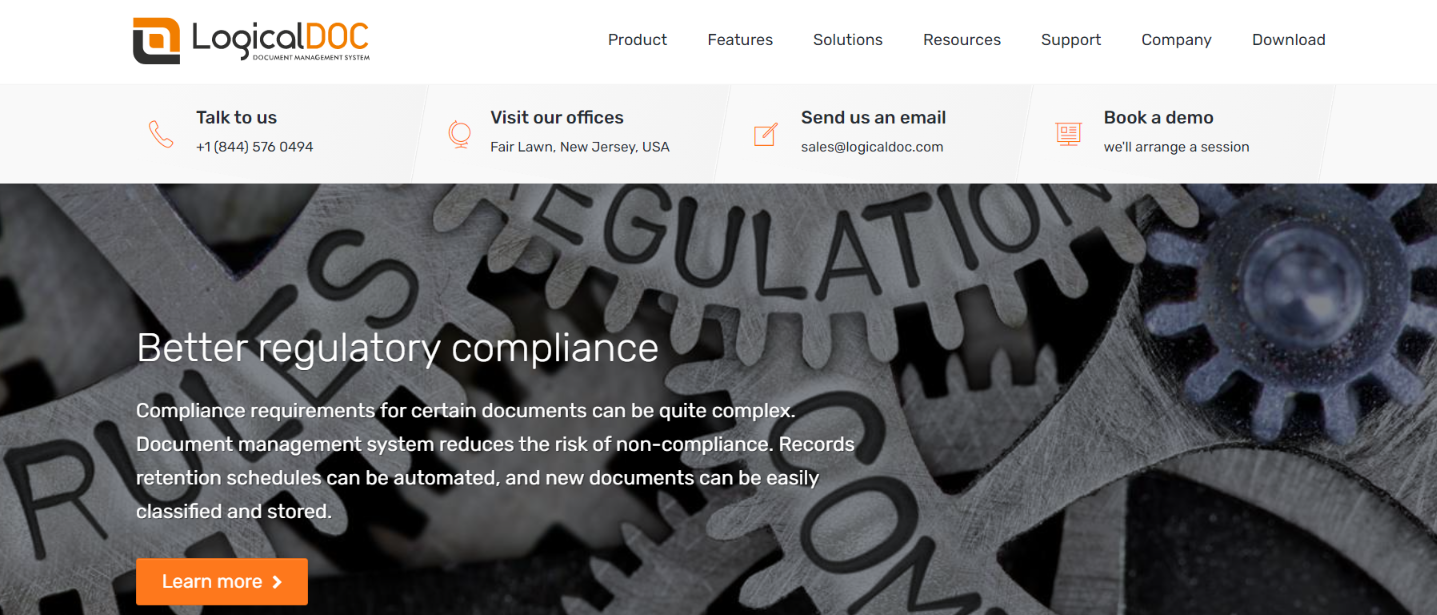 Looking for an open-source solution to your file management worries? Try LogicalDoc, an open-source file management system with the bells and whistles of an enterprise document management. LogicalDoc is perfect for those organizations that already have a ton of paper documents lying around and what to convert those into digital documents. The platform is available for deploying as both a cloud-based web app and as on-premise software.
The tool is really easy to use- simply drag and drop files to your dashboard and create your digital file library. With collaboration features in-built, users can create and edit documents together and keep a record of version history. The platform also has an internal messaging system as well as barcode management capabilities.
Some Key Features of LogicalDoc
Auto-naming and auto-filing of documents
Syncs across devices, be it Windows, Mac, iOS, or Android
Barcode scanning, bulk upload, auto-import from email, and more
Pricing: 
Book demo for pricing quote


Next up is Dokmee, another great file management system that wants to help you get rid of your paper documents. The platform works by the user uploading their electronic files to the Dokmee cloud and let Dokmee do the rest. Users can organize their files in separate folders and spaces, making them easy to find and retrieve. With powerful production level-imaging and data capture, users can scan and index files onto the Dokmee cloud with ease.
With collaboration features like multi-user access, document audit, restrictions, version control, and more, Dokmee ensures teamwork and compliance in the workplace. Dokmee's scanning technology can also extract data from documents like page size, page count, and compression type. With enterprise-grade-security data centers and 24×7 monitoring and power supply, your files are safe with Dokmee.
Some Key Features of Dokmee
Automated data capture and annotations
Rules-based document indexing and routing
File sharing and collaboration
Pricing: 
Free trial
Paid plans start from $29/month
Read more: Best Cloud Document Management Systems in 2022


Formerly known as YouSendIt, Hightail is the last tool on our list. A file sharing and collaboration platform, Hightail works around "spaces" which are nothing but groups where employees can share files with another and collaborate on work. Hightail makes it extremely convenient to add files to their platform- whether you prefer to drag and drop them to the Hightail dashboard or import them from other services like Dropbox or Google Drive.
Apart from file sharing, Hightail also promotes creative collaboration, and employees can annotate content, collect different versions, and chat in real-time to get work done. You can also track files sent and received and be on top of your work. With password protection and expiration limits, users can share their files in a safe and secure way.
Some Key Features of Hightail
Integrates with Google Drive, Dropbox, and OneDrive
Share files without needing a Hightail account
Receive email notification once your files are delivered.
Pricing: 
Free with limited functionality
Paid plans start from Pro ($12/month per user), Teams($24/month per user), Business ($36/month per user)
Conclusion
These are our top picks for the best of the best file management system on the market today. Every business creates and shares a ton of files and documents, making them an indispensable part of our workflow.

Streamlining this process can do wonders for employee productivity, efficiency, and stress management. A file management system helps you do just that and thus, gives you an advantage over your competitors.
Did we miss any major file management tools? Which one is your favorite? Let us know by tweeting us @bit_docs. Cheers!
Further reads: 
The Ultimate Guide To Document Management Workflow
Resource Management Plan: What, Why, and How to Create It?
16 Best Business Tools Every Business Needs in 2022
Workflow Management Software Every Business Should be Using
How to Choose your Document Creation Tool?
The Best Way To Organize All Of Your Work And Get Rid Of Chaos!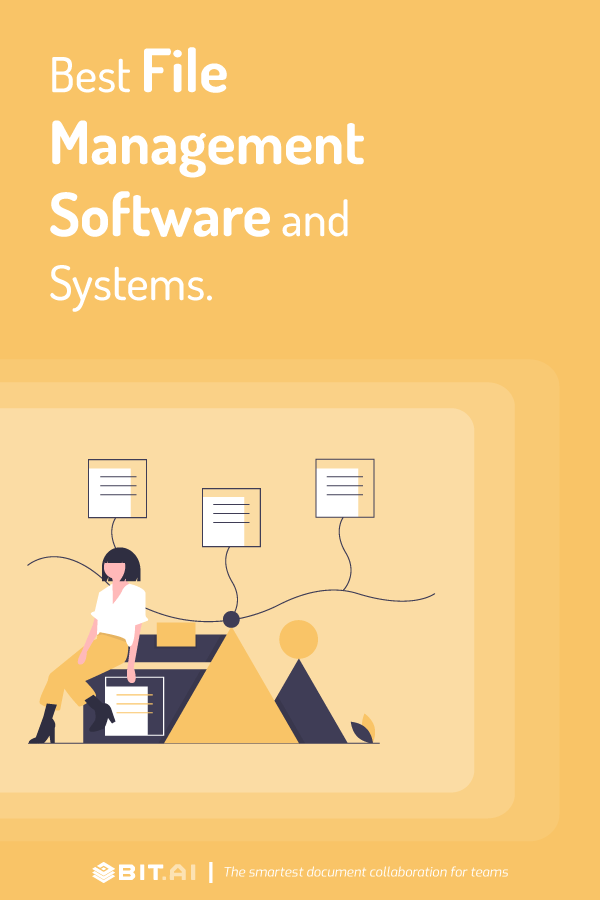 Related posts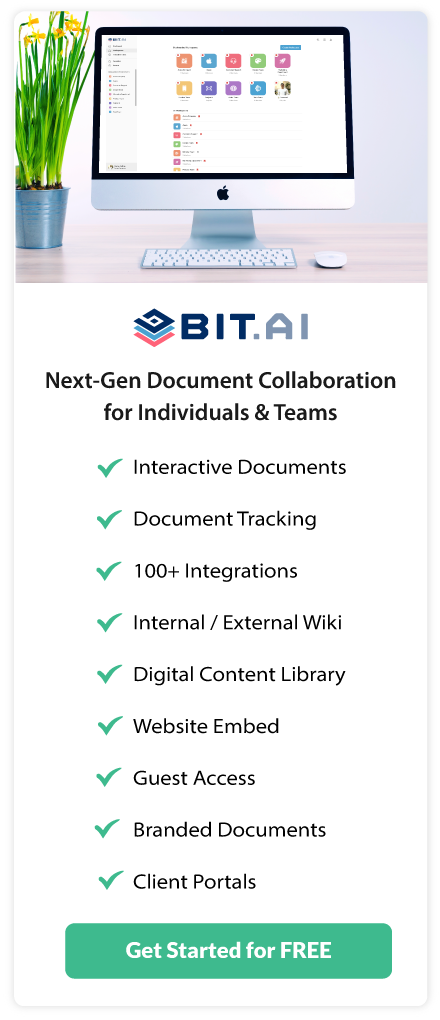 About Bit.ai
Bit.ai is the essential next-gen workplace and document collaboration platform. that helps teams share knowledge by connecting any type of digital content. With this intuitive, cloud-based solution, anyone can work visually and collaborate in real-time while creating internal notes, team projects, knowledge bases, client-facing content, and more.
The smartest online Google Docs and Word alternative, Bit.ai is used in over 100 countries by professionals everywhere, from IT teams creating internal documentation and knowledge bases, to sales and marketing teams sharing client materials and client portals.
👉👉Click Here to Check out Bit.ai.