Are you looking for document tracking systems? Let's see which one's the best on the market today!
The internet has come a long way since that weird crackling sound your dial-up internet made before you could go online and "surf the web".
One critical thing that the internet pioneers left behind are documents. They still look and feel like something you created in the 90s, with your boring word editor, adding plain text and static images that never seem to stick to the place you intend them to.
But most importantly, you still cannot get smart insights on them. There's absolutely no way of knowing if the document you shared with your peers was ever opened. No way to find out whether your content was enjoyed by your audience. No way of tracking them. Sigh…
Why you should track your documents?
Since being on the internet and maintaining a social media presence is an integral part of your daily business operation, a lot of businesses are trying to optimize it. Businesses want data, on everything.
Having tons of useful data about your customers, prospects, clients, investors, and even competitors give you the ability to change what's not working and what is.
This is why you see businesses track almost every aspect of their online activities. Businesses and professionals are making use of advanced analytics to study how their work is being received and understand what they are doing wrong/right.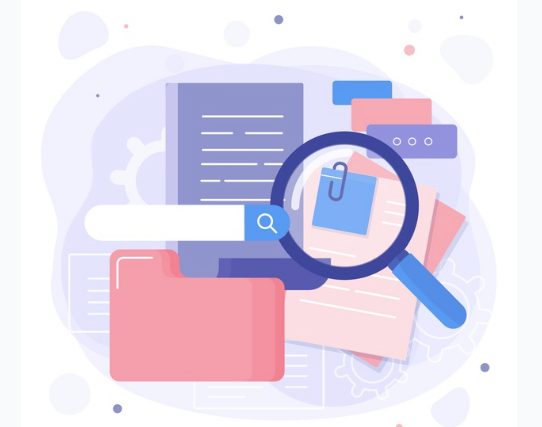 Professionals are making use of a wide variety of analytical tools to track and measure every aspect of their business activity- website, blog, social media, email, video, audio, etc. but what about your documents? Why are documents left out in the cold? When the majority of our work consists of creating and sharing documents, it's shocking that document analytics seems like a far-fetched dream.
The fact that we aren't using proper tools to measure the engagement levels on a document is astonishing. Do you know what happened to your document after you shared it with someone? Imagine having a document tracking system that lets you know the following:
Did they open it?
At what time?
How far did they scroll before closing it?
How often did they open it?
Imagine the sheer worth of this kind of detailed data. It can help your business make informed business decisions in the future by learning about what works and what doesn't. Analyzing this critical data allows you to put it to good use and gain a competitive advantage over your competitors.
Related: What Is Competitive Analysis And How To Do It Right?

Some of the best document tracking systems out there:
If you are smart enough to be looking for a document tracking system, you are already ahead of your competition in so many ways. All you need now is a document tracking system that will help you make intelligent and informed decisions and avoid costly business mistakes.
There aren't many document tracking systems out there that provide you the ability to track your documents. Let's see what exists out there and which document tracking systems you should be using:
Bit.ai
DocSend
Attach.io
Saleshandy
Let's take a look at each one of them in detail and decide which one is the best document tracking software for you:
Document Tracking System #1: Bit.ai
Bit is a new-age cloud-based document collaboration tool that helps teams create, manage and track all your business documents in one place.


Get your team together in a Bit workspace and create marketing and sales collateral, employee training guides, meeting notes, proposals – basically any workplace document. Make your documents interactive by going beyond text and images and adding YouTube videos, spreadsheets, SlideShares, audio files, GIFs, Dropbox files, web articles, social media posts- basically anything on the internet with a URL!
When you are satisfied with your document and are ready to share it, you can create a trackable link. Your trackable link once shared will provide you with information on how often it's viewed, how far it was scrolled, how much time was spent on it, etc.
Bit also gives you the ability to share multiple trackable links for every recipient or group you want to track. This is what sets apart Bit from all the other document tracking tools out there.
Unlike other tools, which ask you to convert your document into a PDF and then share a link via a third-party tracking service, Bit allows you to share your documents right from the get-go. No need to convert it into a PDF or any other file type. No need to share a unique link via a third-party. Simply share your document as it is and get detailed, actionable insights!
Related: How To Create An Interactive Pdf In Minutes
Here are some of the features that make Bit, the ultimate solution for creating, sharing, and tracking workplace documents:
Smart Sharing:
Bit helps you share live documents and trackable documents. Each Bit document enables you to create multiple trackable links for every recipient or group you want to track. Study your audience's interaction with your content for smarter follow-ups.
Engagement Analytics:
This is where the magic happens! You can gather real-time insights to understand how users interact with your content. Users are able to see who has accessed their Bit document, how frequently, how much time they spent on it, and how often they have returned to it, along with other great engagement metrics.
Real-time alerts:
With Bit, you can get instant notification on your Bit dashboard as well as an email when someone opens your Bit document and leaves you feedback. This allows you to quickly respond to the receiver and move business along quicker.
Lead Capture:
One great way to get lead information is to attach a lead capture form to your Bit document. This allows your team to collect information (name, company, job title, email, phone number, etc.) before your audience views your Bit document.
Password protection:
You can also password protect your Bit documents before sharing them. This allows only people to access it to whom you've given the password. You can update your password anytime or can also disable it at any time.
Bit makes it super easy to create better and smart documents. With a simple click of a button, you can track those documents too!
Document Tracking System #2: DocSend
DocSend is another document management tool primarily catered towards sales and marketing teams. DocSend provides powerful insights into the sales collateral sent by salespeople and gives them a detailed overview of how prospects engage with their sales material.
With instant 'read' notifications and page-by-page analytics, you'll know when your sales presentation is opened, passed around, and where prospects spent most of their time. DocSend empowers sales teams to have the right conversation, with the right person, at the right time, and do business more efficiently.
A cool feature of DocSend is its ability to let users make changes to their documents even after they have sent them. You can set up passwords, revoke access, change download permissions, and modify documents if you need to remove some errors or typos.
Document Tracking System #3: Attach.io
Another document tracking tool on the market is Attach, which again, is primarily catered towards the needs of sales and marketing. Attach helps you understand how your customers interact with your content so you know when to follow them back and tailor your pitch for maximum impact.
Users can see in real-time when any of their attachments, such as PDFs, Word documents, PowerPoint presentations, and others, are viewed. Useful analytics like when an attachment is opened, who opened the attachment, what pages within the attachment the recipient visited, which links they clicked etc.
Salespeople can also get reminded when their documents haven't been opened so that they can follow up with prospects and remind/nudge them to take action. With a new integration with Salesforce, Attach can now send your viewers engagement and information directly to your Salesforce CRM.
Document Tracking Tool #4: SalesHandy
SalesHandy is a Sales Engagement Platform with features like Email Tracking, Email Scheduling, Mail merge campaigns with automated follow-up, Link Tracking and In-depth engagement data of prospects. In addition to email tracking, SalesHanddy also provides document/email attachment tracking capabilities.
Features like real-time notifications when somebody opens your document, track the precise location from where the prospect has opened your document, password protection, set expiration dates, know which documents are performing the best and many more features make SalesHandy a neat tool for salespeople wanting to craft their sales pitches and get more conversions.
Just like Attach, SalesHandy also prompts a notification if your recipient didn't open your document until a certain set time.
Conclusion
Approximately five billion email attachments are sent out every day, but senders have had no way of knowing whether the recipient opened or viewed their attachments. Getting critical insights into your shared documents like who opened it, when did they open it, how far they scroll or how much time they spent viewing it can be a game-changer.
Document tracking insights help you figure out:
Whether the client, prospect, investor, or your own employees actually read what you sent to them.
Whether you need to make your content more engaging.
Replicate content that's working across audiences.
How you should follow up with a prospect.
When you should follow up with a client.
Bit makes it super easy to create better and smarter documents. With a simple click of a button, you can track those documents too! Document tracking has never been this easy. Happy tracking everyone! With so much to gain, why wouldn't a business look for an awesome document tracking tool?!
Which one of the above-mentioned document tracking systems is your favorite? Do you like to suggest any other document tracking tool that we might have missed? Comment below!
Further reads:
[/vc_column_text]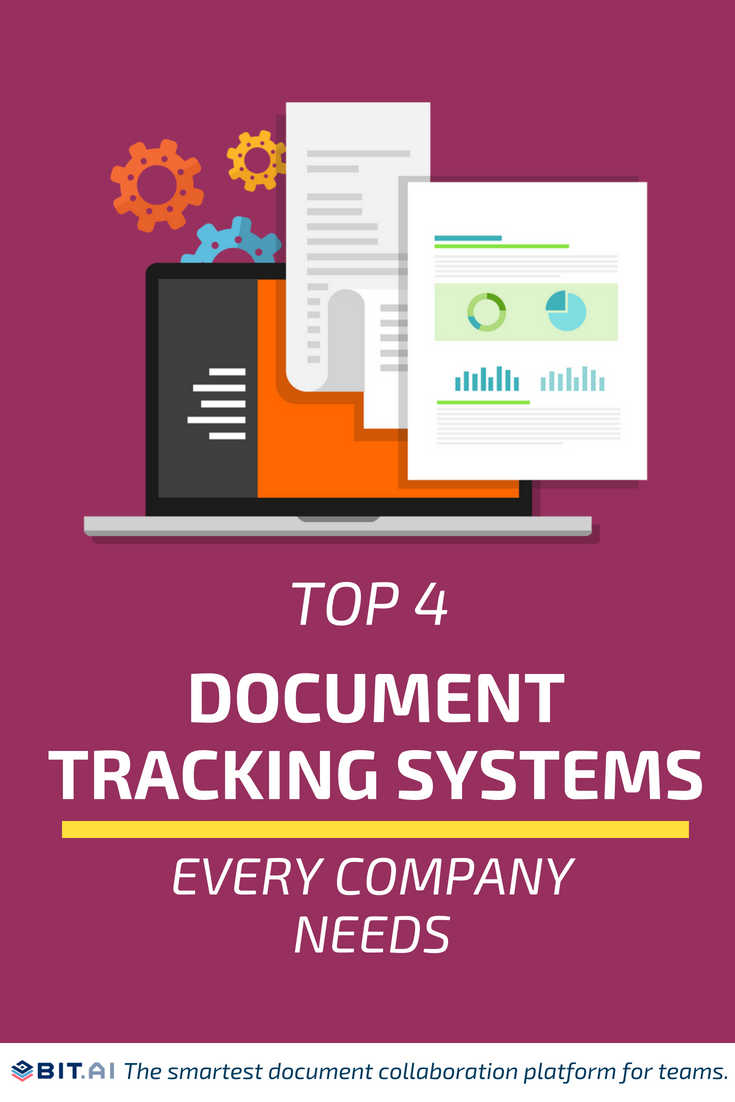 [/vc_column][/vc_row]
Related posts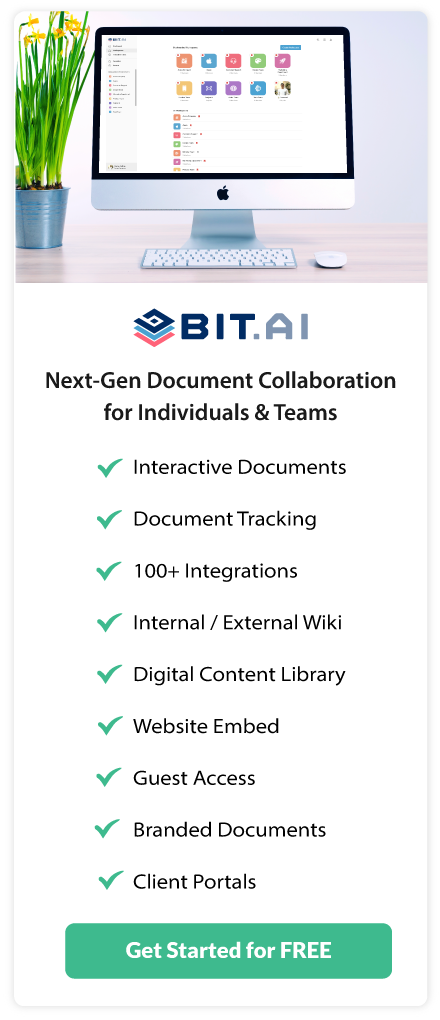 About Bit.ai
Bit.ai is the essential next-gen workplace and document collaboration platform. that helps teams share knowledge by connecting any type of digital content. With this intuitive, cloud-based solution, anyone can work visually and collaborate in real-time while creating internal notes, team projects, knowledge bases, client-facing content, and more.
The smartest online Google Docs and Word alternative, Bit.ai is used in over 100 countries by professionals everywhere, from IT teams creating internal documentation and knowledge bases, to sales and marketing teams sharing client materials and client portals.
👉👉Click Here to Check out Bit.ai.