Want to maximize your affiliate marketing results? Try using an Affiliate Marketing tracking software program and increase your sales like never before!
Affiliate marketing is a way to earn money online by recommending digital products or services to people and earning a commission.
Bloggers, YouTubers, Instagram influencers, Facebook pages- all are making use of affiliate marketing to drive sales to a business and earn commissions.
If you are a brand or merchant and want to sell more of your product, you can have people or affiliates sell your product for you and offer a financial incentive, i.e. a commission on every sale they make. It's a win-win situation for both parties.
Affiliate Marketing Is Gonna Stay For Long!
Affiliate Marketing is slowly turning out to be a major source of revenue for brands online as affiliate marketing now brings as many e-commerce orders in the US as email! Both marketing channels account for 16% of US e-commerce orders.
In 2016, U.S. retailers spent $4.7 billion on affiliate marketing. Astoundingly, by 2020 U.S. affiliate marketing spend is expected to rise to $6.8 billion. Since 81% of brands are using affiliate marketing as part of their customer acquisition methods, it's safe to assume that affiliate marketing isn't going anywhere!
The use of affiliate marketing strategies by brands has become commonplace as consumers are increasingly shopping online and often look for word of mouth, reviews, and genuine feedback to gain confidence in a product or service.
It's also a great way for content creators like product reviewers, bloggers, and tastemakers to monetize their audience and get paid for their knowledgeable insights.
However, issues like fraud ad clicks, click attribution, and conversion tracking are common in the affiliate industry. Managing your affiliates and making sure they get paid only for their genuine work is a nightmare.
To successfully take advantage of the potential that affiliates bring, brands must find a reliable way to track conversions and assign them to the right channel.
Read more: How to Start Affiliate Marketing: A Complete Guide For The Best Results
Best Affiliate Marketing Tracking Software Programs
To make affiliate marketing and tracking easy for you, we have put together a list of some of the best affiliate marketing tracking software programs out there. 

FirstPromoter
Post Affiliate Pro
Voluum
Osi Affiliate
Everflow
Cake
AffiliateWP
Hit Path
LinkTrust
AffTrack
Tune

Affiliate tracking especially for Saas companies, FirstPromoter is the first one our list. An all-in-one software, Firstpromoter allows SaaS companies to track, manage, and optimize any type of referral-based marketing programs easily.
Affiliates can easily see their stats and share the referral link from their private dashboard while companies can reward both affiliates as well as their friends for signing up. It asl supports a one-click payout option using which companies can pay all their affiliates in one go.
Firspromoter is highly flexible as it allows businesses to have different affiliates for different marketing campaigns as well as different commissions/rewards structure, messaging(emails), links and signup pages
Key Features:
Create private campaigns to invite specific affiliates
Set percentage or fixed commissions
One-click automated payouts

Used by over 2,700 companies globally, Post Affiliates Pro is a recognized face in the affiliate marketing tracking software space.
Packed with numerous tracking methods like browser cookie tracking flash cookie tracking, IP address tracking and more, Post Affiliate Pro is one of the most accurate affiliate tracking software on the market currently.
With even the lowest-cost version of Post Affiliate Pro, you can run and track an unlimited number of campaigns for your shop or website, linking to more than 170 CMS as well as payment gateways.
Commission types offered by the platform include action commissions, recurring commissions, lifetime commissions, split commissions, performance rewards, and more.
Key Features: 
Mass payments
Multilingual support
Customizable interface

A one-stop-shop for all your marketing activities, Voluum allows you to track different ad formats and all traffic sources.
Track all your advertising campaigns, analyze data for actionable insights, optimize ad performance, and scale your affiliate marketing business all from a single dashboard!
With a simple-to-use interface and a ton of exciting features, Voluum is certainly one of the best bang-for-buck tools on this list.
Key Features: 
Automatic Campaign Optimization
Push notification alerts
Listicle tracking

Next up on our list is Osi Affiliate – a robust and powerful affiliate tracking software!
One of the coolest features of this software is that it makes it easy for you to recruit and encourage affiliates and influencers to promote your brand. All you need to do is enable social sharing and add pre-written posts with graphics for your customers to share on almost every social network.
What's more? Osi Affiliate offers a wide range of professionally designed landing page templates that you can use for your referral program. You can also provide your customers with promo codes to increase sales.
If you want to find out who your most loyal customers are, Osi Affiliate has a 'survey tool' that asks customers how likely they are to refer your product to their friends and family. Based on their answers, you can automatically sign them up for your referral program!
Key Features:
Built-in promotional resources
Social share widget
Influencer directory

Starting with one of our personal favorites, Everflow is a great affiliate tracking software program with a neat UI.
Build for marketers, Everflow provides you with an all-in-one platform for managing your affiliates, influencers, and strategic partnerships.
Built on Google Cloud platform, Everflow provides you with real-time access to all of your data for marketing decisions, comparisons, and deeper analysis.
The analytics reports allow you to choose any metric, such as a campaign, see a breakdown of partners run it, and then breakdown the performance for that selected campaign and partner by their placements, cities, country, etc.
All this data is crucial for making informed decisions and grow your business effectively.
Key Features: 
Live data in the form of graphs and reports
Advanced notification system
Advanced media buying tools
Read more: 24 Awesome Digital Marketing Tools You Must Try!

CAKE is another affiliate marketing tracking solution to measure, manage and optimize partner campaigns for the highest performance.
Trusted by more than 500 advertisers, networks and publishers across 50+ countries, CAKE ensures accurate measurement, data security, and great customer support.
Apart from providing real-time analytics, CAKE leverages custom targeting parameters such as location, device, browser, traffic caps and redirects for real-time monetization of traffic.
One look at the dashboard can sow your network's overall performance and manage contacts using granular data points for correct attribution.
Key Features:
Pixel management
Fraud protection
Real-time metrics
Read more : 10 Must-Have Tools For Sales And Marketing Teams
7. AffiliateWP

If you're using WordPress to run your e-commerce website or brand, you should definitely take a good look at AffiliateWP.
AffiliateWP is an easy-to-use, reliable WordPress plugin that gives you the affiliate marketing tools you need to grow your business effectively.
Since AffiliateWP is a WordPress plugin, your affiliate program will be up and running in minutes.
Simply install and activate and you're ready to go! AffiliateWP integrates fully with popular WordPress eCommerce (wooCommerce) and membership plugins, making it easy to track affiliates and sales.
Key Feature
Easy setup
Affiliate coupon tracking
Integrations
Read more: The Ultimate Guide To Sales Enablement Content

A multichannel tracking platform, HitPath allows clients to properly attribute the various touchpoints of their marketing efforts and evaluate customer engagements.
HitPath is available for affiliate networks, advertisers, and agencies, with every dashboard catering to the needs of the specific user and reporting accordingly.
With features like campaign management, communication tools, accounting tools, affiliate management, and more, HitPath is a comprehensive affiliate marketing tracking software platform.
Key Features: 
Real-time campaign tracking,
Pixel management
Accounting module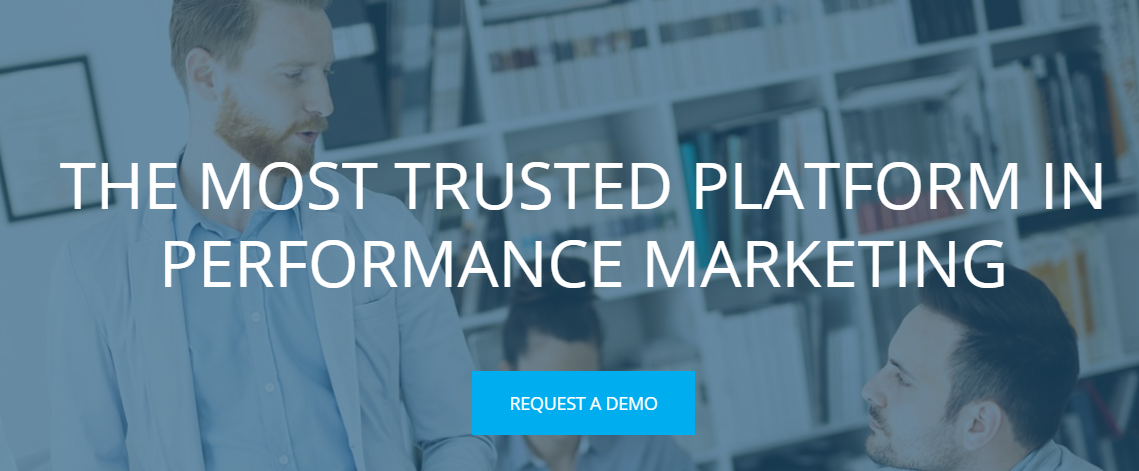 LinkTrust empowers advertisers, ad networks, retailers and marketing agencies to accurately and easily manage, track and attribute performance marketing campaigns.
Claiming to be the "most accurate affiliate marketing tracking platform", LinkTrust has been in the business since 2002.
Whether you're an ad network, advertiser, or agency, LinkTrust allows you to track essentially any type of advertising online and offline – pixels, cookies, CPA, CPC, mobile traffic and more.
Key Features
Mobile Tracking
AutoPay Payment Automation
LinkTrust Remote Traffic Agent

Used by numerous big affiliate networks since 2009, Afftrack is one of the only enterprise affiliate marketing platforms that offers unlimited clicks.
Apart from the usual tracking and reporting features, Afftrack has the ability to connect through API integrations or use your portal for reporting.
Its prominent features include proxy and fraud detection, real-time analytics, brandable interfaces, postback and redirect Logs, geo, and device targeting, client-side and cookieless tracking and more!
Key Features: 
Quick support
API access
Offer targeting
Read more: 10 Social Media Marketing Podcasts That Will Inspire New Ideas

Previously known as HasOffers, Tune is one of the most flexible SaaS platforms for managing marketing partnerships across mobile and web.
With over 12,000 customers including brands like GetApp, Baidu, and AppLift, Tune has all the features you need to run a successful affiliate marketing campaign.
Easy-to-use payout rules, proactive fraud prevention, and marketing performance automation tools help streamline workflows and reduce repetitive manual tasks.
All in all, Tune acts as a central repository for all your marketing efforts as it brings together all of your marketing partners, networks, channels, and campaigns in one place.
Key Features: 
Cookieless postback tracking
Event logging
API-driven data sharing
Final Words:
Every tool mentioned on this list brings something different to the table. A good way to go about is to try every one of them out for a week and see if it fits your needs perfectly.
Affiliate marketing can be a very lucrative way of increasing your product sales or generating income and a good affiliate marketing tracking platform will help you do that more effectively!
Further reads : 

Don't want to forget this information?
Pin it for future reference!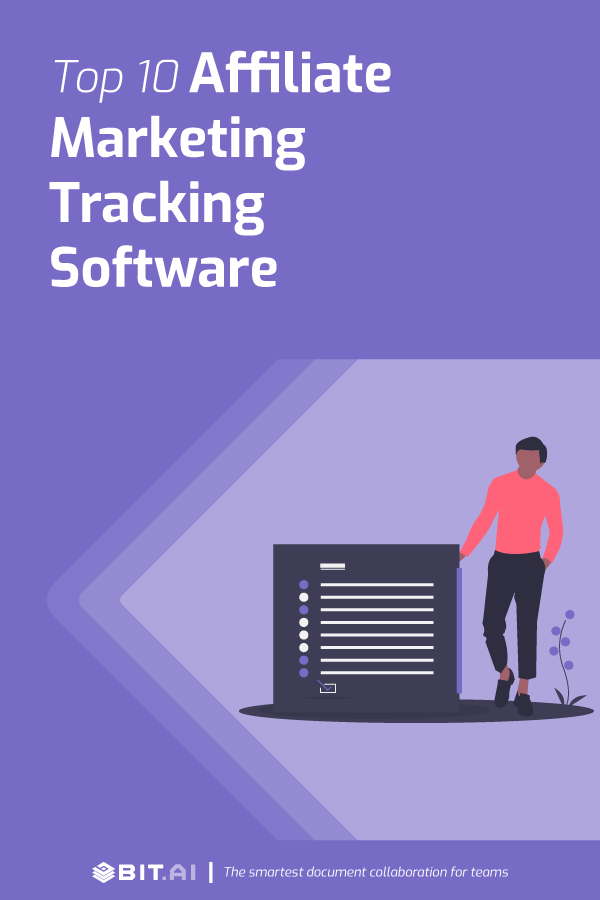 Related posts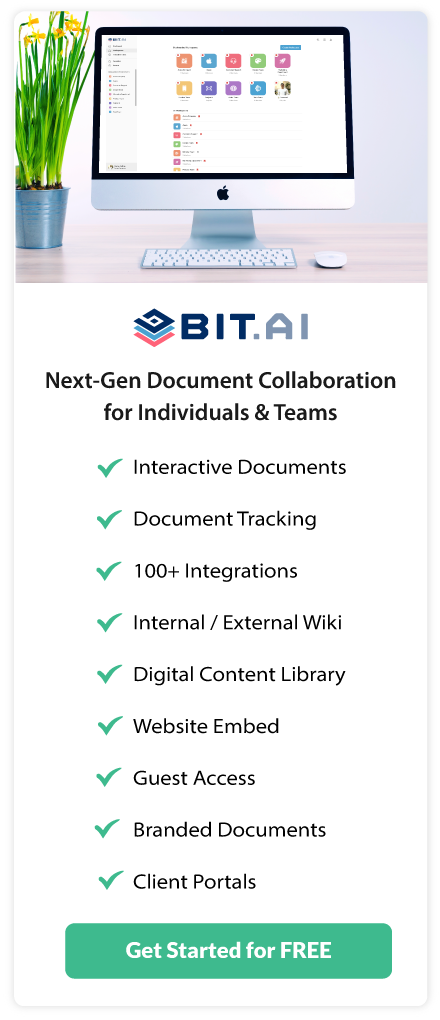 About Bit.ai
Bit.ai is the essential next-gen workplace and document collaboration platform. that helps teams share knowledge by connecting any type of digital content. With this intuitive, cloud-based solution, anyone can work visually and collaborate in real-time while creating internal notes, team projects, knowledge bases, client-facing content, and more.
The smartest online Google Docs and Word alternative, Bit.ai is used in over 100 countries by professionals everywhere, from IT teams creating internal documentation and knowledge bases, to sales and marketing teams sharing client materials and client portals.
👉👉Click Here to Check out Bit.ai.