Marketing is like war. A never-ending battle for consumer's attention – where you use tactics and strategies to execute your plan, where your enemy is your competition, and the world is your battlefield!
But, because marketing is constantly transforming, you cannot stick to your old-fashioned ways to fight for your spot in the marketing world.
In fact, if you really want to bounce to the top in an ocean of marketing campaigns, you have to think outside of the box and go out of your way to bring in a WOW factor.
So, how about you tackle this with something called guerrilla marketing?
Huh? What's that, you ask?
It's a type of marketing with a blend of risk, surprise, and everything nice.
In this blog, we will take a look at everything you need to know about guerrilla marketing. Hold on tight because this is going to be one heck of a ride. Let's go!
Guerrilla Marketing, What's That?! (Definition)
We know just what you are thinking – Guerrilla, like the warfare where armed civilians ambush their enemies?!
Yep, but hear us out! Tying marketing to guerrilla means that you are using unique and unconventional marketing tactics to promote your product or service.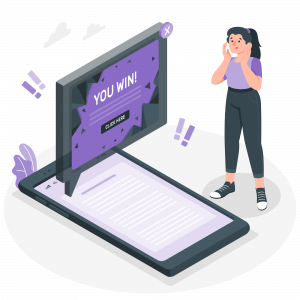 So, it's basically a clever marketing strategy with an element of surprise in the equation. It is all about taking your imagination and creativity to the next level to create a social buzz around your brand.
How exciting, right? Well, that's not all because guerrilla marketing branches into various styles of marketing! Let's dig a little deeper to have a better understanding!

Types of Guerrilla Marketing
1. Ambush Marketing
Like its name suggests, ambush marketing is an advertising technique that is used to promote a product by ambushing an event sponsored by a competitor brand. It's a form of guerrilla marketing where the element of surprise catches the audience off guard with its aggressive nature and creates a lasting impression on them.
You are likely to see such an ambush in sporting events, music concerts, or even a subway station! It could be something extravagant like a flash mob or something covert like tactically placed signages. Mind you, this is a high-risk strategy as this is usually done without the permission of event sponsors or authorities.
In 2011, when Apple was planning the launch of its iPhone 4S, Samsung ambushed the event by setting up a pop-up store a few feet away from the Apple's store (in Sydney, Australia) and sold its Galaxy SII for just $2 AUS – which was a stark difference from Apple's $850!
Read more: Go-To-Market Strategy Guide for Businesses
2. Street Marketing
Street marketing is where your brand can turn the streets into a canvas for your campaign ideas! It is a guerrilla marketing strategy that uses public places to advertise products in a way that it grabs your consumers' attention.
In street marketing, you are likely to see brands advertise on unconventional locations such as public transports, roadside benches, traffic signals, zebra crossings, dustbins, footpaths, and so much more! The whole point is that you create brand awareness and get consumers to take notice.
In Switzerland, McDonald's decided to get creative with its marketing and changed a zebra-crossing into a package of its French fries by painting the stripes on the crosswalk as fries.
3. Ambient Marketing
Perhaps one of the most popular forms of guerrilla marketing is ambient marketing. It is a way of using unusual and unconventional places or items to advertise your brand. It not just about placing your product ads in an unusual place, but also about making the message gripping and shocking!
Known for its humorous approach to advertising, ambient marketing is a great way to make a lasting impression on the consumer's minds. What makes it different from street marketing is that it can be found anywhere and everywhere, from mall floors and staircases to metro train poles, pizza boxes, and even paper cups!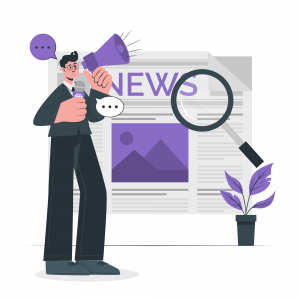 Colgate put toothbrush-shaped wooden popsicle sticks on ice cream bars with the message printed on the tip of the stick saying "Don't Forget". The stick had the Colgate logo on it to remind both children and adults the importance of brushing teeth (or brushing with Colgate)!
4. Astroturfing
Astroturfing is one of the riskiest and most controversial types of marketing ever! It is where companies pay individuals to promote or endorse their products by posing as real customers. These people narrate their fictional stories and experiences in order to create an artificial hype around your products.
This form of advertising can ruin your brand image and negatively affect your company if your customers discover that reviews and endorsements are fake. As a marketer, astroturfing is something you do not want to be associated with!
In 2006, two Edelman employees created a blog called "Wal-Marting Across America" about two people traveling to Wal-Marts across the country. Even though it seemed like these people are just regular customers of Walmart, the entire thing was actually done by a group funded by Wal-Mart.
5. Buzz Marketing
Ever seen a brand be the talk of the town? That's buzz marketing right there for you! It is a guerrilla technique that relies on good old-fashioned word-of-mouth to create a buzz in the market about your brand and its campaigns. Basically, it's all about getting people to talk about your brand.
Unlike astroturfing, buzz marketing leverages genuine endorsements from individuals and celebrities to create brand awareness and exposure. Sure, it's a bit difficult to generate that sort of buzz in the beginning, but once it sets in motion there's no stopping it from spreading like wildfire!
Starbucks writes the names of its customers on the cups, gives loyalty cards to its loyal customers, designs comfy coffee houses, and gives free wi-fi. Many Starbucks customers contribute to creating a buzz around the brand by sharing their Starbucks cups on Instagram, Facebook, Twitter, etc.
Read more: Saas Marketing: Definition, Funnel, and Comprehensive Strategies!
6. Stealth Marketing
If you've seen a character in a movie or TV show using a particular brand of beverage or snacks or electronic item, then be sure that it's a stealth marketing technique! It is a form of guerrilla marketing campaign where a brand uses subtle and creative ways to advertise their product without the consumers even realizing it!
The main aim behind stealth marketing is to create brand awareness and business opportunities and invoke interest and excitement in the audience without promoting an in-your-face campaign. Product placement and undercover marketing are the most common examples of this sneaky marketing technique.
After the film, 'The Devil Wears Prada' which was based on a girl working as an assistant for the editor-in-chief of American Vogue, both the Prada and the fashion magazine Vogue were hot on display and were being globally advertised at the time.
7. Experiential Marketing
Have you ever been to one of those conventions or fairs sponsored by brands or taken part in something where you got to try a product for free? Then that right there is experiential marketing! It is a guerrilla marketing strategy that lets people actively engage and participate in the marketing campaign experience.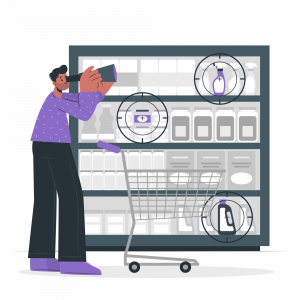 By immersing the customers in a live experience, you turn the entire situation into a memorable one for them. This helps develop an emotional attachment and also creates meaningful connections between the consumers and your brand.
At SXSW 2017 which was held in the United States, HBO put up something called 'The Room Experience', where they recreated the sets of popular HBO shows Veep, Silicon Valley, and Game of Thrones, allowing the fans to literally be a part of the experience!
Read more: Growth Marketing: What is it & How to Carry it out for your Business?
Benefits of Guerrilla Marketing
Now that we know that guerrilla marketing is not like your regular, boring marketing techniques, you are probably itching to know if it really has any benefits. Well, we've got news for you marketers! Here are some of the benefits of using guerrilla marketing techniques for your business:
1. Affordable
In case it hasn't already struck you, guerrilla marketing relies heavily on creativity and imagination, which are far more important than your budget.
Since they are mostly unconventional advertising methods, they typically have a low budget, making it an affordable and cost-effective way to build brand awareness.
This, of course, will really depend on your specific strategy, but most guerrilla marketing campaigns have a much lower cost than other types of marketing!
2. Provides Opportunity to Go Viral
With technology and the internet ruling the world, something as out-of-the-ordinary as a guerrilla marketing campaign is a one-way ticket to going viral.
Even if your campaign is offline, people will still be clicking pictures, taking videos, and posting everything online, giving your brand exposure to millions of people and making your brand an internet sensation.
Brand image, here we come!
Read more: How To Create An Effective Marketing Strategy For Your Business?
3. Memorable
Guerrilla marketing is unconventional, innovative, and in many cases even humorous.
Your unusually creative marketing campaigns that rely on elements of surprise and shock factors tend to leave a long-lasting impression on your audience.
These traits make it super attractive to the eyes of your audience and draw out powerful emotions from customers, both new and old.
4. Builds Partnerships
The best thing about guerrilla marketing is that you get to collaborate with many local businesses, charities, universities, hotel chains, and sometimes even other brands to promote your campaign.
This is a great way to establish relationships and build partnerships with your fellow marketers and your community!
5. Incredibly Effective
Since guerrilla marketing involves thinking outside the box, it is likely that you will be doing something that no other brand has ever done before.
This not only makes you stand out from the crowd but also helps you get more attention, thereby making your campaigns more effective.
With proper research, planning, and execution, your guerrilla marketing can bring the desired effect on your brand, and help you attain new customers as well.
How to Set-Up a Guerilla Marketing Campaign? Step By Step!
Setting up a guerrilla marketing campaign is not something you can do overnight. A lot of research and careful planning goes into the developing process before launching it as a full-fledged campaign.
Let's take a look at how to get started with guerrilla marketing!
Step 1. Know Your Audience
Every marketing strategy is incomplete without a target audience.
Knowing your audience is the first step in setting up your guerrilla marketing campaign. You need to identify your target base, know what they respond to, and be aware of their needs, desires, and fears.
Learn more about your target audience by exploring your current customer base, consult with your sales team about what customers are into these days, and listen to potential customers on social media platforms.
Read more: Target Audience: What is it and How to Find them? (Steps Included)
Step 2. Set Goals
Sure, guerrilla marketing is exciting and fun, but you cannot deploy this marketing strategy if you don't set goals. So, you must set specific and measurable objectives which are realistic and achievable for your company.
Don't forget to make sure that your goals are based on what your brand is looking to achieve – is it purely for brand awareness or do you wish to increase sales as well?
Step 3. Analyze Your Environment
Guerrilla marketing thrives on shocking and surprising potential customers in their familiar surroundings and environment. So, you have to make sure that you pick the right spot if you wish to hit their sweet spots.
Start by analyzing the everyday environment and look for unusual locations or places that can create an impact without causing you too much trouble. Explore current situations, study marketing trends, and take a look at other guerrilla marketing campaigns to analyze their effects.
Step 4. Choose a Technique
Now comes the fun (but, hard) part – choosing a technique or strategy to make your brand come alive! Some good old brainstorming sessions are what you need to get this show on the road.
What's it going to be – something aggressive like ambush marketing or something covert like stealth marketing? Gather your colleagues and put your heads together to come up with some wacky ideas for your guerrilla marketing.
Keep in mind your customers' desires, your business goals, current marketing trends, and the availability of resources and budget.
Step 5. Execute Your Plan
Everything about guerrilla marketing comes down to how you execute the entire plan. Make sure that each stage of your planning is done smoothly and on time.
Take one last critical look at the plan to find out any possible mistakes and downfalls because you cannot afford a poor guerrilla marketing campaign.
One wrong move and it could cost you your money and brand image. This is the real deal, fellow marketers, so it has to be perfect!
Step 6. Measure Results
Want to know how effective your guerrilla marketing campaigns were at creating a buzz?
Then, look out for brand mentions on media channels, use social listening tools to hear what they are saying on social media, conduct surveys and research about its reach among the crowd, and compare a 'before and after' effect of whether it had any impact on your sales and popularity.
Guerrilla marketing is a lot easier said than done.
Sure, it seems like a fun and creative task, but planning one is super stressful. Because, let's be honest here, if you don't do it right, the whole thing can backfire on you.
What you need is a place to plan and organize your campaign without all the chaos that tags along with something so nerve-wracking.
And guess what? We have the right tool for you!
Bit.ai – Just What You Need For Your Guerrilla Marketing Plan & Other Plans


Introducing Bit, a new age cloud-based workplace and document collaboration platform where anything and everything related to planning becomes a smooth sailing process. It is the perfect tool for you and your teams to get work done without relying on a number of apps and complicated software.
Here's a list of features that Bit provides that will make you consider adopting this tool for your guerrilla marketing campaign:
1. Workspaces: Guerrilla marketing involves working with multiple people, teams, and documents, which can become quite disorderly. But, not if you have Bit by your side! It allows you to create infinite workspaces and folders around projects and teams to keep all your work organized. It also lets you store all your information in a neat and orderly manner, making your work more efficient and stress-free.
2. Real-Time Collaboration: A lot of thought and brainstorming goes behind the scenes of creating a fantastic guerrilla marketing campaign, and it is no one-person job. With, bit's collaboration feature, you can bring everyone to a single place where they can collaborate and work together in real-time! You can create documents and add comments, leave suggestions, highlight sections and make edits in real-time.
3. Guest Access: Your guerrilla marketing will need constant reviewing and approvals from other members. You can use Bit's Guest Access feature to let guests access your documents These "guests" would only be allowed to comment or read documents. They can't see any activity or content libraries and can only see the documents.
4. Content Library: Your guerrilla marketing plan will have multiple digital assets ranging from images, documents, links, etc. that you and your team members will need access to. All of this can be saved in an organized manner in your Bit's content library.
It's plain and simple – Bit makes everything easier!
Our team at bit.ai has created a few awesome marketing templates to make your marketing process more efficient. Make sure to check them out before you go, your marketing team might need them!
Wrapping Up
In the fight to win consumer attention, guerrilla marketing emerges as a victor with its free-spirited nature.
No doubt that it's a powerful form of marketing that can either make or break your business. But, what's marketing without some risks, right?
So, use your quirky ideas, go wild with your imagination and see where that lands you.
Also, if you've got any queries or something to share about your favorite guerilla marketing campaigns, just tweet us @bit_docs and we'd be more than happy to help you out.
Ready your positions, because it's time to start a revolution.
Further reads: 
Marketing Funnel: What is it & How to Create it? (Steps included)
Marketing Management: Definition, Importance, and Process!
14 Guerrilla Marketing Examples & Ideas You Must Explore!
10 Best Customer Retention Strategies for Startups!
7 Social Media Trends To Watch Out For in 2022
Buyer Persona: What is it & How to Create it?
Business Development Plan: What Is It And How To Create A Perfect One?
9 Customer Acquisition Strategies Your Boss Wishes You Knew!
Social Proof: 8 Ways to Use it to Get More Sales!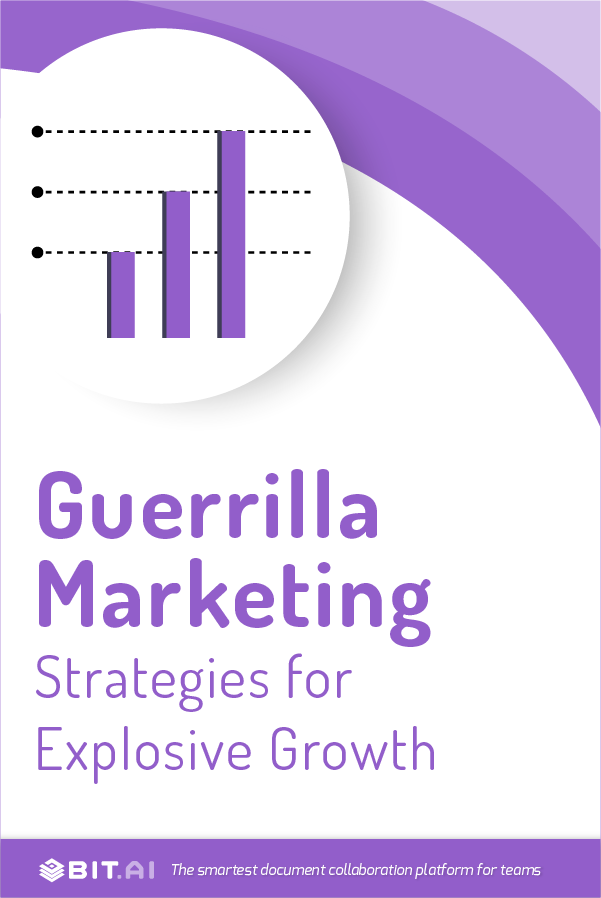 Related posts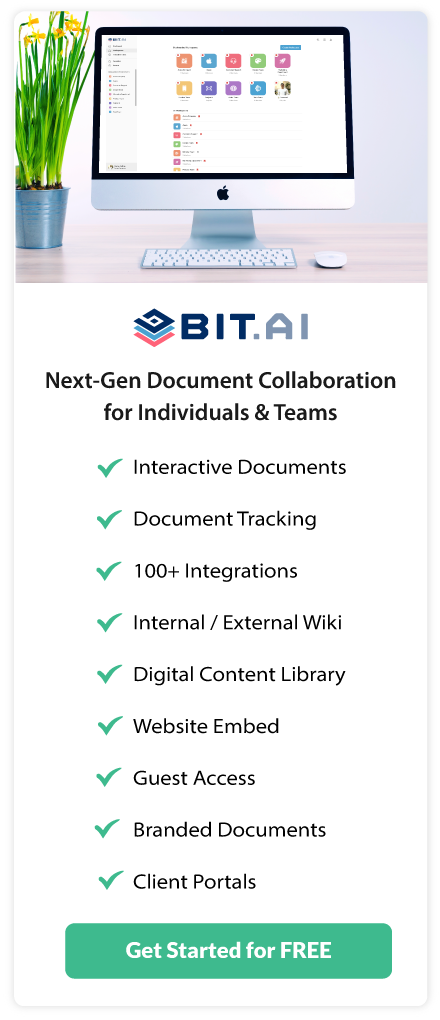 About Bit.ai
Bit.ai is the essential next-gen workplace and document collaboration platform. that helps teams share knowledge by connecting any type of digital content. With this intuitive, cloud-based solution, anyone can work visually and collaborate in real-time while creating internal notes, team projects, knowledge bases, client-facing content, and more.
The smartest online Google Docs and Word alternative, Bit.ai is used in over 100 countries by professionals everywhere, from IT teams creating internal documentation and knowledge bases, to sales and marketing teams sharing client materials and client portals.
👉👉Click Here to Check out Bit.ai.