Have you ever wondered:
What is common between successful businesses? How do brands get people to talk about them (word-of-mouth marketing)? How to get a customer to buy products from you all the time?
The answer to all the above questions is a loyal customer base.
Loyal customers are 23% more likely to spend with you than the average customer. Besides, 60% of customers will tell their friends and family about a brand they're loyal to.
But, how do you build a loyal customer base? By retaining customers. And, how do you retain customers?
Below we will discuss some of the best, tried-and-tested customer retention strategies to grow your revenue. Let's get started!
List of 10 Customer Retention Strategies for Startups
1. Analyze Churn Rate
You can't fix what you don't know. Therefore, it is vital to track and analyze the churn rate and determine the reason behind it.
Churn refers to the number of customers who stop using your services over a given period. The churn rate is calculated by dividing the number of churned customers by the total number of customers.
Churn Rate = (Number of churned customers / Total number of customers) * 100
Average churn rates can be anywhere between 2% and 8% of monthly recurring revenue (MRR). However, for younger companies, the churn rate can range from 4% to 24%.
2. Listen to Your Customers
Customer feedback is vital for every company. For startups, it is even more important. The more you know what customers feel about your product, the more you will be able to improve it.
Unfortunately, there is a massive gap between the percentage of companies that believe they provide a great service (80%) versus customers who feel the same (8%). (Source)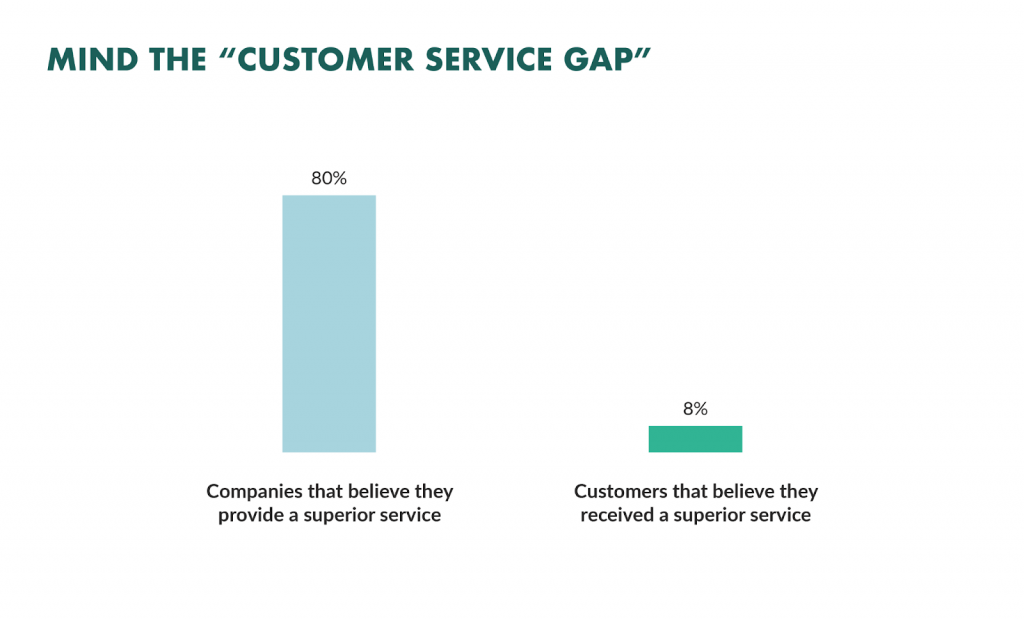 To improve customer retention, you need a process to capture customer feedback. Make sure that you include a mixture of multiple-choice questions and free text answer fields to let customers express their opinions more thoroughly.
Also, segment your customer base based on unique variables such as most active customers, inactive customers, new customers, and customers who tried your product but did not purchase it. Then, create different surveys for each segment to identify areas that are working well or need improvement.
Additionally, look at the reviews on different platforms, such as Google, social media, and third-party review sites, to know what customers feel about your products or services. Give attention to their complaints and improve your product accordingly.
Read more: 9 Customer Acquisition Strategies Your Boss Wishes You Knew!
3. Use an Internet Phone Number
In this competitive world, providing exceptional customer service is vital. One-third of users say they would consider switching companies after just one instance of bad customer service.
And while there are multiple support channels (live chat, social media, email, etc.), more than 50% of customers use the phone to reach out to a service team.
That's where a virtual mobile number comes to the rescue. It allows you to offer phone support at a minimal cost. An Internet phone system like CallHippo is perfect for startups as it does not require you to install any equipment or hardware.
Here are some advantages of internet phone number for startups:
Lower costs (both setup and regular call)
Better accessibility (with mobile app)
Higher scalability
Clearer voice quality
Tons of features
Round-the-clock availability
4. Send Your Customers a Special Offer 
Offering discounts and offers is difficult for startups. However, it is a great way to make customers come back. You can offer them a discount on products they frequently purchase with a sweet message from your team that can make their day.
Or you can send special offers to inactive customers to encourage them to do business with you again. It doesn't need to be a discount all the time. You can send a surprise gift to your customers on their birthday, and maybe include your store's voucher.
Here is how GoDaddy uses offers to retain customers. They make their way with the use of the right words along with discount codes. Plus, they have mentioned why to choose them with attention-grabbing bullet points.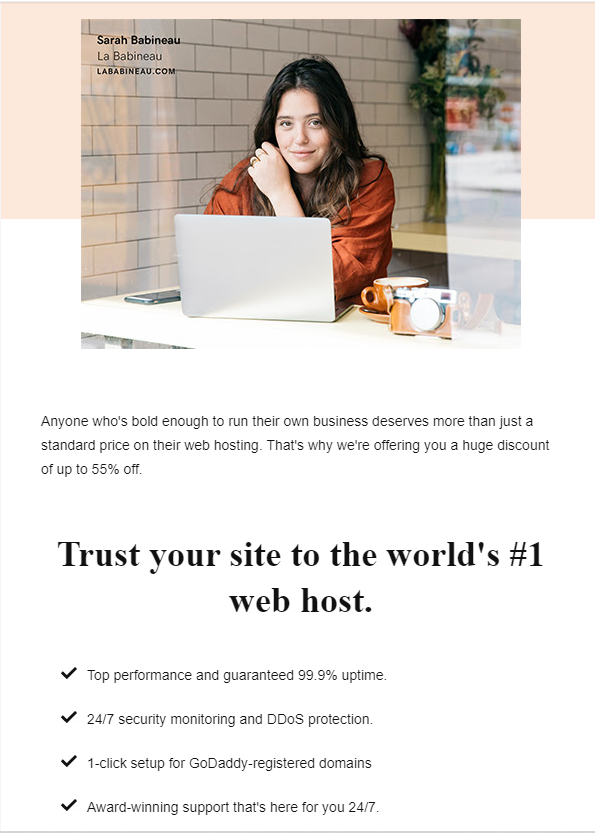 Special offers like this not only encourage them to buy again and elevate your brand's image, they also show that you care about your customers.
5. Educate Your Customers
As a startup, you would not want to be known as a company that just wants to sell its products. It will do more harm than good to your image in the long run. Instead, focus on building a community by educating your customers on how to solve their problems.
You can take some inspiration from elink.io. A content creation platform, elink.io regularly publishes informative and engaging blogs related to all aspects of content marketing. From ways to improve your email marketing strategies to tips on elevating the look and feel of your website, elink's blog guides you on everything.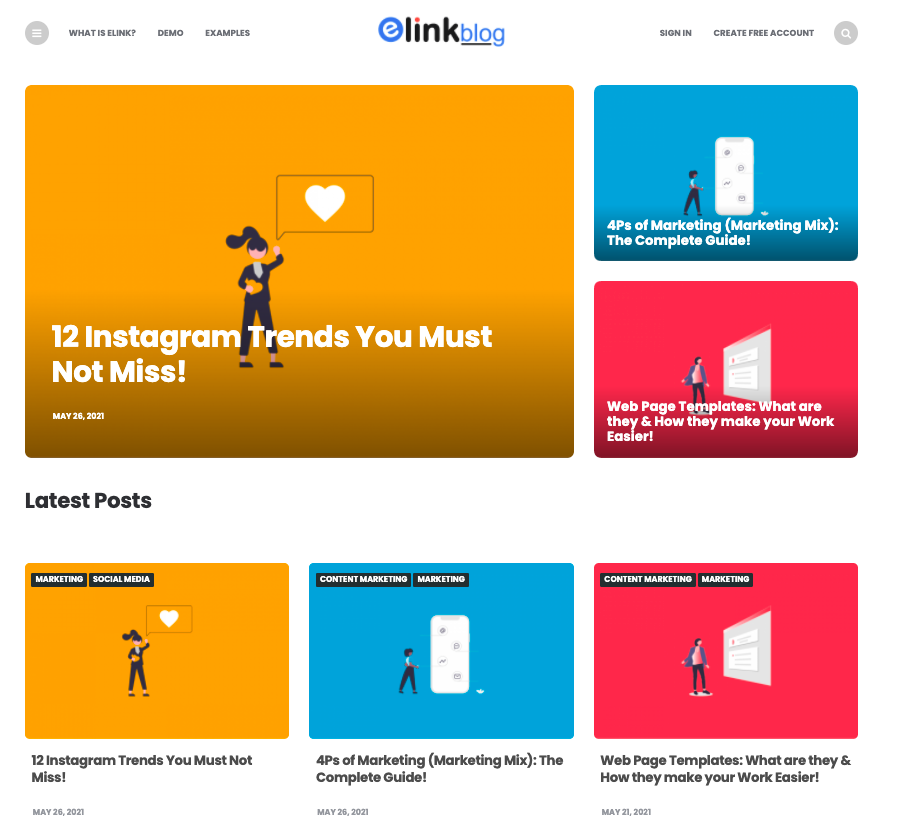 Here are some ways to educate your customers and retain them.
Offer tutorials and in-product onboarding to help new customers get started.
Send a series of emails designed to guide customers on how to use your product.
Provide one-on-one training (if required).
Create a blog where you share industry tips and best practices to keep your customers informed. Send the blogs to your existing customers via emails.
Ask your customers directly if they are facing any problems (in using your product or in general related to your industry). If yes, make efforts to solve them (or provide a solution).
Read more: Unique Selling Proposition: What is it & How to Create Your Own?
6. Send Personalized Emails to Engage Customers
Email marketing has, over the years, been an excellent channel for customer retention. As mentioned above, you can send educational emails to your customers to give them a good reason to keep buying from you (and not your competitors).
Wix, for example, sends visually appealing emails informing its customers about all the great deals and special discounts they are offering.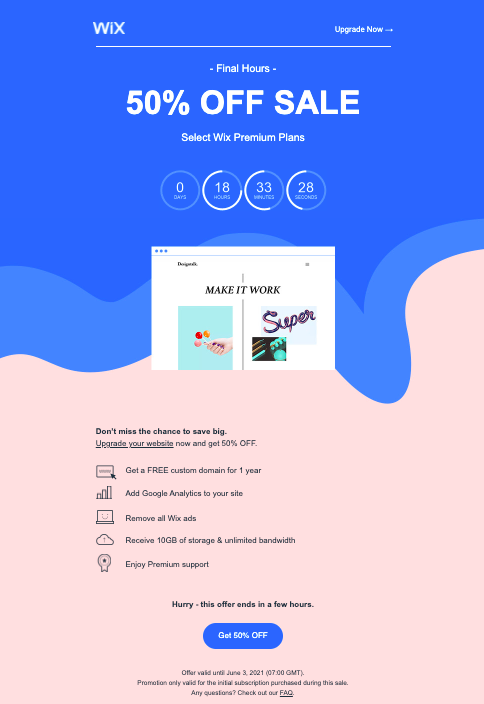 But that's not it. You can even send emails to engage inactive customers. Here's how SEMrush did it. The subject line (Are we still friends? Please say we are!) is compelling enough to encourage users to open the email. In the email, they ask if the user still wants to receive their emails, which is a bold move but giving the power in customers' hands makes them feel worthy.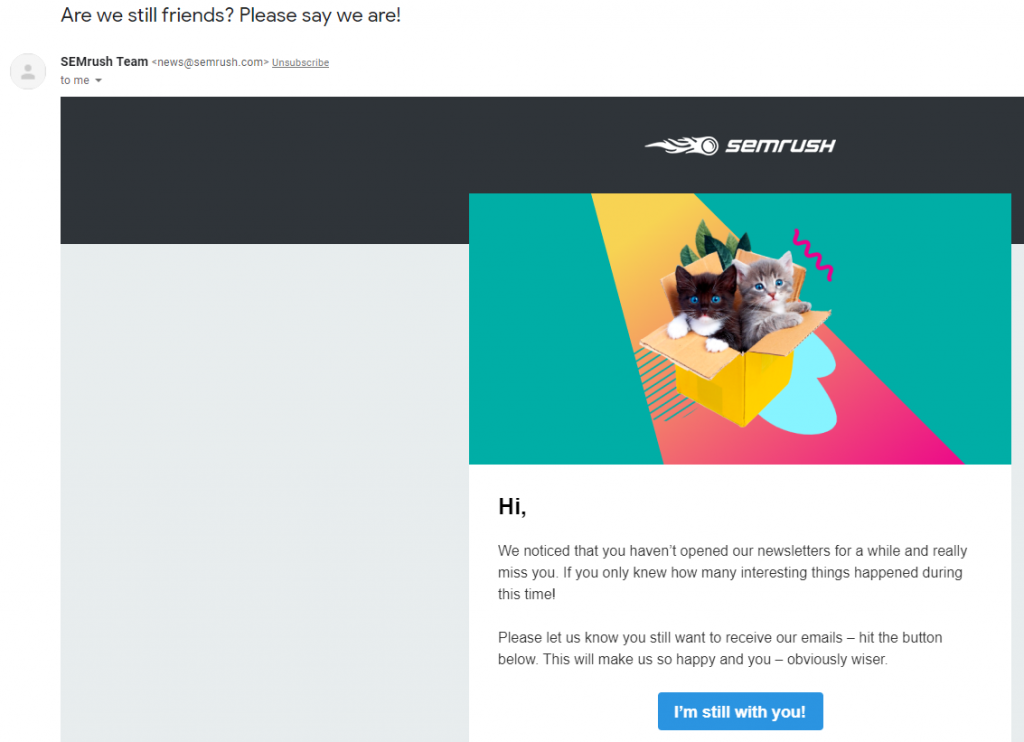 Before sending emails to your customers, segment them into different categories (active, most active, and inactive) and then create campaigns accordingly. You can also segment them based on the products they use (or the features of your product they use the most) to make the email more personal.
Read more: Social Proof: 8 Ways to Use it to Get More Sales!
7. Show Sincere Appreciation
Showing sincere appreciation is one of the best ways to build a close relationship with the customer. It also helps stand out from the competition and show the human side of your business.
So, how do you do it? Here are some ways to thank your customers.
Handwritten Thank You Notes: If you sell physical products, handwritten thank you notes can be a great way to appreciate customers for doing business with you. However, if you sell digital products, you can send them a recorded video to let them know you are thankful.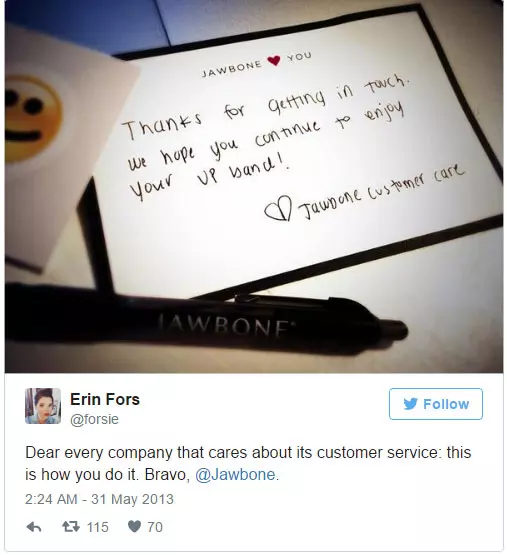 Highlight your Customers: Give a shout-out to your customers for using your product on social media. Encourage them to use a branded hashtag while posting on social networks. Repost their posts from your official handle, just like H&M does!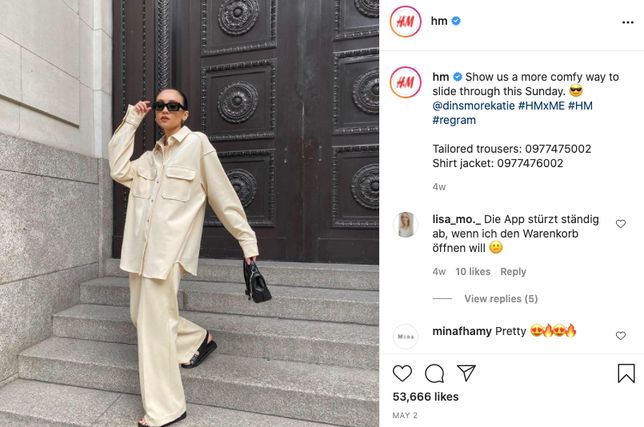 Give Back to the Community: Startups usually operate in one or two locations. If this sounds like you, look for charities in your neighborhood that align with your customers' values and vision. Then, donate a part of your income in each client's honor.
8. Build a Customer Retention Program
A customer retention program is an initiative designed to encourage customer loyalty. There are several types of retention programs that you can implement, such as:
Onboarding Program: Teach how to get started with your product. This will help customers reach their goals faster. Also, reach out to the customer after a few days to know if they need any assistance in using your product.
Customer Loyalty Programs: Used by top brands like Uber, Starbucks, and Sephora, loyalty programs have proved to be an effective customer retention strategy over the years. However, ensure that the rewards make sense to customers to keep them happy.
Customer Advisory Board: Let your most active customers share their experience and make suggestions to improve your product. When you listen to customers, it makes them feel valued and a part of your business.
Beta Testing Group: Similar to the customer advisory board, beta-testing groups are all about offering early access to your products to selected users. The exclusivity is enough to entice customers to commit to your business.
Read more: Brand Voice: What is it & How to Define it for your Business!
9. Address Customer's Complaints On Time
The last thing you would want is a customer complaining about your startup on public platforms (Google, social media, etc.). This will not only hurt your brand image, but the chances are the customer might never do business with you again.
Train your customer support team to address customers' complaints on time on all channels (website, email, phone, etc.) and improve the first call resolution rate. Even if someone posts a complaint on social media, make sure to address it as soon as possible.
10. Personalize Your Offers 
From planning business strategies and implementing them to finding leads and serving customers, Startups usually have a lot on their plate. However, you cannot ignore the impact of personalization.
56% of customers stay loyal to brands that truly understand their priorities and preferences. 76% of them expect companies to recognize their needs and personalize their offerings accordingly. (Source)
Whether you want to send an exclusive deal to a customer or an article via email, make sure it aligns with their interests. If not, you are just sending irrelevant offers that won't do any good.
Before you go!
Our team at bit.ai has created a few awesome customer service templates to make your processes more efficient. Make sure to check them out before you go, your team might need them!
Wrapping Up
There are no shortcuts to customer retention – just pure efforts. However, it starts with understanding why they leave your company for your competitor.
As long as you prioritize the customer's needs, offer exceptional customer service, and show sincere appreciation, they will be happy to stick to your brand.
Remember to test the results and optimize your customer retention strategies accordingly!
Further reads: 
Customer Profile: What is it & How to Create it?
Market Targeting: What is it & How to do it Perfectly? (Steps Included)
10 CRM Tools and Software You Should Explore Right Now!
12 Marketing Goals You Must Include In Your Plan!
Product-Market Fit: What is it & How to Achieve it?
14 Guerrilla Marketing Examples & Ideas You Must Explore!
Marketing Budget: What it is & How to Put it Together?
Marketing Campaign Plan: What is it & How to Create it?
Customer Segmentation: Definition, Importance, Types & Process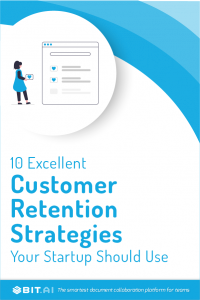 Related posts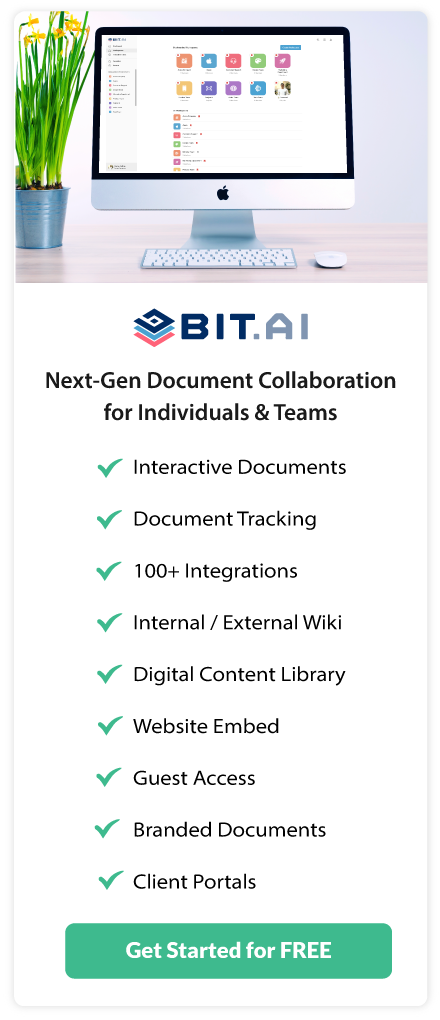 About Bit.ai
Bit.ai is the essential next-gen workplace and document collaboration platform. that helps teams share knowledge by connecting any type of digital content. With this intuitive, cloud-based solution, anyone can work visually and collaborate in real-time while creating internal notes, team projects, knowledge bases, client-facing content, and more.
The smartest online Google Docs and Word alternative, Bit.ai is used in over 100 countries by professionals everywhere, from IT teams creating internal documentation and knowledge bases, to sales and marketing teams sharing client materials and client portals.
👉👉Click Here to Check out Bit.ai.