"If a picture is worth a thousand words, then a video is worth a million." 
The recent surge in the use of videos is a testament to this quote and if you haven't already noticed it, then you were probably living under a rock. The world wants videos and the data is right here:
74% of marketers say video has a better return on investment than static imagery. (Source)
87% of video marketers say video has increased traffic to their website. (Source)
78% of marketers say video has directly helped them to increase sales. (Source)
This being said, videos will be your biggest opportunity to drive awareness and growth in 2021.
Whether you want to generate revenue or give your business a newfound voice, video is the key. Trust us, if you don't use videos, your competitors probably will, so you need to step up before they knock you over!
And although you're late to this party, we will help you make sure that you rock.
Enter: Video Hosting Sites
Ever heard of them before? Well, we will tell you all you need to know about them and also suggest you some awesome sites to get you going!
What is a Video Hosting Site? (Definition)
In simple terms, a video hosting site will make it easier for you to store, manage and share your video content.
Video hosting sites allow you to upload and store your video on a third-party website. Your viewers can then access this video directly on the third-party website or you can use an embed code to add it to your website.
Video hosting sites simplify the hosting process and discard the need for storage and bandwidth costs associated with self-hosting. With these sites up your sleeve, you can easily upload videos by just copying these embedded codes.
But let's understand why you even need to host a video in the first place.
Why Do You Need To Host Videos?
Videos are mostly huge files. They require a great amount of storage and bandwidth to function smoothly, a luxury only a few site owners have.
When you store a video on your website server directly, it is possible that it may cause glitches and poor performance, especially if it's being viewed on mobile devices.

And given that over half of the video content is viewed on mobile, storing videos directly on your server is a big NO!
Generally, most businesses use video hosting sites to store their video content and use an embedded version on their website, which is much more efficient and viable.
Honestly, not using video content is no more an option if you want to succeed. And the only way you can smoothly incorporate your videos into your existing websites is by using video hosting sites.
Once you start using video hosting sites, you won't ever go back to the same, old, boring way.
And who said you had limited options? We're offering you a power-packed list of 13 video hosting sites to get you started and we're sure you'll find the one that fits your needs perfectly right here.
List of 13 Best Video Hosting Sites For Your Business
1. Youtube 

Pricing: Absolutely Free
All we can say about this video hosting site is that it needs no introduction!  Even before video marketing was a thing, Youtube made its name and today it is the second most popular search engine.
And it's ever-growing – 1.8 billion registered users are watching videos on the platform each month! Not just that, 83% of consumers worldwide prefer YouTube to watch video content.
The audiences are already here, all you need to do is post your content!
Key Features: 
Unlimited storage
Can easily upload videos
Perfect for businesses trying to increase outreach
Smart analytics to track engagement
Read more: 6 Awesome Video Presentation Software and Tips to Follow!
2. DailyMotion 

Pricing: Free account with unlimited storage
Dailymotion is another video hosting site that is fairly popular.  It claims to have over 300 million unique users.  Overall, DailyMotion has a newslike feel – it divides content into news, sports, entertainment, and music categories.
So if you are looking for a video hosting site with a whiff of professionalism and a more streamlined look, DailyMotion might be a good option for you.
Key Features:
Privacy & password protection options
A vast variety of content offerings
Offers monetization programs for videos
3. Vimeo 

Pricing: Free trial available with limited features. Paid plans start at $7/month.
If you're a blogger, marketer, or a business, Vimeo is an excellent choice.
Vimeo is similar to the way Youtube works but the audiences and content vary. But you may need a premium account to juice the most benefits of this video hosting site.
Key Features: 
Zero ads.
Enables you to embed videos to any website.
Offers a custom video player.
Advanced analytics and reporting.
4. Wistia

Pricing: Free trial available. Paid plan starting at $99/month
Although a lesser-known site, Wistia is just as effective and a great video hosting platform for businesses! With high-quality video playback, custom video player, personalization, it is quite literally the jack of all trades.
You can create captivating video content and enhance your lead tracking with its CRM integrations.
Key Features: 
Customizable video player.
Adjusts quality based on internet speed.
CRM integrations.
Offers in-depth analytics
Read more: Top 9 Video Editing Software Anyone Can Use!
5. Wix Video

Pricing: Free to use
Wix Video is an ideal site if you want to easily get your videos online and gain monetary benefits from them. You can upload your own videos or use embed links from Youtube, Vimeo, etc, allowing you to further your reach.
Another great reason to switch to Wix is that you can sync it to YouTube, and all your new videos will automatically get uploaded here too!
Key Features: 
Set price for your video as per your liking.
No commission whatsoever.
Mobile/Desktop live streaming.
Awesome video editor to create videos for website or social media profiles.
6. Vidyard

Pricing: Free plan available. Paid plans starting at $15/month
Do you have a large business and need a powerful video hosting site to amp up your video content? Vidyard should be your go-to!
It includes all the nitty-gritty tools that you may need to use to engage with your audience and increase your reach.
Key Features: 
Supports 4K and 360-degree videos
Upload videos with CTA buttons.
Detailed analytics including viewer history
Unlimited uploads and no bandwidth cap

Pricing: Free trial available. Basic plan starting at $24.99/month
This is another video hosting site specifically tailored for business needs. Just like their name suggests, Sprout Video is all about helping your firm grow through your video content.
SproutVideo offers sharing and collaboration tools while providing detailed analytics and insights on your videos.
Key Features: 
Create robust video sites with responsive, mobile-friendly layouts.
Customizable video player.
Role-based permissions.
Call to action placement on videos.
8. Facebook

Pricing: Totally free
Depending on audience size, the only one on this list that can give YouTube a run for its money is Facebook.  Facebook has earned its place here because of its steadily growing video content.
More and more influential users on Facebook are switching to videos, and accounts with over 100,000 Facebook followers post 71% of all video content. (Source)
Not just this, businesses are now leveraging this new trend of posting videos on Facebook. 70% of marketers have planned to use video marketing on Facebook in 2022.!
Key Features: 
Easy to embed videos
Advertising tools available
Quick shareability
9. Brightcove

Pricing: N/A (You may have to contact them for a quote)
If you haven't heard of Brightcove, it's about time you did. This enterprise has a clientele of big companies like Ford, Johnson & Johnson, Dunkin' Donuts, and more!
And with its many mighty features, you can be sure you're in safe hands.
Key Features: 
Superfast video loading speeds
Ad-integration
Provides a content management system
Intricate analytics
Enables live streaming
10. Cincopa 

Pricing: Free trial available. Standard plan starts at $9.99/month.
Do you want an all-in-one platform to store all your digital assets, not just videos exclusively? Then, Cincopa is for you!  Its super simple user interface will help you create video channels in just a few clicks.
With many intuitive tools, it's a great platform to drive growth in your firm using video content.
Key Features: 
Searchable videos
Multimedia cloud storage platform
Easy tracking of video performance
Metadata management
Read more: 11 Best Video Conferencing Software For Teams!
11. Jetpack Video

Pricing: Paid plan starting at $9/month
Jetpack is a video hosting site that has an ad-free and unbranded video player that fits seamlessly into your website.  These videos will be stored in the WordPress servers and won't take up all your storage.
It's indeed an amazing video hosting tool for WordPress websites.
Key Features: 
Code-free customization
Ad-free video hosting
Autoplay videos
Detailed insights
Integrates easily with media library and post editor
12. Hippo Video

Pricing: Paid plan starting at just $15/month
Hippo is a budget-friendly yet effective alternative to many of the other options on the list. Overall, it is the perfect place for all things video and is trusted by 5000+ businesses including Panasonic, and more.
It is not only a great hosting tool but also a sleek editor and video creator!
Key Features: 
Great video analytics
Live-streaming
Video playlists to help with sales leads
In-video forms and CTAs
Collaboration tools
13. Vooplayer 

Pricing: Free plan available. Basic plan starts at $24/month
Vooplayer is an advanced video hosting tool, specifically created for marketers. It includes a suite of video marketing tools that will help you with increasing your outreach.
It is also compatible with every kind of device, with its fully responsive and cohesive user interface.
Key Features: 
Fully-controllable embedded video player
Pay-per-view available
Advanced analytics
Integrates with Google, Facebook, Instagram ads
Conclusion
Videos can be a nuisance if you don't handle them properly. You need to have the right storage, bandwidth, etc.
But with video hosting sites, you can find the perfect home for all your videos. From top to bottom, these sites will cover anything and everything from analytics to management.
After all, the craze of videos doesn't seem to be stopping anytime soon. 99% of marketers claim they will continue to use video in their approach. So undoubtedly, you'll need a video hosting site at some point.
Obviously, there's a hefty amount of video hosting sites to choose from, but the best choice will be the one that fits your priorities.  Use free trials wherever available to understand if a certain platform is right for you.
And now it's over to you!  Choose your video hosting site and make sure you let us know which one you liked the most by tweeting us @bit_docs!
Further reads:
12 Video Editing Apps You Must Check Out!
How to Embed Videos to Documents?
How to Embed Loom Videos to Your Documents?
How to Embed GIFs in Your Documents?
Top 10 Screen Recording Software and Tools that are Highly Advanced!
Best Resource Management Tools and Software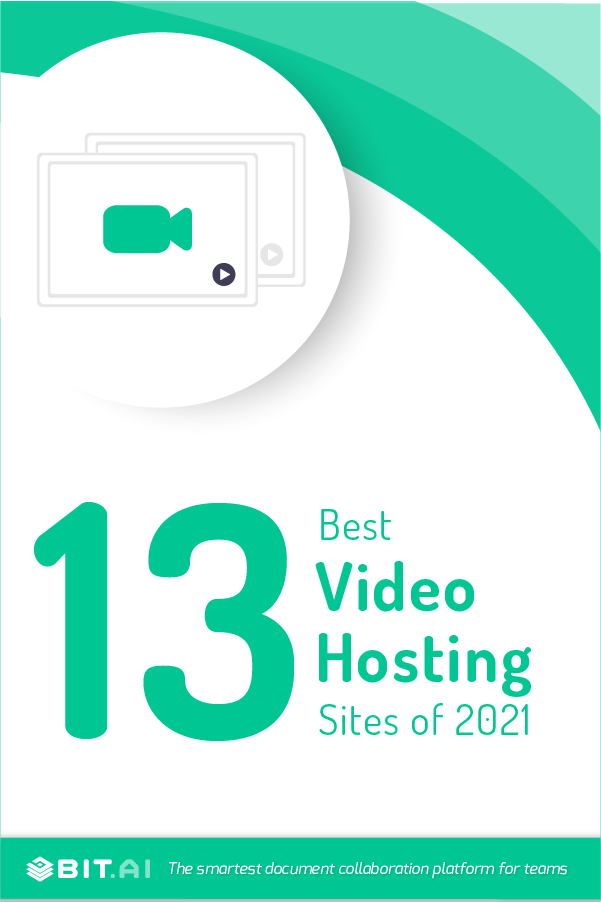 Related posts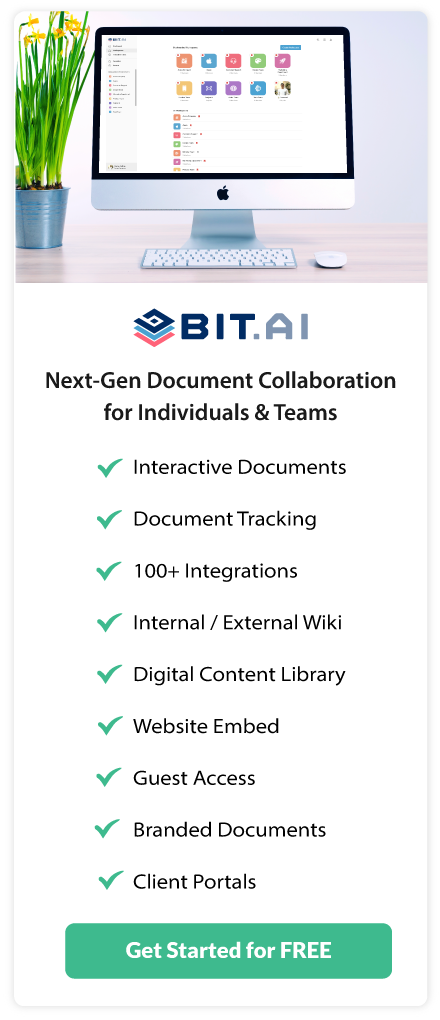 About Bit.ai
Bit.ai is the essential next-gen workplace and document collaboration platform. that helps teams share knowledge by connecting any type of digital content. With this intuitive, cloud-based solution, anyone can work visually and collaborate in real-time while creating internal notes, team projects, knowledge bases, client-facing content, and more.
The smartest online Google Docs and Word alternative, Bit.ai is used in over 100 countries by professionals everywhere, from IT teams creating internal documentation and knowledge bases, to sales and marketing teams sharing client materials and client portals.
👉👉Click Here to Check out Bit.ai.