Everybody loves videos! They are an effective way to get your message across while acting as a great medium for entertainment. According to data, global consumer internet video traffic will account for a staggering 82% of all consumer Internet traffic by 2022.
Video has definitely changed the way we communicate and express ourselves online. From recording vlogs and having video calls with friends and family, sharing our knowledge and know-how on YouTube, to using videos to promote our business online, videos have become an integral part of our digital lives.
The growth of video has opened up huge possibilities for businesses and marketers online. Businesses are increasingly trying to leverage the power of video and stay on the customer's top of mind.
Today, we decided to find you the best video editing software out there that is easy to use, cheap on the pocket and can help you create high-quality videos quickly.
List of Top Video Editing Software That Are Easy To Use
No matter if you are an expert at filmmaking or a beginner, we have curated a list of some of the best video editing software for beginners to help you create stunning videos easily.
Whether you want to create slick Instagram stories, how-to videos on YouTube or professional product ads for Facebook, these video editing software will surely help you out. So without further ado, let's dive in…
Apple iMovie
Blender
Shotcut
InVideo
Clipchamp
Lumen5
Adobe Premiere Pro
Filmora from Wondershare
Adobe Premiere Elements
Kicking off this list is a tool for Mac users, Apple iMovie. A beginner-friendly video editing tool, iMovie is a simple yet elegant software designed to make video editing as easy as possible. With iMovie, you can create 4k videos and work on your iPhone and iPad, in addition to Mac.
Simply choose your video clips, add titles, music, and effects and your stunning Hollywood-style movie will be ready in a matter of minutes.
iMovie has a selection of over a dozen animated titles and credits that you can add to your video to make it stand out. There are 10 creative video filters that you can add to your videos to give them a cinematic touch.
You can also change the speed of individual shots to make it more exciting, add a split-screen, and even a photo-in photo effect. A standout feature is a green screen, aka the chromakey tool that can place your video characters in exotic locations!
Once you are happy with your video, you can send your movie via messages, post on popular social media, and publish directly to YouTube in an astonishing 4K resolution.
Key Features: 
Integration with the Apple ecosystem
Use it on iPhone, iPad, and Mac
Connect to an external display and get a bigger field of view.
Pricing: Free with the purchase of a Mac

Read more: Most Popular Free Screen Sharing Tools For Collaboration
One of the most feature-packed video editing software out there, Blender is a free and open-source tool. It was originally built for 3D graphics and animation, but it does have a powerful video editor.
From modeling, rigging, animation, simulation, rendering, compositing, motion tracking, and even game design, Blender can be used to do just about anything.
The best part is that Blender is cross-platform, meaning that it works with Linux, Windows, as well as Mac.
The video editor can be as simple and as advanced as you want it to be, with features like video masking split screens, color grading, and more. Additional features include Speed control, keyframes, filters, adjustment layers, transitions, and more!
Key Features: 
Audio mixing, syncing, scrubbing, and waveform visualization.
Up to 32 slots for adding video, images, and more
Chroma vectorscope and histogram displays.
Pricing: Free for use
Read more: Top 10 Highly Advanced Screen Recording Software 
Speaking of free tools, Shotcut is another great video editing software that is completely free to use. No need to upgrade to a paid tier to get all the features.
Just like Blender, Shotcut is an open-source tool and works with all major operating systems- Linux, Windows, Mac, etc. Shotcut supports hundreds of audio and video formats, multi-format timelines, resolutions, and frame-rates within a project.
Shotcut supports video resolutions up to 4k and can capture from SDI, HDMI, webcam, and more. Shotcut also has an easy-to-use user interface with multiple dockable and undockable panels, making it easy to separate different work files.
Key Features: 
Detailed video tutorials to help you get started with the product
Support for 4K resolutions
Supports popular image formats such as BMP, GIF, JPEG, PNG, SVG, and more.
Pricing: Free for use
InVideo is an online video creation platform with 1.5M+ users from 190+ countries. It brings in the simplicity of online video editors straight to your browser. It is great for creating video ads, promo videos, social media videos, and more. InVideo comes power-packed with 4000+ templates, premium stock media, text boxes, and more.
InVideo's free plan does not have an InVideo watermark which is a game-changer.
Key features: 
4,000+ handcrafted pre-made templates which include a social media calendar
8M+ iStock Media Library and 1M+ Premium Media Library from Shutterstock and Storyblock
A feature to convert article to video easily
An easy way to cut, trim, crop, create a composite, apply brand presets, etc.
Auto text-to-speech + ability to add your own voice-overs
24*7 live chat support + community of more than 20K creators and marketers
Available for: Windows, Mac, and iPad (on popular desktop-based browsers)
Become a creator of awesome video content instantly with Clipchamp – no experience required. Trim, cut, add motion titles, filters, record your webcam and screen, slow down or speed up your video, turn video aspect ratio to horizontal or vertical, among other essential editing features all in your web browser, without downloading anything.
Content creators and YouTubers, marketers, small or big agencies as well as sales and customer service professionals love this as it also has hundreds of customizable templates for YouTube, Facebook, Instagram, TikTok, and more. Just edit, add effects, and export in minutes.
Key features:  
No watermark, easy timeline style video editor

Up to 1080p high resolution exports

Easy import from Google Drive, Dropbox, Box

Access to 800k+ stock library of videos, soundtracks and GIPHY library

Customizable templates for YouTube, Facebook, Instagram, and more

In-browser webcam recorder and screen recorder

Awesome features like green screen, AI voiceover, audio visualizer

iOS captioning app
 Pricing:
Clipchamp offers a free Basic plan that allows unlimited video exports at 480p

Subscriptions start from USD 9/month up to 39/month [Hot tip: Save 30% with an annual subscription]
Read more: Top 13 Video Hosting Sites You Need to Check Out!
One of our favorite tools on this list is Lumen5. A perfect tool for content marketers, Lumen5 helps you create fun, quick, and engaging videos in a matter of minutes.
This video editing software is perfect for social media marketing as it can create bite-sized and flashy social media videos quickly and easily. No need to get your hands dirty with messy features and countless tabs.
A tool for content marketers, Lumen can convert your blog posts into awesome video content automatically. Just enter a link to your article or blog post and Lumen5 will automatically fetch the content and populate your storyboard.
You can use stock videos to make your content more enticing, add your brand logo and color scheme, add background music and create a video in no time.
Key Features: 
Automatically convert blog posts and articles to videos
Massive library of stock images, videos, music, and more
Drag and drop builder
Pricing: 
Forever free plan that allows you to create 5 videos a month
Paid Plan starts from: Starter (19/month), Premium($49/month), Business (149/month), Enterprise (contact sales)
Read more: How to Embed Loom Videos to Your Documents
Looking for something advanced? Adobe premiere pro is as advanced as they get. One of the leading video editing software for film, TV, and the web, Adobe Premiere Pro is a feature-rich tool.
Using Premiere Pro, you can edit any video footage in literally any format- from 8k videos to virtual reality! If you work with a team, you can store, organize and share video assets online and work together on a project.
The auto-reframe feature converts your videos for social media with intelligent reframing. With the Lumetri Color tool, color grading and adjustments are as accurate as it gets.
The Premiere Pro comes with Adobe PRemier Rush, a smartphone app that lets you create and edit videos on the go to share on social media.
You can take pro-quality video on your smartphone with built-in camera functionality, edit the footage with simple tools for audio, motion graphics, and more and share from the app to social sites like YouTube, Instagram, Facebook, and more. This is also one of the best websites to learn video editing.
Key Features: 
Integrations with Adobe products like Photoshop, After Effects, Adobe Audition, Adobe Stock, and more.
Virtual reality video editing capabilities
Auto reframe for different aspect ratios such as square, vertical, and 16:9 video.
Pricing: 
7-day free trial
Paid Plan starts from $19.99/month
Filmora is another great free video editing software that comes with all the bells and whistles of a competent video editor. Filmora is Wondershare's standard video editor. However, Wondershare also offers FilmoraGo (for mobile editing) and Filmora Scrn (for screen recording and editing).
From layering clips and green screen effects to adding keyframes and background noise removal, Filmora has got it all. With full 4k support, your videos will come out to be crisp and stunning.
The platform is easy to use and comes with features like motion elements, overlays, royalty-free music, color tuning, GIF support, and more.
Key Features: 
Eliminate distracting camera sake easily
Correct fisheye distortion caused by ultra-wide-angle camera lense
Control the colors in your video by adjusting exposure, saturation, white balance, lightness, etc
Pricing: 
7-day free trial
Paid Plan starts from: Starts at $59.99 for a lifetime license; or, $39.99 for a year.
Next up is Adobe Premiere Elements, another video editor by Adobe. Even though there are better video editor's out there, including premier pro which is already mentioned on this list, Premiere Elements is worth mentioning as it is particularly geared towards beginners.
If you don't need the glamor of Premier Pro and are looking for something straightforward, Adobe Premiere Elements can just be the tool for you.
With around 23 guided edit tutorials, users can create everything from time-lapse videos to picture-in-picture effects. With Smart Trim, you can automatically bring together the best scenes based on the style of your video.
Also powered by Adobe Sensei technology, users can create photo and video slideshows and collages within minutes and edit them however they like. With automatic face recognition and smart tags, you can quickly find an image or video in seconds.
For social media sharing, you can create flashy animated videos or bounce back Gifs and wow your audience with awesome content!
Key Features: 
Eliminate distracting camera sake easily
Correct fisheye distortion caused by ultra-wide-angle camera lense
Control the colors in your video by adjusting exposure, saturation, white balance, lightness, etc.
Pricing: 
Free trial available
Paid Plan starts from: Buy 1-year license at $99/month, upgrade the license at $79.99
Some Final Thoughts
You don't have to be Martin Scorsese or have his budget, to create an awesome-looking video experience for your audience. You just need the right video editing software to do the job.
Videos are increasingly taking over the world, and there's always room for high-quality content. No matter if you are a content creator, a marketer, or run a business, videos can help propel your reach to new heights.
You cannot go wrong with any of the above-mentioned video editing software on the list. And with free-trials available for almost all video editing tools, you can test the waters and see what works best for you. Happy editing!
Further reads: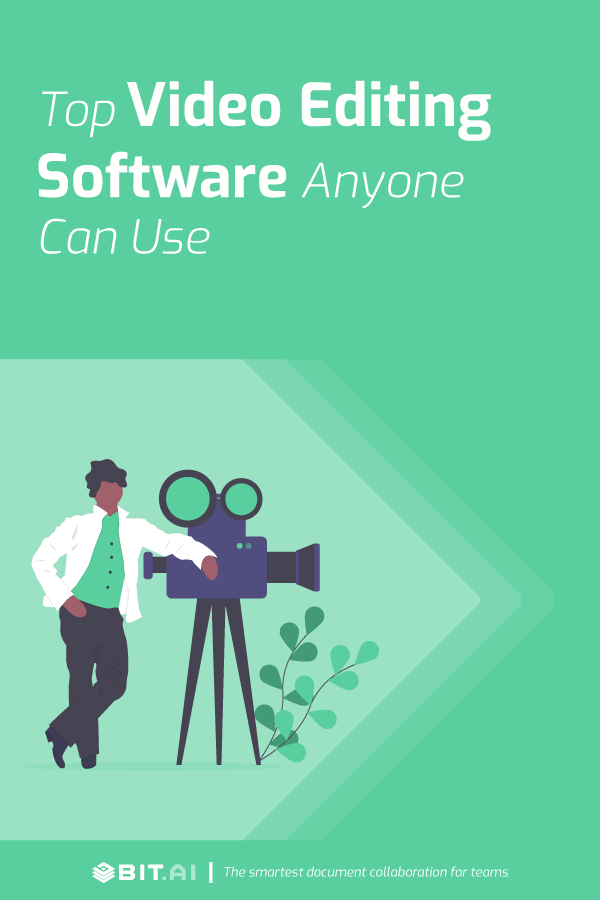 Related posts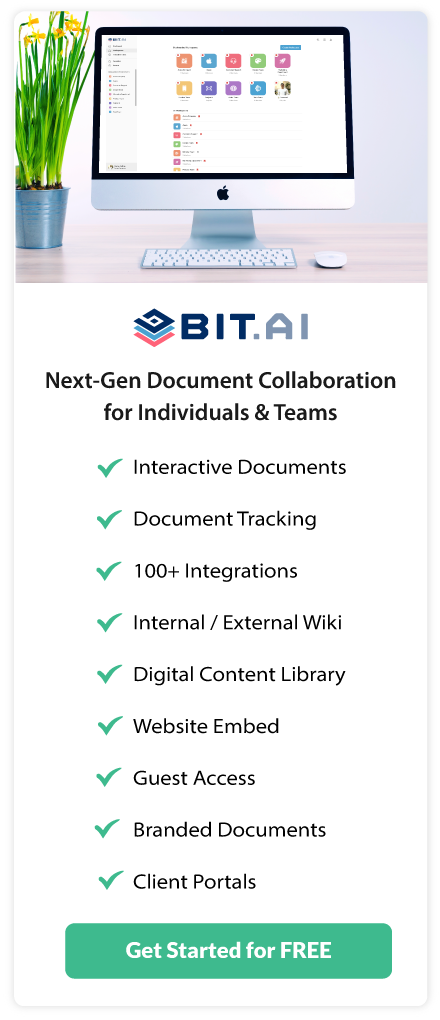 About Bit.ai
Bit.ai is the essential next-gen workplace and document collaboration platform. that helps teams share knowledge by connecting any type of digital content. With this intuitive, cloud-based solution, anyone can work visually and collaborate in real-time while creating internal notes, team projects, knowledge bases, client-facing content, and more.
The smartest online Google Docs and Word alternative, Bit.ai is used in over 100 countries by professionals everywhere, from IT teams creating internal documentation and knowledge bases, to sales and marketing teams sharing client materials and client portals.
👉👉Click Here to Check out Bit.ai.