People love watching videos. In fact, studies show that people watch 16 hours of online video every week. That's how obsessed we are with watching videos. Videos have changed the way we express ourselves and communicate with others.
Be it creating vlogs on YouTube, dancing to a tune on Instagram or TikTok, sharing a recipe video on Facebook, or promoting your business on all social media platforms, videos have now become an inseparable part of our personal and professional life.
For marketers and businesspersons, videos are truly a blessing. Why? Studies show that 87% of video marketers say video has increased traffic to their website while an 80% of video marketers say that video has directly helped increase sales.
And as it turns out, 84% of consumers say that they've been convinced to buy a product or service merely by watching a brand's video!
Clearly, videos are working it's magic on people and creating wonders for all businesses. So if you're a marketer looking to promote your business and increase sales or someone who is simply trying to expand their reach on social media through videos, then you should always have a video editing app by your side.
But with the never-ending list of video editing apps out there, we know that it's difficult to find what you need.
That's why, in this blog, we have compiled for you a list of video editing apps that will cover your specific needs, be it to make a living out of video creation, professional film-making, or simply for the joy of making videos!
Are you ready? Then, jump right in!
What is a Video Editing App?
First off let's try to understand what video editing means.
Video editing is the process of modifying, arranging, and compiling video clips in the best possible manner. It includes piecing together and rearranging clips, deleting or cutting out shots, adding audio, sound effects, and filters to create a new and enhanced video.
So, now we can say that a video editing app is any application or software that lets you edit, modify, or manipulate video clips into a properly sequenced video.
These apps can be easily installed on your PC or smartphone and can be used to edit your personal and professional videos.
With video editing apps, you can quickly and easily edit your own videos and share them to your social media platforms like YouTube, Instagram, Facebook, etc. whenever you want.

Want to know some of the best video editing apps that can help you edit and enhance your videos and ensure they are visually stunning and of high quality?
Read on…
List of 12 Video Editing Apps You Must Check Out!

We'll kick start this list with Adobe Premiere Rush, a cross-platform video editing app designed specifically for online video creators.
It is extremely easy to use and automatically converts all your videos into specific aspect ratios and quality levels suitable for each social media platform.
In addition to standard video editing features, Adobe Premiere Rush allows you to drag and drop footage, correct and change color, add music and voice-overs, and even add transitions and titles.
Everything on your Adobe Premiere Rush is synced to the cloud, which means that you can easily pick up your latest work on your phone or tablet after editing it on your computer. In case you need guidance, this app provides you with simple one-minute tutorials as well.
What's more? Adobe Premiere Rush does not display any ads and you can download your videos without a watermark!
Pricing:
Read more: 6 Awesome Video Presentation Software & Tips to Follow! (Infographic Included)

Here we have KineMaster, a super simple and versatile video editing app that allows you to shoot, edit and export your footage to your phone or PC.
With KineMaster, you can edit your videos on multiple layers by adding texts, images, audio, and even draw freehand on it. It can then be directly shared from the app to social media platforms.
In addition to basic editing features like trimming and splitting video, this app also comes with some high-end and advanced features such as blending, audio-mixing, chroma-keying, 3D transitions, color LUT filters, speed controls, and more. Because of this, Kinemaster is great for simple use and professional use.
What's more? KineMaster allows you to export at 4K and is available for both iOS and Android.
Pricing
Free version with limited features available
Monthly Subscription at $4.99.
Annual Subscription at $39.99.

Next up on the list, we have PowerDirector, a robust video editing app with a plethora of design tools developed by CyberLink. This app can help you create 4K-quality videos!
By using over 30 different editing effects and transition effects, you can easily create and edit professional videos in a matter of seconds with PowerDirector.
This app has a motion-tracking feature that lets you focus on certain objects in each frame and also lets you edit out shaky footage. Another interesting feature of PowerDirector is that it also allows you to create motion videos out of photos.
With PowerDirector, you can easily add voice-overs and creative sound effects. What's more? PowerDirector comes with tutorial videos for all its features!
Pricing
Free version available

CyberLink's pro plan starts at $99

Looking for a simple video editing app for your social media videos? Then we recommend InShot.
It has an extremely easy-to-use interface which makes it smooth and effortless to edit and trim videos, add filters, emojis, stickers, adjust speed, incorporate free music and sound effects, etc.
Another reason why Inshot is a great app for beginners and social media influencers is that it has pre-built canvas sizes geared towards making videos for their TikTok and Instagram.
Inshot also provides you with a built-in music library with royalty-free options and even lets you add your own music and voice-overs.
Give Inshot a shot if you don't want to spend too much time editing your own videos.
Pricing
InShot is free to download.

The Pro version starts at $3.99.

Hello there Apple users! iMovie has got everything you need as a beginner to edit videos and add music, photos, and titles.
iMovie comes with dozens of studio-quality title animations and high-infidelity and contemporary video filters. These filters are specifically built for film genres, such as Western and sci-fi to help you create simple, yet cinema-quality videos.
With iTunes directly tied to this app, you can easily incorporate custom tracks, music, and sounds into your videos. This video editing app also comes with its own green-screen or chroma-key tool, which means that it allows you to place your subjects in exotic locations in a matter of seconds.
The coolest part is that iMovies supports cloud-storage functionality. You can shoot your videos on your iPhone wirelessly and seamlessly transfer them to any other Apple device for editing.
What's more? iMovie supports 4K resolution.
Pricing
Free with the purchase of

every Apple device.

Are you a professional who uses a GoPro camera for shooting videos? Then, Quik is the perfect video editing app for you because it allows you to automatically import, control, and edit your GoPro footage from your GoPro itself.
It is extremely easy to use and lets you sync your video to music, add photos, titles, time-lapse sequences, etc.
In case your camera isn't mounted properly, you can easily correct the angle of your scene with the help of Quik's Horizon Levelling Editor. You can also use it to go through your footage frame-by-frame and identify still images that stand out.
Quik can manage up to 75 video clips in a single project, supports eight different file types, and comes with over 20 different preset themes as well.
Furthermore, you can directly upload your photos and videos to social media or share them via email or text using Quik.
Price
GoPro Quik is free with limited functionalities.
Unlock full capabilities at $1.99/month or $9.99/year.

Next on the list, we have VivaVideo, another simple and user-friendly video editing app that comes with a wide range of editing features.
This app has a classic timeline editor making it an extremely easy-to-use app for beginners who create videos on their phones.
From multiple collage templates and themes to stickers, filters, animated clips, and subtitles, VivaVideo lets you choose your favorite effects to create professional-looking videos.
VivaVideo comes with essential video editing features such as trimming, merging, cutting, and pasting video clips and even has a slow-motion feature as well.
Furthermore, you can import and export files to multiple formats and directly share your videos to social media platforms.
Pricing
Viva Video offers a free version
 Premium version comes at $10 per user per month

Do you hate watermarks, but also don't want to pay for removing them? Then we recommend you to check out YouCut, a simple video editing app that doesn't place its watermark on your videos.
This app is perfect for beginners and newbies because it has a super easy user interface and is packed with all the essential features that you need.
With YouCut, you can cut and trim videos, merge two separate videos, and split and splice your videos into parts. It makes it very easy for you to add music, texts, slideshows, and transitions to your video.
You can also control and adjust the speed of your videos and also compress them without losing their high resolution. You can easily save these videos in high quality or low quality depending on your storage or share them on your social media sites.
Pricing
You can download YouCut for free.
Read more: Top 13 Video Hosting Sites You Need to Check Out!

If you're new to the video editing scene, then we highly recommend that you check out Magisto. It is an amazing video editing app owned by Vimeo to help you create incredible videos on your smartphone or PC.
Magisto allows you to choose a video editing style, combine photos, video clips, video effects, and filters, and add music from its built-in music library.
Since this app supports a sophisticated AI with an auto-editing feature, you can just select a few clips, pick a soundtrack and Magisto will automatically organize and create a video within a few minutes.
Furthermore, Magisto allows you to directly share your videos on any social media platform and is available on both Windows and Mac.
Pricing
Starts at $9.99 per month.

Up next is FilmoraGo, a video editing app created by Wondershare which lets you edit videos without too much hassle.
Thanks to its extensive collection of themes, filters, and effects, FilmoraGo makes it easy for newbies to adapt and create visually stunning and professional videos.
With Filmora, you can easily apply themes, trim scenes, insert transitions, add titles, incorporate music and finally share the video.
Depending on your needs, FilmoraGo allows you to export your video to a 1:1 aspect ratio for Instagram or a 16:9 aspect ratio for Youtube.
Pricing
$6 per month, or $38 for the whole year

If you are an audiophile, then Shotcut is the perfect video editing app for you. This is because Shotcut comes with an extensive array of advanced audio editing features such as fine-tuning tools that help make bass and treble adjustments, add dynamic compression, create bandpass filters, adjust gains, and a lot more.
Shotcut was originally designed for Linux users, so it may have a tricky interface, however, it contains a vast collection of tutorial videos to make learning much easier.
This video editing app is known to support hundreds of audio and video formats such as FFmpeg, 4K, ProRes, and DNxHD. Its native timeline editing allows you to import video files directly into your project.
Even though it was initially designed for Linux, Shotcut is now available for Windows and Mac.
Pricing

Let's wrap up this list with an award-winning app called VideoShow. It is a super simple and reliable video editing app that has a plethora of features that extend beyond the usual cutting and pasting.
VideoShow comes with 50 elaborate themes to beautify your videos and an expansive music library and sound effects. This can help you make great videos for your social media or business.
It allows you to include text overlays and stickers, freehand draw on top of your videos, adds blurred backgrounds, adjusts audio and video speed, adds multiple background music, and even perform live dubbing or voice-overs.
Furthermore, VideoShow lets you compress your videos while retaining the quality and also lets you convert your soundtrack to mp3.
Pricing
Free version available.
VideoShow Pro at $29.99.
Conclusion
Whether you're creating vlogs for Youtube, working on a short film, OR simply creating videos to pass your time, there's a video editing app for it all.
And, in this blog, we have provided you with a list of some of the most amazing video editing apps – from professional and advanced ones to simple and fun ones!
Now, it's up to you to choose the one that fits your needs.
That's a wrap, folks!
Further reads: 
11 Best Video Conferencing Tools & Software For Teams!
How to Embed Videos to Documents?
Top 9 Video Editing Software Anyone Can Use!
How to Embed Loom Videos to Your Documents?
How to Add Cloudapp Videos to Your Documents?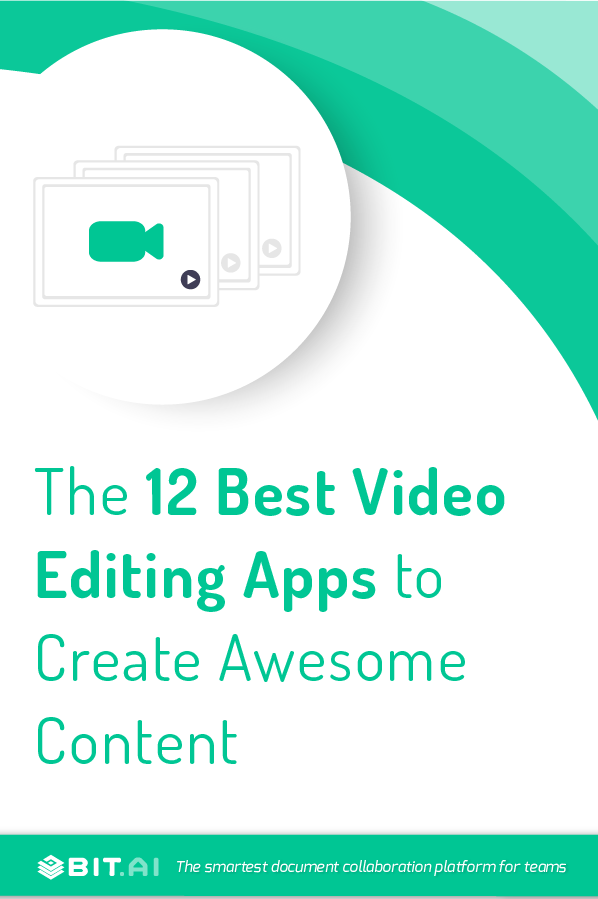 Related posts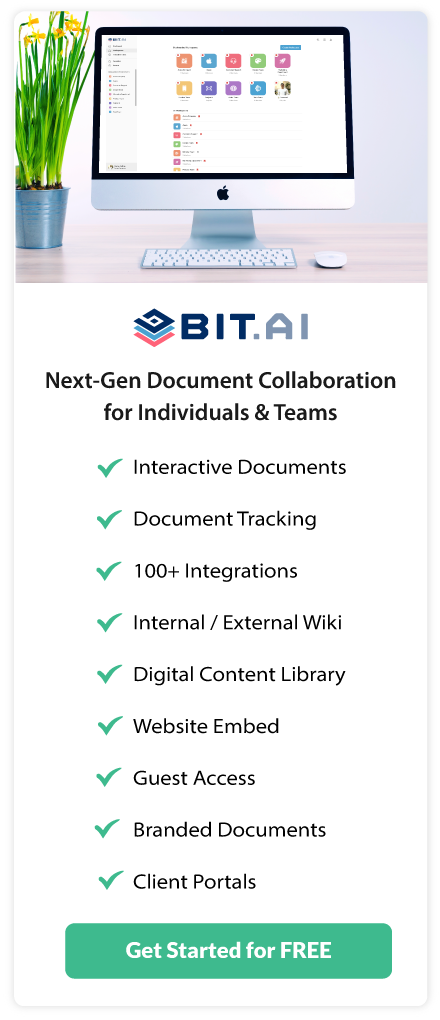 About Bit.ai
Bit.ai is the essential next-gen workplace and document collaboration platform. that helps teams share knowledge by connecting any type of digital content. With this intuitive, cloud-based solution, anyone can work visually and collaborate in real-time while creating internal notes, team projects, knowledge bases, client-facing content, and more.
The smartest online Google Docs and Word alternative, Bit.ai is used in over 100 countries by professionals everywhere, from IT teams creating internal documentation and knowledge bases, to sales and marketing teams sharing client materials and client portals.
👉👉Click Here to Check out Bit.ai.