There's one thing every product on Earth has in common: it's built FOR someone. A product with no users is very much like our passports in the year 2020 – useless.
This is why you should always, always put your users in the center and make them the hero of your story. You need to solve their problems and fill their needs.
But the question is, how would you know what they need and what they struggle with? How will you build solid products that are just the right fit for them?
For all this and more, you need to take the time, engage with real users, and conduct user research. Want to know more about this concept of user research? That's why we're here!
In this blog, we have explained the A-Z of user research, including a platform that will help you while you conduct the research. Hop in readers, we're going for a ride!
What is User Research? (Definition)
User research, also known as 'design research', helps you learn as much as possible about your users and improve your products.
Basically, user research is carried out to learn about the users' needs, wants, behavior, and thought processes. This is done through a variety of techniques such as interviews, surveys, direct observation, etc.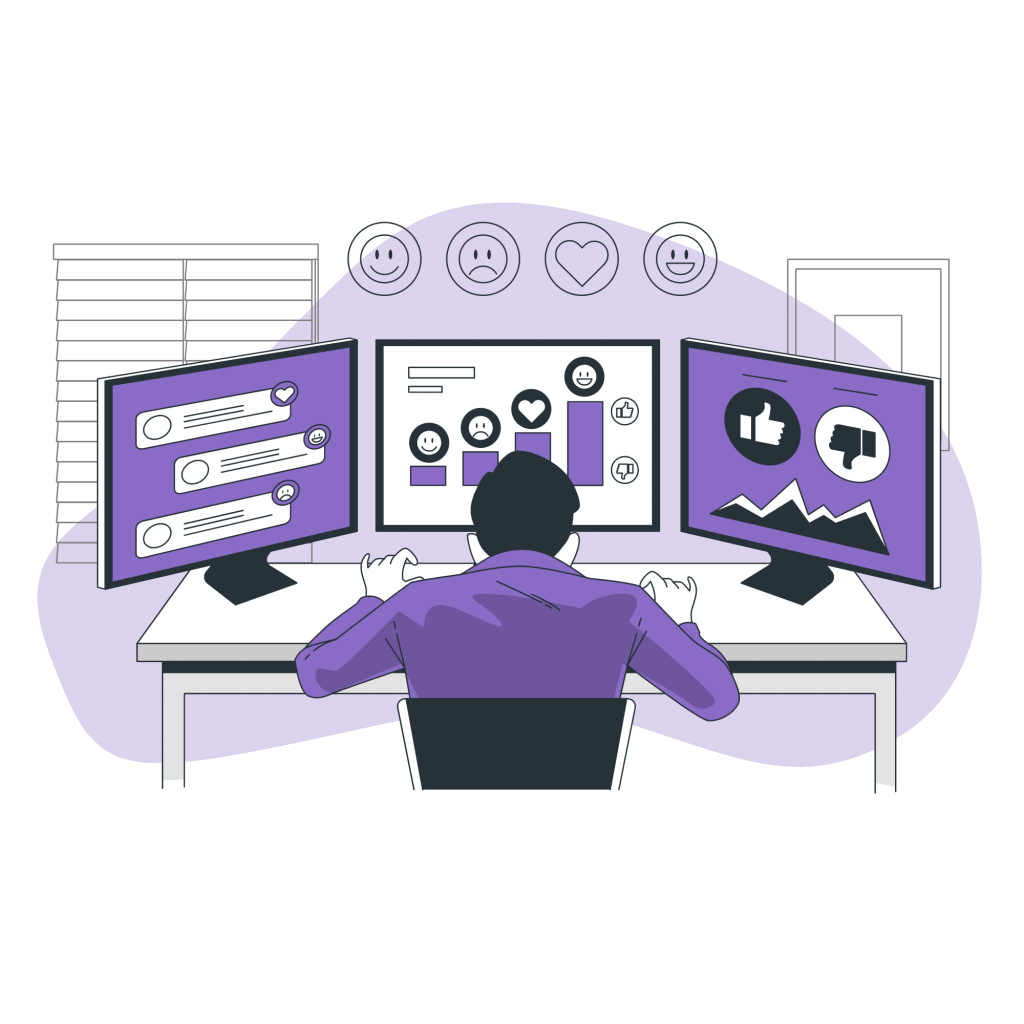 Even though the techniques of conducting user research might vary, there is one thing every user research has in common: it places people at the center of your design process.
User research tells you what your users needs, their experience with your product, how they interact with your product, the challenges they face, and how you can fix those challenges.
Well, now that you have understood the basics of user research, let's find out why you need to carry out this time-consuming task in the first place.
Three Reasons Why User Research is Important
1. To create designs that are relevant to the users
You're not creating the product for yourself; you are creating it for the end-user. In short, you can't just assume the needs and wants of your users – you need to find them out.

The best way to know these details about your users is by directly asking them – AKA conducting user research. It would help you understand exactly what the users are expecting from your product.
User research will also help you evaluate your design, uncover the problems users might face while interacting with the product and come up with reasonable solutions.
Don't forget that the cost of fixing an error after development is 100x that of fixing it before development.
2. To build designs that are intuitive and fun to use
We have got a question for you – why do you buy a particular product? You probably buy it because it's something you need or want in your life, right?
The point is that the product that you design is supposed to make the users' lives easier, not harder. You need to make sure that your users don't have to go to lengths to figure out how your product works.
So, how would you ensure that the users will find your design fun and intuitive? By conducting user research and understanding their expectations and level of understanding! It is as simple as that.
3. To increase your revenue
It goes without saying – the better your product design is, the more people are going to love it. That means you are going to have more sales and generate more revenue.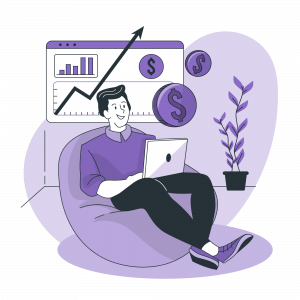 Here's a fun fact for you: The websites that go through a user-research process increase their business metrics by 83%. You don't want to miss out on the golden opportunity, do you?
We are sure we have convinced you to dip your hands in user research. Now, it's time for you to learn how you can actually perform it.
Just like several other kinds of research, user research is also divided into two methods: quantitative and qualitative. So let's delve a little deeper into these two methods.
Read more: User Persona: What is it & How to Create it?
Types of User Research: Quantitative & Qualitative
First things first, let's understand the major difference between quantitative and qualitative research methods.
Quantitative research is entirely based on collecting and analyzing numerical data. It answers the 'what', and the results that you get from this type of research are objective and statistical.
On the other hand, qualitative research involves an interpretive and naturalistic approach. It answers the 'why' and helps you uncover how people think and feel, their opinions and experiences.
Now, let's take a quick look at the different user research methods you can use for each type:
Quantitative Research Methods
1. Eye-Tracking: Using this method, the researcher observes what the user is looking at and for how long. Basically, this method can help you identify whether users are attracted to a specific part or feature of the design. It'll also help you understand which element they're not paying much attention to.
2. A/B testing: This testing involves comparing two different versions of a web page and finding out which one leads to the maximum conversion. You can test button placements, banners, text variations, colors, and other UI elements. It'd give you a better idea of what people like.
3. Product Analytics: In this method, you track and monitor your website/app. This helps you detect potential problems such as broken links, the bounce rate, etc. Not just that, this method also helps you gather information about the demographics of your users, such as the language they speak, the device they use, etc.
4. Surveys and Questionnaires: You can get feedback from your users and collect their satisfaction metrics and ratings through surveys and questionnaires. Make sure that you ask close-ended questions because they have a higher response rate and they're much easier to analyze.
Qualitative Research Methods
1. Participant Observation: This is one of the easiest and most effective user research methods. In this method, the researcher watches real users interact with the product in their natural environment (home, workplace, etc.) This helps you understand whether the users have a real need for the app you'd like to build, and a lot more.
2. Moderated and Unmoderated Usability Testing: In moderated testing, you collect data on your product by asking the participants to complete a few tasks while you're present there. Whereas, in unmoderated testing, the participant carries out the tasks without anyone else present in the room.
3. In-Depth Interviews: These are one-on-one interviews where the participant and the researcher discuss all the aspects of a product and service 'in depth'. This user research method helps you get more detailed insights about your product as well as the users' experience with your product.
4. Focus Groups: In this method, you pick a few participants from your target audience, assemble them in one room, and discuss your product and service. This focus group is led by a moderator and it enables you to understand multiple viewpoints and users' reactions.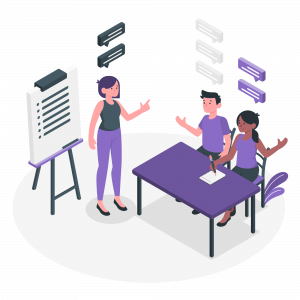 It is not easy to gather, record, and present all the user research data. There will be times when you keep running into one challenge after the next while recording the data.
One of the major challenges you'd face is creating, organizing, and sharing all the research documents. So, you need to hedge this thing off before it becomes a problem.
…and that's where Bit.ai comes in!
Bit.ai – The Platform That Will Assist You In Your User Research

Bit.ai is a robust, new-age, and smart document collaboration platform that allows you to create, manage, organize and share documents – under one single roof. Bit will make recording and organizing all your user research data super easy – you can take our word for it!
Want to know some other reasons why you should use Bit.ai while conducting your user research? Read on!
1. Collaborate With Your Research Team in Real-Time
While collecting and recording your user research data, you need inputs and insights from your entire team so that you don't end up misinterpreting the numbers.
Bit.ai helps you do that effortlessly! On Bit, you and your team can collaborate on documents in real-time. That means you don't have to communicate back and forth with your team through emails and messages.
2. Organize Everything Efficiently Using Workspaces
While conducting user research, there is a lot of information that you need to gather from different users – and storing all this information can be a pain.
Bit is here to take that pain away. On Bit.ai, you can create infinite workspaces and keep all your research data organized in folders and subfolders.
3. Create Smart & Interactive Documents
What if you could add all your important user research information in one single document? We're talking about the excel sheets, surveys, charts, etc.. Won't that make your research documents so much more powerful? The best part is – your team won't have to jump from one platform to another to get information.
Well, Bit helps you do just that! You can embed surveys/polls, charts, cloud files, presentations, and any rich media you can think of in your Bit doc. This nifty platform supports over 100 integrations including Google Drive, Airtable & Typeform!
4. Share Your Documents in Multiple Ways
Research findings are crucial documents, and you need to make sure that the right people have access to them at the right time. This is why Bit supports features like document tracking, password protection, file access restrictions, etc. that help keep your important information safe.
Once you are done creating your user research documents, you can easily export them as PDFs, Word files, Markdown, and much more. You can also share them via a link or through Bit's guest access feature!
There's nothing like Bit out there when it comes to creating and organizing documents. With a free account for up to 5 members, there's no reason why you should not give this amazing platform a try.
Wrapping Up
User research helps you in every stage of the product design process, starting from ideation to when the product is released in the market.
User research inspires your product design and helps you uncover the barriers the users might face when they interact with your product. It even helps you evaluate the solutions and measure the impact.
All in all, user research is not something you should ever skip out on. You need to conduct it, and you need to conduct it carefully. This blog will certainly help you every step of the way!
Got any queries or suggestions? Tweet to us @bit_docs and we'd get back to you soon.
Further reads: 
Social Proof: 8 Ways to Use it to Get More Sales!
Collaborative Research: Definition, Benefits & Tips!
Upselling: What is it and How to do it Effectively?
Business Competition: 11 Ways to Stay Ahead in 2022!
Marketing Research: Definition, Process & Tools!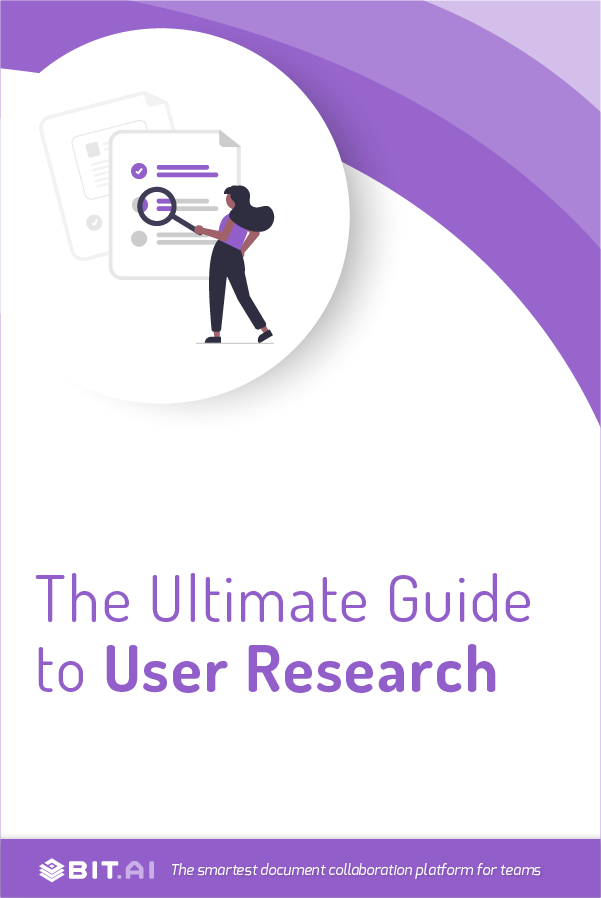 Related posts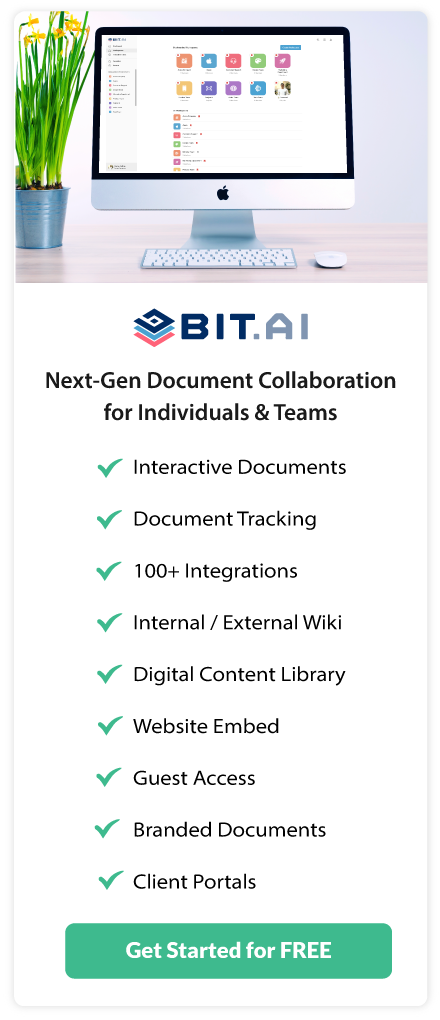 About Bit.ai
Bit.ai is the essential next-gen workplace and document collaboration platform. that helps teams share knowledge by connecting any type of digital content. With this intuitive, cloud-based solution, anyone can work visually and collaborate in real-time while creating internal notes, team projects, knowledge bases, client-facing content, and more.
The smartest online Google Docs and Word alternative, Bit.ai is used in over 100 countries by professionals everywhere, from IT teams creating internal documentation and knowledge bases, to sales and marketing teams sharing client materials and client portals.
👉👉Click Here to Check out Bit.ai.