Crafting a strong marketing strategy performs as the foundation of any prospering business.
Having a descriptive marketing strategy works like a north start when formulating a business plan. Sounds easy, right? Theoretically, yes. But, in reality, no! To create an excellent marketing strategy for your business, you first need to make sure that you've ticked all the boxes of what, why and how.
So, let's dig into answering those questions and help you work out that amazing marketing strategy, with a starter template to make the whole process a lot easier! But first, let's understand the basics and build a great foundation for our marketing strategy.
What is a Marketing Strategy? 
It's important to first understand what is a marketing strategy? Any combination of activities, whether offline or online, that helps a business move closer to its strategic goals is called a marketing strategy.
It involves an in-depth evaluation of the demographics, market dynamics, and competitive environment of any industry prior to crafting an overall plan of action.
It also includes a collection of techniques that allows a particular organization to plan its resources towards the best scope in terms of enhanced sales and sustaining the competition.
Why do you even need a Marketing Strategy?
It is crucial for a business to have a structured marketing strategy in place and help the team of expert marketers accomplish the overall objective with increased brand value.
Brand Recognition: Having a powerful marketing strategy helps the brand and the overall company image to gain a remarkable feat in the industry and target market as a whole.
Plan the nature of products and services: Market planning and research are vital parts of marketing strategy that help the management of the company to study attributes of products and services that are in pipeline or are in the launch phase.
 Attract a new set of customers: The marketing tools and techniques cover a major part of a marketing strategy. These techniques are selected on the bases of customer lifestyle, taste, income levels, and other such parameters and help the sales department to convert the floaters into qualified prospects.
The overall growth of the firm: Marketing strategy also assists in creating increased brand value, gained market share, higher sales, competitive benefits that result in the overall growth of the firm, drawing a broader perspective.
Read more: How To Create a Partnership Marketing Plan?
How to Create an Effective Marketing Strategy? Follow these steps:
Building a well-informed marketing strategy requires having a clear view of what's best for your business, what areas need attention and how can we increase conversions.
Hence this process will equip you with all these key steps to keep in mind while creating your strategic document.
Step 1. Know your products:
Begin with spending time on stating the benefits of your products and services along with the features. How will they build value in a person's life? Why is it important for your customers?
The most effective marketing plan speaks to the needs and emotions of your consumers, and that connection is created when you know your products well enough.

Step 2. Target Audience:
Who are you willing to reach through your marketing effort, that is, the audience category that defines a perfect customer? The next step in a marketing strategy is identifying your target customer or audience.
This does not mean ignoring potential buyers who don't fit into the standards you set at this stage. Everyone interested in your products and services should be able to get them, but you should certainly narrow down your marketing efforts to the group of people you are most likely to attract.
Step 3. Research the competition:
Wanting customer's loyalty for your products and services, make your business stand out in the market! Which can only happen if you know what other businesses in your niche have to offer?
In other words, take time to know about your competition and decide how can you differentiate yourself and your business. Keep a note of various factors like quality, price, values, location, service, accessibility, and lifestyle. What will be most benefit your target customers?
Read more: Porter's Five Forces Analysis to Outwit your Competition!
Step 4. Write down your USP:
Utilize the information you've researched about your products, customers, and competition to build a unique selling point about your business.
This is a captivating sentence that explains the essence of your business, focusing on what benefit you provide, who you serve, and why you are the best business to offer that benefit.
Your business USP, also known as your value proposition, will build a guide for all your branding, and other marketing efforts.
Step 5. Outline your budget and resources:
A well-defined budget will ensure that your team follows through on that marketing roadmap without any issues.
This will help you reach important marketing goals, and have a clear idea of your current budget to make sure that your marketing plan doesn't send you into debt and you understand your cost of acquisition.
But money is not the only resource. The skills of your teammates (such as writing and designing) and raw material (such as distribution assets and platforms) can be used in building a marketing strategy.
Step 6. Define your marketing methods:
Once you are done understanding your market, customers, and resources, its time to choose the right marketing mix that will advertise your business and promote your USP effectively through various methods.
Direct mail, SEO, online advertising, TV ads, or trade shows are some effective ways to reach customers! Study all the marketing tools that are present and the one used by your competitors, then adapt the best ones for your business!
Once you have a clear marketing strategy, you can then implement it to attract the right kind of customers, place your business as an ideal solution, differentiate yourself from competitors, and achieve growth within the niche market.
Create a well-defined Marketing strategy the Right Way with Bit
After learning about all the key steps on how to create a marketing strategy, we know you are excited to get on with creating one. However, what is the purpose of knowledge if you don't have the means to deploy it?
That's why we would like to introduce you to Bit, the smartest document collaboration tool to help you create a strong marketing strategy!

Bit.ai is a new-age document management and collaboration tool that helps teams to collaborate, share, track and manage all their knowledge in one place. It's the perfect tool to create, store and share Marketing plans.
Apart from marketing plans, one can create everyday documents like ebooks, case studies, onboarding docs, fact sheets, sales decks, project proposals, media kits, and many more.
Bit has an amazing UI that's easy to understand by a new user, making onboarding easier. The user experience is phenomenal too as things flow from documents to workspaces swiftly.

Still not sure how Bit can help you write an impressive marketing strategy to help you execute that business plan? Let's see some more of Bit's awesome capabilities!:
Collaborate in real-time– Multiple people can simultaneously collaborate on a Bit smart document in real-time. Suggest edits, work collectively and ask questions with real-time mentions, and comments.
Interlink marketing documents and other documents– Now, you can interlink your document with other important assets that are supposed to be posted like swot analysis, sales funnel and more on the web or inside the platform.
Minimalistic design – Bit's editor allows you to focus on writing and the work you're implementing, without any distractions. The platform interface is easy to understand, making it easy for new visitors to get onboard quickly.
Create a fully interactive document– Make your document more engaging and interactive and by adding recommended power links and files letters of recommendation, like- Web links, PDFs, PowerPoint in Google Drive/OneDrive, Draw.io, LucidCharts, etc.
Track engagement on shared content calendar documents with freelancers, partners, etc.– Imagine if you were able to track the time spent by others on your document, how frequently they were viewed, and if they were viewed at all. Well, Bit allows you to track your documents and gain amazing insights, helping you create an even better version of your documents.
Automated table of contents- Bit also has an automated table of contents based on the headers you add to your document. This makes sure you can scroll to different sections of your marketing strategy quickly as a marketer, collaborator, and for your audience viewing the final published document!
Multiple ways to share

: Bit documents can be shared in a live state meaning that all changes that you make to the document will update in real-time. If you are sharing your documents with clients, they will always get your most up-to-date changes. You can even embed Bit documents on any website or blog.

Since Bit documents render and are responsive, any changes made to these documents will reflect live on the site! Moreover, features like document tracking, password protection, file access restrictions, etc. help keep your marketing strategy plans and other workplace documents safe. 
Now, that you have learned everything about a marketing strategy and how to create one, feel free to check out Bit's amazing marketing strategy template to make that business plan a success!
Marketing Strategy Template
To make the process of crafting a Marketing Strategy easier and fun, we have created a ready-made template for you! Check it out below: 


How to use Marketing Strategy Template with Bit
The process of creating a marketing strategy document on Bit is insanely easy! Just follow these four simple steps to create a marketing strategy document quickly:
Step 1: Create a Bit Account
Go the home page of Bit.ai and click on Get Started for Free or Sign Up to get started. Enter your email address to sign up. Once in, you can create your personal profile.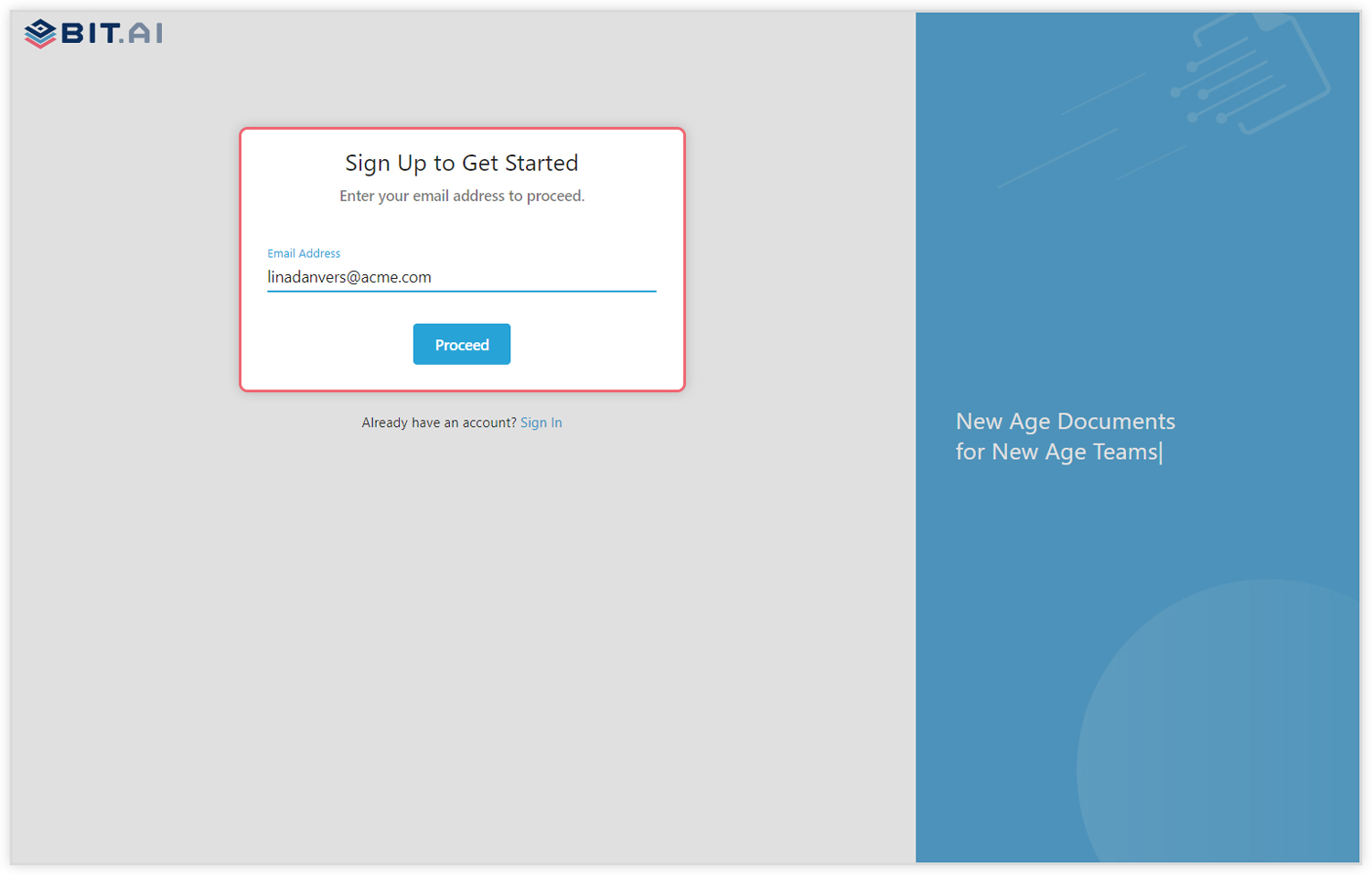 Step 2: Create a Workspace
Workspaces are where the work gets done. Click on the 'Create Workspace' button on the right. A popup will show up prompting you to add a name for your new workspace.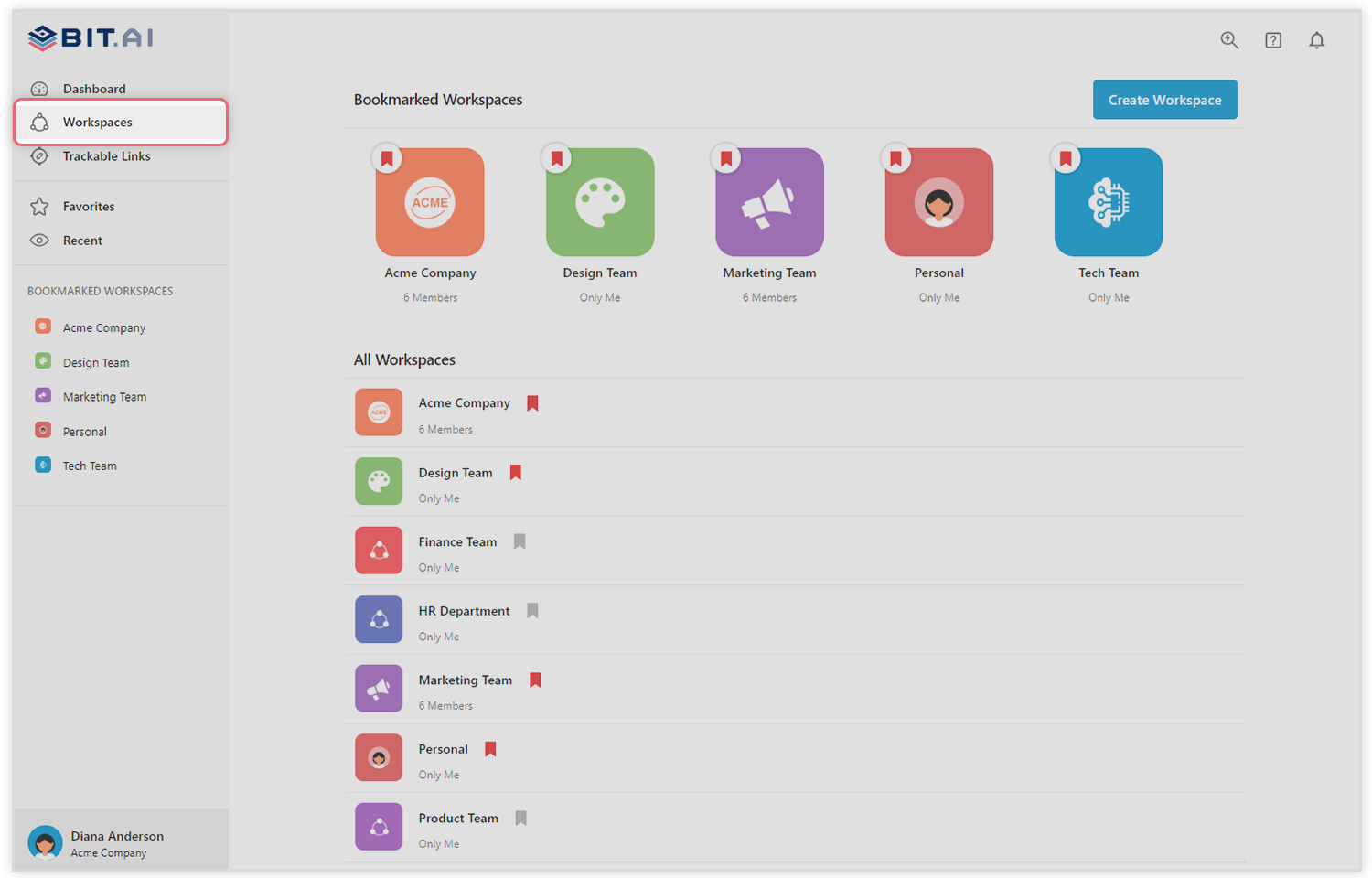 You can create a workspace around a team, department, large project, client, partner, etc. Inside each workspace, you can create an unlimited amount of Bit documents and access your content library (storage area for all of your digital assets – web links, files, cloud files, rich embeds, etc.).
Step 3: Add Team Members
Bit allows your team members to collaborate in real-time and get work done. Collaboration starts at the workspace level.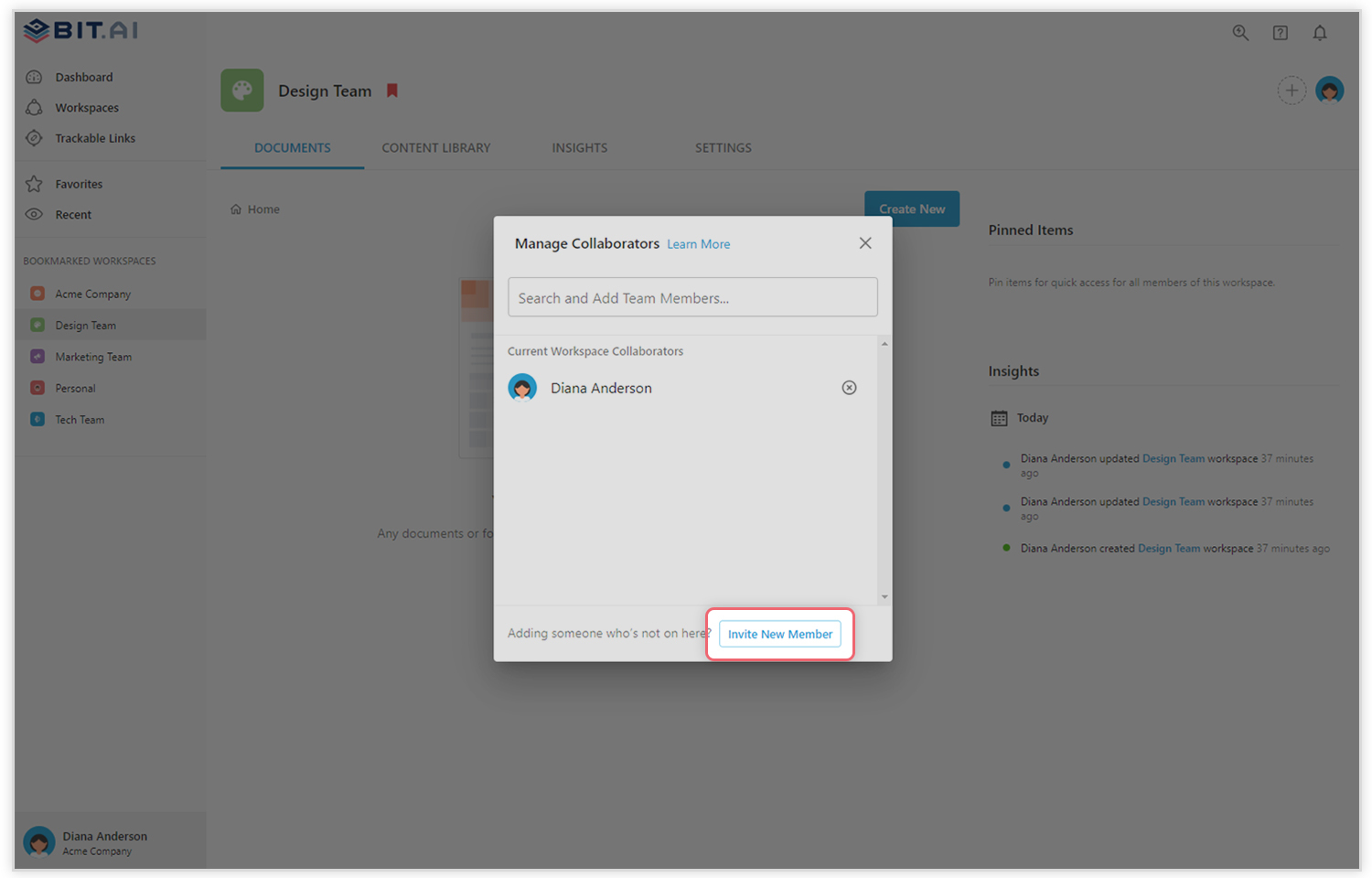 You create private workspaces by default. However, you can invite others to join you inside of a workspace and collaborate together with the knowledge, projects, documents and content inside of the workspace.
Step 4: Create Your Desired Document
Once you are in the workspace, click on the 'Create New' button. Select 'From Template' in the dropdown. A pop up will display allowing you to select a template from the gallery.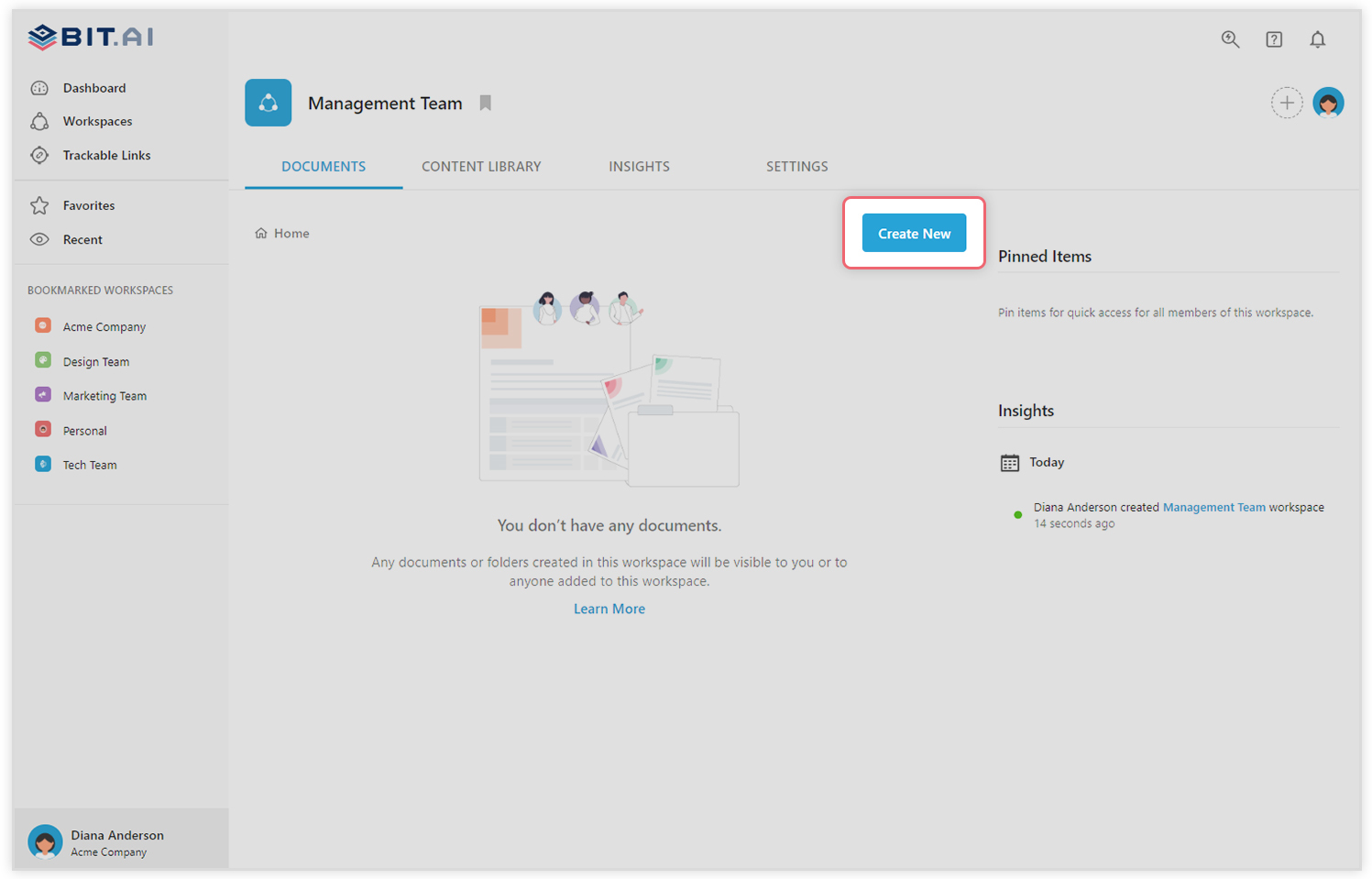 In the search box on the top left corner, you can search for "marketing strategy template". Once your desired template pops up, click on it and click on the "Use Template" button on the bottom right corner.
That's it! Your marketing strategy document is ready for use!
Our team at bit.ai has created a few awesome marketing templates to make your marketing process more efficient. Make sure to check them out before you go, your marketing team might need them!
Establish your marketing strategy
Keep in mind that, it's very important to figure out the marketing zones you'll focus on and the amount of time and budget you'll be spending on advertising, content marketing, PR,  SEO, community management, etc. depending on the niche of your business and target audience. If you need any help, let us know by tweeting us @bit_docs. Cheers!
Further reads: 
What is a Marketing Plan and How to Create One for Your Business?
Marketing Management: Definition, Importance, and Process!
Growth Marketing: What is it & How to Carry it out for your Business?
Marketing Report: Definition, Types, Benefits & Things to Include!
What is Competitor Analysis And How To Do It Right
Go-To-Market Strategy Guide for Businesses
Marketing Funnel: What is it & How to Create it? (Steps included)
25 Digital Marketing Tools That Will Help Every Marketer
Collaboration Strategy: Definition, Benefits & Process!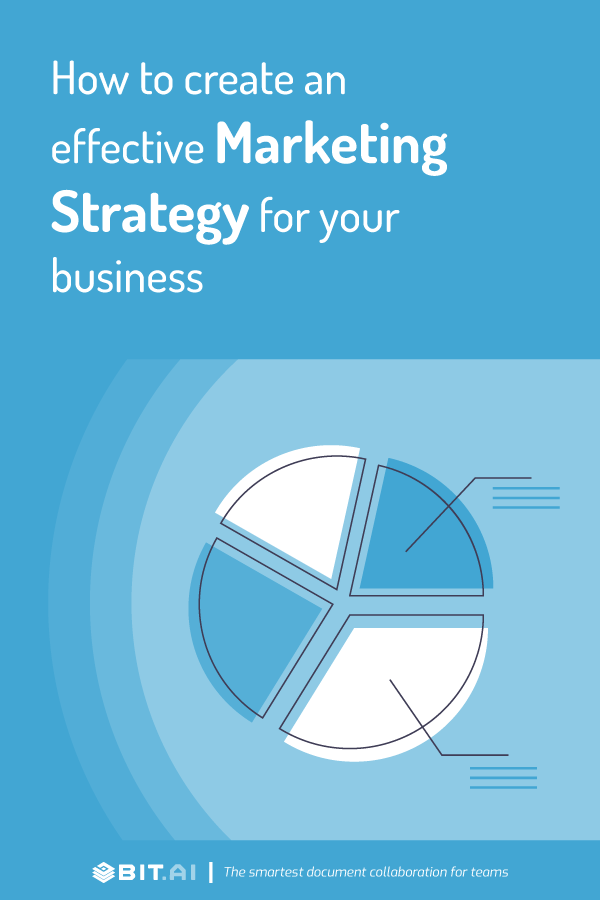 Related posts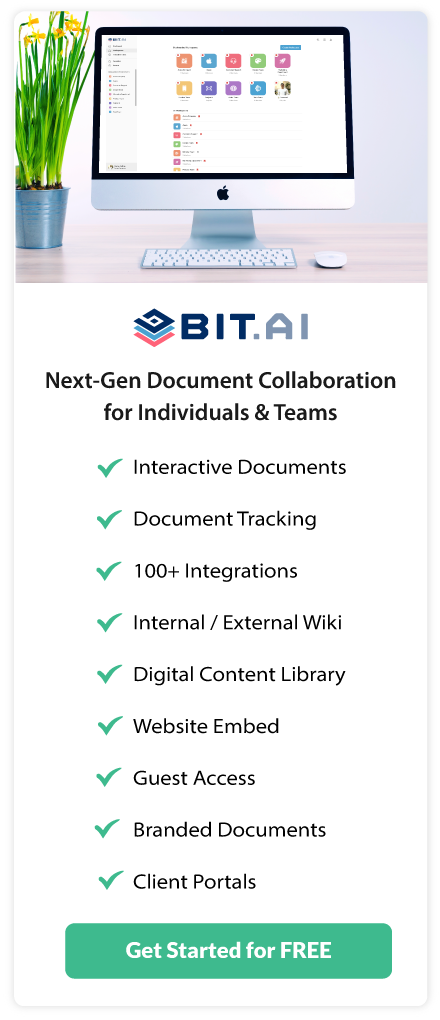 About Bit.ai
Bit.ai is the essential next-gen workplace and document collaboration platform. that helps teams share knowledge by connecting any type of digital content. With this intuitive, cloud-based solution, anyone can work visually and collaborate in real-time while creating internal notes, team projects, knowledge bases, client-facing content, and more.
The smartest online Google Docs and Word alternative, Bit.ai is used in over 100 countries by professionals everywhere, from IT teams creating internal documentation and knowledge bases, to sales and marketing teams sharing client materials and client portals.
👉👉Click Here to Check out Bit.ai.