It is not easy being a project manager. From creating a ton of project documents, putting together a team, allocating resources, managing deliverables, strategizing, budget planning, and conducting meetings – a project manager has got his/her hands full with responsibilities for handling all aspects of a project. 
However, in a fast-paced digital world, things are bound to slip through the cracks, which can eventually lead to disastrous results.
This is why all projects should be well-documented. You cannot possibly rely on your manager's memory to devise, execute, and deliver a project on time, especially when many of these projects can take months to finish.
Many project managers rely on email to keep everything together which soon turns out to be a recipe for disaster. In order to successfully accomplish projects on time, project managers rely on documentation to make sense of the chaos.
But before we jump into the documentation part, let's quickly understand what project management really is and how managers should document a project to make the process more efficient.
What is Project Management?
‍Project management is the process through which managers plan, strategize, and execute projects while managing processes, tasks, and resources efficiently. Project managers aim to handle their projects efficiently while sustaining the proper use of time and resources.
In other words, Project management is an important process to document steps, actions, and results of any project until completion. It involves including the participants and stakeholders involved so that everyone is on the same page.
Why is Project Management Documentation important?
‍The lack of clear goals accounts for 37% of project failures. This is why project managers need to clearly define the deliverables, timeline of completion, and the end result to ensure the precise execution of the project. And an easy and efficient way of doing that is by documenting the entire procedure.
Project management documentation is really important to stay on top of the various steps and actions that are needed to coordinate across team members. Time tables, deadlines, owners of tasks, results of steps as they are taken, etc are some of the key elements that are often documented.
Projects get completed faster when steps are organized and coordinated across. Smart managers use a project management template to make their documentation process easier and more efficient.
This is why we have created an awesome project management template for you to document your projects with ease. But before you go use the template, it's important to understand what all you need to include in your project documentation.

What you should include in Project Management Documentation?
The successful execution of a project depends largely on the level of documentation done prior to its initiation. Some of the most important elements of project management documentation include:
‍Title: Add the title of the project being initiated.
Summary: Write a small summary explaining what the project is all about.
Key Personnel: Include everyone who is going to be a part of the project (aka stakeholders)
Project Plan: Describe the details of what the project encompasses and what are the key steps for execution. ‍
Timeline: Add how long will it take for the project to complete. This gives a sense of direction and accountability to all the stakeholders.
Quality Procedures: Describe how the project will be evaluated on an on-going basis to ensure that you meet the goals.‍
Reporting Procedures: Reporting criticalities, bottlenecks, and progress of the project. Make sure everyone is on the same page with the reporting procedures. ‍
Project Risks: Include any risks that your teams should be aware of while working on the project. While describing risks, one needs to be fully aware and honest about the process and make sure the team is not set up for failure.
Budget: Include a spreadsheet of the budget‍ allocated for the project.
Communication Plan: Write in detail about your communication plan after a project is completed. Add collaborators you need to work with to ensure the proper roll-out of the project.
Read more: How To Write A Project Proposal that'll Get Approved In No Time
Manage Projects the Right Way with Bit

Good documentation is the foundation for good project management and that is where Bit comes in. Bit serves as a central hub where collaborators, content, and communications can be accessed in one all-inclusive document.
Bit has an amazing UI that's easy to understand by a new user, making onboarding easier. The user experience is phenomenal too as things flow from documents to workspaces swiftly.

Project managers can use Bit to create project documents, planning documents, collaborate with the team in real-time, and store all project assets in one place for easy and fast access.
Create Interactive Documents: You can add content from over 100+ various applications that will live inside of your Bit documents. Add Excel spreadsheets, PDFs, Google Forms, Gantt charts, Maps, YouTube videos- basically anything on the internet with a link and Bit will automatically convert that into live content living inside your document!
Collaborate in real-time: Multiple people can simultaneously collaborate on a Bit smart document in real-time. It's a great way for employees to discuss project details, work on spreadsheets, brainstorm ideas, collaborate on documents, manage to-dos, share assets, and more. Bit's sleek, minimal and distraction-free editor makes a great tool for documentation.
Avoid Confusion: With the ability to tag co-workers, interlink documents to create wikis, collaborate on a document in real-time, and chat functionality makes it very easy for everyone (especially remote teams) to stay on the same page and avoid confusion and chaos.
Safe & Secure: Bit allows users to manage permissions and information access that suits your organizational needs. It supports features like document tracking, password protection, file access restrictions, etc. that help keep your important company information safe.
Once you are done creating your documents, you can easily export them as PDFs, Word files, Markdown and much more.
Multiple ways to share: Bit documents can be shared in a live state meaning that all changes that you make to the document will update in real-time. If you are sharing your documents with clients, they will always get your most up-to-date changes.
You can even embed Bit documents on any website or blog. Since Bit documents render and are responsive, any changes made to these documents will reflect live on the site!
Moreover, features like document tracking, password protection, file access restrictions, etc. help keep your project management plans and other workplace documents safe. 
Bit provides a common workplace for team members and executives to collaborate, share their knowledge, brainstorm ideas and innovate together. The best part is that this data is safely secured in your workspaces and can be shared (or kept private) with anyone in your organization!
Here are some of the main benefits of using Bit:
Collaborate in real-time
Interlink project management documents
Inline commenting and version history for proper execution
Fully integrated and works with the apps in your current stack
Create private project management documents only visible to yourself or your team
Track engagement on shared project management documents with clients, partners, etc.
To make the process of documenting projects easier, we have created a ready-made Project Management template for you! Check it out below: 

How to use Project Management Template with Bit
The process of creating a project management document on Bit is insanely easy! Just follow these four simple steps to create a project management document quickly:
Step 1: Create a Bit Account
Go the home page of Bit.ai and click on Get Started for Free or Sign Up to get started. Enter your email address to sign up. Once in, you can create your personal profile.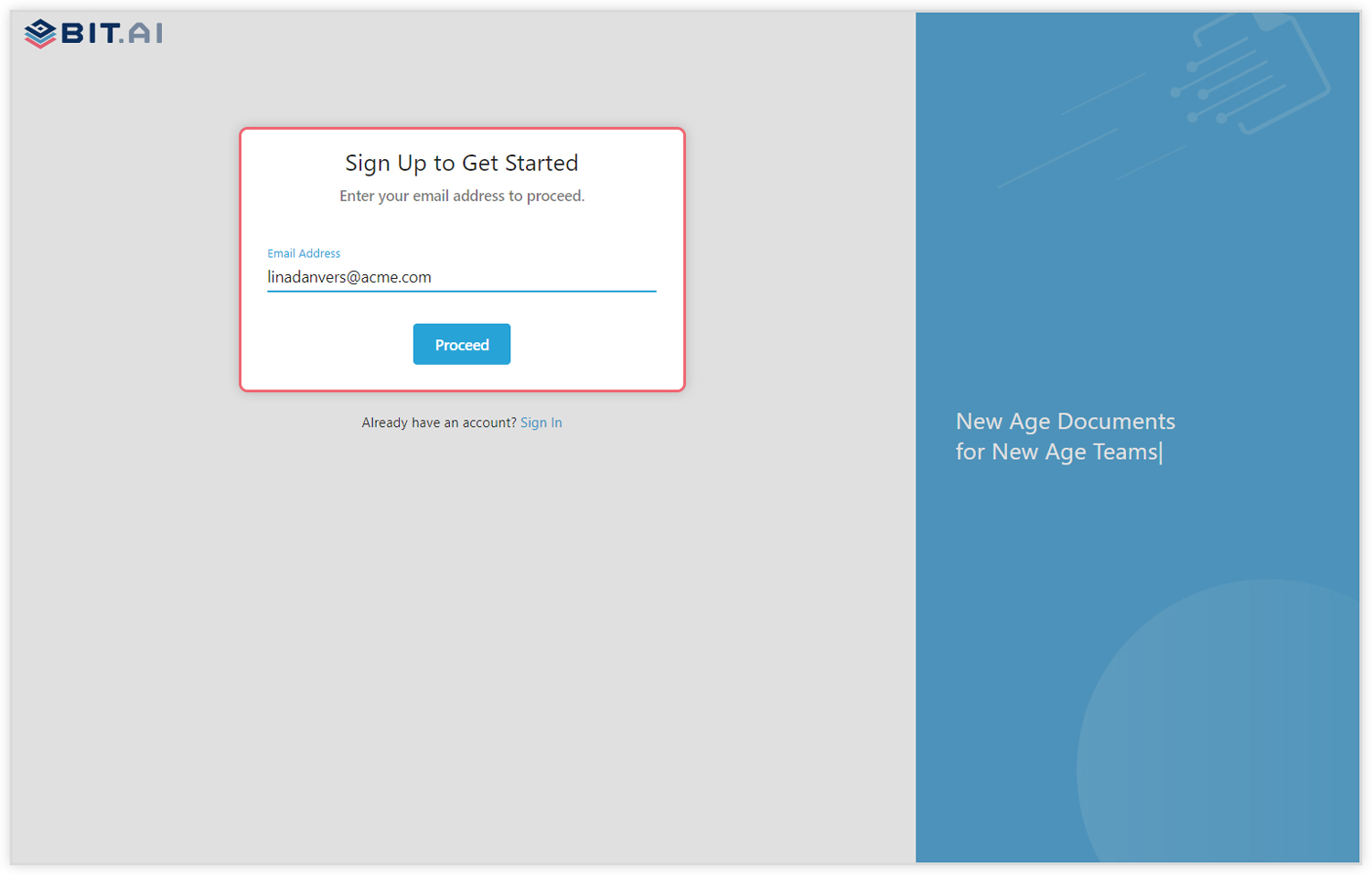 Step 2: Create a Workspace
Workspaces are where the work gets done. Click on the 'Create Workspace' button on the right. A popup will show up prompting you to add a name for your new workspace.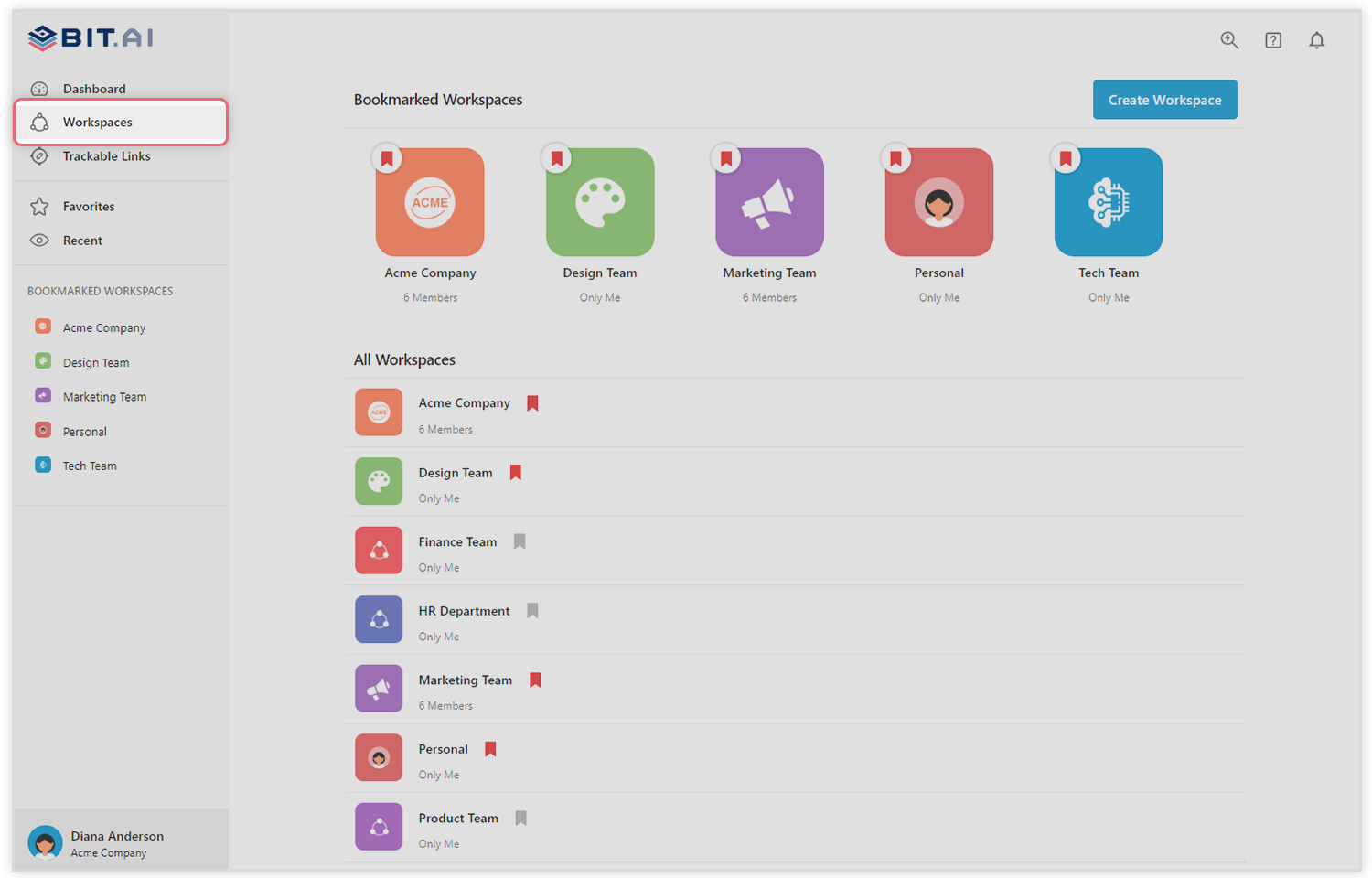 You can create a workspace around a team, department, large project, client, partner, etc. Inside each workspace, you can create an unlimited amount of Bit documents and access your content library (storage area for all of your digital assets – web links, files, cloud files, rich embeds, etc.).
Step 3: Add Team Members
Bit allows your team members to collaborate in real-time and get work done. Collaboration starts at the workspace level.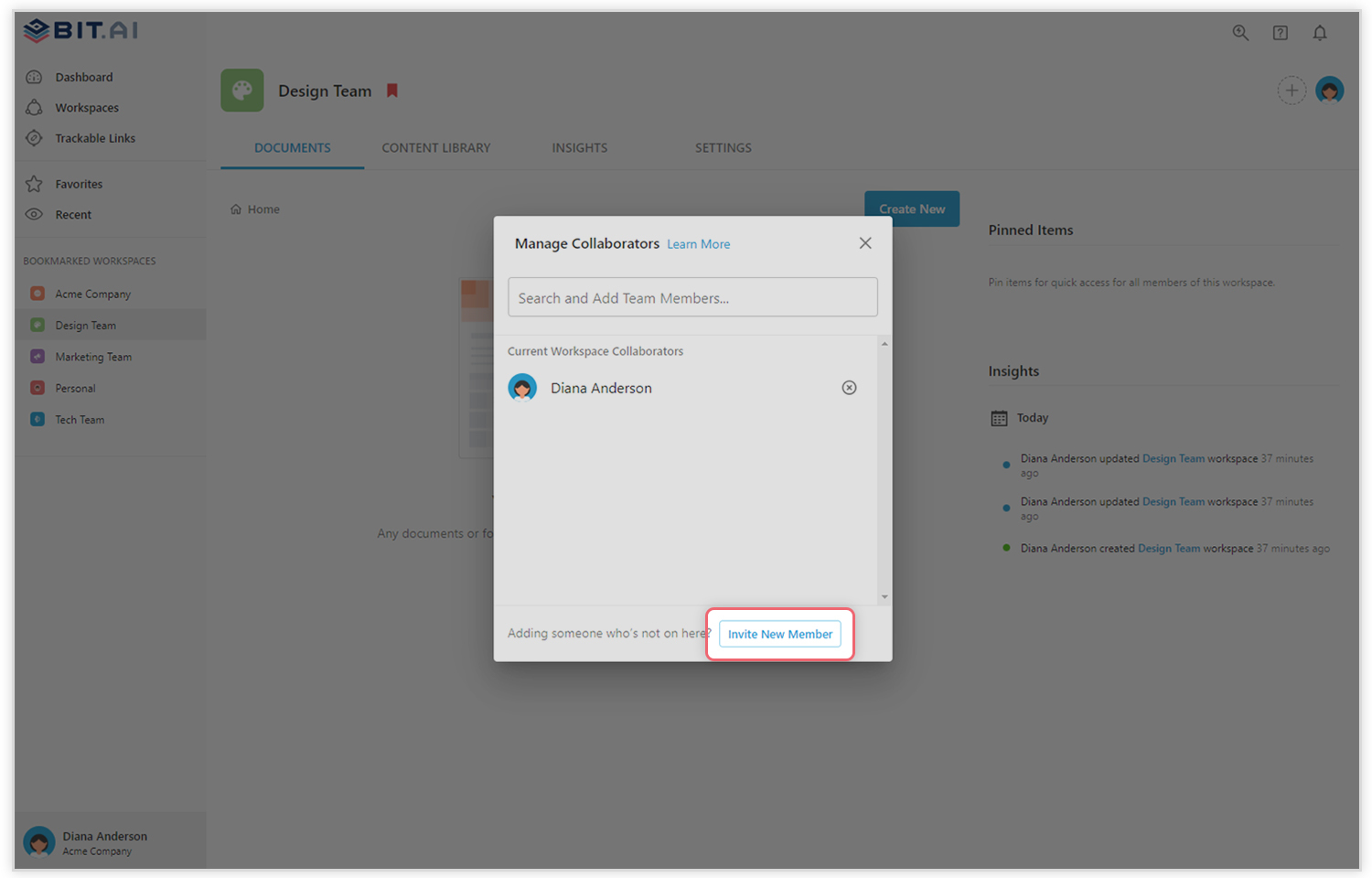 You create private workspaces by default. However, you can invite others to join you inside of a workspace and collaborate together with the knowledge, projects, documents and content inside of the workspace.
Step 4: Create Your Desired Document
Once you are in the workspace, click on the 'Create New' button. Select 'From Template' in the dropdown. A pop up will display allowing you to select a template from the gallery.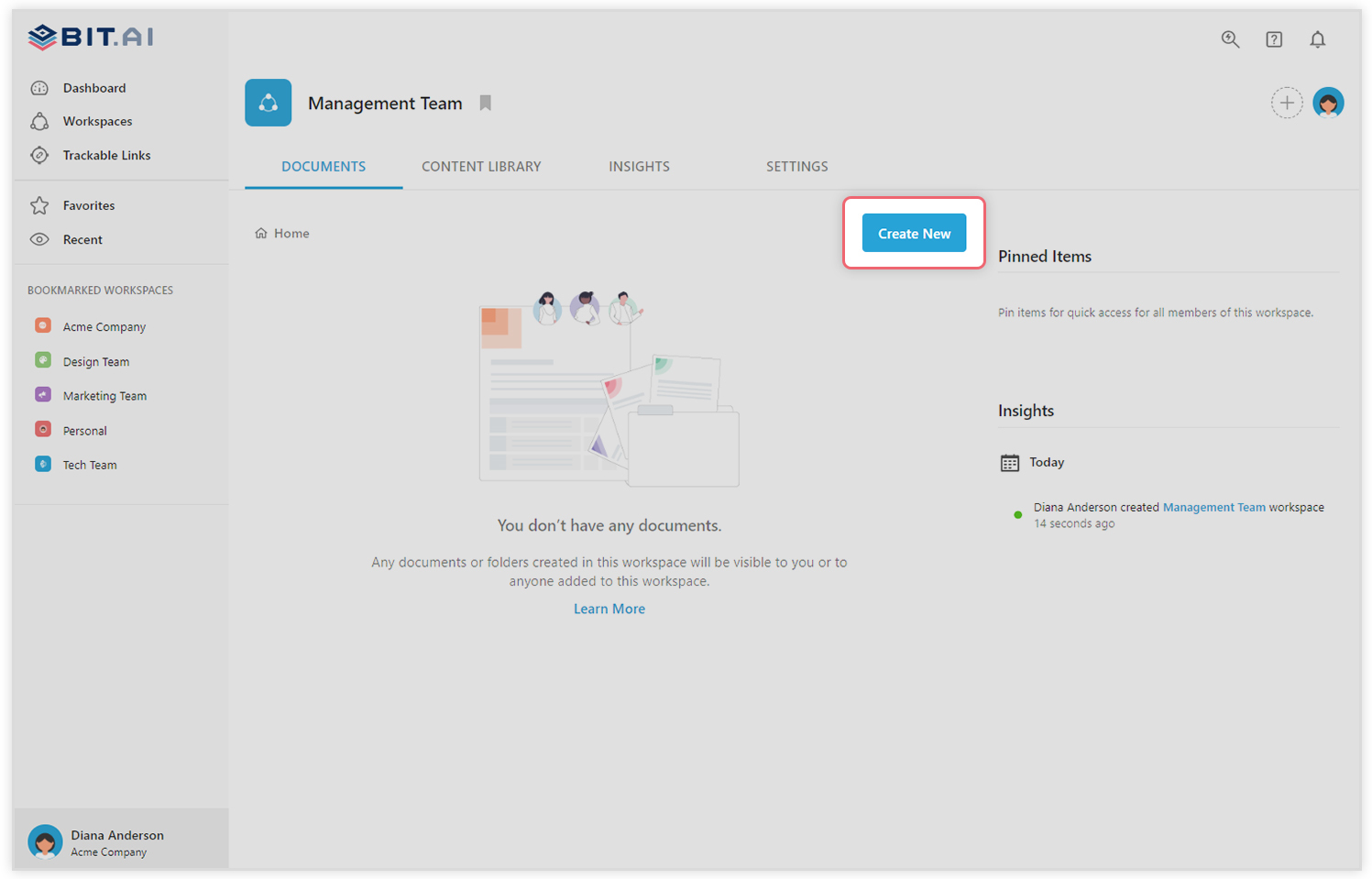 In the search box on the top left corner, you can search for "project management template". Once your desired template pops up, click on it and click on the "Use Template" button on the bottom right corner.
That's it! Your project management document is ready for use!
Final Words
Completing projects on time and successfully achieve results is necessary to a company's bottom line. Yet, fewer than a third of all projects were successfully completed on time and on budget over the past year.
This is why project managers prefer using a project management template as it helps manage the time, cost, and other resources associated with a project, putting them in the best position to succeed.
If you need any help with the project management template or want to know how Bit can help your business, let us know by tweeting us @bit_docs. Cheers!
Further reads:
Task Management Tools Every Business Must be Using!
Project Management Schedule: What, Why, And How!
14 Best Free Trello Alternatives in 2022
How to Create a Procurement Management Plan: Step by Step Guide
How to Write a Project Charter Document?
How to Write Project Reports that 'Wow' Your Clients
Change Management Plan: What is it and How to Write?
Workload Management: Definition, Importance, Process & Tools!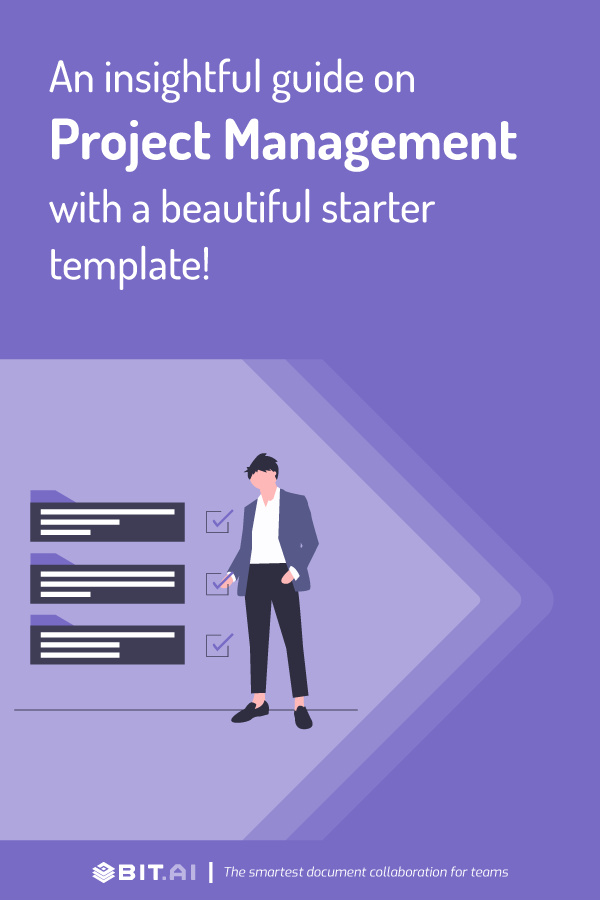 Related posts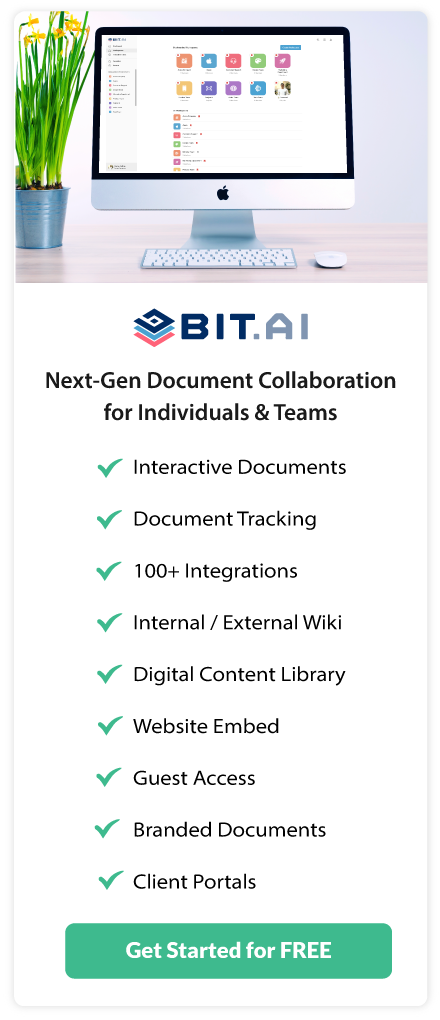 About Bit.ai
Bit.ai is the essential next-gen workplace and document collaboration platform. that helps teams share knowledge by connecting any type of digital content. With this intuitive, cloud-based solution, anyone can work visually and collaborate in real-time while creating internal notes, team projects, knowledge bases, client-facing content, and more.
The smartest online Google Docs and Word alternative, Bit.ai is used in over 100 countries by professionals everywhere, from IT teams creating internal documentation and knowledge bases, to sales and marketing teams sharing client materials and client portals.
👉👉Click Here to Check out Bit.ai.