Looking for task management tools to make sure everything is on track? No worries, we have curated a list of best task management tools for you. Read on…
Technology has not only allowed us to communicate with our friends and family and watch awesome content online but has significantly improved our productivity in the workplace as well. Companies are quickly realizing the power of software tools in the workplace, as around 53% of large companies use some type of team chat and collaboration tool to get work done. This number is 38% for mid-sized companies and 42% for small companies.
Task management software is amongst the most common type of technology tools we use in our workplace to get work done more efficiently. A task management tool is nothing but software that allows us to create and assign tasks to teammates and get work done together in a virtual workspace.
Task management tools not only comprise of project management and planning platforms but can include anything from a to-do list app, document collaboration platform, a kanban board – anything that helps break down bigger projects into smaller, manageable tasks.
In this blog, we talk about some of the best task management tools out there and how they can help you get more done in less time! Read on…
List of Best Task Management Tools Every Business Should be Using:
If you don't want to be left behind in this race towards productivity and efficiency, we would suggest you find task management tools quickly. Which one to choose? Don't fret, we got you covered. Below is a list of some of the best task management software tools out there that'll make your teams' productivity skyrocket in no time!
The first task management tool on our list is Bit.ai. Imagine sharing, collaborating, and working together in one central location. This is what Bit is all about!
A workplace collaboration tool, Bit is an awesome task management software for teams of all sizes. A new-age collaboration platform, Bit helps teams manage all of their documents and media in one place, removing barriers to work and in turn, making you more productive!
Bit provides a commonplace for employees to simultaneously collaborate on a smart document in real-time. It's a wonderful way to manage projects, assign tasks, chat with co-workers, store media assets, create client-facing material, brainstorm, share meeting agendas, and most importantly, share knowledge.
It also has a content library where you can save all your images, files, and digital content so that you can access and reuse them easily, making your workflow smooth as ever!
Smart workspaces are created around projects, teams, departments, and clients to keep your documents, data, and information organized. Workspaces make it easy to collaborate, ensures that the right team members have access to the right documents at the right time, and break down silos for a free flow of information.
Key Features of Bit include:
Real-time collaboration with team members
Content and knowledge management capabilities
Workspaces to keep everything organized and safe
Pricing: 

Free with limited functionality
Paid plans start from: Standard ($12/month), Plus ($20/month), Enterprise (contact sales).
Read more: 9 Best Organizational Tools To Get Rid Of Work Chaos!
Next up is Avaza, a project and task management tool for teams. Avaza allows users to collaborate, generate expense reports, timesheets, track time spent on tasks or projects, sends invoices to customers, and even get paid by clients- all from a single dashboard!
Avaza allows teams to collaborate on projects with email enabled discussions, notifications, and feedback. You can switch your dashboard into different views- Kanban, Gantt, and list views- for tasks that you create. A great feature is the ability to convert emails into tasks and track their time of completion, progress, and more.
If you work with a lot of freelancers or are a freelancer, Avaza is a great task manager as it helps you share your project board with customers, send quotations, track time spent on projects, and streamline invoices.
Key Features of Avaza include:
Integrate files into Avana from your Dropbox or Google Drive
Gain a bird's eye view of project progress and resources allocated
Time and expense tracking
Pricing: 
Free with limited functionality
Paid plans start from: Startup ($9.95/month), Basic ($19.95/month), Business (39.95/month).
The next tool for managing tasks is Flow. With over 300,000 teams in more than 140 countries using Flow, it had on to be on our list of awesome task management software.
While testing it, we found out why so many people trust Flow to handle all their projects and tasks. With a clean dashboard, one can easily check out all the tasks assigned to you, tasks you have delegated to your team, tasks you're following or have bookmarked, and much more.
Flow also has an activity stream that combines all your tasks, projects, @mentions, and conversations in one dashboard so you can get a bird's eye view of everything happening in the organization.
Visualize your projects using kanban or calendar view and work according to your needs. A great feature of flow is the ability to track the progress of your tasks, where you are in the workflow, and how much time you have spent to date on a particular task!
Key Features of Flow include:
Timeline view to see every team member's workflow
Workgroups to work and track tasks more granularly
Easy to use and aesthetically pleasing user interface
Pricing: 
Free for 30 days
Paid plans start from: Basic ($6/user/month), Plus ($8/user/month), Pro ($10/user/month).
Read more: Top SaaS Products for Small Businesses in 2022
Next up is the Workplace, relative task management tool in the market. Built by the social networking giant Facebook, Workplace is like Facebook but for your organization.
If you are familiar with Facebook, you will have no trouble getting up to speed with this platform as the UI works a lot like your typical Facebook feed. Users can like, comment on, share, and chat with co-workers in real-time or use live video conferencing to carry out remote meetings.
Just like Facebook groups, you can create workplace groups for different departments and carry out your work effectively. A great addition is the ability to have a chat with a coworker in any language with auto-translate.
Users can use bots to create recurring tasks automatically and build their own integrations. Just like Facebook, Workplace also uses machine learning to learn your organization's workflow over time and get better the more you use it.
Key Features of Workplace include:
Familiar, easy to use interface
Connect with over 50 popular enterprise tools including G-Suite and Dropbox
Robust mobile apps to work on the go
Pricing: 
Free with limited functionality
Paid plans start from: Advanced ($4/user/month), Enterprise ($8/user/month).
Wrike is well known in the project/task management space and for a good reason. Calling itself a workflow management solution, Wrike makes sure you and your team work together in a single dashboard without any hiccups. Create charts, share and assign tasks, collaborate, and chat with teammates- all under one roof.
Start your day with a customizable workspace that gives a high-level view of all tasks, projects, and communications you need to take care of. Organize information in spaces, folders, and groups and view it in kanban or calendar view.
With a ton of project templates, Wrike makes sure you have everything you need to get work done quickly. An amazing feature of Wrike is the ability to generate performance reports remarkably visually-appealing and simple that anyone in the organization can become a data wiz overnight!
Key Features of Wrike include:
Resource allocation and planning to ensure stress-free work
Live project and task editing and chatting with coworkers
Reschedule tasks and create dynamic reports
Pricing: 
Free with limited functionality
Paid plans start from: Professional ($9.80/user/month), Business ($24.80/user/month), Enterprise (contact sales).
Looking for a task manager for personal use? Check out Any.do, an easy to use task and to-do manager. The app has a clean and simple UI that's extremely easy to start with. Organize tasks, add reminders, manage todos, shopping lists, and much more. Any.do is available on desktop as well as mobile and seamlessly syncs across all your devices, making your tasks available everywhere.
Any.do also has a built-in calendar app that helps you keep an eye on your future tasks and schedule, keeping you up to date with everything important.
Users can set smart reminders inside the calendar and can even pin the calendar widget on their smartphone's home screen for quick access. You can even change the theme and colors of the dashboard, adding a bit of personality to your dashboard. Overall, if you need a barebones task manager, Any.do will certainly do!
Key Features of Any.do include: 
Integrates with calendars such as Google Calendar, iCloud, Outlook, and more
Smart assistant to schedule appointments, book flights, purchase gifts, look up for best deals, and more
Set recurring and location-based reminders
Pricing: 
Free
Pro plan starts at $5.99/month (billed annually)
Read more: Workflow Management Software Every Business Should be Using
Zenkit wants to combine all your data, tasks, content, documents, bugs, features, and more in a single dashboard and get everything in one place. Zenkit provides an inbox for your entire team where you can assign tasks to coworkers, collaborate with teammates, and get work done. There's also a calendar that tracks tasks, events, and projects across multiple departments.
With Gantt charts, users can schedule and track projects on a clear timeline, with milestones, critical path, and more! Create checklists, convert any project into todos, add subtasks, label projects, organize your kanban boards, and much more. With Zenkit's file sharing, team members can share files, documents, and images from their desktop, or their favorite cloud storage services.
Key Features of Zenkit include:
Customize notifications to avoid distractions
Globally search for anything in seconds
Offline mode to work without the internet
Pricing: 
Free with limited functionality
Paid plans start from: Plus (€9/user/month), Business (€25/user/month), Enterprise (contact sales).
Read more: 16 Best Business Tools Every Business Needs in 2022
Teamwork is another cloud-based task management tool that handles tasks, projects, and team communication with ease. With over 20,000 companies using Teamwork worldwide, it's safe to say that it deserves to be on the list of best task and project management software out there.
Teamwork Projects lets you be more organized and assign tasks to team members, Teamwork Chat allows you to communicate swiftly across departments, and Teamwork Desk is helpdesk software that lets you take care of your customers. Moreover, Teamwork also has a CRM (customer relationship management) tool and a content collaboration space built-in. All in all, Teamwork has everything you need a task management tool, and more!
Key Features of Teamwork include:
Track time spent on projects and generate custom time reports
Integrates with the majority of the apps like Google Drive, Dropbox, Box, SalesForce, etc.
Measure project KPI's and progress with ease
Pricing: 
Free with limited functionality
Paid plans start from: Pro ($10/user/month), Premium ($18/user/month), Enterprise (contact sales).
Read more: 10 Best Free Project Management Software in 2022
Just like Any.do, Todoist is another task manager that primarily focusses on to-dos. You can create and assign tasks with Todoist and plan your entire week or month. If you are using Todoist with your team, managers can even set due dates to tasks to keep everyone accountable.
Don't let the name fool you as Todoist is more than your to-do list creator. It lets you create full-fledged projects, adds collaborators, adds due dates, assigns priority-level to tasks, and keep a tab on project progress. With templates like meeting agenda and project roadmap, Todoist helps you kickstart your work more efficiently. It also has both Android and iOS apps to help you work on the go.
Key Features of Todoist include:
Add recurring due dates to tasks
Add labels and filters to organize tasks and project
Templates to kickstart work
Pricing: 
Free plan with limited features
Paid plans start at $3 / month
The last tool on our list is Paymo, an all in one work management software that includes planning, collaboration, time tracking, resource and finance management, and much more in a single app.
Kickstart your task management using task lists, due dates, milestones, and the Kanban mode to organize tasks and projects. You can switch to an advanced task view to check out the complete task details and get a complete overview of progress.
Managers can use Gantt charts to monitor and schedule activities in realtime and keep the pipeline up to date. With automatic time tracking, you can track everything you are doing on your computer and see how productive you have been during the day. With live-updating time reports, you can see what you have been working on for the entire week and share such reports with your manager or external clients.
Key Features of Paymo include:
Time tracking to keep tabs on productivity
Monitor tasks using Gantt charts
See who's available for work and who's over or underbooked
Pricing: 
Free with limited functionality
Paid plans start from: Small Office ($8.95/user/month), Business ($14.25/user/month)
Over to You!
That's a wrap of our list for some of the best task management tools. Depending on the needs of your company and the size of your team, you can choose between any of the above-mentioned task management tools and you'd not be disappointed. If you are looking for a document and content management tool, Bit would be the perfect tool for you.
However, if you need something bare-bones, you can check out Any.do or Todoist. We would advise you to take advantage of the free version available on each tool and try them out one by one and see what sticks! If we missed out on any of your favorite tools, do let us know by tweeting us @bit_docs. Happy working!
Further reads:
11 Task Manager Apps You Must Know About
Top 5 Business Process Management (BPM) Tools
7 Best JIRA Alternatives For Project Management in 2022
How to Create a Project Management Communication Plan?
Best Project Planning Software In 2022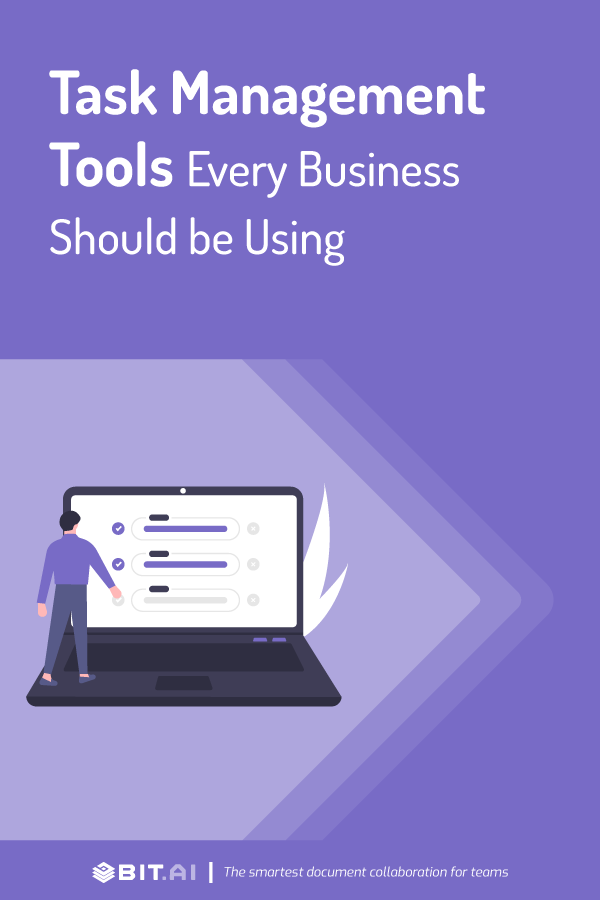 Related posts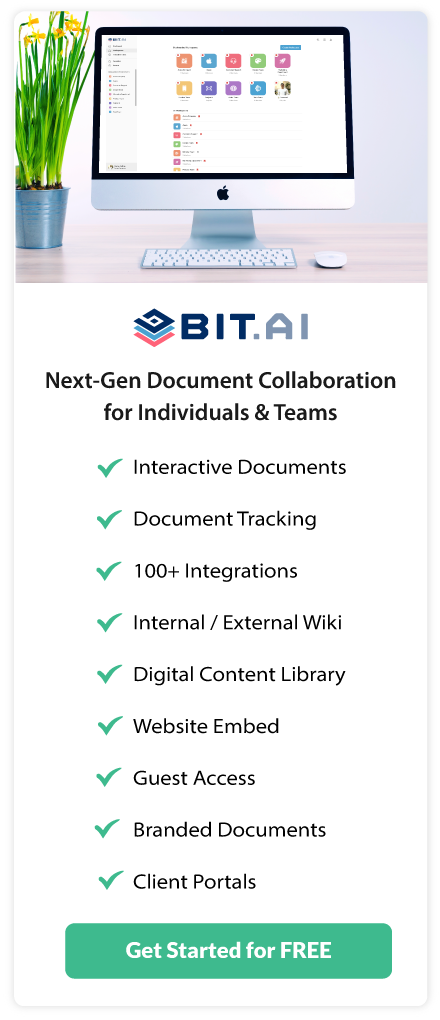 About Bit.ai
Bit.ai is the essential next-gen workplace and document collaboration platform. that helps teams share knowledge by connecting any type of digital content. With this intuitive, cloud-based solution, anyone can work visually and collaborate in real-time while creating internal notes, team projects, knowledge bases, client-facing content, and more.
The smartest online Google Docs and Word alternative, Bit.ai is used in over 100 countries by professionals everywhere, from IT teams creating internal documentation and knowledge bases, to sales and marketing teams sharing client materials and client portals.
👉👉Click Here to Check out Bit.ai.