Have you ever had the sudden urge to organize your work life? Yes, we know the feeling too!
You made to-do lists, created checklists, wrote down notes on sticky notes, tried to organize your emails, and probably wasted time figuring out what to do first.
But thanks to technology, we now have something called a task manager app that can help you do all the things that we mentioned and more under one roof!
With a task manager app, you can say goodbye to missed deadlines and say hello to your new and improved work-life.
But we know that choosing the right task manager app from a sea of options is quite challenging. That's why we have created a list of some of the best task manager apps that you must know!
But before that let's try to understand what a task manager app is and why they are important to your business. Ready? Then, jump right in!
What is a Task Manager App?
A task manager app is an application or tool that lets you plan, organize and prioritize all your tasks so that you can finish them within the limited time frame and in the most efficient manner.
Essentially, as its name suggests, it is an app to manage your tasks efficiently. The aim of a task manager app is to ensure that you rule out the possibility of missing out on your deadlines and get your work-life organized.
Now, you're probably wondering if it is worthy of an investment. Yes, it is. Why? Read on to find out.
Why You Need a Task Manager App?
Using a good task manager app has many benefits. Here are some of them:
A task manager visualizes data and presents them in a centralized platform
It helps organize your work by creating, assigning, and managing tasks
Allows you to effectively collaborate with your team by sharing ideas, comments, and feedback
It helps break down tasks and prioritizes them.
Helps monitor and track your task progress.
Sends you alerts and reminders to finish your tasks before deadlines.
Helps assign and delegate projects and tasks to team members.
We can go on and on about the benefits, but the point is, a task manager app ensures that you have a well-organized work life and guarantees a boost in productivity.
It is simply the easiest and most convenient way to manage projects and tasks in businesses of all sizes! Now that you know that task manager apps are crucial for your business and your business life, let's take a look at some of the best ones out there!

List of 14 Task Manager Apps You Must Explore!

Let's kickstart the list with Asana, a cloud-based task manager app that comes with features like task scheduling, task list views, Kanban boards, calendar views, and project briefs.
Asana has a clean and user-friendly interface that offers a drag-and-drop functionality and project templates that fit the specific industry of your project. It also has an offline feature that updates your tasks and automatically syncs them once you're online.
In addition to this, Asana has a robust collaboration tool that provides capabilities like workflow and project portfolio management. What's more? It has multiple third-party integrations as well.
Key Features:
Offers drag-and-drop interface
Provides multiple task views
Comes with collaboration tools
Pricing
Free version available with limited functionality
Premium plan starts at $10.99/user/month
Read more: 11 Asana Alternatives & Competitors You Must Know About!

Trello is a cloud-based task manager app with a kanban-style task management tool that helps you visualize and organize your project on aboard.
With Trello, you can assign, organize and prioritize your tasks, set deadlines, and add descriptions to each task via a Trello card, which you can move around using its drag-and-drop interface.
Trello also allows you to view your task deadline through its calendar view and sends you alerts and notifications for your task activities. Furthermore, it supports unlimited storage and an unlimited number of users.
Key Features:
Offers a visual and Kanban-style task management
Sends alerts and notifications
Provides a drag-and-drop interface
Pricing
Business Class version is $12.50/user/month

Next, we have MeisterTask, a web-based team collaboration and project management tool that helps you create customizable project dashboards, collaborate with team members, and work together in real-time.
MeisterTask has a well-designed and intuitive interface that comes with Kanban-style boards and a Gantt-style overview of tasks that help you streamline all your project works. It has built-in storage that allows you to safely store all project-related information.
This task manager app also helps you monitor the progress and overall productivity of your team. Furthermore, MeisterTask makes seamless integrations with Google Drive, Slack, GitHub, and Zendesk.
Key Features
Offers intuitive interface with Kanban boards
Has powerful automated workflows
Provides seamless integrations with third-party apps
Pricing
Free version available
Pro plan starts at $8.25/user/month
Business Plan starts at $20.75/user/month
Next, we have ProofHub, a versatile task manager app that comes with a wide variety of features. It helps you create task lists and divide them into smaller tasks with just a few clicks.
In ProofHub, you can switch between table view, Kanban boards, and Gantt charts to get a visual overview of all your tasks and even track progress. It has a project calendar that helps you meet your deadlines on time.
ProofHub comes with a chat interface that lets you communicate with your team via chat, mentions, announcements, discussions, and emails. It also supports a proofing feature that lets you use markup tools to review and collaborate on files from a single place.
What's more? ProofHub has its own cloud storage and integrates with third-party apps like Google Drive, Dropbox, etc.
Key Features
Visualizes tasks through multiple views
Has a chat interface and collaboration tools
Offers real-time notifications for tasks
Pricing
Ultimate Control costs $89/month
Essential plan costs $45/month

If you're a solo entrepreneur or you have a small business, then nTask is the perfect task manager app for you. It is a cloud-based software that lets you create and schedule tasks, generate reports, share files, monitor progress and more.
With nTask, you can create as many workspaces and teams as you want for different projects, work purposes, and departments. It lets you set recurring tasks and track task time with just a few clicks and provides you with different views to visualize them.
nTask lets you plan and monitor budgets for each project and offers advanced meeting management features and risk and issue tracking for projects. It also Furthermore, nTask has enabled PDF and CSV exporting of projects as well.
Key Features:
Creates multiple workspaces and teams
Sets recurring tasks
Plans and monitors budgets
Pricing
Annual subscription starts at $2.99/user/month.

Here we have Airtable, an easy-to-use task manager app with a visual interface that uses images to categorize project tasks.
Airtable comes with built-in templates and helps you create databases in a spreadsheet format which means that you can visualize them as Kanban boards, standard task lists, grids, or team calendars.
Some additional features of Airtable include video snippets, collaborative whiteboard, image markup, JSON editor, URL preview, and lots more!
This tool also offers a collaboration feature that allows you to comment, edit and collaborate in real-time with your team members. Furthermore, it offers over 150 open-source apps on GitHub.
Key Features:
Creates databases in spreadsheet format
Provides collaboration features
Offers 150 open-source apps on GitHub
Pricing
Airtable is free to use
Plus plan starts at $10/user/month
Read more: Top Airtable Alternatives & Competitors You Must Explore!

Clickup is a task manager app that promises itself to be the 'one app to replace them all'. It has a robust set of features to organize and customize everything in your business projects.
ClickUp has a simple and easy-to-use user interface that allows you to manage your tasks through notes, reminders, calendars, etc. It offers a time-tracking feature to measure the time you spend on each task and helps prioritize your project based on time estimates and project timeline.
In addition to collaboration features, forecasting features, and resource management, ClickUp supports over one thousand built-in native integrations and a 24/7 support with a live representative
Key Features
Offers a time tracking feature
Supports over 1000 built-in integrations.
Provides a 24/7 live representative support
Pricing
ClickUp pricing is free up to 100MB of storage
ClickUp special starts at 5$ per user per month

Next on the list, we have Wrike, a high-rated cloud-based task manager app known for project planning, streamlining workflows, and providing full control over communication.
Wrike provides a customizable dashboard and shared calendars to help avoid any project management-related disorders and clutters. It offers a 360° visibility which allows you to see your tasks ahead of you and send you real-time updates and alerts to keep track of your progress.
With Wrike, you can quickly and easily provide approvals and feedback to your team. Furthermore, Wrike comes with project management templates and enterprise-grade security.
Key Features:
Provides a customizable dashboard
Supports built-in proofing and approval system
Offers enterprise-grade security
Pricing
Subscription starts at $9.80/user/month for up to 15 users.

Todoist is a leading to-do list app that makes task management as easy as entering tasks and assigning them due dates. It has a simple interface and can be managed across multiple devices and platforms.
This cloud-based task manager app allows you to micromanage your daily work by color-coding your tasks and creating groups and sub-groups and provides you all data related to your tasks through its task view.
Todoist lets you manage your tasks and prioritize them according to dates and keeps track of their progress. It also provides you with real-time alerts and updates as well. Furthermore, Todoist offers collaboration features and is available in 20 different languages.
Key Features
Creates to-do lists
Micromanage daily tasks
Available in 20 different languages
Pricing
Premium plan starts at $4/user/month
Business plan starts at $6/user/month

Yet another popular task manager app is Basecamp. It has a customizable user interface and a centralized platform for managing projects and team communication.
Basecamp provides a wide range of features and tools such as message boards, to-do lists, Kanban boards, project schedules, group chats, file storage, and many more!
With Basecamp, you can organize your project tasks, manage multiple tasks simultaneously, and track your work progress using its Hill Charts project tracking method. Moreover, it brings communication on a single page using group chats and direct messages.
Key Features
Offers a customizable and centralized platform
Creates to-do lists
Provides message boards
Pricing
Fixed paid plan at $99/month for unlimited users, projects, and 500 GB of storage.

Monday.com is an intuitive all-in-one tool that lets you create and manage projects, add tasks, track productivity, sync calendars, automate workflow, set reminders, and more.
This task manager app has a highly visual interface that resembles a spreadsheet. It offers various customizable templates, supports Kanban, and shows all project details in a visual timeline.
Monday.com also allows you to collaborate on your tasks by uploading and attaching files or documents, tagging your members on tasks, and simply fixing deadlines. Furthermore, it seamlessly integrates with multiple third-party apps.
Key Features
Supports a highly visual interface
Offers customizable templates
Provides easy collaboration features
Pricing
Pricing starts at $10-$20/user/month.
Pro plan costs $79/month

Next on the list, we introduce to you, a modern-day collaborative task management tool called Nifty. It has a very user-friendly interface that enables you to organize, manage, prioritize and automate workflows using Kanban, List, and Swimlane views.
Besides eliminating the need to switch between tasks, docs, and chats, Nifty offers a custom field functionality that allows you to time-track individual tasks and custom tags.
This tool also lets you generate collaborative documents with your team to ensure that all project team members stay connected at all times. In addition to this, Nifty offers real-time integration with Google docs which enables you to generate wikis, docs, and notes for your projects.
Key Features
Eliminates switching between tasks and chats
Provides custom field functionality
Offers real-time integration
Pricing
Starter plan at $39/month
Pro plan at $79/month
Business plan at $124/month

Here's Paymo, another task manager app for small businesses and remote teams. It allows you to manage tasks, create team schedules, track work time, and bill clients – all from the same place.
With Paymo, you can customize your own workflows, prioritize your tasks and get notifications about approaching deadlines.
Thanks to its accounting module, Paymo lets you organize and track your finances, and turn your timesheet data into an invoice without depending on another app.
In addition to collaboration features, Paymo integrates with multiple third-party apps and supports over 18 different languages.
Key Features
Provides multiple ways to track and record time
Organizes and tracks finances
Supports 18 languages
Pricing
Free version available.
Subscription starts at $8.95/user/month
Business: $14.25/user/month

Let's wrap up this list with a free task manager app called Quire. This cloud-based software has a beautiful visual interface that allows you to plan, organize, prioritize and execute your projects effortlessly.
With its Nested Task List, Quire lets you break down your tasks into small and easy to manage steps. It helps you organize tasks from different projects into a single place using Sublists and Small Folders.
Quire also offers Kanban boards and timeline view to give you a visual overview of your tasks at a single glance and comes with a real-time collaboration feature. Furthermore, it offers custom integrations with Slack, GitHub, Zapier and even acts as a Chrome extension.
Key Features
Offers a user-friendly visual interface
Breaks down tasks into smaller steps
Provides real-time collaboration features
Pricing
Conclusion
With that, we have come to the end of this blog.
Our list has provided you with a wide variety of task manager apps that you can use to organize your business life and boost the productivity of your business.
All you have to do is choose one that aligns with the requirements of your business!
That's a wrap, folks!
Further reads:
9 Client Management Software You Must Check Out!
11 Gantt Chart Software You Should Check Out!
11 Kanban Tools and Software to Explore!
11 Best Focus Apps to Eliminate Distractions!
Eisenhower Matrix: Perfect way of Prioritizing Tasks!
10 Best Free Online To-Do List Apps to Help Improve Your Productivity!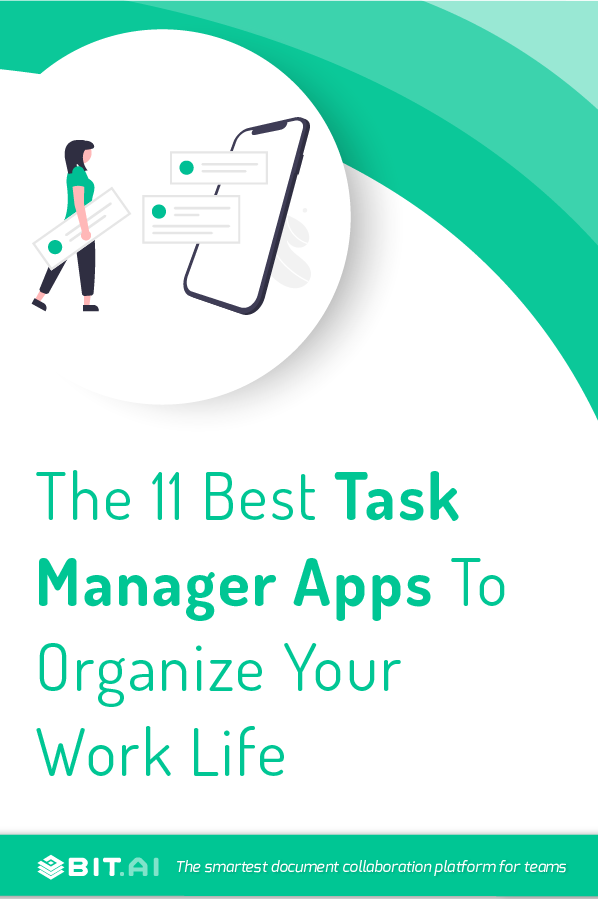 Related posts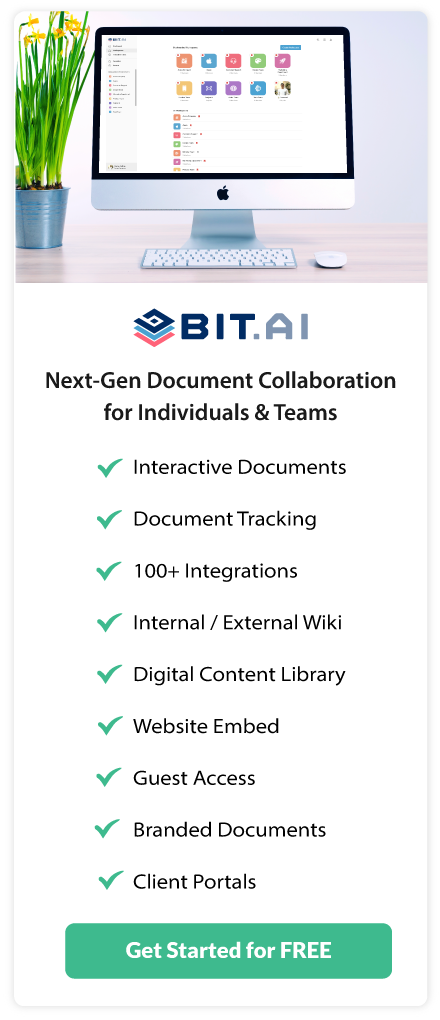 About Bit.ai
Bit.ai is the essential next-gen workplace and document collaboration platform. that helps teams share knowledge by connecting any type of digital content. With this intuitive, cloud-based solution, anyone can work visually and collaborate in real-time while creating internal notes, team projects, knowledge bases, client-facing content, and more.
The smartest online Google Docs and Word alternative, Bit.ai is used in over 100 countries by professionals everywhere, from IT teams creating internal documentation and knowledge bases, to sales and marketing teams sharing client materials and client portals.
👉👉Click Here to Check out Bit.ai.