The great thing about applications like Airtable is that they can be started quickly, and intuitively. The challenge, though, is that their versatility is limited, and this is why teams need to start searching for an alternative.
Are you using Airtable for project management? Are you happy with its efficiency?
There is no question that Airtable is a popular platform for data and project management, trusted by many businesses for its simple interface. But it doesn't mean that being popular makes Airtable the best choice.
Maybe it's time to use an alternative to Airtable!
If you still have second thoughts about Airtable, we will provide you with a list of the best alternatives and competitors to Airtable that will help you properly run things.
Let's dive in!
Why Should You Choose an Airtable Alternative or its Competitor?
Customers have been using Airtable in various technical areas, including innovative ventures, personal productivity, consumer data processing, and more.
Airtable has the capability of enticing quite a lot of teams with competitive subscription plans. However, it does not function as an all-in-one platform when it comes to project management, in general.
Here are some reasons why:
It acts mainly as a method for data collection and visualization
There are restricted functions in task and project management
It lacks time monitoring for projects
You might be one of the disappointed people with Airtable's lack of features, but there's nothing that you should worry about! Here is a list of 13 best alternatives and competitors to Airtable that you can turn to today without thinking about data loss or mismanagement of the workflow.
List of Best Airtable Alternatives and Competitors:
People who have been using Airtable in different technical domains have claimed that the platform is too generic. Airtable does not function as a perfect tool for any enterprise when it comes to modern-day project management, teamwork, or data organization.
Here are some of the best Airtable alternatives and competitors that you should totally check out!


You can give Quire a try if you love Kanban boards and need a crisp yet concentrated interface. The interface is so simple, that you can go about using it without having to go through so many functions.
It is mostly developed for creative teams, but its functions can be useful for everyone.
Give your projects a whole new workflow through unique tree structures and transparent team collaboration! Quire enables you to perform all the ideation to completion of tasks, in no time.
Key features:
Real-time and immediate communication between teams
Unlimited tasks and subtasks with unique trees
Organize, prioritize and delegate duties
Task statuses can be easily updated
Transparent and simple, with an all-in-one workspace
Pricing: As of now, Quire is absolutely free, making it a perfect pick for this roundup of Airtable alternatives.

Asana does not require a structured introduction to the project management toolset. It provides a large range of features for single users and teams alike.
Asana helps you to make the most of the task and project management by offering open platforms for teams to communicate and connect efficiently. Team members can seamlessly communicate on the work at hand with each other through feedback, likes, and follow options.
Asana makes it easy to exchange files and other details and even tag a member of the team in the comments to include them in a certain assignment. Asana saves you the need for coordination using email or any other third-party add-ons.
Key features:
Activity feed for centralized process notifications and team tasks
Comprehensive task control, including task tracking, adding assignees, posting attachments and adding feedback to assignments, options to explain the value of assignments by 'hearts' and task dependencies
Comprehensive project management by setting project permissions, Gantt charts, Project sections, and Search views
Set targets, goals, and due dates
Updates in real-time on assignments and projects
Pricing: Asana offers three pricing plans:
Free forever
Premium ($9.99/month)
Enterprise customized plan

Zoho Projects is a strong competitor and alternative to Airtable that can be chosen by a team of any size. The tool comes with a variety of features that allow an Agile team to accomplish their project objectives.
Through offering an open feed and forums to easily collect useful project perspectives and get feedback, the device makes team communication hassle-free.
Zoho Projects offers multiple built-in reports for project reporting and analytics. You get to understand the project patterns better through project milestones and task dependencies, thus helping you in making informed decisions faster.
Key features:
Tasks and subtask management
Tracking of milestones, along with mission dependencies
Remote feed to communicate with team members directly
Forum and chat rooms to speak with any team member(s) about ideas
Reports on consolidated project success monitoring progress over time
Pricing: Zoho projects has four pricing plans:
Free
Standard ($20/month)
Express ($40/month)
Premium ($85/month)
Enterprise ($125/month)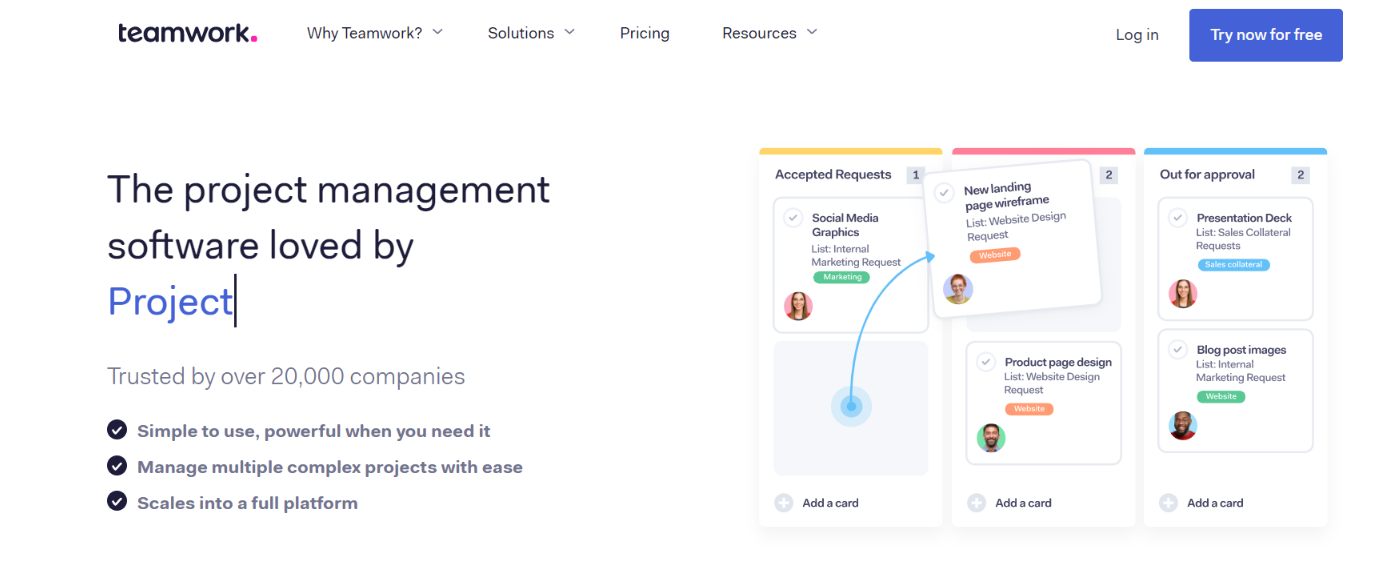 Teamwork is the next project management tool that you should count as one of the best free alternatives to Airtable.
It comes with a plethora of features that help you coordinate the process under one roof and handle teams.
Teamwork can be used on Windows and Linux. It can also be combined with peer tools such as the Teamwork Desk and Teamwork Chat. Without the need for new integrations or extra costs, this tool can make your project management experience much better.
Key features:
Management of tasks and subtasks, including work goals, dependencies, monitoring and recording time
Extensive features in project management, including project maps, reports, owner allocation, milestones tracking, and cost-to-completion monitoring
Kanban boards
Various themes and templates
Integration with various third-party applications
Pricing: There are four pricing plans for Teamwork Projects:
Free Forever
Pro ($ 45/month)
Premium ($ 75/month)
Enterprise customized plans

Hansoft is an Agile project management platform that includes various Scrum and Kanban supporting functions. Due to its intuitive work atmosphere and a vast range of functionality, Hansoft happens to be a feasible free Airtable alternative and competitor.
You can use Gantt charts, personalized visual dashboards, Kanban boards, to-do lists, personalized monitoring, efficient resource allocations to tasks, and a lot more. With its efficiently designed team sharing channels, your team can remain in touch with ease!
Key features:
Create and link scheduled items with Hansoft
Split planned items for expedited project delivery
Carry out multiple task assignments
Fix work/duration
Define relationships and dependencies
Pricing: A free trial is offered by Hansoft. However, no price information is listed on the website. They provide an email contact to request customer service information.

Podio may be a better fit for you if you're looking for a tool that offers a rich range of communication tools.
In a single environment, the application integrates information, context, and teamwork, offering a single approach for task management.
It offers a solution that comes with elaborate social networking functionality, such as:
File attachments
Likes and sharing
Direct audio and video calls
Podio guarantees openness and accountability. Not just that, but by adding if-this-then-that logic and easily streamlining the processes, you can even build workflows.
Key features:
Personal dashboards at a glance for tracking progress
Administration of activities, with automated workflows
Private and public workspaces for multiple projects
Recurring roles for activities repeated periodically
Stream of action to keep a check on the latest updates
Pricing: Podio offers four pricing plans:
Free
Basic ($9/user/month)
Plus ($14 /user/month)
Premium ($24/user/month)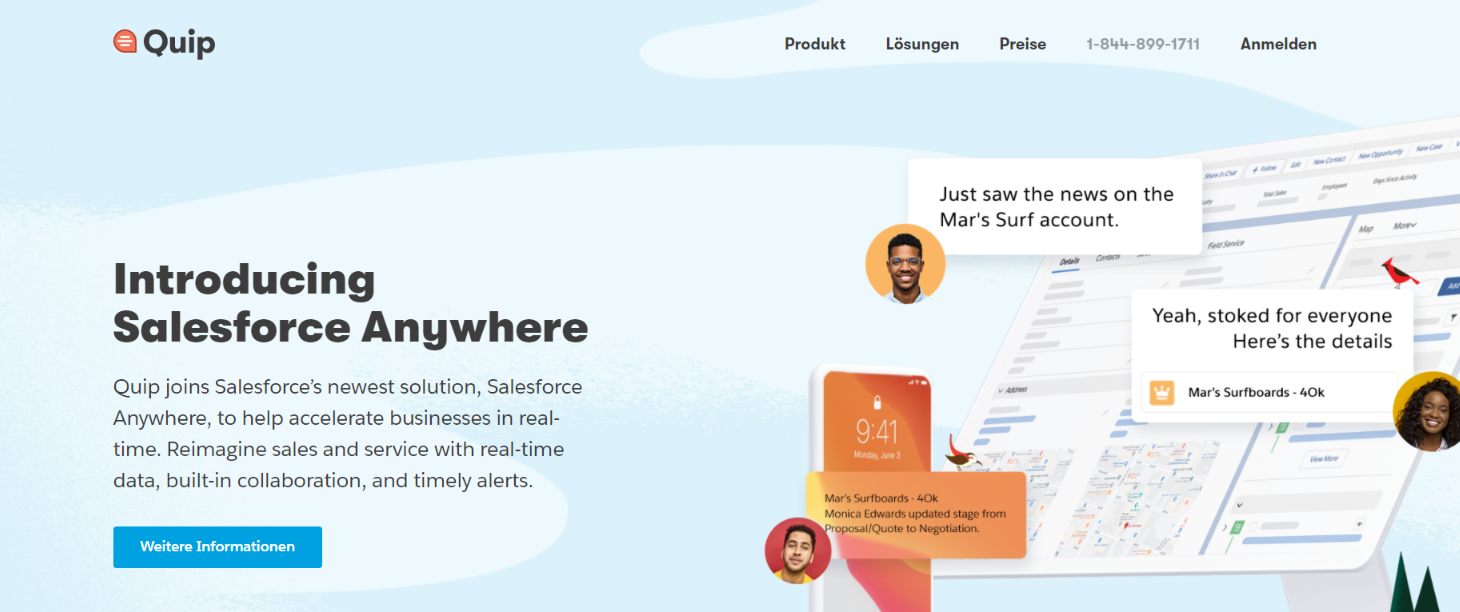 Quip comes with a lovely user interface. It offers functionality for documentation and spreadsheets to keep track of your valuable team data. Quip also incorporates spreadsheets, documents, slides, and chats into one shared room.
The diverse collection of characteristics encourages easy coordination between members of the team. You can quickly build and update spreadsheets, to-dos, or documents and use a built-in chat feature within each document to connect with team members.
Key features:
Team member mentions that address the right person
Salesforce integration to efficiently close deals
Shared team folders to store important data in one place
Customized permissions to protect the integrity of records
Import/export Excel documents into quip spreadsheets and vice versa
Pricing: Quip charges $30/month for a team of 5. The plan changes with a $10/additional person. For Enterprise, the tool is priced at $25 per user/month.
Zenkit is one of the best alternatives to Airtable. This tool was handpicked in this list for two key reasons:
Clutter-free design
Ability to collaborate with people from both inside and outside of the organization
Zenkit flexes on a lot of other highlights also. For example, this tool streamlines everything so that the tasks are completed to their exact standards while maximizing individual and collective efficiency.
Key features:
Collaborate for better project execution for partners and team members.
You can mark crucial business days with the calendar feature.
File-Sharing supports different formats and extensions to files.
Task prioritization for easy risk assessment.
Road-mapping for products
Pricing: Zenkit's personal plan is free of cost. For Business and Enterprise, the pricing ranges from €9 to €25+ respectively.

Procore is a much less-heard-of tool. This tool is a must-try because of its features like:
Unlimited seamless teamwork
Empowering people to collaborate with everyone, from anywhere, in real-time
Procore also allows individuals to make project-related decisions because of the availability of real-time data, in addition to the teamwork aspect.
Key features:
Manage paperwork as never before with the hallmark paper control of Procore
This software does allow drawing storage and management, but it is not a mind mapping tool.
It comes with a lot of tools for collaboration.
Easily monitor emails via 3rd party software integrations.
Planning and administration of the conference.
Pricing: The basic Project Management Plan costs $375/year.
The other Procore plan which is the 'Project Management + Financial Management' Plan costs $575/year.

The Google G Suite is a mix of every single app that comes below the broad category of Google.
So, instead of highlighting one particular program, why do we suggest the G Suite? Well, there are a few explanations. The most significant explanation is that it is free to access all the G Suite applications. If you want to find free alternatives to Airtable or it's competitors without investing a penny, G Suite will take care of it.
As a simple Airtable alternative, G Suite has many applications to perform all the work you would have performed on Airtable effectively. Behind the G Suite platform, Google has a flourishing workforce of web developers. In terms of future-proofing, that is all the more justification to use their applications.
Key features:
Google lets you make lightning-fast choices when you're using Google Meet or their popular Hangouts app. Scheduling meetings is better this way. It can be scheduled for any number of days a week on "Auto Recurrence".
You can handle and protect the data in the cloud. Google is best known for its remote 24/7 connectivity. There are millions of users relying on it.
Under the tutelage of Google, centralize all the productivity-related activities in one place.
You can collaborate with clients by inviting them to view workflow. To prevent any interruptions, you may also set permission levels.
Pricing: Google G Suite offers three pricing plans:
The basic plan at $6/user/month
The business plan at $12/user/month
Enterprise plan at $25/user/month

Freedcamp is an Airtable competitor and alternative that is designed to easily coordinate and handle tasks for single as well as multiple users. The tool helps you to create private tasks, along with Gantt charts, to follow the progress of your project.
The tool also comes with a wiki to keep all of the information of your company in one location, that can be accessed anytime.
For productive client relationship management, it also helps you to store all your contacts and leads in one location. Based on your timesheet submissions, you can quickly bill your customers and build invoices too.
Key features:
Tasks and subtask management
Kanban workflow visualization
Pre-built models of projects for recurring projects
Gantt charts for project preparation
One forum for all team members to connect
Pricing: Freedcamp has five pricing plans:
Free
Minimalist ($1.49/user/month)
Freelancer ($3.49/user/month)
Business ($7.49/user/month)
Enterprise ($16.99/user/month)

The next alternative and competitor to Airtable that we have added to this list is Notion. It is primarily a note-taking program.
Notion comes with a pretty solid task management feature set, that allows you to manage your tasks without getting frustrated with complex features.
It is a tool that incorporates note-taking, job management, spreadsheets, and databases together under one platform with a pretty neat user interface. Via a knowledge base, Notion integrates all the knowledge of the team in one unified position that can be viewed whenever needed.
Key features:
Management of to-do list
A knowledgebase for common team data
Kanban workflow task management
Documents management to keep all your documents in one place
Integrations with third-party applications
Pricing: Notion comes with four pricing plans:
Free
Personal ($4/month)
Team ($8/user/month)
Enterprise ($16/user/month)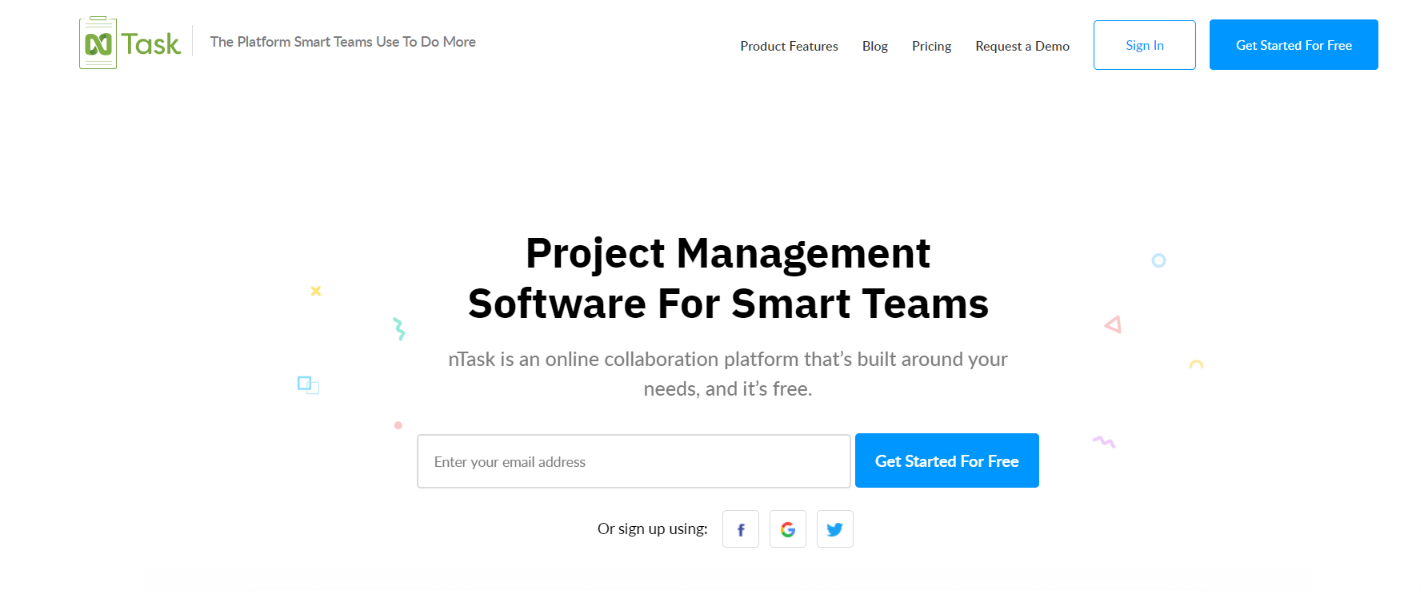 nTask is one of the best free alternatives for Airtable. nTask is an all-in-one, online task management program designed for teams and solopreneurs. This tool consists of an intuitive interface that can hold several modules conveniently. It has options for multiple views.
You may use nTask to store just about any data through its operation checklist and team management function sets. This makes it ideal for project managers who work on simple to enterprise-level tasks.
It has a short learning curve and a clean look that makes it easy to collaborate for anyone, from homemakers to students to freelancers.
Key features:
Comment on and delegate roles to projects, or individually structure them
Many workspaces for simultaneous working
A basic user interface with a wide array of modules to use
Team related workspaces can be managed and tracked concurrently.
Extensive tools for project management, including Gantt charts, project reports, and project schedules for tracking and reporting.
Pricing: nTask offers a free and pro-pricing plan (starting with annual billing of $1 per month per user).
Conclusion
The list of tools and applications that could quickly replace Airtable from your work process and bring you something more in the exchange is endless. Research each of these alternatives and competitors carefully to figure out what is the ideal fit for your business!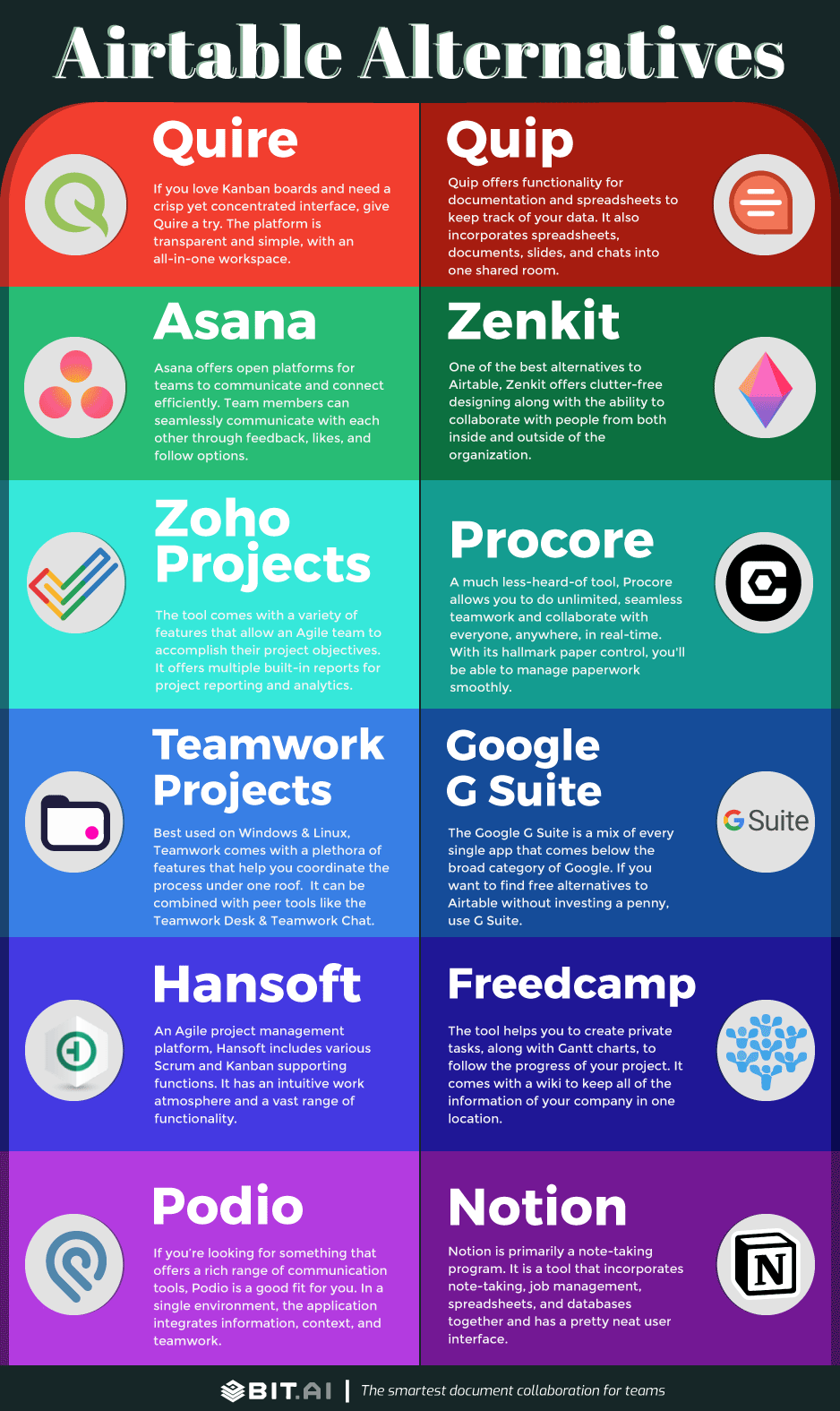 Which tool do you use to coordinate the process and communicate with teams? Share your ideas for alternatives and competitors to Airtable @bit_docs.
Further reads: 
How to Embed Airtable in Your Documents?
11 Smartsheet Alternatives & Competitors You Must Check Out!
11 Asana Alternatives & Competitors You Must Know About!
10 Best Microsoft Project Alternatives You Must Explore!
14 Best Free Trello Alternatives to Explore!

Related posts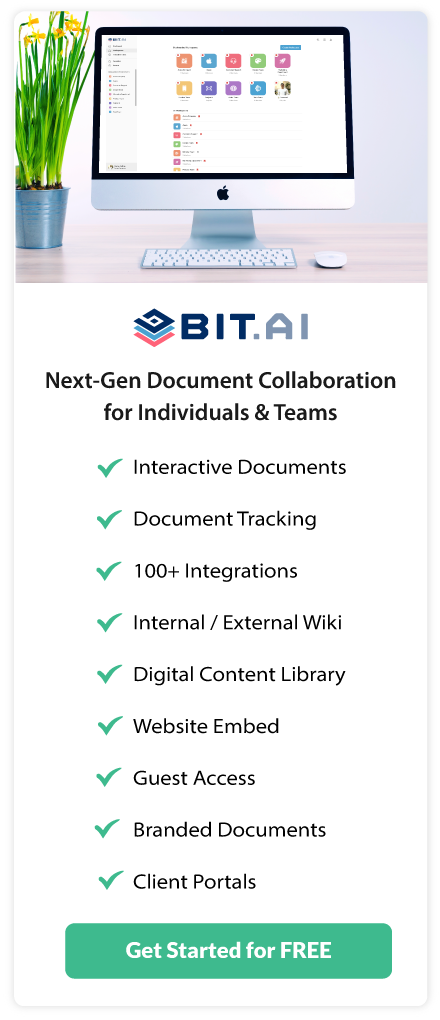 About Bit.ai
Bit.ai is the essential next-gen workplace and document collaboration platform. that helps teams share knowledge by connecting any type of digital content. With this intuitive, cloud-based solution, anyone can work visually and collaborate in real-time while creating internal notes, team projects, knowledge bases, client-facing content, and more.
The smartest online Google Docs and Word alternative, Bit.ai is used in over 100 countries by professionals everywhere, from IT teams creating internal documentation and knowledge bases, to sales and marketing teams sharing client materials and client portals.
👉👉Click Here to Check out Bit.ai.