Imagine this scene – a room full of people, a lot of chatter and discussions, things being written on the whiteboard, there are pens, papers, books, and post-it notes everywhere…
As an employee in a business, you'll probably recognize this scene as a typical brainstorming session on a Tuesday afternoon.
However, you can't always have brainstorming sessions like these, especially if you're working remotely. And let's face it, sometimes these sessions can get messy and cluttered.
What's the solution, you ask? To that, we say – brainstorming tools!
With a bunch of cool brainstorming tools at your fingertips, you'll be able to throw around your ideas and thoughts literally from everywhere. And this time, you won't even have to search for a pen and paper!
How awesome, right? Now, if that got you interested and you feel like you want a brainstorming tool for your business, then look no further than this blog!
Here, we have prepared for you a list of some of the best brainstorming tools out there to help have a perfect workflow!
But before we get down to the list, let's take a look at what exactly a brainstorming tool is!
Ready? Let's go!
What is a Brainstorming Tool? (Definition)
First off, let's understand what brainstorming means.
Brainstorming is a group activity method where you and your team suddenly come up with multiple new ideas, plans, or solutions. It's basically storming your brain for new ideas and putting them out in the open as soon as they come to your mind.
Now that you know what exactly brainstorming is, we can define a brainstorming tool, also known as mind-mapping software, as an online tool that allows you to digitize the entire process of brainstorming.
This means that all the steps and processes involved in a brainstorming process will be easily done by this tool. It collaborates with your colleagues on brainstorming sessions and helps you visualize your ideas and thoughts by creating illustrations and branches, thus making it simple, convenient, and easily accessible.

In short, a brainstorming tool simply allows you to brainstorm with anyone from anywhere.
Now that you know how cool this tool is, let's take a look at some of the amazing ones out there!
List of Brainstorming Tools You Must Check Out!

Let's kick start the list with Bit, a cloud-based collaboration platform that is great for brainstorming ideas with your remote team. It helps you create, manage and track workplace documents.
With Bit, you can create multiple workspaces around projects, teams, and departments to keep your data organized. It allows you to simultaneously collaborate with your team members on a Bit smart document in real-time, which makes it perfect for your brainstorming sessions.
In addition to this, Bit lets you embed any type of rich media like GIFs, Tweets, interactive charts, YouTube videos, Google Docs, Spreadsheets, etc. All you have to do is add any web link in Bit's editor and it will automatically turn it into a live visual web link or embed content that lives on your workplace documents!
Pricing: 
Free with limited functionality
Standard Plan at $12/month
Plus Plan at $20/month)
Contact sales for Enterprise Plan

Mind Meister is a very easy-to-learn cloud-based brainstorming software that allows you to organize your ideas, project planning, and workflow. It lets visualize your ideas and lets you add images, videos, files, or any other links in the mind map.
This tool has an intuitive interface and allows you to collaborate with other team members via voting, commenting, and real-time chatting.
In case you don't know much about mind mapping, MindMaster offers mind map training. It also integrates with MeisterTask, which helps turn you assign your tasks according to your mind map. Furthermore, it integrates with other popular applications like Microsoft Teams, GSuite DropBox, and Confluence.
Pricing 
Offers a free basic plan
Subscription plan at $4.92 per month, billed annually
Lifetime Bundle Plan at $312
Read more: 9 Powerful Mind Mapping Software & Tools for Business!

Next on the list, we have Coggle, an easy-to-use and intuitive brainstorming tool that lets you create collaborative mind maps and flow charts. This means that you get a visual of your mind mapping during your brainstorming session.
With Coggle, you can easily customize your mind map canvas because it lets you format the mind map items with Markdown. It allows you to create multiple starting points to your diagrams, add nodes that you can drag around the nodes as you like, and add floating texts and images to annotate your map.
Furthermore, Coggle allows you to invite your team to collaborate on a mind map in real-time and also comes with a message sidebar that helps you communicate with others.
Pricing
Free version available
The pricing plan starts at $5.00 per month

LucidChart is a robust, easy-to-use, and intuitive web-based brainstorming app that is great for individuals, small teams, and large corporations. You can use it to create various visual diagrams like mind maps, flowcharts, floorplans, organizational charts, and more!
LucidChart generates a code to help you embed your mindmaps into your websites and automatically update them as you make changes to them. It offers templates, drag and drop functionalities, and real-time collaboration features and can also be accessed from any device and operating system.
What's more? LucidChart integrates with all the Google Apps, and other third-party apps like Jira, Dropbox, Confluence, and many others.
Pricing

If you are a beginner looking for a simple and basic brainstorming tool, then Bubbl.us is the one for you! It simplifies the process of mind mapping and helps you organize your ideas, create tasks, collaborate, and share your work with your others.
Bubbl.us lets you create a tree chart with a central topic and later helps you add new ideas at the same level or sub-level. It also helps you customize these trees according to your preferences.
With the click of a button, you can enter a full-screen presentation in Bubbl.us. Furthermore, it exports your work as JPG, PNG, and text, and prints it on one or more pages.
Pricing 
Free plan available
Premium starts at $4.91 a month
The team package starts at $59 per user for up to 3 team members

Up next, we have MindMup, a web-based brainstorming tool that allows you to focus on your ideas without being distracted. It lets you create an unlimited number of mind maps for free and enables you to access them on any device.
MindMup has in-built keyboard shortcuts which help you write down your ideas in a few seconds. It also helps you organize your mind maps by converting them into PDF files and PowerPoint presentations.
A really cool feature that MindMup's interface offers is that it allows you to publish your ideas on social media platforms. Furthermore, it also comes with team collaboration and communication features.
Pricing 
There is a free version
Pricing starts at $2.99/feature/month
Team Gold plan starts at $50/year for 10 users
Read more: How To Create Brainstorming Document? (Template Included)

Looking for a free, minimalistic brainstorming tool that can be used by both individuals and teams? Then WiseMapping is a great option! You can either use it online or install it on your device.
You can use WiseMapping for individual note-taking and collaborative planning and teamwork. It allows you to create your own personal space for creating mind maps and automatically saves them to the cloud.
This brainstorming tool also offers features like drag and drop functions, icons, hyperlinks, simple layouts, zoom-in, and zoom-out to boost your creativity during mind mapping.
What's more? It offers Youtube tutorials for beginners trying to create and experiment with mind mapping
Pricing

Google Documents need no special introduction in workplaces. Although it is popularly used for file sharing, it is also a great brainstorming tool. It is an amazing option because of its simplicity and familiarity.
Google Docs has an easy-to-use and intuitive interface that helps you and your team to share ideas and thoughts in just a few clicks. All you have to do is to create a new document, share it with your team, and give them permission to edit, comment, and leave feedback.
It makes communication easy as it allows you to collaborate in real-time. Furthermore, it integrates with multiple third-party apps.
Pricing 
Google Documents is free
Business Version at $5 per month

Lastly, we have Mindly, a creative and visual brainstorming tool that lets you organize your ideas in a clean and colorful manner. It allows you to create color themes and visual clipboards.
With Mindly, you don't have to worry too much about typing, adjusting, or formatting because it has easy-to-create and customizable elements and a smooth and distraction-free design to help you focus on your ideas.
Mindly lets you export your mind maps into PDFs, print them, and share them with ease. It also offers offline access and, iCloud and Dropbox synchronizing options. Furthermore, it is available on both Android and iOS devices.
Pricing
Mindly has a free plan
Basic pricing starts at $6.99.
Conclusion
With everything being online these days and remote work being the new normal, having a bunch of great brainstorming tools by your side is an absolute necessity.
And making the right decision to find the right mind mapping and brainstorming tools, especially when there is a wide variety of options available in the market is a crucial step.
We hope that the list of brainstorming tools that we have laid out for you will help you figure out which tool suits your business the best.
So what are you waiting for? Check out one of the many brainstorming tools out there and get started with a creative and clutter-free brainstorming session right away!
Further reads: 
11 Awesome Sales Management Tools That Your Business Needs!
9 Amazing Flowchart Software and Tools of 2022
Top 9 HR Software and Tools for Human Resource Departments!
15 Business Intelligence Tools & Software Every Business Needs!
6 Workflow Tools and Apps for Smoother Processes!
Top Airtable Alternatives & Competitors You Must Explore!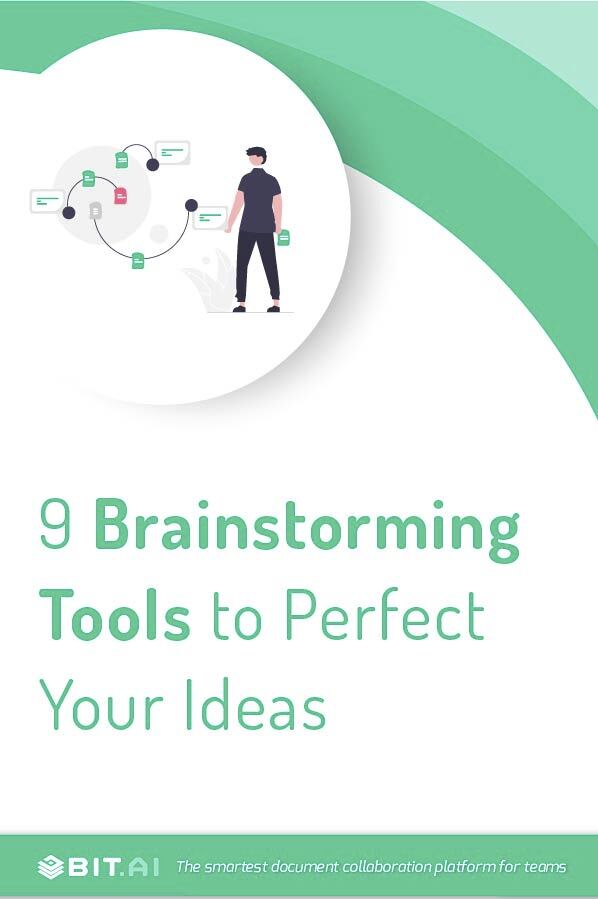 Related posts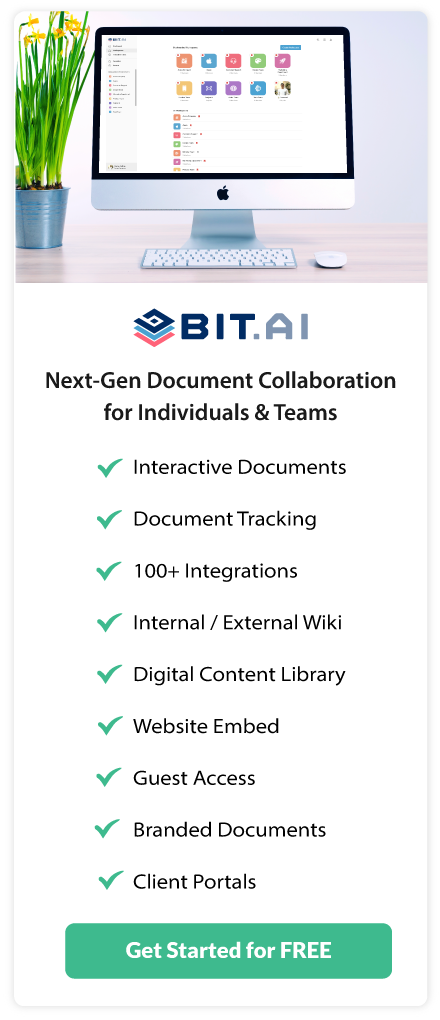 About Bit.ai
Bit.ai is the essential next-gen workplace and document collaboration platform. that helps teams share knowledge by connecting any type of digital content. With this intuitive, cloud-based solution, anyone can work visually and collaborate in real-time while creating internal notes, team projects, knowledge bases, client-facing content, and more.
The smartest online Google Docs and Word alternative, Bit.ai is used in over 100 countries by professionals everywhere, from IT teams creating internal documentation and knowledge bases, to sales and marketing teams sharing client materials and client portals.
👉👉Click Here to Check out Bit.ai.