Capital isn't that important in business. Experience isn't that important. You can get both of these things. What is important is ideas.
Every successful business came about through an idea. Ideas are the foundation that sparks fire and encourages an individual to bring change.
From the first steam engine to the invention of the internet, everything you see around you is a physical manifestation of someone's thoughts and ideas. And ideas are a dime a dozen. Every single person on the planet Earth who has taken a shower has ideas!!
However, it's what you do with those ideas that ultimately counts. For decades, people have used brainstorming techniques to generate new ideas or to come up with creative solutions to their problems.
Brainstorming is particularly popular in organizations that face new challenges almost every single day and require creative solutions to stand out from the crowd.
But what exactly is brainstorming and how can you do it effectively? In this blog post, we are going to take a look at what brainstorming is, how to do it right. In the end, we will showcase an awesome brainstorming template to make this whole process easier. Read on…
What is Brainstorming?
Brainstorming (also known as mind mapping) is a creative method used by teams to come up with new ideas or solutions to a particular problem.
Wikipedia describes brainstorming as "a group creativity technique by which efforts are made to find a conclusion for a specific problem by gathering a list of ideas spontaneously contributed by its members."
The term "brainstorming" was popularized by Alex Faickney Osborn in the 1967 book Applied Imagination. Since then, there have been many iterations of the technique.
Ideally, brainstorming should be free from any limitations and should allow a free flow of ideas from all members present. A successful brainstorming session should allow teams to collaborate, think without any inhibitions, and contribute their share of ideas.
New ideas pass through three periods: 1) It can't be done. 2) It probably can be done, but it's not worth doing. 3) I knew it was a good idea all along!
‍Brainstorming is an important process of putting down all of your ideas in one place so that you can organize, think through your thoughts, collaborate and work on strategies to turn ideas into action. Basic brainstorming is not complicated and consists of simple steps.
Read more: The Ultimate Guide To Process Documentation (Template Included)

How to Brainstorm the right way?
Brainstorming may not be complicated, but it surely requires some ground rules everyone should follow to do it effectively. These include:
Clearly describe the purpose of brainstorming – group members should be communicated the goal of brainstorming explicitly so that everyone remains on topic.
Set a time limit – this seemingly simple step is often the most overlooked. Every brainstorming session should have a pre-determined time limit (15-60 minutes is ideal).
Abstain from judgment– judging or criticizing an idea during a brainstorming session is a strict no-no. Allow the group members to think freely without the fear of being judged.
Encourage crazy ideas – further to the ban on killer phrases like "too expensive", keep the floodgates open so everyone feels free to blurt out ideas, as long as they're on topic.
Quantity over Quality– this is one of those times where quantity matters more than quality. The idea is to have a ton of ideas and then sort out the best ones.
Gather and review: all the ideas which were presented during the session. Select the ones that stand out and continue the discussion on how to implement or improve these ideas.
‍Why is Brainstorm Documentation important?
‍There are many techniques that are used for brainstorming like mind mapping, post-it notes, whiteboards, notepad, and more. However, these places often provide temporary relief and not a permanent solution.
It's important that your ideas and 'brain dump' live in a place that you can store safely and can come back to or continue elaborating on at any time.
When your ideas are saved and can be searched and referred to at any time, it helps create a catalog of ideas that can be worked on further or implemented in the future. This is why we recommend using an online Brainstorming template for your brainstorming sessions.
Read more: How to Create an Interactive PDF in Minutes
What you should include in Brainstorm Documentation?
A brainstorming documentation should involve the following specifics:
‍Title: Topic of the brainstorm
Date: Current date
Facilitator: Name of the facilitator moderating the brainstorming session.
Participants: Who were involved in the brainstorming session
‍Goals / Issues: List the top goals you're trying to achieve or the problems you are trying to solve with the session.
‍Research: Include web links, stats, competitor info, etc.
‍Suggestions / Ideas: Make sure to take note of all of the ideas you came up with during your brainstorming session. For Example,
Idea 1:
Idea 2:
Continue the process for additional ideas.‍
Final Decision: Write down your final decision that your team has agreed upon. This allows there to be a documented track record of why a final decision was made.‍
Action Items:  designate action items to each individual present so that someone is directly responsible for following up during the brainstorming session.
Read more: How to Write an Effective Creative Brief
Create Brainstorm Documentation the Right Way with Bit
After learning about all the essential things to include in your brainstorming documentation, we know you are itching to get on with the work of creating one.
However, what good is knowledge if you don't have the means to deploy it? This is why we would like to introduce you to Bit, the smartest document collaboration tool to create brainstorming documentation and other digital workplace documents!
Bit is a blazing fast cloud-based document collaboration tool that helps teams create, manage and track workplace documents including brainstorm documentation, customer service training manuals, fact sheets, sales decks, project proposals, ebooks, case studies, employee onboarding docs, media kits, and many more.
Bit has an amazing UI that's easy to understand by a new user, making onboarding easier. The user experience is phenomenal too as things flow from documents to workspaces swiftly. 

Bit helps bring life to your brainstorming sessions by allowing your documents to be more than just plain boring text and images.
Apart from allowing multiple users to collaborate on a document, Bit also allows users to embed any sort of rich media like GIFs, Tweets, interactive charts, YouTube videos, Google Docs, Excel Spreadsheets, etc. by adding any web link in Bit's editor. Bit will automatically turn it into a live visual web link or embed content that lives on your workplace documents!

Just copy-paste the URL of your content on a blank line of the document editor and see it come live. Bit then generates a live preview of your digital content within your document. Imagine how rich and interactive your brainstorm documentation can become!
Participants can add videos, images, podcasts, graphs and more to further visualize their ideas and get their point across more effectively and with more context.
All in all, Bit provides a commonplace for employees to simultaneously collaborate on a Bit smart document in real-time. It's a wonderful way to not only brainstorm ideas with your remote team, but also manage projects, create proposals, create client-facing material, share meeting agendas, and most importantly, share knowledge.
Bit documents can be shared in a live state meaning that all changes that you make to the document will update in real-time. If you are sharing your brainstorming ideas with clients, they will always get your most up-to-date changes.
You can even embed Bit checklists on any website or blog. Since Bit documents render and are responsive, any changes made to the document will reflect live on the site! Moreover, features like document tracking, password protection, file access restrictions, etc. help keep your brainstorming ideas and other workplace documents safe. 
Brainstorm Documentation Template
To make the process of creating brainstorming documentation easier, we have created a ready-made template for you! Check it out below:
How to use Brainstorming Document Template with Bit
The process of creating a brainstorming document on Bit is insanely easy! Just follow these four simple steps to create a brainstorming document quickly:
Step 1: Create a Bit Account
Go the home page of Bit.ai and click on Get Started for Free or Sign Up to get started. Enter your email address to sign up. Once in, you can create your personal profile.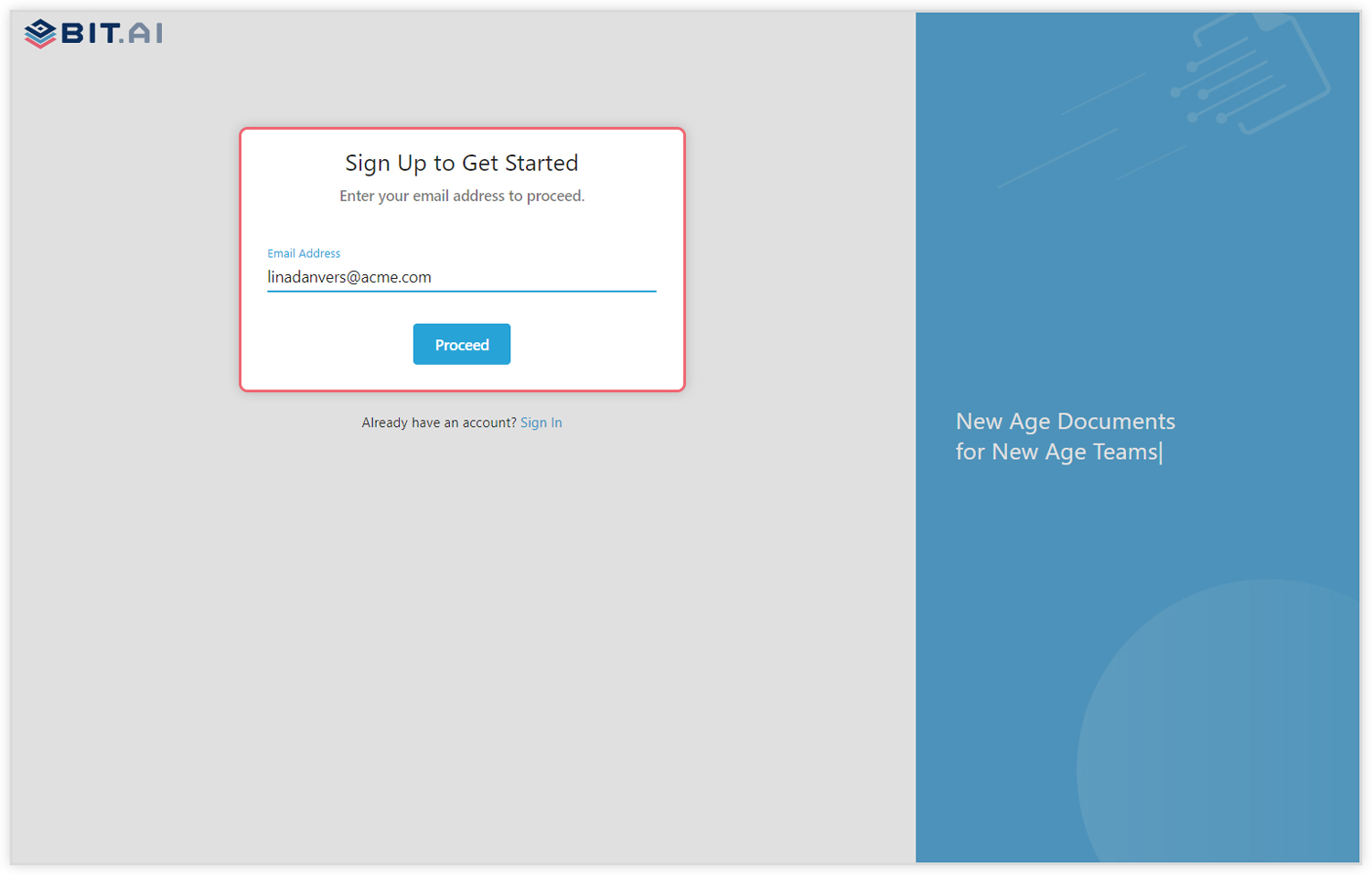 Step 2: Create a Workspace
Workspaces are where the work gets done. Click on the 'Create Workspace' button on the right. A popup will show up prompting you to add a name for your new workspace.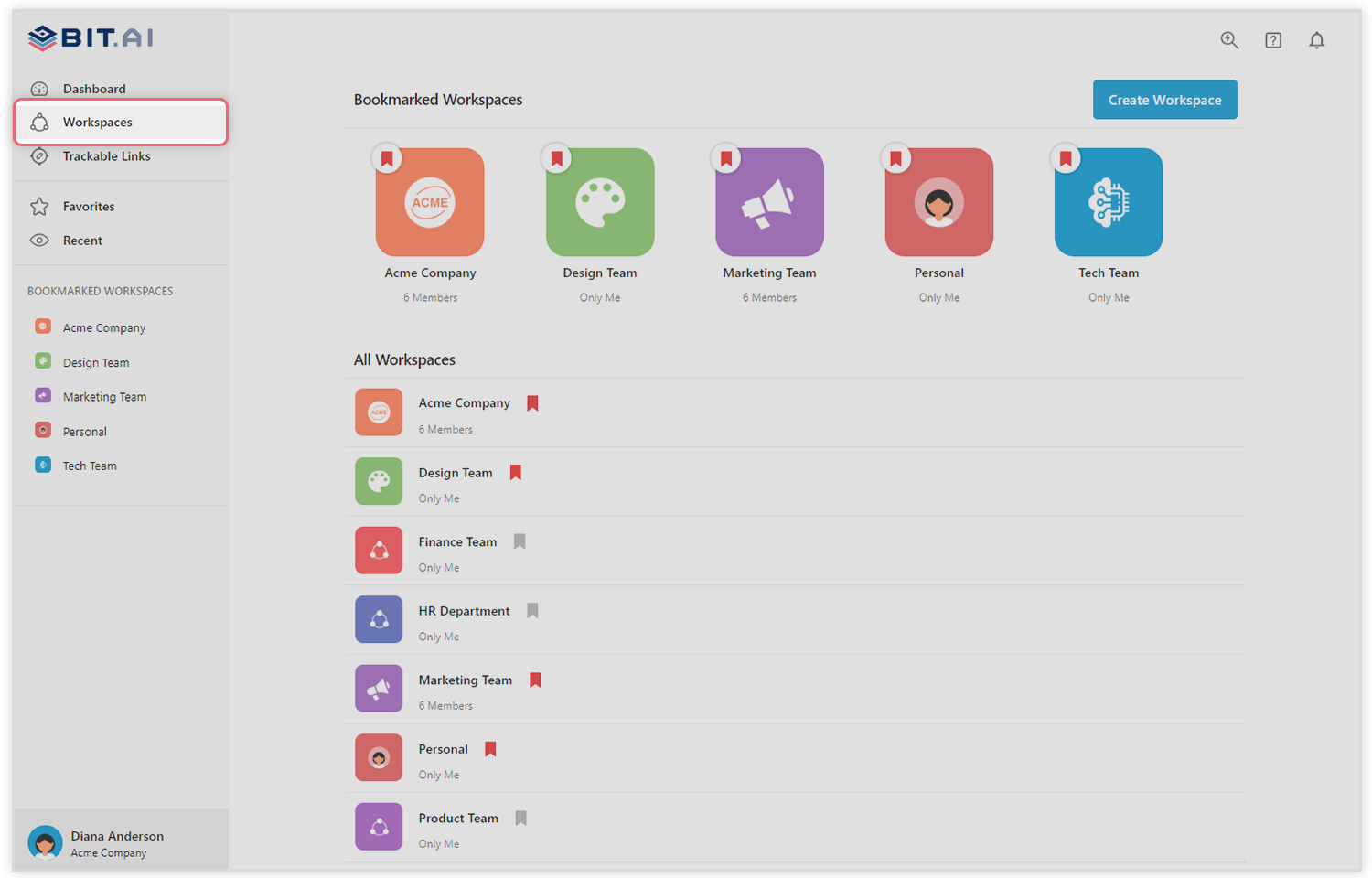 You can create a workspace around a team, department, large project, client, partner, etc. Inside each workspace, you can create an unlimited amount of Bit documents and access your content library (storage area for all of your digital assets – web links, files, cloud files, rich embeds, etc.).
Step 3: Add Team Members
Bit allows your team members to collaborate in real-time and get work done. Collaboration starts at the workspace level.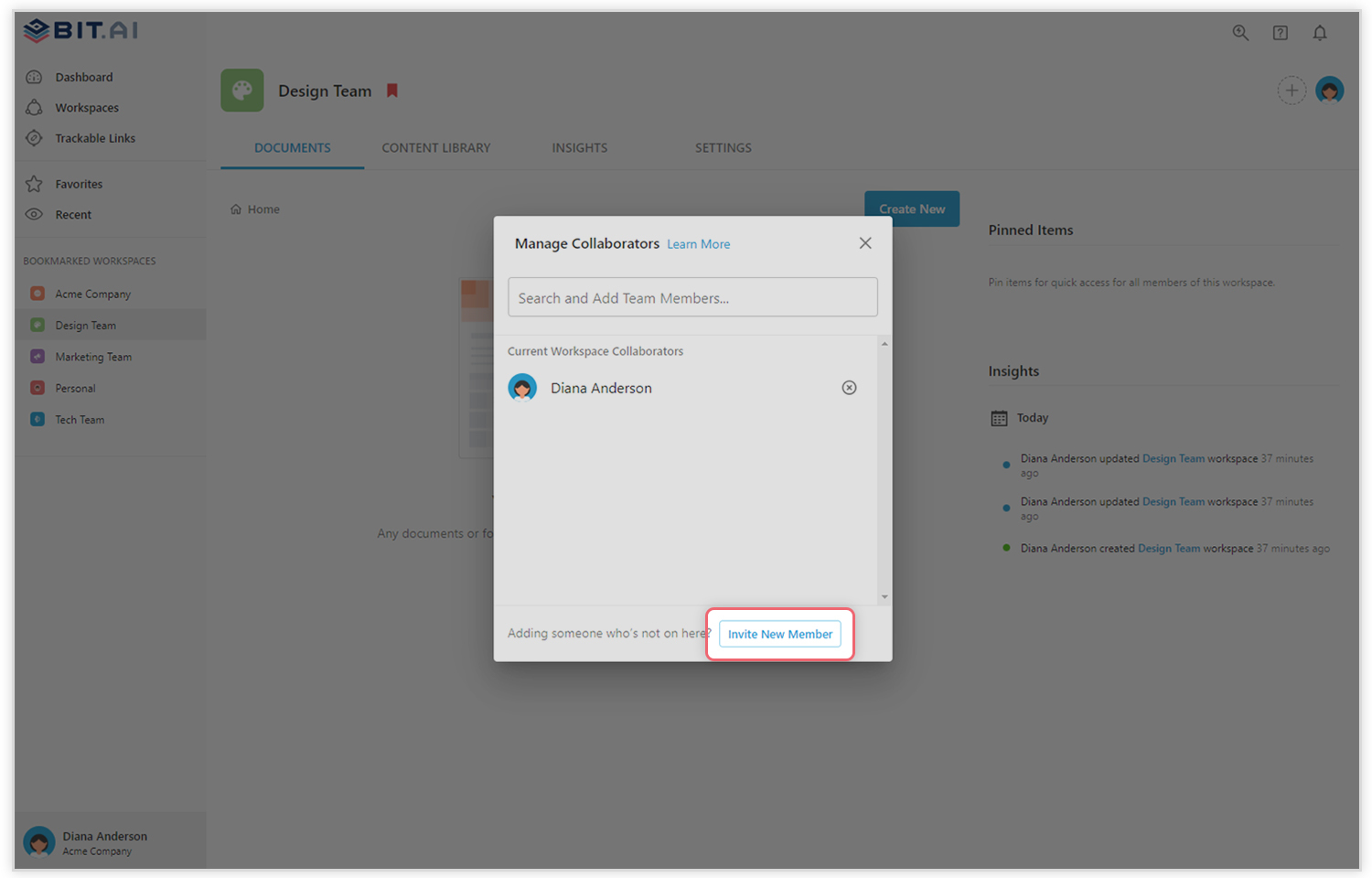 You create private workspaces by default. However, you can invite others to join you inside of a workspace and collaborate together with the knowledge, projects, documents and content inside of the workspace.
Step 4: Create Your Desired Document
Once you are in the workspace, click on the 'Create New' button. Select 'From Template' in the dropdown. A pop up will display allowing you to select a template from the gallery.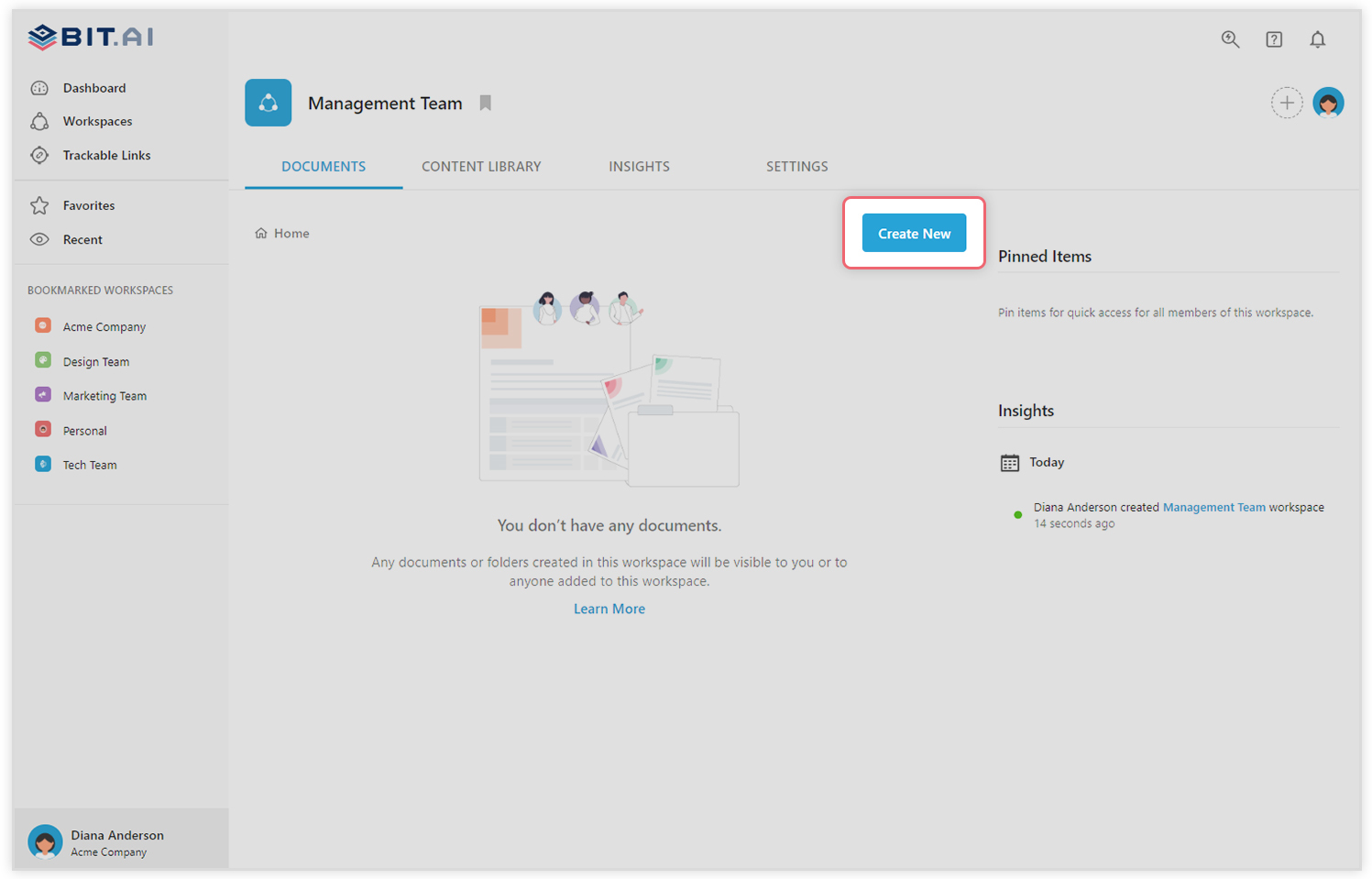 In the search box on the top left corner, you can search for "brainstorming template". Once your desired template pops up, click on it and click on the "Use Template" button on the bottom right corner.
That's it! Your brainstorming document is ready for use!
🎥Watch this video to learn more👇
>
Final Words
At Bit, we enable teams to get work done collaboratively, brainstorm ideas, and store all their work under a single roof to make their workflow easier. With our awesome template, we doubt you'd have any problems crafting the perfect brainstorm documentation. If you need any help, let us know by tweeting us @bit_docs. Cheers!
Further reads: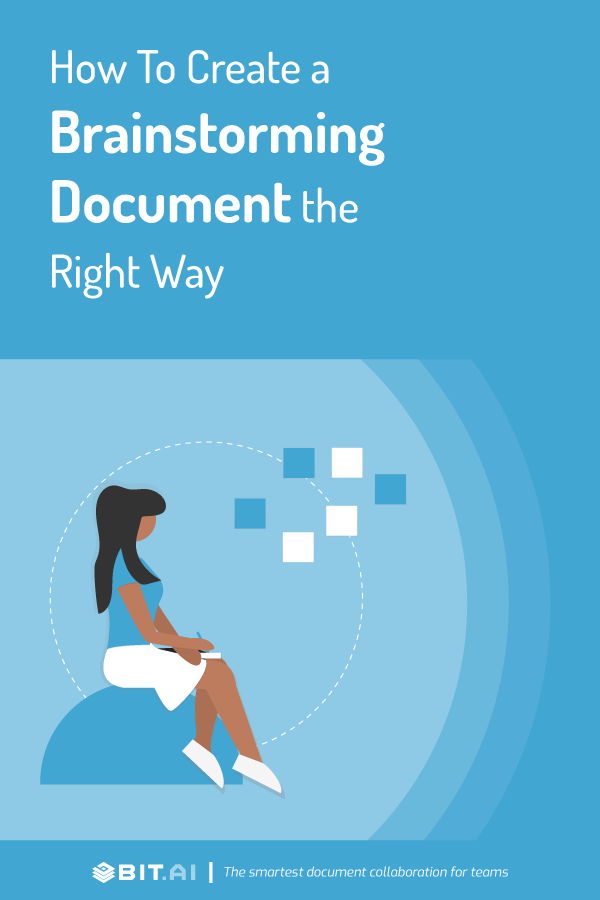 Related posts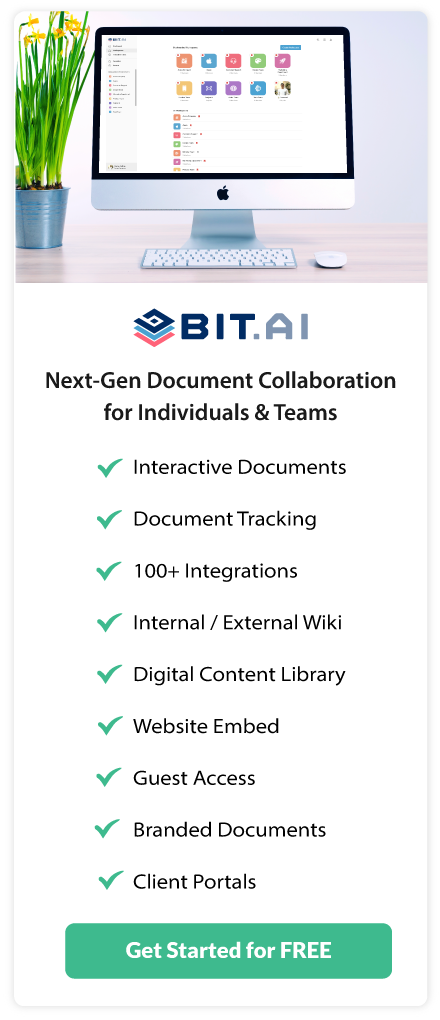 About Bit.ai
Bit.ai is the essential next-gen workplace and document collaboration platform. that helps teams share knowledge by connecting any type of digital content. With this intuitive, cloud-based solution, anyone can work visually and collaborate in real-time while creating internal notes, team projects, knowledge bases, client-facing content, and more.
The smartest online Google Docs and Word alternative, Bit.ai is used in over 100 countries by professionals everywhere, from IT teams creating internal documentation and knowledge bases, to sales and marketing teams sharing client materials and client portals.
👉👉Click Here to Check out Bit.ai.