Looking for ways to manage your document mess? Let's see how document management systems can help!
Document management involves how businesses today create, manage, and share electronic documents.
With nearly every aspect of your business going digital, it only makes sense to get rid of those dreaded and age-old methods of filing paper documents.
We need to replace these age-old methods with newer, faster ways to create and share workplace documents. This is where a document management system comes in.
Why Do You Need a Document Management System?
Have you ever wasted precious time searching for a document on your computer, in chat messages, in your email attachments, etc.? Browsing through hundreds of folders, searching in your immensely populated inbox, searching through your cloud files, etc., all end up being a search mission with no end in sight!
Employees often can't find the right documents at the right time or can't access the document due to time or location barriers. All of these add ups to a big loss in productivity.
In today's fast-moving digital work environment, the emphasis is on using the right online tools to foster efficiency and productivity.
It's no surprise, then, that document management tools have become one of the most popular ways for organizations to manage important documents, improve workflow, and boost collaboration.
Choosing the right document management system for your business:
A document management tool is used by businesses to:
Become more organized
Increase productivity
Foster teamwork & collaboration
Reduce storage costs
Reduce security costs
However, before you go out and purchase the first tool you come across online, you'll want to make sure it has all the features and capabilities you need to solve your business needs.
Top Recommended Document Management Systems:
The list of different document management tools can seem quite daunting, but that's why we have created a list of the best of the best document management systems on the market today! Thank you later!

Bit.ai
Alfresco
OnlyOffice
DocuWare
Google Docs
LogicalDoc
Confluence
Let's go through each one of them in detail and decide which document system is best for you:
Bit is a new-age cloud-based document collaboration tool that helps teams create, manage and track documents.
Bit has several awesome capabilities that make it one of the best document management tools out there:
Safe & Robust:
Bit's document management system allows you to create workplace documents like- project proposals, sales decks, training documents, how-to guides, company policies, process documentation, media kits, fact sheets, competitive research, case studies, e-books, etc., and provides a safe and robust place to store these documents.
Digital Workspaces:
Bit allows users to create something called "smart digital workspaces", which are created around projects, teams, departments, and clients to keep your documents, data, and information organized.
Workspaces make it easy to collaborate and ensure that the right team members have access to the right documents at the right time. They are fluid so your information can move through your organization's workflows.
Real-Time Collaboration:
Multiple people can simultaneously collaborate and create a smart document in real time.
It's a wonderful way to manage projects, create client-facing material, brainstorm, share meeting agendas, create proposals, and most importantly, share and manage information and knowledge!
Content Management:
Apart from documents, Bit also provides amazing content management capabilities.
Bit has a content library that automatically saves the images, files, and digital content you add to your documents (or workspaces) so you can easily access and reuse them.
Smart Search:
Bit documents also support smart search, which allows anyone to search and find files, images, documents, and text inside documents quickly and easily across the system.
With the ability to effectively label content, users can search their digital assets using keywords, titles, descriptions, or tags.
They can even search for files based on their source. (i.e., YouTube). This is extremely useful for new hires to not feel overwhelmed while looking for information.
Manage Permissions:
Bit allows users to manage permissions and information access that suits their organizational needs.
It supports features like document tracking, password protection, file access restrictions, etc. that help keep your important company information safe.
All-in-all, Bit checks all the boxes by allowing you to create and edit documents collaboratively, store them in a safe and secure place, upload rich media files like videos, audio, excel sheets, PDFs, GIFs, etc. in the content library, search and access information quickly, protect your content by managing permissions and track your documents to get detailed analytics.
The perfect document management tool indeed!
Read more: Top Employee Management Systems You Should Be Using!
Alfresco is an Enterprise Document and Content Management System aimed to make your workflow smooth and streamlined.
Its core offering, a Digital Business Platform lets IT develop modern solutions for an efficient workflow.
The Digital Business Platform offers an Application Development Framework, and open-source APIs that allows:
Integration with major applications like Microsoft Office, Salesforce, Google Drive, etc.
Process services that allow business process documentation management
Content services for better collaboration on digital content
If you work in a large enterprise, Alfresco might just be the way to go. However, it can be a bit intimidating with its many core competencies.
Next on our list is OnlyOffice, and as the name suggests, it aims to be your "only office" outside your real office environment.
OnlyOffice allows you to upload a document, spreadsheet, or presentation from your computer directly to their web app and manage it from the cloud.
You can track changes made to the docs, leave comments, and access version history too. OnlyOffice supports various document formats including DOC, PDF, HTML, CSV, TXT, and more.
OnlyOffice aims to offer a complete suite of office apps like documents, spreadsheets, and presentations. OnlyOffice offers a plethora of features to organize every step of your business. Some of these features include:
Project management with task tracking, Gantt charts, time tracking, and reports collaboration
CRM capabilities
Email aggregation
Document management
Calendar integration
And much more
OnlyOffice's "community" allows employees to create news boards for sharing the latest company news and announcements, polls and surveys to gather data, the ability to share ideas and knowledge through corporate blogs and forums, and communicate with other teammates using instant messaging.
A noteworthy feature of OnlyOffice is the ability to connect any of the cloud storage services like Google Drive, Dropbox, Box, or Microsoft's Onedrive and keep all your data in one place.
DocuWare is a digital document management tool that allows you to store your documents in electronic folders for easy storage, search, and retrieval.
By storing all your documents in a centralized document pool, you can reduce costs associated with traditional document filing systems which resulting in a faster, more efficient workflow.
DocuWare aims to reduce this time spent significantly by allowing you to retrieve your documents anytime, and anywhere with advanced document indexing and storage capabilities.
DocuWare also protects your files from unauthorized access and loss by providing regulatory compliance security features, and disaster recovery.
Google Docs has been around for quite some time now, 12 years to be exact. Since its inception, Google Docs has amassed quite a following in the cloud-based collaboration tool market.
It has a familiar interface like Microsoft Word, which helped it gain traction and make it easy for people to understand its nuances.
It's intuitive and easy to use design, security, privacy features, and mobile apps to keep you connected to your documents 24×7.
Google Docs also provides a list of ready-made templates for documents like resumes, letters, brochures, etc. to create documents quickly and easily.
If you are looking to save time and resources by converting your hard copy paper documents into their electronic counterparts, LogicalDoc is another great solution.
LogicalDOC is an intuitive document management system that requires little to no training to get up to speed with.
Its easy drag-and-drop capability allows users to upload files in a jiffy. A capable solution for small as well as large businesses unlike, LogicalDoc facilitates fast content retrieval and process automation.
LogicalDoc allows users to create, collaborate and edit documents together, keeping records of document history and modifications.
Since LogicalDoc operates fully in the cloud, there's no hardware or software setup to get started with it. LogicalDoc comes in three versions: Enterprise and Cloud, Business Edition, and Community Edition.
Confluence, by Atlassian, is a document management and collaboration system for teams to communicate internally.
Teams can easily create, share and collaborate on documents, spreadsheets, presentations, and images. Features like automatic versioning, instant previews, full-text search, and pinned comments make it easy to manage your documents across all departments.
Share documents, PDFs, images, track every version and changes made to a page and connect to Jira to provide insight into their development work with automatic linking, quick issue creation, and reports.
Users have the ability to organize and share company information amongst employees and with their customers.
Confluence can be helpful if your team already uses Jira and HipChat by Atlassian, as it's designed to work with those platforms.
Conclusion:
Every company needs to manage the huge amounts of workplace documents they produce, have the ability to safely store them someplace, and make them accessible to the employees and other stakeholders as and when needed.
Opting for a document management solution helps you gain a competitive edge over your competitors who are still wasting time creating, filing and looking for paper-based documents and files.
So what are your thoughts on the list document management systems mentioned above? Is your company using a particular document management system? Let's have a chat in the comments below!

Further reads :

Related posts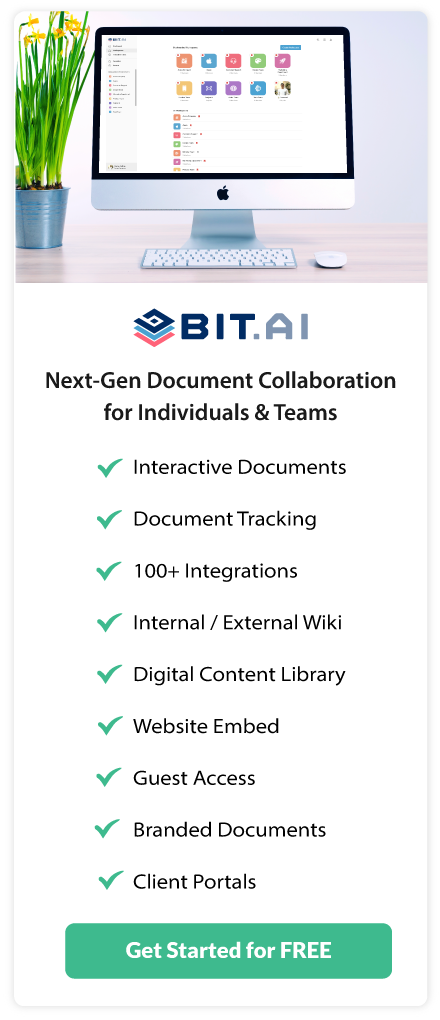 About Bit.ai
Bit.ai is the essential next-gen workplace and document collaboration platform. that helps teams share knowledge by connecting any type of digital content. With this intuitive, cloud-based solution, anyone can work visually and collaborate in real-time while creating internal notes, team projects, knowledge bases, client-facing content, and more.
The smartest online Google Docs and Word alternative, Bit.ai is used in over 100 countries by professionals everywhere, from IT teams creating internal documentation and knowledge bases, to sales and marketing teams sharing client materials and client portals.
👉👉Click Here to Check out Bit.ai.