Creating a lesson plan is a crucial part of the classroom. Educators use lesson plans to guide them through the teaching process so they know exactly what they are going to teach and how. This prevents on the fly teaching and makes sure students are getting the most out of a class or subject. 
Lesson plans provide a detailed outline for teachers to follow each class period and ensure that they have meaningful discussions in the classroom.
Before we teach you how to create a lesson plan that works, let us first briefly understand what a lesson plan really is, why every teacher should create a lesson plan, and what are the key things that entail in a lesson plan. Read on…
What is a Lesson Plan? (Definition)
A lesson plan helps instructors keep their daily lessons organized. It's a smart way of keeping the opening remarks, topics, and assignments in one organized place on a daily basis.
Wikipedia describes it as "the teacher's guide for running a particular lesson, and it includes the goal (what the students are supposed to learn), how the goal will be reached (the method, procedure), and a way of measuring how well the goal was reached (test, worksheet, homework, etc.)" 
Why Lesson Plans are Important?
Lesson plans are an important way of ensuring that topics get covered appropriately and that the class has all of the insight and information they need to understand concepts.
The more organized instructors are with what they are covering, the better chance students have to be engaged, interested, and walk away with new information.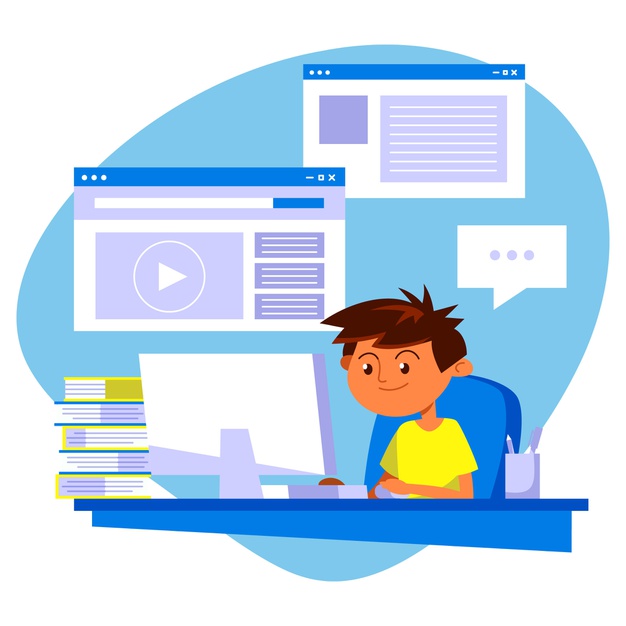 Some of the main benefits of creating a lesson plan include:
A lesson plan gives you a detailed outline of how class lessons should go.
It helps tackle the possible student queries that may arise during a classroom session.
It empowers teachers to be ready with their material and reduces on the fly teaching.
It allows educators the time to come up with interesting teaching methodologies and learning activities.
It provides various learning materials teachers can use during their class.
How to Create a Lesson Plan? Follow these Steps!
Now that you know the importance of creating a lesson plan, let's see what all one should include in a lesson plan:
Step 1. Set up standards for the lesson plan
Add the standards that you're covering.‍  Setting standards for a lesson plan is a crucial way to maintain uniformity for the students who are learning as consistently as possible across classrooms and subjects.
Step 2. Plan the objectives 
 Describe what your goals are with regards to the class and what you're trying to achieve.‍ The goals of lesson plans must clearly be defined so that students can understand what is expected of them.

Step 3. Add helpful resource materials for the lesson covered
Incorporating new and exciting learning materials can boost classroom engagement and promote better learning. Make sure to include any materials that you think can help- you need to prepare – presentation, printouts, videos, pages in a book, etc.‍
Step 4. Mention lesson plan details
Make sure to describe your lessons in detail. It should specify detail about the content, Lesson objectives, materials, procedures for delivering instruction, student groupings, etc all in one place.
Step 5. Create lesson assignments or activities
Add any assignments or activities you would like your students to do.‍ Ultimately assignments on a lesson are ways for students to evaluate their strengths and weaknesses academically as well as personally in that particular subject.
Step 6. Plan a quick Self-Evaluation
 Take time at the end of the lesson to provide yourself with a quick evaluation. Think about what could have been better. or what more you can add to make the lesson plan more effective.
Step 7. Create lesson plan notes
Add any additional thoughts and notes on the next steps. Lesson closure notes offer an opportunity to reinforce student learning. These are useful for both students and instructors.
Read more: How to Write a Thesis with Perfection?
Create Lesson Plans The Right Way with Bit
Ready to make a lesson plan for your students? We have the perfect tool for you!
Bit.ai is a new-age online document collaboration tool that helps anyone create awesome recommended lesson plans, reading lists, notes, assignments, reports, and other classroom documents in minutes.
Bit is a dream tool for both students and teachers as it helps revolutionize classroom education and makes it more modern, fun, and interactive.

Some of the reasons why you should use Bit.ai in your classroom includes: 
Immersive learning experience: Bit is used by teachers to create a media-rich lesson plan, reading lists, assignments, reports, and documents for their students to give them a more immersive learning experience than sharing boring text-only PDFs, Word/Google Docs, emails, etc. Users can add links to articles, books, YouTube explainer videos, images, spreadsheets, PDFs, podcasts, etc. to foster deep learning.
Workspaces to keep things organized: Students can use Bit as their digital notebook. Bit organizes files and documents into "Workspaces," making it easier for students to keep files from different subjects into different workspaces.
Bit allows students to keep their class notes, assignments, report research, projects, and other resources organized in different folders and workspaces for easy access.
Real-time collaboration to foster co-learning: Bit supports real-time collaboration features that allow students and teachers to work together on assignments in real-time from the comfort of their homes.
With the presence of real-time chat, teachers can highlight and comment on Bit documents that need changes and provide feedback.
Some cool features of Bit include:
Workspaces to organize notes and lists
Real-time collaboration between students and teachers
Document tracking provides teachers with the ability to see how many students have viewed their document, and how many have actually spent time reading it.
Embed reading lists, syllabus information, additional resources, etc. on your school/university website.
Key Benefits of Making Your Lesson Plans on Bit.ai:
Collaborate in real-time
Interlink lesson plans and other documents
Create fully responsive documents that look great on all devices
Create lesson plans only visible to yourself or your classmates
Track engagement on shared lesson plans with instructors, or projects shared with students, parents, etc.
Read more: Collaborative Teaching: What is it & How to Do it the Right Way?
As promised, here's an awesome template for you to create lesson plans for your students and colleagues. Check it out below: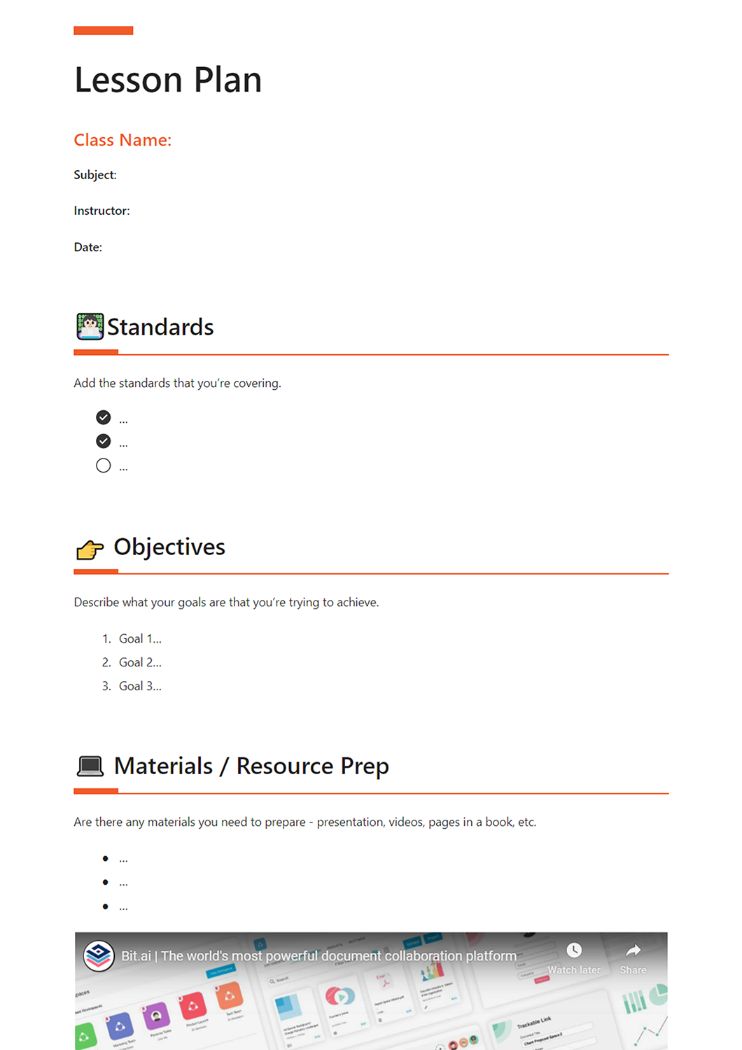 How to use the Lesson Plan Template with Bit?
The process of creating a lesson plan on Bit is insanely easy! Just follow these four simple steps to create a lesson plan quickly:
Step 1: Create a Bit Account
Go the home page of Bit.ai and click on Get Started for Free or Sign Up to get started. Enter your email address to sign up. Once in, you can create your personal profile.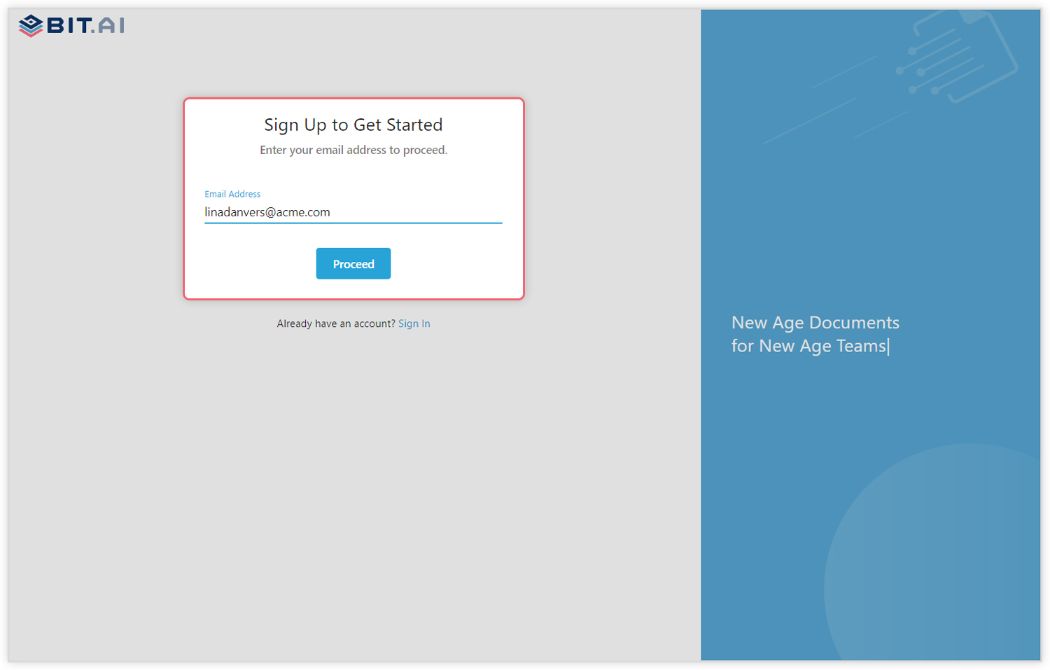 Step 2: Create a Workspace
Workspaces are where the work gets done. Click on the 'Create Workspace' button on the right. A popup will show up prompting you to add a name for your new workspace.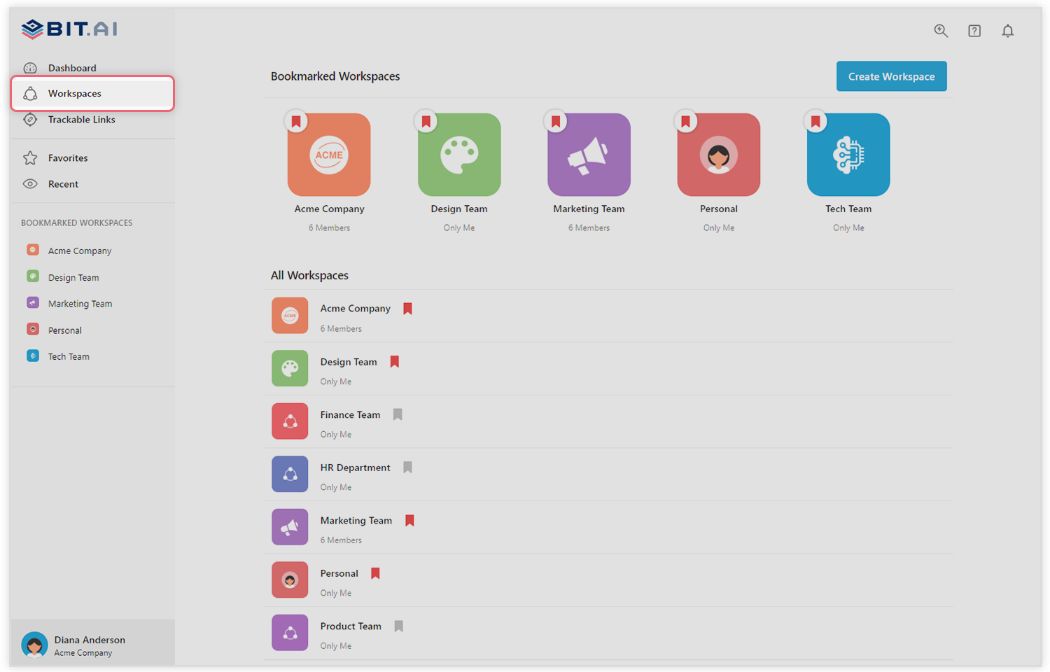 You can create a workspace around a team, department, large project, client, partner, etc. Inside each workspace, you can create an unlimited amount of Bit documents and access your content library (storage area for all of your digital assets – web links, files, cloud files, rich embeds, etc.).
Step 3: Add Team Members
Bit allows your team members to collaborate in real-time and get work done. Collaboration starts at the workspace level.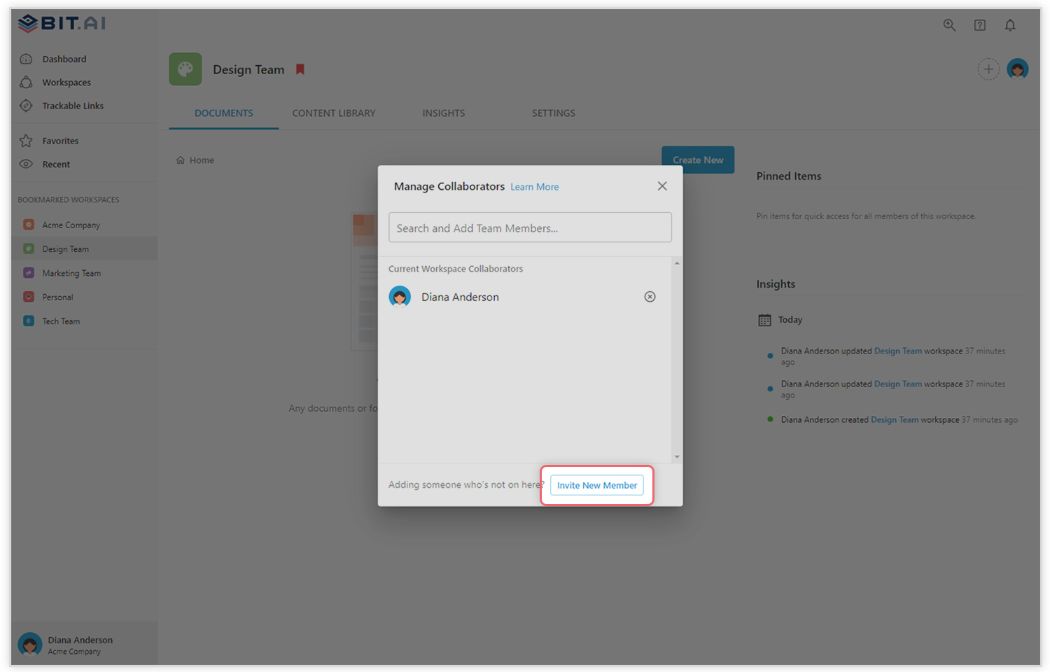 You create private workspaces by default. However, you can invite others to join you inside of a workspace and collaborate together with the knowledge, projects, documents and content inside of the workspace.
Step 4: Create Your Desired Document
Once you are in the workspace, click on the 'Create New' button. Select 'From Template' in the dropdown. A pop up will display allowing you to select a template from the gallery.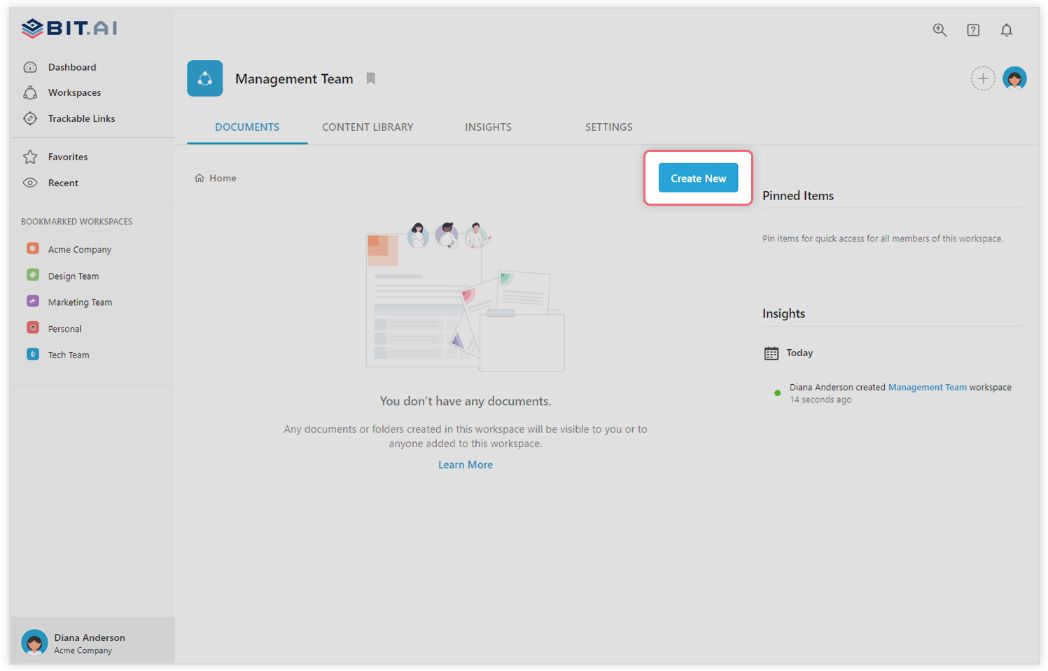 In the search box on the top left corner, you can search for "Lesson plan template". Once your desired template pops up, click on it and click on the "Use Template" button on the bottom right corner.
That's it! Your lesson plan document is ready for use!
Over to you!
To make your job easier, use a lesson plan template. We have created an awesome lesson plan template for you including all the key elements one needs to include in a lesson plan, so there's no need to start from scratch. Simply make a free account on Bit and start creating your lesson plan today!
Moreover, Bit provides a centralized location to create, store, and share reading lists and other classroom documents like class notes, projects, assignments, research, etc.
With real-time collaboration, Bit also acts as a distance learning tool, helping teachers and students collaborate remotely. If you need any help with our education templates, let us know by tweeting us @bit_docs. Cheers!
🎥Watch this video to learn more👇
Further reads: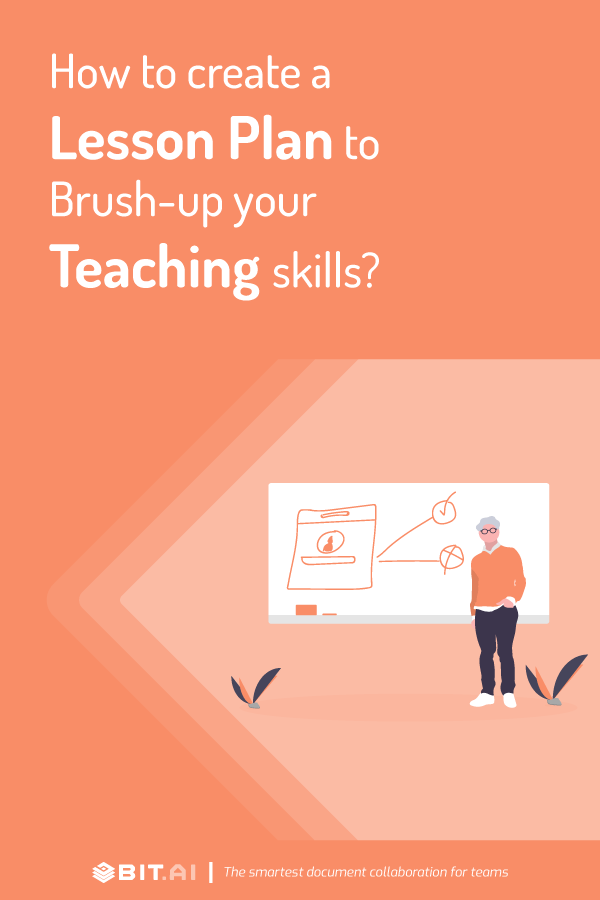 Related posts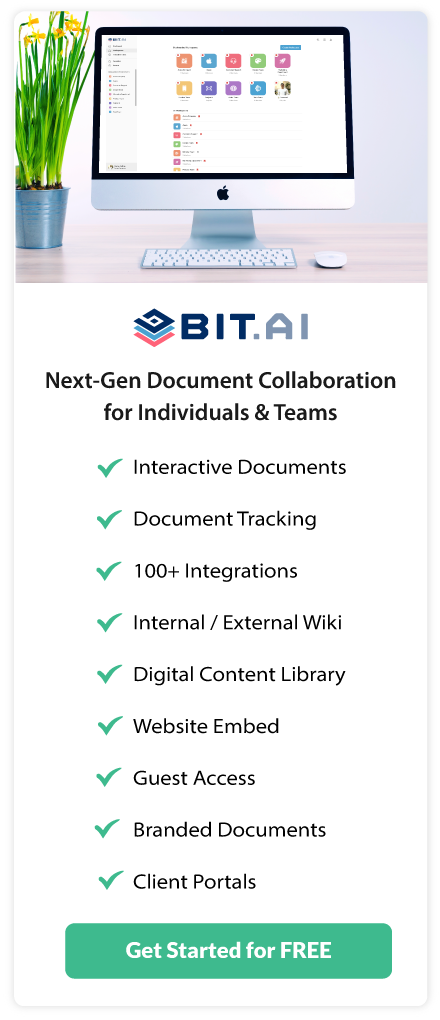 About Bit.ai
Bit.ai is the essential next-gen workplace and document collaboration platform. that helps teams share knowledge by connecting any type of digital content. With this intuitive, cloud-based solution, anyone can work visually and collaborate in real-time while creating internal notes, team projects, knowledge bases, client-facing content, and more.
The smartest online Google Docs and Word alternative, Bit.ai is used in over 100 countries by professionals everywhere, from IT teams creating internal documentation and knowledge bases, to sales and marketing teams sharing client materials and client portals.
👉👉Click Here to Check out Bit.ai.