Looking for a way to create an effective strategic sales plan? No worries, We have got you covered! Read on…
Everyone has to make "sales" at some point in time; managers sell presentations to their bosses, job applicants sell themselves to get hired, or kids sell the idea of buying a dog to their parents. Leaping into the unpredictable world of sales is essential for success!
Similarly, businesses have to sell their products & services to gain customers, income, and revenue. Like the heart's job is to pump blood in your body, sales pumps growth into each part of your business!
To generate real and lasting growth, you need to create a strategic document for sales that will communicate your company's objectives to the sales team and serve as the backbone of your entire sales strategy – how about an excellent Sales Plan!
Sales plans are crafted specifically to help to drive sales. It also gives a 'magnified view' on where the business is, where you want it to be with reference to the set objectives, and how to get there!
This is why we have put time and effort into creating an exceptional sales plan template with all the important components! Before we dig into the template, it is important to understand what is a strategic sales plan and why do we need one?
Let's get to it.
What is a Sales Plan? (Definition)
A sales plan is a document that outlines all the sales-related strategies on how a sales department or team will contribute to the overall goals of a company. The main objective of this document is to provide a detailed plan of action with tactics and schemes that will be used to achieve sales targets. That information needs to be written down as it acts as a guide for management to understand how the sales department will meet its goals.
Why are Sales Plans Important?
Sales plans are important documents to keep everyone in the loop with the expectations of the sales department. It outlines sales strategies on how the department plans to accomplish goals, risks associated, and what's needed to achieve success. This plan should be reviewed every month and adjusted accordingly.
A sales plan helps you:
Define a set of sales targets for your business

Choose sales policies that are suited to your target market

Identify sales techniques for your sales team

Motivate and focus the sales team

Clarify the budget needed to achieve the targets

Review your goals periodically and improve your plans for success
How to Create a Sales Plan? (Things to Include)
Title: Heading of the document.

Mission: Include the company's core mission.
History: Share the company's key historic milestones and overall story.
Team: Add the names and short bios of the founders.
Sales Goals: Provide an overview of the sales goals for your department.
Target market: Include the core market and customer your company is interested in.
Tools, software, and resources: Provide information on the tools, software, and sales resources available.
Positioning: Provide advice on positioning and give examples.
Marketing strategy: Explain the marketing strategy your company uses, along with tone to gain leads.
Prospecting strategy: Provide a tutorial of what the sales team needs to do to find prospective customers.
Action plan: Give a detailed action plan of how the sales team will achieve goals.
Budget: Set a sales budget over the next 12 months and make decisions accordingly.
Read more: Sales Sheet: What is it & How to Create it? (Steps Included)
Create a Sales Plan the Right Way with Bit!
In order to make your sales plan more effective, you need the right tool. This is where Bit comes in. 
Bit is a new-age documentation and knowledge management tool that helps teams to collaborate, share, track, and manage all company knowledge in one place. Bit documents are highly interactive. This means employees and managers can easily create interactive sales plans by adding tables, code blocks, and much more!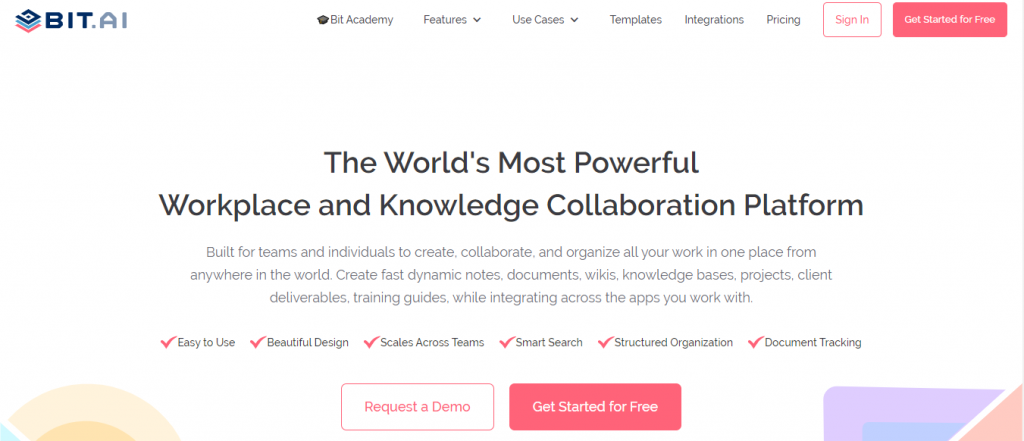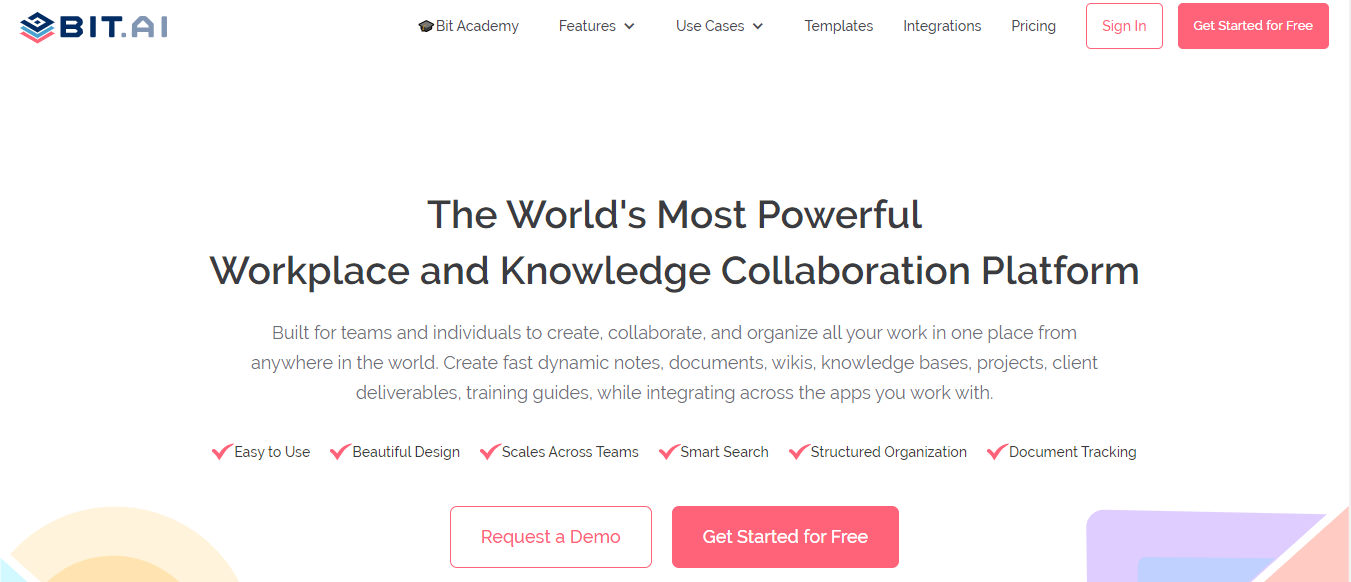 Bit provides a common workplace for team members to collaborate, document, share their knowledge, brainstorm ideas, store digital assets, and innovate together. The best part is that this knowledge is safely secured in your workspaces and can be shared (or kept private) with anyone in your organization or the public!
Key Benefits of Creating Your Sales Plan on Bit.ai
Collaborate with other team members: Multiple people can simultaneously collaborate on a Bit smart document in real-time. It's a great way for developers to handle different aspects of the plan together under a single roof. Bit's sleek, minimal, and distraction-free editor makes a great tool for documentation. 
Create Interactive Documents: Wow your clients by creating interactive documents with Bit. You can add content from over 100+ various applications that will live inside of your Bit documents. Add tables, PDFs, Google Forms, Gantt charts, YouTube videos- basically anything on the internet with a link, and Bit will automatically convert that into live content inside your Bit doc!
Recommended power links and files you can add to your Bit document:
Weblinks

GitHub

PDFs, PowerPoint in Google Drive/OneDrive

Google Sheets, OneDrive Excel, Airtable

YouTube, Vimeo

Social media posts

Draw.io & Lucidcharts

InVision, Framer, Figma
Easy to Use: Bit has an amazing UI that's easy to understand by a new user, making onboarding easier. The user experience is phenomenal as information flows from documents to workspaces swiftly. If you want to create documents for personal use or professional use, Bit's amazing organizational capabilities help arrange your information easily. 
Version History: Bit documents have a top-notch version history! This platform allows you to distinguish and restore multiple versions of your sales plan chronologically with time, date, and name of the person who made the revisions. Simple!
Automated table of contents – Bit has an automated table of contents based on the headers you add to your document. This makes sure that you as a salesman, can quickly scroll to relevant sections of your document while discussing with clients.
Multiple ways to share: Bit documents can be shared in a live state meaning all changes that you make to the document will update in real-time. If you are sharing your documents with colleagues, partners, or clients, they will always get your latest changes.
Features like document tracking allow you to track audience engagement on the content you create and share. You can even embed Bit documents on any website or blog. Bit documents are responsive, any changes made to these documents will reflect immediately on the site!
Here are some of the main benefits of using Bit:
Collaborate in real-time

Interlink sales plans and other documents

Create fully responsive documents

Create private sales plans only visible to yourself or your team

Track engagement on shared sales plans with clients, partners, etc.

Smart search, which allows anyone to search and find any video, images, documents, etc. quickly.
To make the process of creating your sales plan easier, we have created a ready-made sales plan template for you! Check it out below: 

How to Use the Bit Sales Plan Template? 
The process of creating a sales plan on Bit is insanely easy! Just follow these four simple steps to create one quickly:
Step 1: Create a Bit Account
Go the home page of Bit.ai and click on Get Started for Free or Sign Up to get started. Enter your email address to sign up. Once in, you can create your personal profile.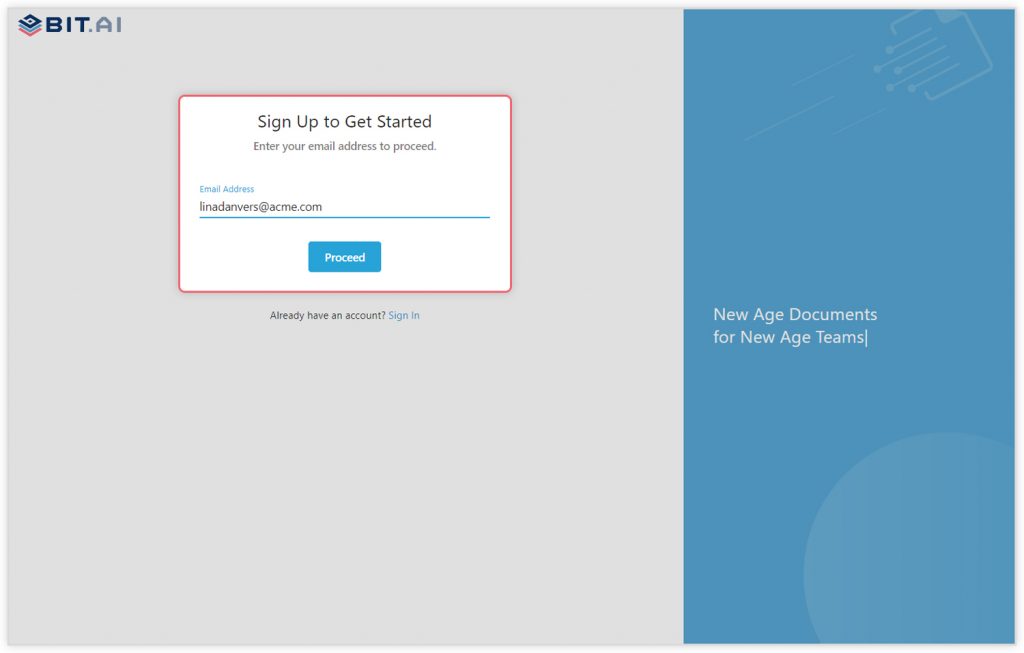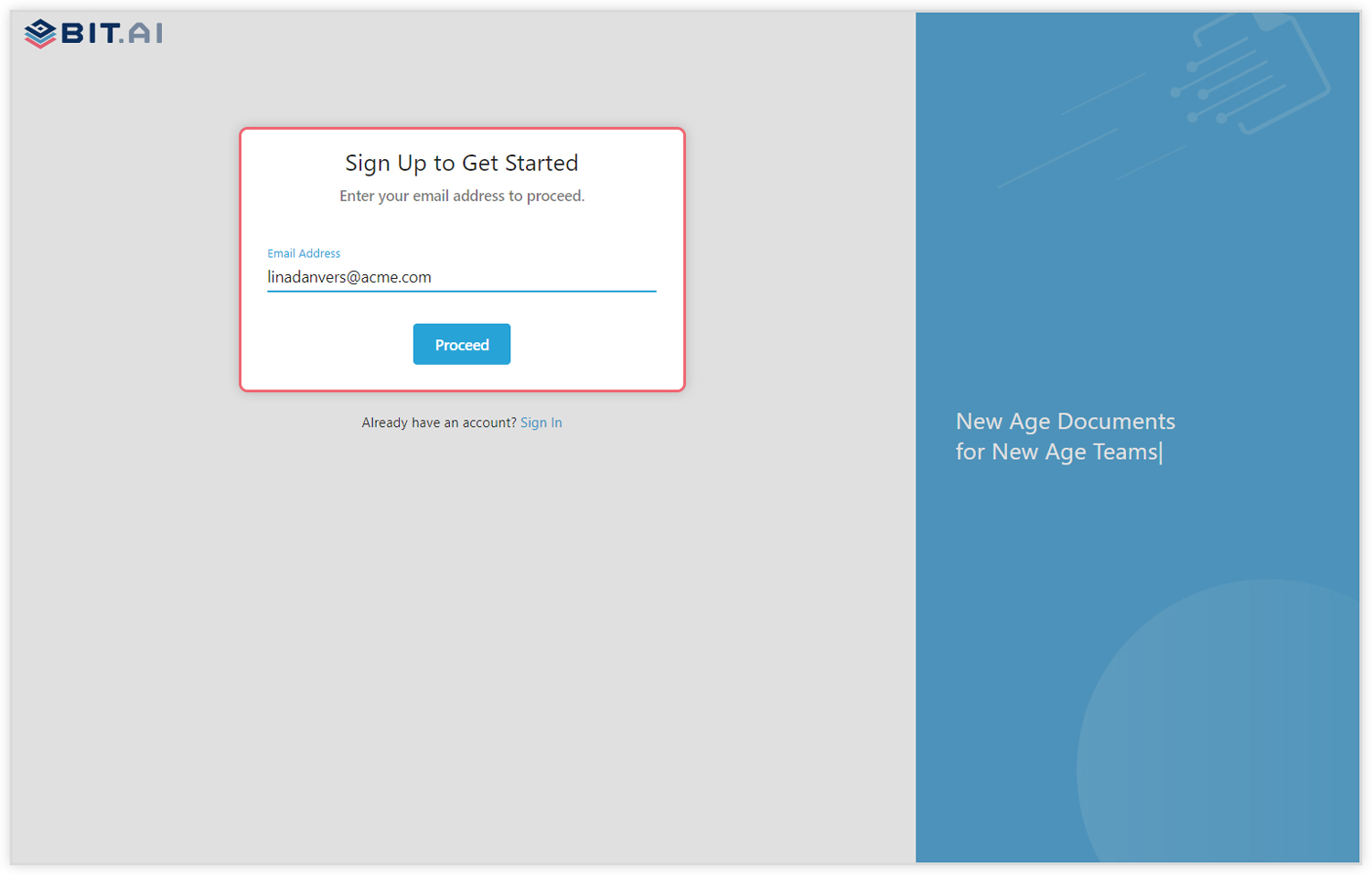 Step 2: Create a Workspace
Workspaces are where the work gets done. Click on the 'Create Workspace' button on the right. A popup will show up prompting you to add a name for your new workspace.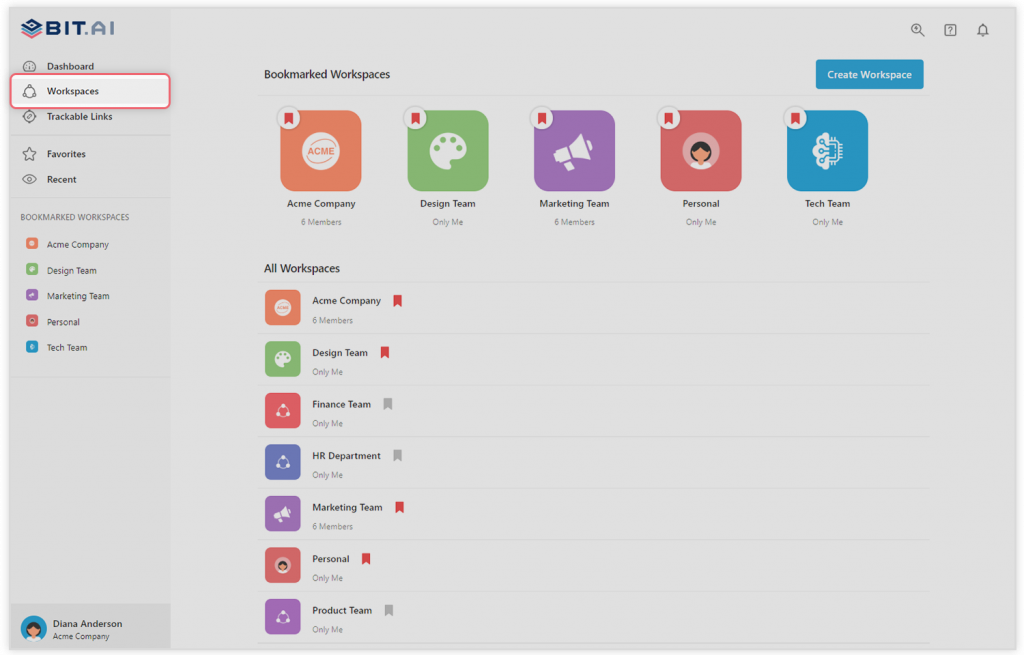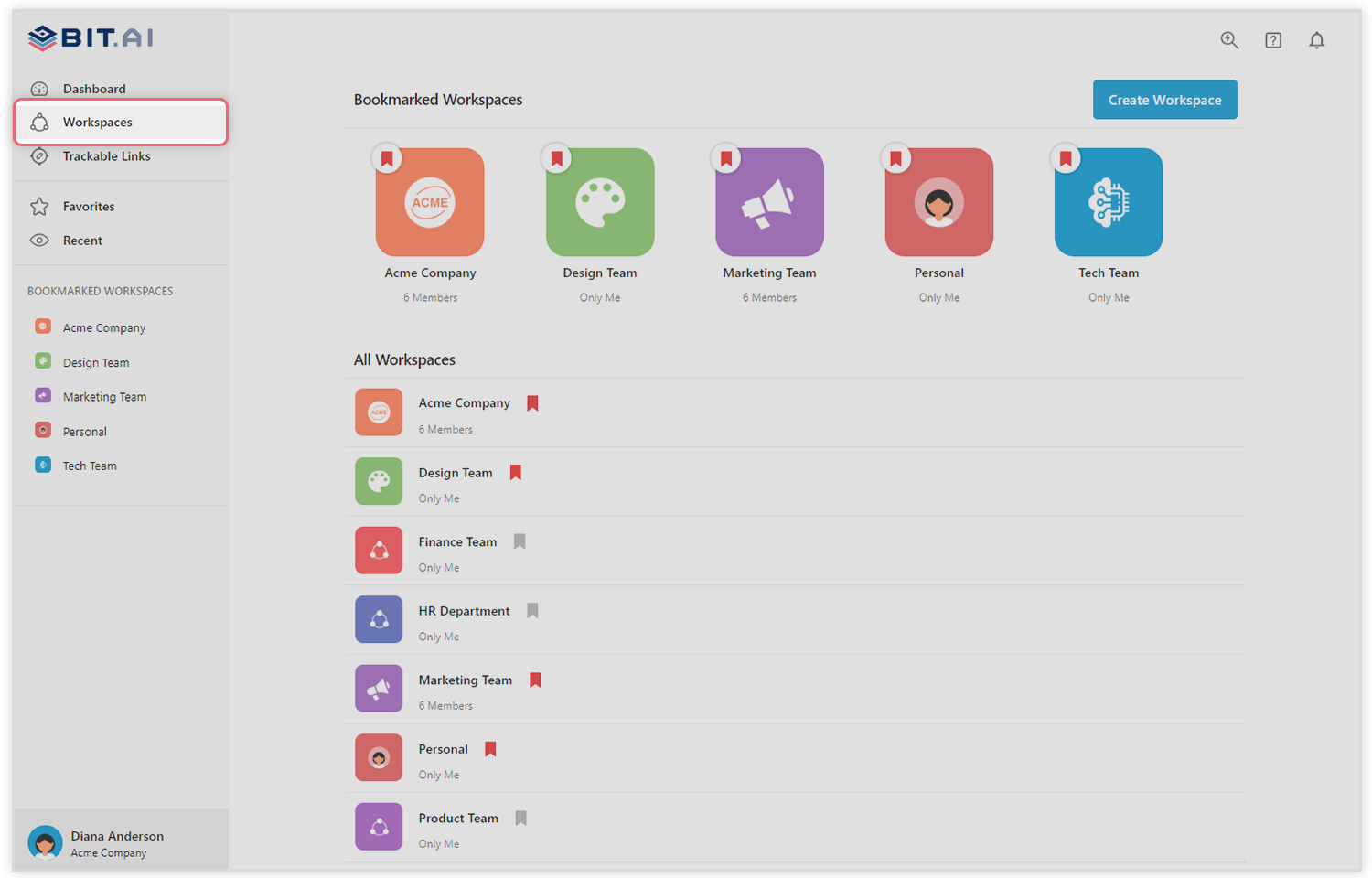 You can create a workspace around a team, department, large project, client, partner, etc. Inside each workspace, you can create an unlimited amount of Bit documents and access your content library (storage area for all of your digital assets – web links, files, cloud files, rich embeds, etc.).
Step 3: Add Team Members
Bit allows your team members to collaborate in real-time and get work done. Collaboration starts at the workspace level.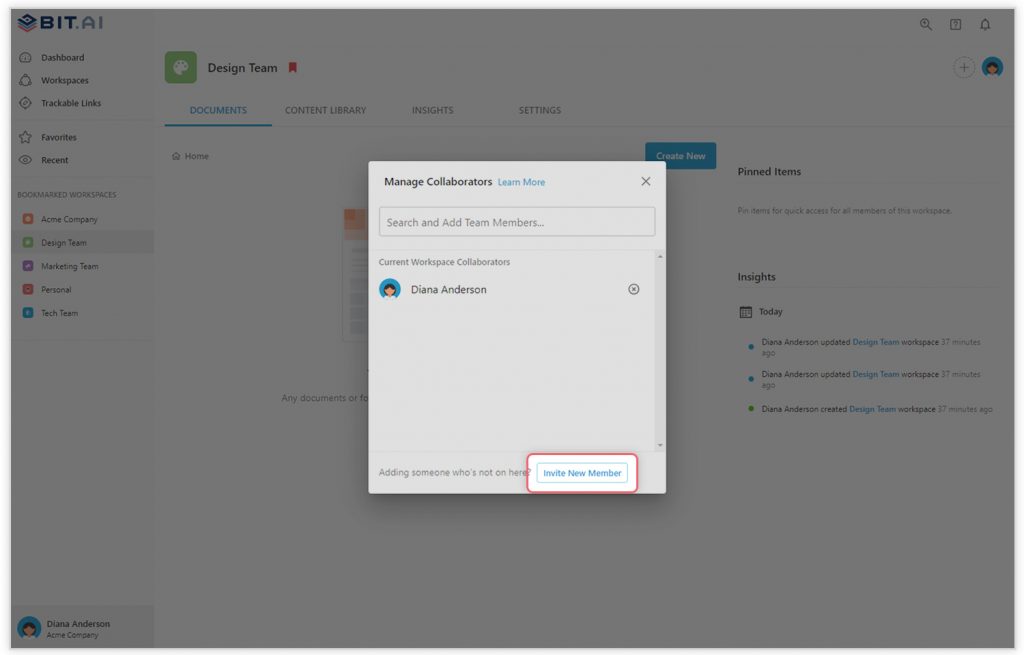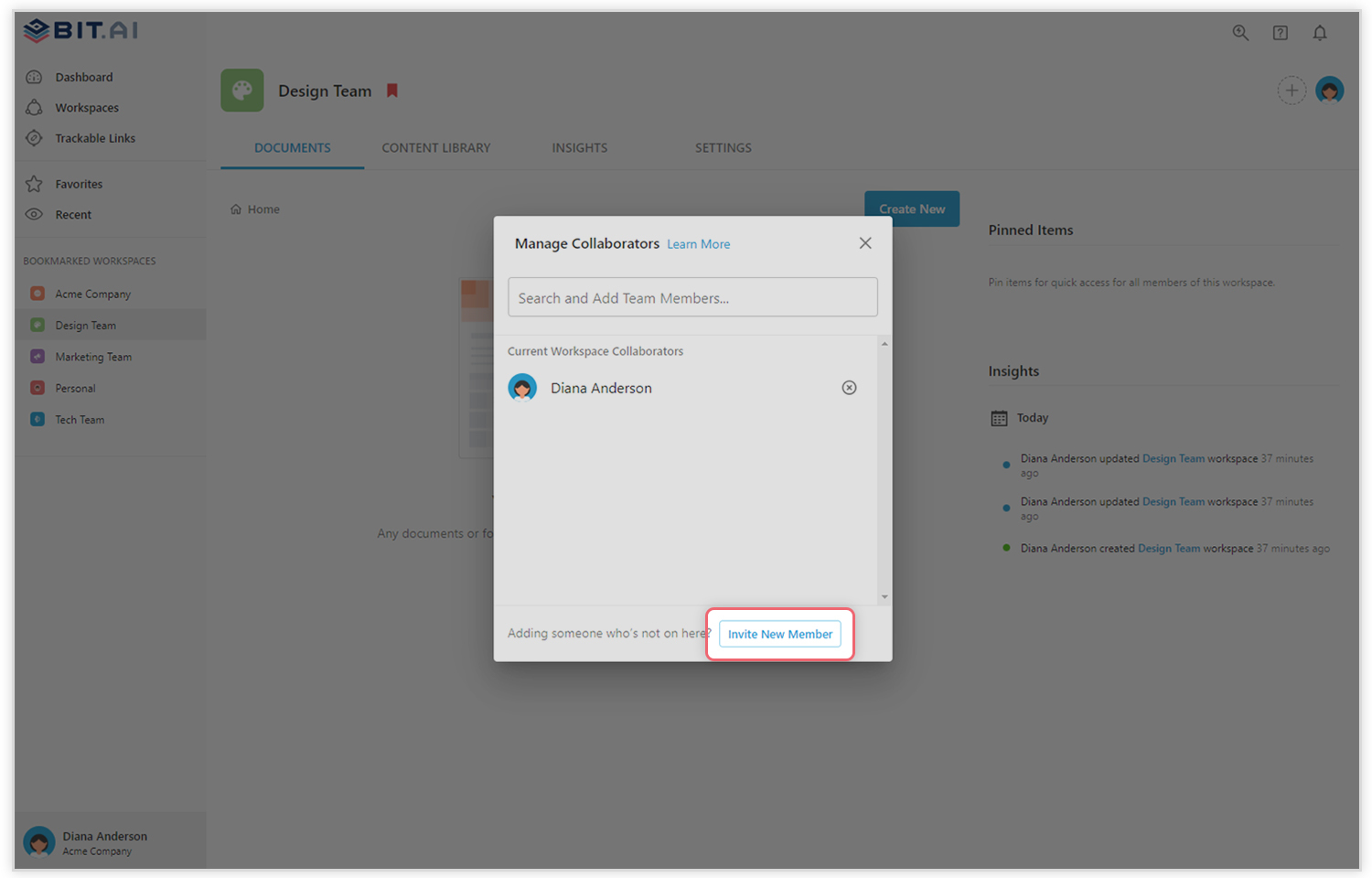 You create private workspaces by default. However, you can invite others to join you inside of a workspace and collaborate together with the knowledge, projects, documents, and content inside of the workspace.
Step 4: Create Your Desired Document
Once you are in the workspace, click on the 'Create New' button. Select 'From Template' in the dropdown. A pop up will display allowing you to select a template from the gallery.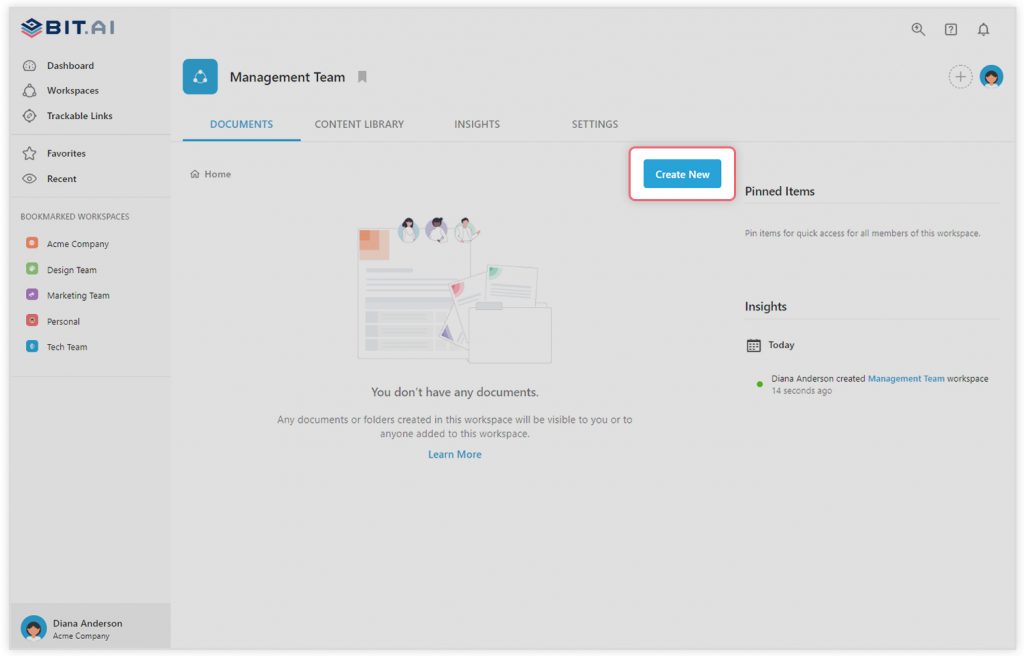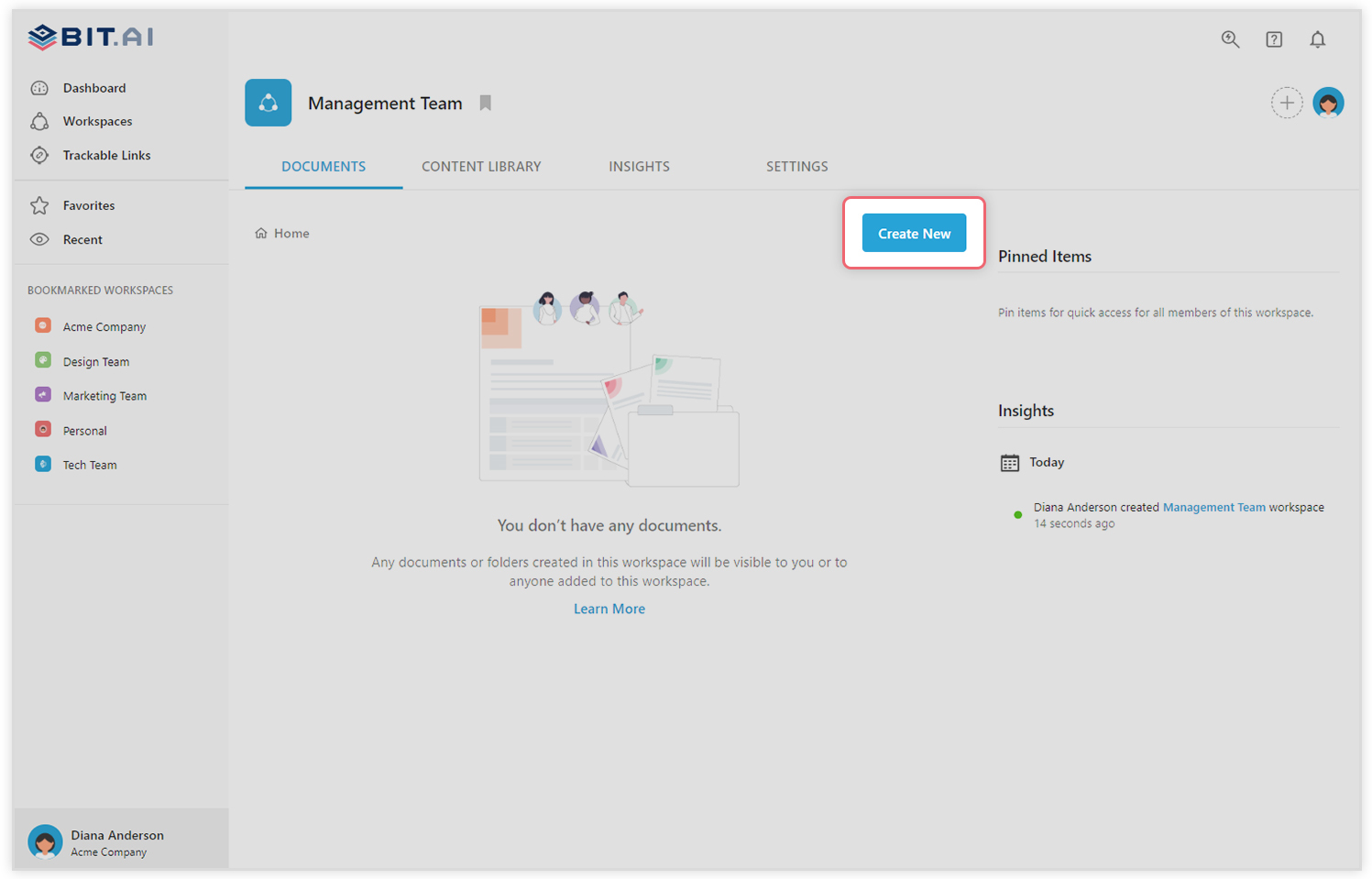 In the search box on the top left corner, you can search for the "sales plan template". Once your desired template pops up, click on it and click on the "Use Template" button on the bottom right corner.
That's it! Your sales plan document is ready for use!
Before you go!
Our team at bit.ai has created a few awesome sales templates to make your sales process more efficient. Make sure to check them out before you go, your sales team might need them!
Bottom Line
Action speaks louder than words! Now, that you have outlined your attack, it's time to act on it with a well-defined sales plan! With an awesome sales plan and strategy, you can identify potential risks and put in effort into tackling them beforehand. It not only helps you draw a battle plan but puts you in control to determine the sales budget for the future!
If you need any help with our sales plan template or want to know how Bit can help businesses create important documents, let us know by tweeting us @bit_docs. Cheers!
Further reads: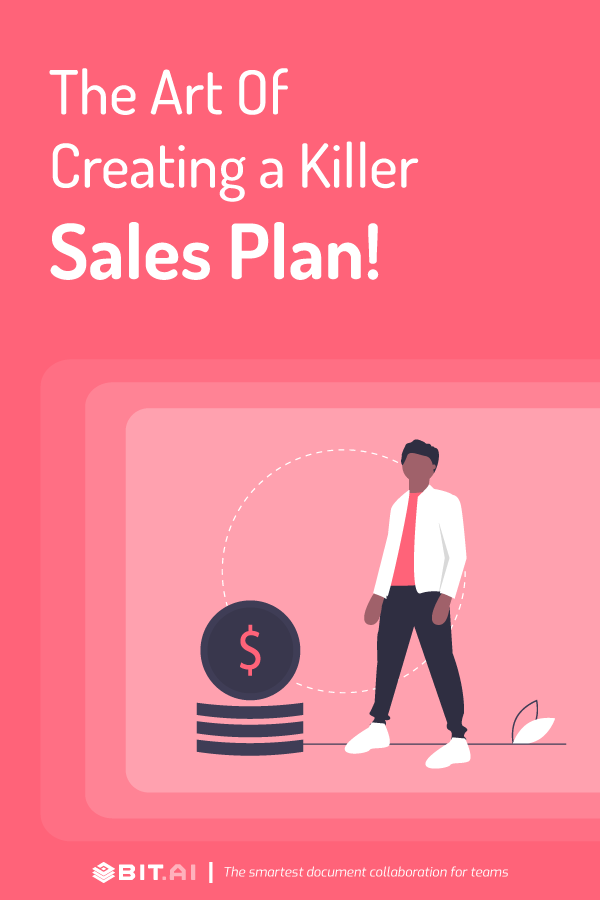 Related posts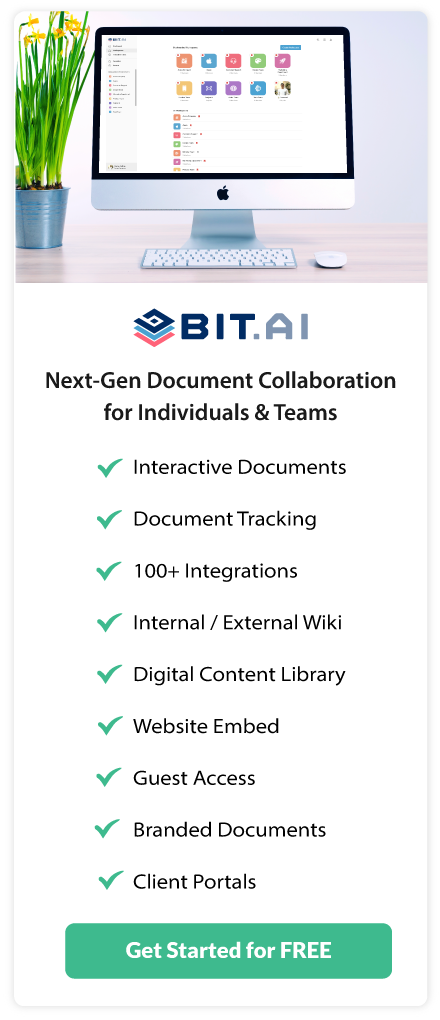 About Bit.ai
Bit.ai is the essential next-gen workplace and document collaboration platform. that helps teams share knowledge by connecting any type of digital content. With this intuitive, cloud-based solution, anyone can work visually and collaborate in real-time while creating internal notes, team projects, knowledge bases, client-facing content, and more.
The smartest online Google Docs and Word alternative, Bit.ai is used in over 100 countries by professionals everywhere, from IT teams creating internal documentation and knowledge bases, to sales and marketing teams sharing client materials and client portals.
👉👉Click Here to Check out Bit.ai.