When it comes to your sales process, take some ideas from your dating life.
They aren't as different as you might think.
Just like dating, those early interactions with a prospect determine whether the relationship will prosper, or whether it will vanish into thin air.
If you are trying to ace that first impression with your potential customer, the sales sheet is the way to go!
The days of six-panel brochures are long gone because too much too soon can put off a prospective buyer. (Just like proposing marriage on the first date!)
According to studies, 81% of buyers do online research before buying a product, and 67% of the buyer's journey is online, usually before they talk to one of your salespeople.
For this reason, sales sheets can help in making the prospect interested, before the sales team even knows that they exist.
Today, we're going to take a closer look at sale sheets, why they matter, and how to create one using Bit.ai.
Let's jump right in.
What is a Sales Sheet? (Definition)
A sales sheet also called a sell sheet, sales slick, or product datasheet is a quick overview of the product or service with all the sales information available on a single sheet of paper. It captures the essence of your brand's identity and your product's purpose.
Having a sales representative talk about your product provides a personal touch in connecting with your consumers.
But when you want to reach a large number of people, a salesperson just doesn't cut it.
That's where a sales sheet comes in.

It answers the following questions:
What products or services do you offer?
How will these products and services benefit me?
How much will I pay for them?
How do I contact you?
On its surface, a sales sheet might just look like a steady piece of marketing material. But under the surface, it is actually a feasible, handy, and robust marketing tool.
The Difference Between a Brochure and a Sales Sheet
You might be wondering how a sales sheet is different from a brochure.
Let's say you are at a business convention and a prospect asks you if you have any literature on your products and services.
Would you give him a brochure OR a sales sheet?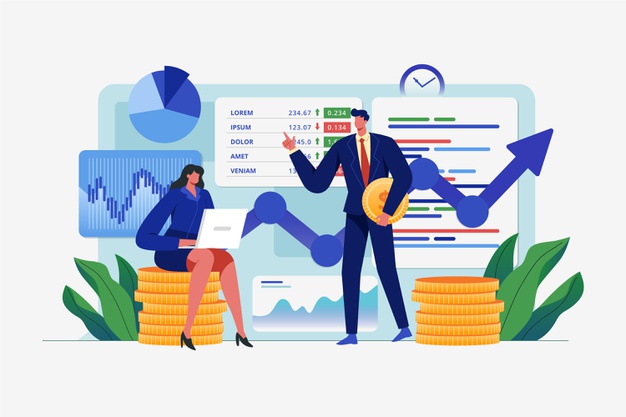 In most aspects, a brochure and a sales sheet have many similarities. Both are great marketing tools to present the company and the product. And sometimes it's hard to know which one to use when.
Hopefully, we will help clarify that for you.
The answer to the above question depends on where the prospect stands.
If they have gotten to the point of being genuinely interested in your product or service, you should give them a brochure.
If they are a tire kicker and have not come up to the point of genuine interest, give them the sale sheet. They will probably not read the long brochure.
Read more: What is a Sales Tracker and How to Create One? (Template Included)
Why do you need a Sales Sheet?
Your website or blog can also tell the customers, the features, and the benefits of the products you have newly launched in the market.
So, what is exactly so unique about a sales sheet?
Why, in spite of having a website, a blog, presence on social media platforms, you specifically need a sales sheet to give details about your product to the customers?
Firstly, a sales sheet will tell your prospective customers at a glance whether your product will meet their needs or not. It contains everything your prospect needs to know and a clearly defined directive that informs them what to do next.
It can also be your go-to piece of content to use as a leave-behind after an introduction, either in person or after an early discovery call or email.
Secondly, with multiple products and various features, your sales, marketing, and customer service departments have a tremendous amount of data to keep track of.
But if you have sales sheets available to support them, it would mean fewer calls to research & development, fewer lost sales, and fewer unhappy customers. It is a win-win situation.
How to Create an Effective Sales Sheet? Follow these steps!
Here's how to really maximize the impact of your sales sheet, and ensure that it stands out from the rest.
Step 1. Identify the objectives
Before moving ahead with the sales sheet, try to answer these questions:
What is your most important goal? Second most important? Third?
Don't say "selling more products." It is too vague.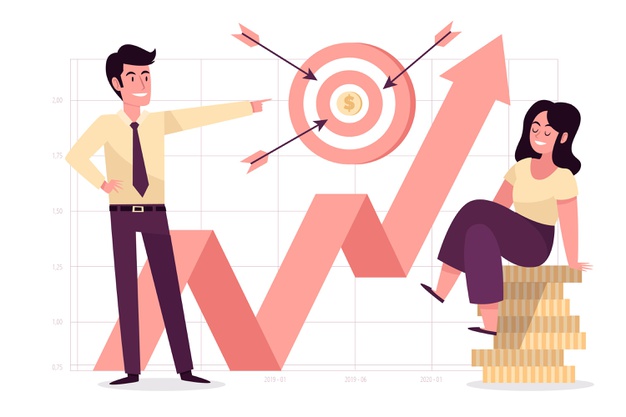 Ask yourself: Do you want to use the sales sheet as promotional material to give out to your current and prospective clients, in the hopes that they will give you new business?
Do you want to impress your colleagues and customers with a stunning sales sheet and media kit?
Do you want to use it to convince retailers to buy your product?
Remember: A sales sheet is simply a marketing tool. Its ultimate goal is to help you achieve several businesses, personal, and financial goals, all of which will eventually lead to more sales.
Step 2. Keep it simple
Sales sheets aren't meant to be overcomplicated; the simpler, the better.
Do not make it wordy. No one wants to read a paragraph upon a paragraph about why they should buy a product. Make the copy easy to digest with small blocks of text.
Think about the problem you're trying to solve for your customer, outline it in a few sentences, and then explain why your solution is the best choice for them.
Explain the reasons why your product or services are better than your competitors.
Anyone that picks up your sales sheet should know exactly what your business is selling and why they should choose you to get the job done.
Ensure that everything that has been listed on your sales sheet has a clear value proposition and a clear narrative tying it together.
For example, if you are selling a new kind of microwave oven, talk about how it will save time and effort for the consumer more than you do about the technical bells and whistles.
People want to know how a product will help them, so concentrate on that!
Read more: How to Skyrocket your Sales with a Sales Dashboard (Template Included)
Step 3. Professional design
A sales sheet is, at its core, a ploy for attention.
Sharp design is the lynchpin; if it's not pretty, people won't look at it. Flawless design means resisting the urge to cram as much information as possible onto one page.
If your sales sheet is strictly text, it won't be anywhere near as convincing. Your visuals should be the stars of your sales sheet.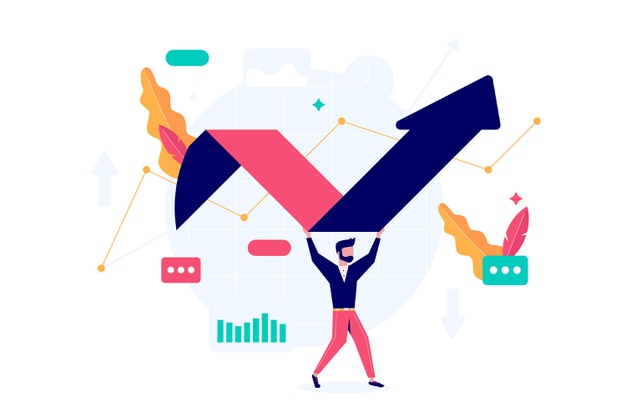 Use eye-catching elements such as headlines and contrasting colors, and make sure your bodies of text are broken into columns and boxes in order to create white space on the page.
The design can make or break your one-sheet. If the layout and colors of your sales sheet are outdated, dull, or sloppy, you will turn your reader away.
If you have design resources at your disposal, it is time to make good use of them.
Step 4. Write engaging content
Get away from that boring sales copy! Your sales sheet must be engrossing and interesting to read.
Surprise your readers by having a well-crafted message that adds something positive to their day. This aspect sets the tone for the rest of the copy.
It might seem counter-intuitive, the most successful one-sheets are the ones with as few words as possible.
Now, that doesn't mean that you don't have ENOUGH content.
Break down your message to the most important information that your potential customer needs to know to make them interested in your product.
Showcase the best, cut the rest!
Tip: An introductory paragraph can give prospects some perspective on your company's identity, reliability, and esteemed reputation. If a prospect has never heard of you, it can't hurt to give some insight about your company and establish yourself as an authority in your space.
Step 5. Give a clear-cut call to action
A sales sheet is always designed with intention and this is where that intention is communicated.
Suppose you have made an outrageously compelling sales sheet.
A prospect reads it and is absolutely hooked.
Your visuals, data, graphs, headline, copy, and tone all blew their mind. They're totally on board.
That would be awesome, but if you didn't have a call-to-action included in your sheet, all of that excitement might go to waste.
Once someone has seen yoursales sheet, and they're interested in purchasing or learning more. What do they do?
A call to action – this is where you give your potential customer directions on what they need to do next. Whether you want them to make a donation, set up a consultation, or visit your website, be clear and discrete.
Tip: Make sure it has a relatively low barrier to entry. Don't force them to jump through a bunch of hoops to get there.
Create a Killer Sales Sheet Using Bit.ai
What if we tell you that now you don't have to spend so much of your time meeting with people face-to-face and making calls to pitch your new idea?
We have an alternative for you!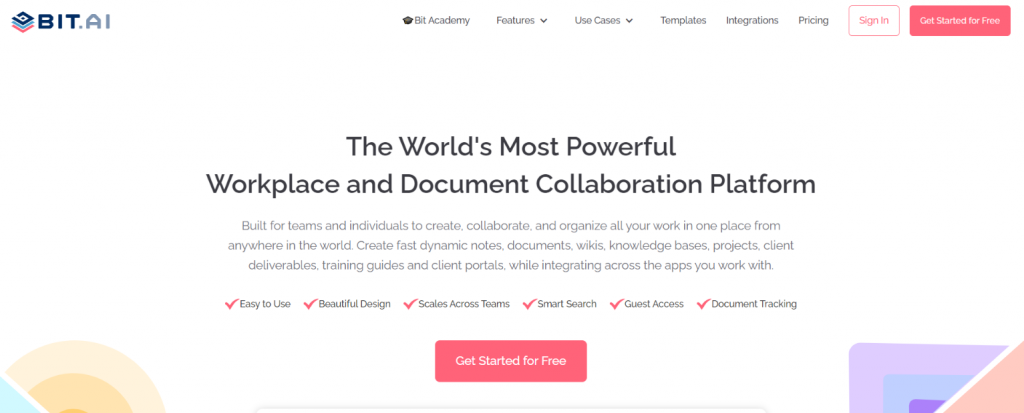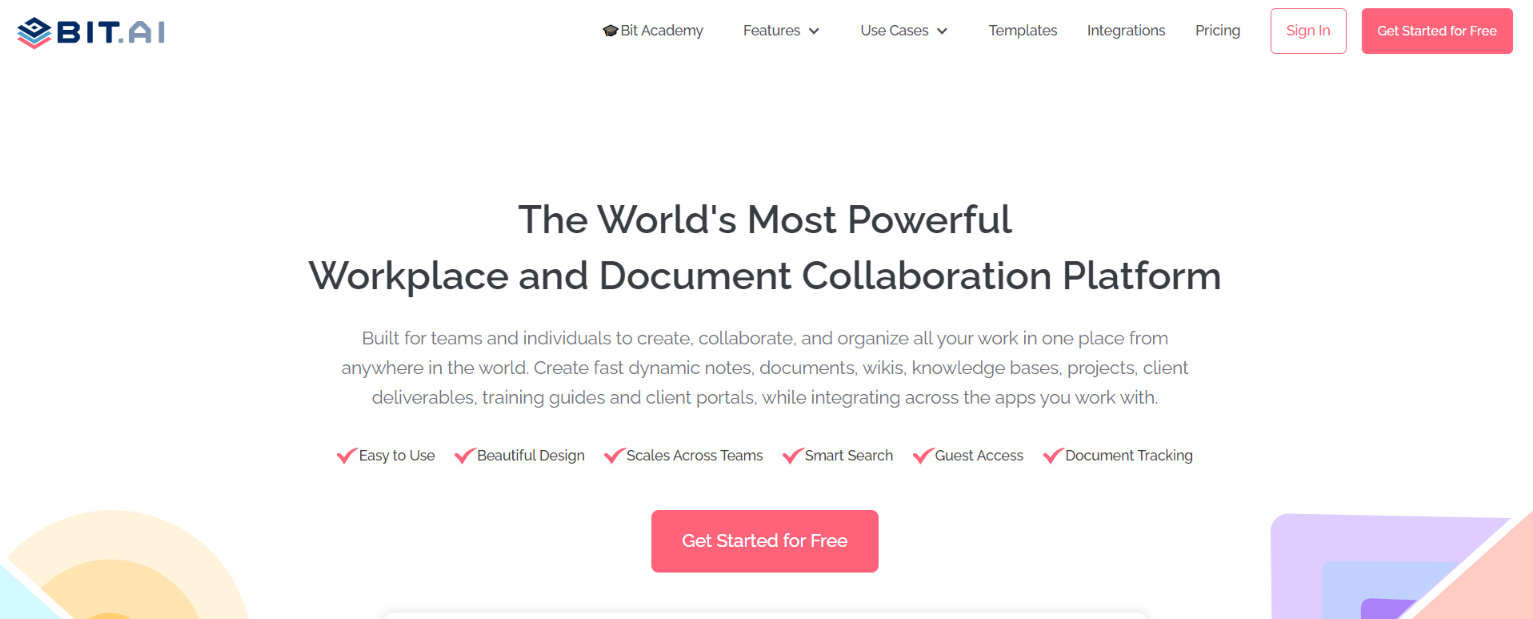 Use Bit.ai to create a 'live' sales sheet that highlights your content, is easy on the eyes, and inspiring to look at! You can easily share this sheet with internal teams, interested stakeholders, and prospective clients.
Bit's workspaces are a smart way to keep all of your work in one space for your team to access. The best part? You can create many workspaces!
You can work with your sales team in real-time co-editing and use inline comments to bring your colleagues to the same place to discuss work and make decisions.
Bit.ai is all action-oriented and easy to use, so you can have your best sales year ever!
Our team at bit.ai has created a few awesome sales templates to make your sales process more efficient. Make sure to check them out before you go, your sales team might need them!
Final Words:
While the flyer or brochure can provide a brief overview of your product and service, a sales sheet can give a more in-depth approach to marketing your product.
Once your product hits the market, the sales sheet is a marketing material that you must create!
The sales sheet should be visually compelling, neatly formatted, and persuasively worded with a definitive call to action for interested prospects.
At the end of the day, your sales sheet is just that — YOUR sales sheet.
You're going to have to tailor your efforts to best highlight your product.
Remember: While your one-sheet doesn't have to be a piece of fine art, it must be professional!
It's not rocket science, but a lot of marketing professionals believe that it's been the rocket fuel that took their sales team to the next level.
All jazzed up and ready to put together your sales sheet? Let us know how it goes by tweeting us @bit_docs!
Further reads:
9 Sales Collateral Examples You Should be Using in 2022
Sales Territory Plan: What is it & How to Create it?
Knowledge Management System Guide For Better Sales
The Ultimate Guide To Sales Enablement Content
Top 21 Sales Enablement Tools That Will Empower Your Team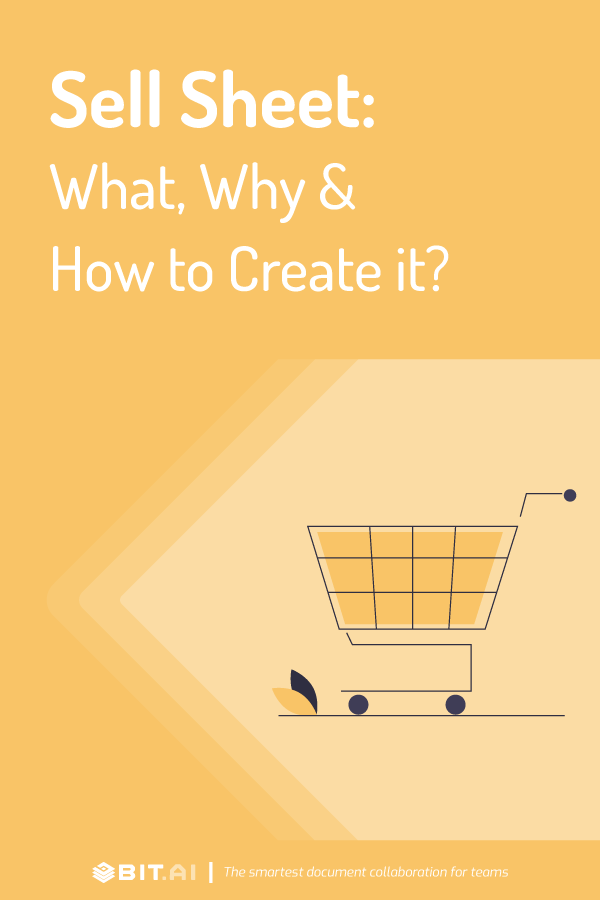 Related posts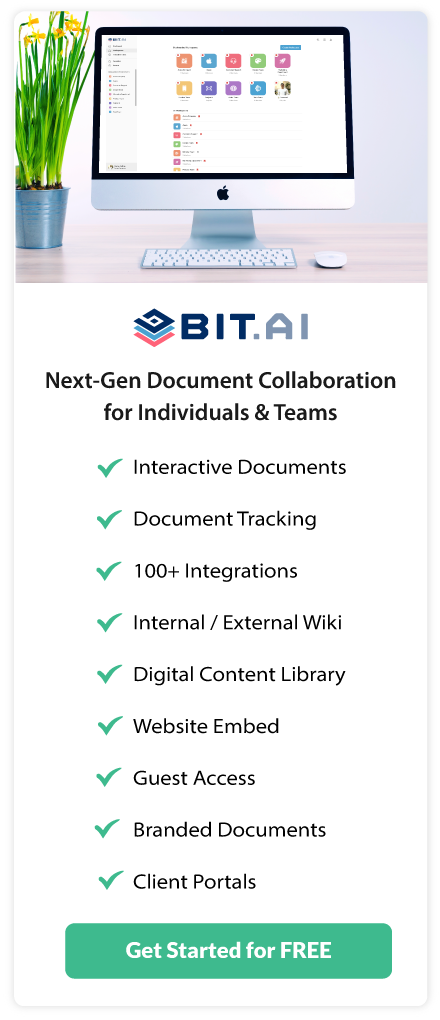 About Bit.ai
Bit.ai is the essential next-gen workplace and document collaboration platform. that helps teams share knowledge by connecting any type of digital content. With this intuitive, cloud-based solution, anyone can work visually and collaborate in real-time while creating internal notes, team projects, knowledge bases, client-facing content, and more.
The smartest online Google Docs and Word alternative, Bit.ai is used in over 100 countries by professionals everywhere, from IT teams creating internal documentation and knowledge bases, to sales and marketing teams sharing client materials and client portals.
👉👉Click Here to Check out Bit.ai.