Salespeople are arguably one of the most important elements of a business. They are the ones who interact with the end-user, trying to educate and persuade prospects to help them convert into customers. Since the entire premise of a business revolves around customer acquisition and retention, salespeople need to be equipped with all the knowledge, tools, and resources they need to do their jobs well.
However, data shows a different view
As data suggests, salespeople are underperforming significantly and it's not entirely their fault. Not equipping them with proper knowledge and resources is one of the main reasons of sales failure. This is where sales collateral comes in.
Sales collateral is anything that helps salespeople do their job and move prospects down the sales funnel. This can be any type of printed or digital resource- media, information, or any content that helps close more deals. Let us dive deep into sales collateral and explore some examples of evergreen sale collateral. Read on…
What is Sales Collateral?
Sales collateral is essentially a resource that helps prompt a prospect through the sales funnel and eventually converts them into buyers. Any knowledge, information, media can be sales collateral as long as it aids the sales process. From the classic flyer to modern-day social media posts, sales collateral are diverse materials aimed at different prospects at different journeys of their buyer's life cycle.
The purpose of these collaterals is to give buyers, the information they need to select your product or service. This also helps salespeople to support their case by sophisticated presentations, brochures, or case studies.
A whopping 70% of a buyer's journey is completed before the buyer even reaches out to sales. In today's digital world buyers are more empowered than ever, hence salespeople should always be ready with the resources they need to close deals.
Sales Collateral Examples You Must Use:
Sales collateral can take many forms depending upon the need of the prospect and its position in the sales funnel. While some prospects are ready to buy while others may be simply scanning options.
Therefore, your sales team needs to be ready with different collateral for different stages of the buyer's journey. Let us explore some of the best sales collaterals out there and how you can utilize them to close more deals:
Sales playbooks
Case studies
Corporate brochures
Blog posts
One-pagers
Presentations & sales decks
Explainer videos
Email templates
Sales scripts
1. Sales playbook
A study by the Aberdeen Group reveals that 54% of salespeople using sales playbooks are likely to meet their sales target versus just 46% when no playbook is available to the sales team. Moreover, "Best in Class" sales teams (top 20%) are more than twice as likely to deploy sales playbooks compared to "Laggard" teams (bottom 30%).
A sales playbook is nothing but a reference document for new as well as existing salespeople. It has all the resources, company information, target market info, software tips, strategies, and more to help out salespeople do their job easily.
With crucial information like tutorials, hacks, email scripts, competitive intelligence, buyer personas, and other sales enablement content, it's like a sales bible for every sales rep in a company. Playbooks are important as they ensure everyone has the same access to knowledge and resources as they try to hit their goals.

Read more: Sales Sheet: What is it & How to Create it? (Steps Included)
2. Case studies
Case studies are more about stating facts and less about selling your product or services. They describe the problems faced by the "case" (a.k.a. the customer), the solution they used (i.e. your product), and the outcome using the solution.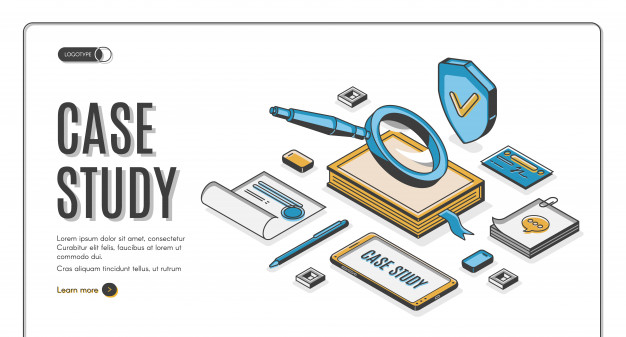 More than 72% of consumers say that positive reviews make them trust a local business more. This is why case studies, which act as an elaborate form of testimonials, are crucial when approaching a prospect.
Positive feedback from existing buyers builds trust and credibility for the product and leads to new customers to take the leap, thus case studies can be one of the most powerful tools a sales rep can use. Depicting the success previous customers have had with your product strengthens your case and adds integrity to the company, its products, and services.
Read more: 12 Sales KPIs Your Sales Department Should Measure!
3. Corporate brochures
Brochures are age-old sales collateral that still holds its value in our digital world. These include printed materials such as pamphlets, guides, and flyers. In the age of Facebook groups and tweets, traditional brochures and flyers are still doing their job! They are particularly prominent in the service industry and do a great job of making the first contact with a prospect.
If you want to create digital counterparts to your physical brochures, you can use a design tool like Canva or PicMonkey. You can easily create digital brochures or flyers and then embed them on your website, share them on your social media accounts or via your email newsletter, and more.
4. Blog posts
Marketers often use content marketing and blog posts to attract visitors to the company website in hopes of them signing up for their product offering or contacting the sales team.
The sales team should also be made aware of the blog posts that do well as it will help them understand what the target customer is looking for online. Having this knowledge is crucial as it allows reps to focus directly on the pain points of the prospect rather than giving them the whole nine yards and risk losing their interest.
5. One-Pager
As the name suggests, a one-pager is a single-page document highlighting your business, products, and service information. Think of one-pagers as a one-page pitch for your business. One-pagers help prospects quickly go through your business overview and compare different solutions.
By giving the reader, a brief, concise, and to-the-point summary of your business, product, or service, you try to catch their attention and subsequently, get them excited about doing business with you. It's a great way to make a good first impression so make sure you use a template like this to create an awesome one-pager.
6. Sales decks
Sales decks and presentations are nothing but PowerPoint you use to persuade prospects and clients during a sales meeting. These are used for the first major interaction with a prospect and describe customer problems and how your product solves those problems.
Sales decks are usually the tipping point that decides whether or not you will convert your prospect into a customer. Every sales deck can be broken down into three sections:
The problem that exists in the world currently,
The solution your business presents,
And lastly, how will the prospect benefit from your solution.
If you want to create amazing sales decks and presentations, take a look at this resource for inspiration: The Best Sales Deck Examples To Revamp Your Sales Strategy
7. Explainer videos
While sales decks can only help you convert one prospect at a time, explainer videos can be scaled infinitely using the internet. Videos are a great way to explain your product or service to prospects in a visual manner.
With numerous options like YouTube, Facebook Watch, Snapchat Stories, IGTV, Vimeo, etc., you can publish explainer videos all over the internet and let the prospect come to you.
As data suggests, people would rather watch a video than read about your product or services, making them a must-have sales collateral in your arsenal. Make sure to make your explainer videos interactive, high quality, and informational. If you don't have a video editor on board, use a tool like Biteable to create top-quality videos easily.
8. Email templates
The email has been an age-old communication between salespeople and prospects and continues to dominate in the age of social media.
More than 86% of businesses surveyed indicate that they plan to increase their upcoming email marketing budgets as the number of email users continues to rise worldwide. However, simply sending emails to prospects is barely the first part.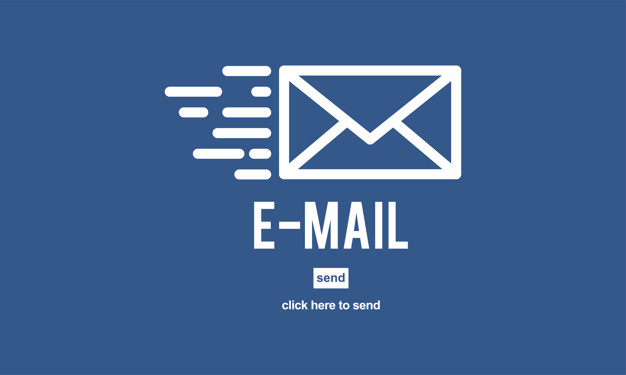 Making sure those emails look amazing, have informational content, and are extremely targeted must be on top of your priority before clicking "send".
Did you know that only 24% of sales emails are opened? With so much effort being wasted, the sales team must have several pre-designed email templates to test their outreach campaigns and see what works and what doesn't.
They should have email templates for different stages of the buyer's journey including outreach, followup, check-ins, and more.
If you are looking for awesome email templates, check out this resource: 15 Responsive Templates for Gmail Newsletters
9. Sales scripts
Communication is one of the most fundamental parts of the sales process. In fact, 92% of all customer interactions happen over the phone. This is why it's crucial to have a reference point for salespeople to keep the conversation going in the direction they want.
Sales scripts work wonders in such cases, making sure that the sales rep is in line with the topic of conversation, and all of the product's value propositions are touched upon.
Sales scripts do not have to be monotonous or give your salespeople a robotic conversation style, they can be as brief with key talking points to keep the conversation meaningful. While experienced salespeople only require a small list of points, beginners or trainees can be equipped with a detailed script to boost their confidence.
Before you go!
Our team at bit.ai has created a few awesome sales templates to make your sales process more efficient. Make sure to check them out before you go, your sales team might need them!
Final Words
Sales collateral is an indispensable way of boosting your sales conversions and drive revenue. Not only do these materials help guide the sales team to success by equipping them with tools and resources, but it also keeps the sales team in the loop with the rest of the company.
So what are your thought on sales collateral? What collateral does your sales team use the most? Let us know by tweeting us at @bit_docs. Cheers!
Further reads: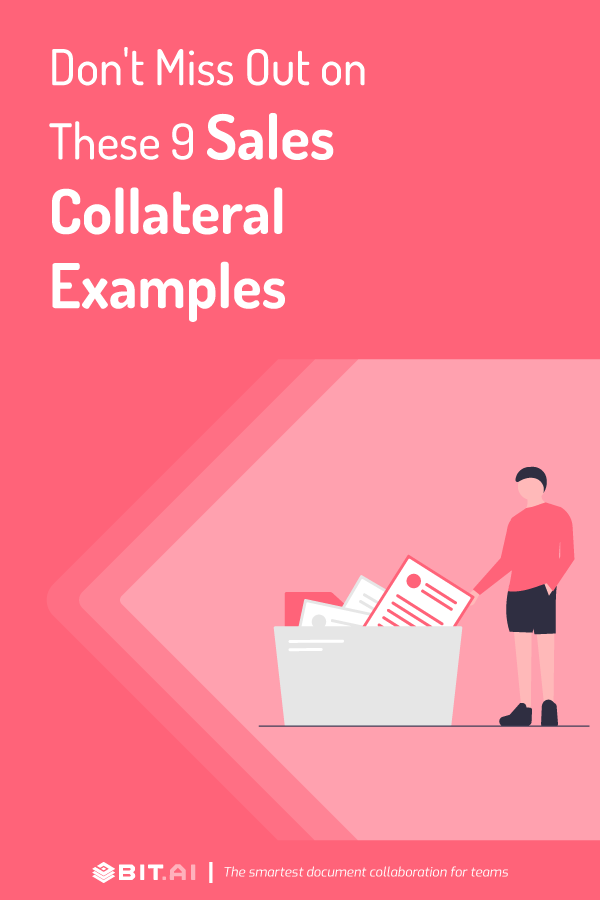 Related posts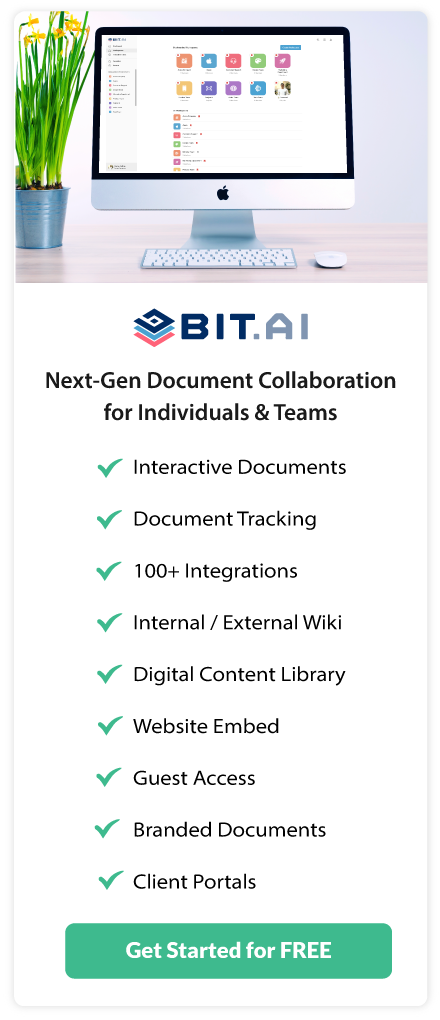 About Bit.ai
Bit.ai is the essential next-gen workplace and document collaboration platform. that helps teams share knowledge by connecting any type of digital content. With this intuitive, cloud-based solution, anyone can work visually and collaborate in real-time while creating internal notes, team projects, knowledge bases, client-facing content, and more.
The smartest online Google Docs and Word alternative, Bit.ai is used in over 100 countries by professionals everywhere, from IT teams creating internal documentation and knowledge bases, to sales and marketing teams sharing client materials and client portals.
👉👉Click Here to Check out Bit.ai.