Content curation is something all marketers do whether we use this fancy term or not!
We'll walk through what content curation is and why it's so important for marketers to implement and share the 10 best content curation tools that will help you curate content like a pro!
The World Wide Web is a dynamic kingdom, and 'content is king'. This might be an old, overused saying, but its meaning only keeps intensifying as time progresses.
The entire digital spectrum is comprised of content that is the genesis of so many marketing and digital marketing strategies today.
Content is the anchor to your brand image, your presence online, as well as your marketing strategy. No matter how many promotional tricks you have up your sleeve, or how many Neil Patel tools you have in your arsenal for your digital marketing strategies.
If your content isn't engaging enough, then all the strategies you implement are going to flop. Period. But creating engaging and informative content from scratch is a mammoth of a task, and definitely takes a lot of time and effort.
There's the added pressure of shelling out better content than your competitors that are already out there, getting appreciation from search engines and readers alike.
This is where content curation comes in. It's a faster way of generating content that will surely attract an audience, by only taking half the effort to create.
What Is Content Curation? (Definition & Meaning)
When I came across this term for the first time, it sounded foreign, it seemed like a technical form of content creation that I wasn't familiar with. What I didn't realize, is that we curate content on a daily basis without even realizing it!
Remember those listicles people love so much? They actually fall under the category of content curation. If you've ever created a listicle on any given topic, or even if you have simply suggested a list of top horror movies to a friend, you've curated content. It's as simple as that!
Content curation means picking out content on a particular topic from the web, adding in your personal touch or perspective, and then sharing it with others.
But hold your horses for a minute – it's not as easy and simple as we've made it sound.
Let's suppose you run an art gallery. You have to pick out paintings with a certain depth and creativity that art connoisseurs can marvel at. Moreover, they have to be convinced to take those paintings home.

You can't just throw together a collection of paintings with repetitive or common designs and call it a day. Your collection should stand out, and by a good degree so that people keep coming back for more.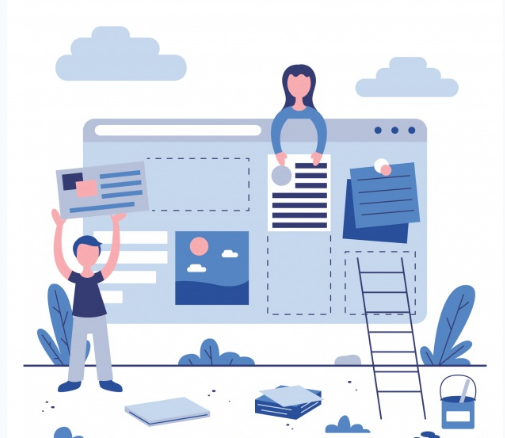 This is where curation gets tricky, which is why we'll be suggesting the best free content curation tools that could make your work easier and help you put your best foot forward.
Before we get into that though, let's delve a little more into detail about why content curation is important.
Why Is Content Curation Important?
The entire need for content curation arises because we have an endless sea of information available online. Nobody has the time to scan through all the limitless content and find what's the best and most relevant to them.
Only 21% of searchers click more than one result. Because content today is being created in abundance, you can do the math and get a good enough idea of just how much content gets lost to the competition.
Also, 65% of content creators struggle to produce enough quality content to establish an engaged audience.
This is why content curation is so relevant in today's world. There are also a number of other things that content curation is helpful with:
1. It Helps In Growing Your Audience:
It's not very easy to create fresh and stimulating content all the time. There's a considerable amount of research and thought the process that goes into creating a meaty piece of content that will be cherished by all. Especially in today's dynamic world where people have access to so much information.
If you use content curation, you can easily keep posting curated lists on the go, and you won't have to worry about your audiences forgetting about your existence just because you aren't able to create new content as frequently – from web content, blog content, email newsletters, social media posts and more!
2. Helps In Building relationships:
Through curation, you're essentially giving a shout-out to other content creators by mentioning their articles or products.
This is a solid way of building relationships and networking. These influencers might end up getting impressed and sharing your curated content with their followers through their social media accounts!
Read more: 25 Digital Marketing Tools That Will Help Every Marketer 
3. It's ethical:
Plagiarism is a red flag in the content creation world. As discussed above, creating content from the start can be a laborious task.
The pressure of staying relevant can sometimes make people resort to malicious practices like copying content from other sources.
This is unethical and never goes a long way for anybody. With content curation, you're not copying or taking credit for anybody else's work. You're actually just referring to their work, and moreover, you're garnering attention for it. This is why content curation isn't just socially acceptable, it's socially revered.
4. Increases credibility:
If you're curating content on a given topic, then you're essentially establishing your expertise on that topic. You're going to be reviewing the best options available to people.
If you add in your own insight as to why a certain element made it on your curated list, people are going to take that into consideration. If your curated content ends up helping people, you'll become a trusted source, and people will definitely come back for more.
5. Helps your audience: 
Search engines are filled up to the brim with information on any given topic you can think of. What's challenging for readers today is not to find content online, but to find out what's best and what will provide them with the most value. This is when content curation plays the role of a savior.
Curated content gives your audience the best information from the most trustworthy source, that's the whole point of it. Rolling out curated content for your audience will help them save time, and they will thank you for it.
If you want to extract these benefits, then you need to be able to do it professionally. Our list of the best free content curation tools is definitely going to help you do that.
Our Recommended List of Best Content Curation Tools:
elink
Bit.ai
Flipboard
Listly
Paper.li
Feedly
Pocket
Triberr
Scoop it
ContentGems
DrumUp
Let's go through each one of them in detail and decide which content curation tool is the best fit for you!

elink is a smart content curation tool that will help you create beautifully designed curated lists, website content, blog content, newsletters, social bio links, and much more within minutes!
There are 30+ responsive layouts and templates that you can choose from. Once you've added relevant links, elink will automatically turn them into distinctive and aesthetic-looking visual blocks, depending on the layout you've chosen.
You can edit the weblink image, title, and description that are automatically pulled. Quickly add a header image and introductory text via this content curation tool.
Customize your fonts, text colors, background colors, and more! There's also an option to update the SEO settings of your elink posts so you can add keywords and meta descriptions that will make your content more search engine friendly.
Once you're done curating you can have various ways elink helps you share your curated content. You can share it via an email newsletter, website content, single web page, social media content, and more!

Bit.ai is a new-age document and content collaboration tool that helps teams collaborate, share, track and manage all company knowledge in one place. Apart from being a great documentation tool, Bit brings all your content in one place, making it a versatile content curation tool.
You can add any weblink- Youtube video, Spotify, PDFs, cloud files, social media content, maps, charts, spreadsheets and more to a Bit document and can even embed this document on your website.
If you curate content in a team or with a colleague, Bit provides a great way to collaborate and save content easily in one location. Bit also has robust workspaces to keep everything organized. In this way, your curated content can stay in separate folders, making it easy to locate and use when necessary.

Flipboard is a smart news aggregator that collects news based on the user's preferences and interests. What has really resonated with people about this tool is that it organizes news articles in a beautiful magazine format that's easy to use.
Apart from articles, there are videos, podcasts, tweets as well that you'll see on your Flipboard timeline.
You can collect news articles from different sources and create your own curated magazines by adding in those articles to new or existing magazines under your profile.
You can curate these magazines based on a particular niche that interests you or a particular source that you like reading from.
 With this content curation tool, you can also subscribe to public magazines from other viewers or businesses.

List.ly, according to co-founder Nick Kellet, is "true social curation with lists as a metaphor." List.ly helps you curate lists on any given topic and share them easily. You can extract content from websites, videos, social media, etc.
You can add items with or without links to your lists. One of the great benefits of this content curation tool is that you don't have to limit yourself just to text or link-based lists. You can add in Youtube videos, or SlideShare presentations, or even both!
You can allow other people to edit and add to your lists, and share them on your website using Listly's WordPress, Universal and iFrame embed methods. Listly also has a chrome extension, which makes this curating content tool all the more convenient to use.

With Paper.li, you can curate newspapers based on your chosen topic by extracting content from Twitter, Facebook, RSS feeds and much more. Once you choose a topic, then Paper.li will automatically incorporate photos, video clips, stories on that topic and build you a beautiful newspaper.
You can also add #hastags that you want it to track, Twitter lists of other pages, blog feeds, trending hashtags. You can select general topics that you want to include and deselect those that you do not.
Through this content curation tool, you can also send your collected content easily through social media, or email newsletters.

Feedly is a robust feed reader that gathers the latest content on any given topic and stores it into one convenient place. It is one of the best alternatives for RSS feed readers.
You can choose a multitude of topics and bookmark your favorite content, and also save it for later if you don't have the time to go through it.
Unlike other content curation tools, you can make different boards to cover different topics and keep everything organized. Feedly fetches content from websites, social media, YouTube videos, etc.
You get automatic updates whenever news stories and videos are published. You can also share your collections with people which is a new feature that Feedly has added to extend its benefits.

The amount of content we consume today is huge, but so many times it happens that we come across content that we'd like to read but can't because of an
ever-present
time crunch.
Pocket is a content curation tool that can help you 'pocket' or save content that you want to read for later, on the go.
And what's best is it organizes all of this content in one place so you don't have to go to different places to read it.
It doubles as a discovery platform where users can browse through interesting new content posted by major publications and other content writers or curators.
You also get daily updates on the most 'pocketed' content online. This tool is great for users who are just getting started with content curation!

Triberr introduces a different concept of content curation than the ones we've been reading about so far.
This content curation tool allows you to connect with top bloggers and industry leaders. You need to join a tribe, begin curating content, and then share it. A tribe is basically a community or interest group containing top bloggers in your area of interest.
Triberr also helps brands find and connect with influencers through influencer marketing and a self-serve top content curation tool.
Based on your chosen topics, Triberr automatically updates content for you from various platforms from across the web. It's an effective tool for anybody who is trying to do networking or increase their social media presence.

This savvy content curation tool allows you to 'scoop' all relevant content and create boards around several topics.
It is a tool that has been vouched for by around 4 million-plus marketers. You can easily discover content according to your topic of interest.
Once you select a topic and the keywords surrounding it, then Scoop.it will automatically curate relevant content for you.
Anybody can easily share this curated content or 'boards' easily through social media, and even embed them on your website.
This content curation tool also allows social engagement by providing you information about other individuals who are also interested in your chosen topics.
This combination of social engagement plus content curation is what makes Scoop it stand out.

ContentGems is essentially a content discovery tool within a content curation tool.
Discovery is a huge part of content curation because you want to serve your audiences with top-notch content that is the latest and the most informative. The USP of this tool is that it will do that part of the job for you.
It scans a plethora of articles from the best and the top sources related to your topic and provides you with timely content. You can also share curated content to multiple platforms at the same time by using its custom workflows feature.
You can make a list of 'actions' that direct the tool to share content on various platforms, and it will be done without you having to go to different social media platforms again and again to share. I think this is a super convenient content curation tool for marketers who are present on a multitude of platforms.

Think of this content curation tool as an intelligent social media manager. With this tool, you can easily 'cut Twitter, Facebook and LinkedIn management time by 90%'.
 DrumUp mines through tons of content across the web in real-time, and uses sophisticated algorithms to recommend fresh stories most relevant to your audience.
There's also a chrome extension you can add to the bookmark and save content as you read it. This tool also has built-in analytics that helps you assess the audience engagement you're getting for your product on social media platforms.
You'll also be getting smart hashtag recommendations that can help you increase the visibility of your content.
All in all, we think this content curation tool is quite complete when it comes to features and functionality, and you won't have to use a lot of tools if you're using this one.
Parting Words
Content curation might seem like an easy task, but that is a common misconception associated with it. It's definitely easier than content creation, but it still needs considerable effort if you want to provide your audience with high-quality content.
Using these best free content curation tools can help you do this rapidly. You need to choose which tool suits you the best wisely and taking a lot of factors into consideration.
That said, if you get the hang of content curation and master the art of doing it the right way, there will be no stopping your curated content from powering through and standing out!
Further reads: 
Top Content Creation Tools For Marketers
Top 10 Content Collaboration Platforms In 2022
Top 11 Social Media Management Tools For Marketing Teams
Social Media Proposal: What is it & How to Create it?
13 Best Marketing Automation Tools To Help Grow Your Business

Related posts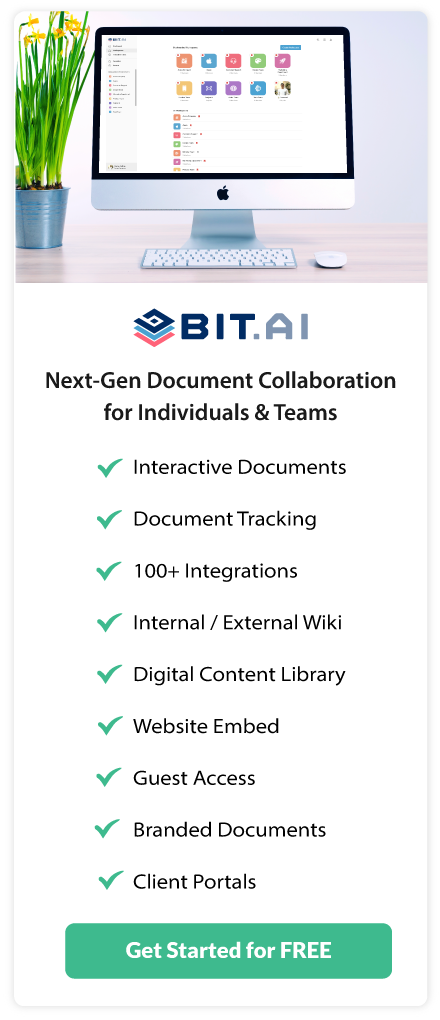 About Bit.ai
Bit.ai is the essential next-gen workplace and document collaboration platform. that helps teams share knowledge by connecting any type of digital content. With this intuitive, cloud-based solution, anyone can work visually and collaborate in real-time while creating internal notes, team projects, knowledge bases, client-facing content, and more.
The smartest online Google Docs and Word alternative, Bit.ai is used in over 100 countries by professionals everywhere, from IT teams creating internal documentation and knowledge bases, to sales and marketing teams sharing client materials and client portals.
👉👉Click Here to Check out Bit.ai.