What do you do when you want to buy a new product or service? You go to Google (or any other search engine), and you type in what you are looking for.
You are then barraged with a ton of content- blog posts, articles, white paper, ebooks, videos, and more – each trying to offer you some value. It's one of the reasons why brands have started making use of content to reach out to customers and deliver value.
As consumer behavior switched to more research-based buying, the content has become a crucial tool for marketers. As content became more popular and significant, a whole new vertical of marketing- called content marketing was born.
Why Content Creation is Important for Brands?
Content has always been the backbone of the internet since its origin. Marketers and brands are now realizing the great power it holds.
Content marketing is a marketing strategy that aims to provide valuable and informative content to people with the objective of converting them into customers. Content is not limited to Google and search engines though.
Creating fun, engaging and powerful content for social media also plays a huge role in staying customers' top of mind and spreading awareness. Take a look at these stats:
The above stats show why content creation is one of the topmost priorities of marketers and brands these days. A staggering 91% of B2B marketers use content marketing as part of their marketing strategy while 86% of B2C marketers think content marketing is a key strategy.
Challenges with Content Creation
Creating valuable content to help prospects and convert them into loyal customers sounds great until you actually have to sit down and do the work.
Consistency is key in content marketing. However, creating good content consistently requires a lot of time, money, and effort.
Data from Linkedin Technology Marketing Community reports the two biggest content marketing challenges are:
Lack of time and bandwidth to create enough content.
Producing enough content in variety and volume.
If you are a solopreneur, a busy marketer, or a small business owner, finding time to create quality content on a daily basis can be exhausting, to say the least. This is why we curated a list of some of the best content creation tools to help you out with the heavy lifting.

List of Content Creation Tools You Must Try
Creating content is no joke. From writing, editing, designing, and collaborating to sharing, engaging, and analyzing- content creation and distribution can be a tough job. This is why 64% of marketers want to learn how to build a better content strategy while over 60%  find it hard to produce content consistently.
However, there are a plethora of tools out there that can help you dish out awesome content in no time.
 If you want to stand out from the noise and generate content that makes a difference, the following content creation tools will surely help!
Note: We have divided this list into 9 broad categories to help you find the perfect content creation tool based on your requirements. The list contains some tools to help you generate content, while others help to distribute it.
So without further ado, let's get started…
Content Writing Tools
Content Editing Tools
Graphic Design Tools
Video Creation Tools
Email Marketing Tools
Content Collaboration Tools
Infographic Creation Tools
Screen Capture Tools
Social Media Tools
Content Creation Tools for Writing
The tool you use for creating blog posts, articles, or social media copy can make the process of writing a lot easier or unnecessarily complex, depending upon your choice of tool. Here are some of the best ones out there:
If you are looking for a new, advanced yet simple editor, look no further! The core value proposition of Bit's editor is the ability to work collaboratively with your peers on writing projects. Multiple people can simultaneously collaborate on a Bit document in real-time.
If you are working on a solo project and need suggestions and feedback from fellow writers or friends, you can invite them to the doc. Your friends or team can then highlight changes, add comments, and can even chat with you, without leaving the document.
However, what makes a great writing tool is its editor. Bit's smart, minimal editor is perfect for distraction-free writing. No more word-styled ribbon with confusing and distracting tabs and buttons.
Just start typing on a blank canvas and you're good to go. If you need to format the text, just highlight the word/sentence/paragraph and you're presented with a hidden set of formatting tools! All in all, Bit is a modern-day editor that makes writing fun and distraction-free!
Key Features
Markdown support to write quickly
Distraction-free editor
Real-time collaboration with fellow writers and peers.
Pricing: 
Free plan with limited features
Paid Plans starts at: Standard ($12/user/month), Plus ($20/user/month), Enterprise (contact sales)
If your work heavily depends on writing, you might want to get a feature-rich tool like Scrivener. This writing tool is used by students, academics, novelists, screenwriters, journalists, lawyers, translators, etc. and can be used to create anything from a white paper to a full-fledged screenplay.
Scrivener is perfect for long writing projects as you can easily organize and structure your entire manuscript and tell a coherent story. If you are a beginner, Scrivener can feel a bit over the top and intimidating but is a fine tool nonetheless.
Key Features
Export content to any of the popular formats like PDF, Word, ePub, Final Draft or just plain text
Copy-paste formatting from one text section to another
Can even import images, movies, sound files, Word documents, draft scripts, plain text files, and web pages.
Pricing: 
Free with limited functionality
Paid plans start from: $40.84/one-time
According to data, eight out of 10 people will read headline copy, but only two out of 10 will read the rest! Since 80% of the people never get past the headline, it's crucial to write headlines that convert. Taking your time coming up with a headline is always worth it as they can determine whether your content gets read or not.
Since it's such an integral part of the whole writing process, we thought of introducing you to our favorite headline generator, Coschedule Headline Analyzer. The tool examines the overall structure of your text, length, keyword density, grammar, and readability of your headline, and even gives Google search and email subject line previews.
Key Features
You can use it for writing headlines for your blog posts, email subject lines or social media messages.
Free tool
Helps drive more click-throughs, social shares, sales, and more.
Pricing: 
Explore more: Best Writing Tools For Creative Writing
Content Creation Tools for Email Marketing
More than 86% of businesses surveyed indicate that they plan to increase their upcoming email marketing budgets, showing that email marketing is still a significant and vital component of any company's marketing mix. Here are some awesome tools that are going to help you out with email marketing:
Did you know that an astounding 83% of marketers and salespeople use email newsletters for their content marketing? Newsletters are awesome marketing material, but require too much time and effort to create. Not anymore!
elink.io is an amazing all-in-one content curation & marketing tool that helps marketers and content creators publish email newsletters, web pages and embed web content by just adding web links!
You can convert link collections to email newsletters and export to MailChimp, Gmail & all third-party email providers that allow HTML code (including Campaign Monitor, MadMimi, Active Campaign, etc.). elink is a feature-packed tool that every content marketer should be using.
Key Features
Analytics to track content performance and engagement levels
30+ beautiful prebuilt responsive layouts, so you never have to worry about design and can just focus on your content.
Quick, easy, and fun to use!
Pricing: 
Free with limited functionality
Affordable Paid plans: Pro Monthly ($15/month), Pro 1 Year ($12/month), Pro 2 year ($10/month).
Looking to automate nearly all of your marketing activities? Hubspot is a full-fledged marketing solution that provides marketing automation, lead generation, customer service, sales management- all in one tool.
Over 70,000 customers trust Hubspot for their marketing and sales automation and for a good reason. The tool has an amazing onboarding experience with plenty of videos and blog posts to help you guide through the whole product experience. However, the tool can be a bit overwhelming if you don't really know what you are looking for.
Key Features
Lead Generation
Automates your marketing and sales activities
Create automated workflows and trigger email
Pricing: 
Free with limited functionality
Paid plans start at: Starter ($35/month), Professional ($560/month), Enterprise ($2240/month).
The last one on our list of awesome email marketing tools is an email tracker that works in your browser. Mailtrack is a simple and easy-to-use email tracking tool that works as a Chrome Extension and is being used by over 1,300,000 users worldwide.
Just hook it up and Mailtrack will notify you whenever someone has opened up your email. It adds a double tick symbol next to your email, similar to what your Whatsapp messages get after being read (or delivered). If you want a simple yet effective email tracker that gets the job done, Mailtrack is a great tool.
Key Features:
Real-time, WhatsApp like notifications
Quick and easy to setup
Sleek interface
Pricing: 
Free plan with limited features.
Paid plans start at- Monthly ($4.99/month), Quarterly ($3.99/month), and Yearly ($2.49/month).
Explore more: 14 Email Tracker Software You Ought To Try Out!
Content Creation Tools for Optimization and Editing
Editing and optimizing your content is as important as writing it. Here are a bunch of tools you can use to edit and optimize your content for maximum returns:
Grammarly looks like a basic spell checker, but it is so much more than that. Calling itself a "writing enhancement tool," Grammarly contains a plethora of features to improve your writing and make it perfect. Some of these features include a punctuation checker, grammar checker, plagiarism checker, spell checker, and even a tone checker.
It scans your document for more than 250 types of grammar errors and 6 different writing genres. The tool takes it up a notch by providing you with word replacements and recommendations, a detailed explanation of errors, and even weekly progress reports! Tools like Grammarly help you a lot with content creation without worrying much about grammar mistakes and spelling errors.
Key Features:
Word recommendations and analyses sentence structure and voice
Available as a browser extension, desktop app, Microsoft Office add-on and more
Works on social media and email as well
Pricing: 
Free with limited functionality
Paid plans start from: Premium ($11.66 per month), Business ($12.50 per month).
Another great editing tool, Hemmingway helps you write better by highlighting your text giving you valuable feedback on how you can improve it. Simply copy-paste your text into the Hemmingway editor and let Hemmingway do the rest.
The app will analyze each word of your document and give you recommendations on how to improve your sentences. It will highlight long, complicated sentences and common errors, passive voice, adverbs, and suggest options to improve flow and readability.
Key Features
A great tool to make your writing look more professional
Formatting toolbar to edit text easily
Provides suggestions and alternatives
Pricing: 
A content intelligence platform, AtomicReach wants to get the most out of your written content- blog posts, social media, emails, landing pages, Google ads, and more. It provides marketers with insights and tools required to get the highest return from their written content.
Atomic Reach makes use of artificial intelligence and machine learning algorithms to analyze content and provides suggestions that are bound to resonate with your audience. This makes sure that marketers are creating content that's always on par with what their audience expects, thereby increasing the chances of conversions.
Key Features
Measure the impact of content intelligence on revenue and audience engagement
Discover words that drive engagement in your content.
SEO suggestions and performance tracking in-built
Pricing: 
Content Creation Tools for Social Media and Blog Graphics
Data suggests that social media posts that include images produce 650 percent higher engagement than text-only posts. Since graphics play a huge role in content creation, it's important to have an easy-to-use graphic design tool at your disposal. Here are a few of the good ones:
Our go-to tool for creating various social media and blog graphics is Canva. One of the easiest and the most user-friendly image creation tools out there, Canva makes it easy for anyone to create visually stunning graphics, thanks to its library of thousands of ready-made templates.
Canva allows users to create visual assets for nearly all purposes- Instagram ads, Facebook covers, YouTube channel art, posters, flyers, wallpapers, ebook covers, videos, album art, Google banner ads, social media graphics, posters, resume, presentations, online ads, certificates, infographics, album art, wallpapers, flyers and so on. It also offers free video courses to help you create better designs with Canva.
Key Features
Thousands of templates with amazing designs
Millions of stock photos, clip arts, and icons to use and make your design unique
Collaboration features to tag friends or co-workers and get their feedback on designs.
Pricing: 
Free with limited functionality
Paid plans start from: Pro ($9.95 per user per month), Enterprise ($30 per user per month)
Read more: How to Embed Canva Designs into Your Documents? 
Next up is PicMonkey, a web app that lets you create awesome designs as well as edit your photos without downloading any software. If you don't know anything about design and get apprehensive by the sheer mention of Photoshop, PicMonkey is the tool for you.
PicMonkey offers a wide range of features such as filters, fonts, effects, touch up, collage, filters, stickers and much more- all of which are free. However, advanced features like advanced touch-up tools unlimited photo storage, premium templates, etc. are all paid. Overall, it's a great tool to create social media graphics and light editing.
Key Features
Collaborate and leave comments for feedback
Cloning and masking tools for advanced photo editing
Hundreds of fonts and templates to choose from
Pricing: 
Free with limited functionality
Paid plans start from: Basic ($7.99/month), Pro ($12.99/month), Team ($33.99/month)
The last one on our list is BeFunky. Like Canva and PicMonkey, BeFunky is also an easy-to-use software that allows you to edit photos, create collages, design graphics, and more. The cutout tool makes it easy to remove background from images in a single click, something that's often hard to do in tools like Photoshop.
There's a Touch Up tool that lets you beautify your portraits and selfies in no time. BeFunky has also partnered with Pixabay and Unsplash to provide its users access to over a million stock photos, right inside their web app!
Key Features
One-click collage maker
Thousands of vector graphics and icons
Additional editing features like Cartoonizer, Digital Art, and Enhance DLX, Batch editing and more
Pricing: 
Free with limited functionality
Paid plans start from: $6.99 per month
Explore more: Top 11 Social Media Management Tools for Marketing Teams
Content Creation Tools for Video Creation
Studies show that 54% of consumers want to see more video content from a brand or business they support. Everyone loves watching videos online, making it a lucrative marketing medium for brands. Here are some tools that can help you create stunning videos:
Kicking off this list is Apple iMovie. A tool exclusive to Mac users, iMovie is a simple yet powerful tool to create and edit and share amazing videos for your marketing endeavors. If you are a beginner in the field of video editing, iMovie is a good tool to start your journey with.
You can create 4k videos, add titles, effects, music, and create Hollywood-style videos quickly. With its 10 creative filters, you can give your videos that cinematic touch that will make them stand out. There's also a green screen that can place your video characters in exotic locations with a single click!
Key Features
You can send your movie via message, post on social media or can also publish it directly to YouTube
Change the speed of individual shots or add a photo-photo effect
Works with Mac, iPhone, as well as iPad
Pricing: 
Free with limited functionality
Paid plans start from: The base price per user for Office 365 Business and Enterprise Plans range from $5 to $30
If you write a ton of blog posts and are wondering how to leverage video marketing to your advantage, Lumnen5 is THE tool for you. With Lumen5, you can quickly create an engaging video right from your existing blog post.
Simply add a link to your blog post or article and Lumen5 will automatically fetch your content and populate the storyboard with awesome visuals. You can use hundreds of stock videos, add your company logo or color scheme, some background music, and voila, your video is ready to be published!
Key Features: 
Quickly convert blog posts into videos for social media
Tons of stock videos, images, music and more
One of the simplest video creator on the market
Pricing: 
Forever free plan that allows you to create 5 videos a month
Paid Plan starts from: Starter (19/month), Premium($49/month), Business (149/month), Enterprise (contact sales)
If you want to create more professional-looking videos and are not afraid to dive in with advanced tools and techniques, Adobe's Premiere Pro is as advanced as they come. Premiere Pro is one of the leading video editing software for Movies, TV, and the web.
Users can edit any footage in nearly any format- from high-definition 8k to even virtual reality clips! The tool also provides a space for collaboration as you can stock, organize, and share video assets and work together with your team online. A bonus is the Adobe Premiere Rush, a smartphone app that comes with Premiere Pro subscription and allows you to create and edit videos on the go to share on social media.
Key Features: 
Integrations with Adobe products like Adobe Stock, Photoshop, After Effects, and more.
Can edit videos from 8k to virtual reality
Auto-reframe converts your videos for social media with intelligent reframing
Pricing: 
7-day free trial
Paid Plan starts from: $19.99/month
Explore more: Top 8 Video Editing Software Anyone Can Use
Content Creation Tools for Content Collaboration
Good content requires the collaboration of writers, editors, designers, social media experts, and even salespeople. Effective collaboration can enhance productivity, stimulate creativity, improves problem-solving creates a sense of community and can lead to groundbreaking innovations. Here are some of the best content collaboration tools out there:
Creating a ton of valuable content means you need a place to write, brainstorm ideas, store marketing assets, and get feedback from peers. Having separate tools for each of the above-mentioned tasks is only going to add to your content woes. We have a better way- use Bit.
Bit is an all-in-one content management and collaboration tool to put down all your content ideas as well as resources (images, videos, PDFs, spreadsheets, etc) in one place so you can get work done 10x faster.
Marketers use Bit to collaborate by giving them a virtual roof to discuss campaign ideas, share social media designs, store marketing assets and more. With Bit's ability to track documents, marketers, and salespeople can track marketing proposals and see how their documents faired.
Key Features
Content management capabilities mean that users can store media files like company logos, product videos, infographics, stock images, or important spreadsheets and search them quickly for easy access.
Workspaces to keep everything organized and safe
Real-time collaboration
Pricing: 
Free plan with limited features
Paid Plans starts at: Standard ($12/user/month), Plus ($20/user/month), Enterprise (contact sales)
Another great tool for storing and sharing media assets and documents with your team is Google Drive. Google's cloud storage service, Drive allows users to save their documents, PDFs, videos, images, logos,- basically anything on the cloud.
No need to keep anything on your PC or pesky pen drives! You can access your files stored in Google Drive from anywhere around the world, and from any device, as long as you have an internet connection. Drive offers 15GB of free cloud storage but you can always upgrade to a paid account in case you need more.
Key Features
Smartphone apps so you can access your files on the go
Drag and drop file upload and one-click sharing
Free 15 GB of storage capacity
Pricing: 
Free with limited functionality
Paid plans start from: 100GB for $1.99, 200GB for $2.99, and 2TB for $9.99 per month.
Another reliable content collaboration platform is BoostHQ. The tool allows users to create, store and share internal knowledge and content in one place for easy access. Users can organize content by categories, tags, or groups, making the process of storing and retrieving information, a breeze.
Share PDFs, images, videos, documents, and more into different employee groups and make information easily accessible to everyone in the organization. You can also see what's the most popular piece of content in the organization and who are the most active members contributing to the space using analytics.
Key Features:
Q&A feature for employee discussions in groups.
Google Chrome extension to share stuff with a single click
Comprehension checklists can be added to content
Pricing: 
Free trial
Paid plans start at: Starter ($239 up to 100 users), Advanced($399 up to 250 users), Premium ($559 up to 500 users), Enterprise (contact sales)
Explore more: Top 10 Content Collaboration Platforms In 2022
Content Creation Tools for Infographic Creation 
When asked which types of visuals had the highest engagement, 42% of marketers reported that infographics and other original graphics were the most engaging. This was higher than any other form of visual content. Infographics are a great way to share stats and other data in a fun and engaging manner but they can be a pain to create. Here are some tools that help you create infographics quickly:
First up is Visme, a great tool to create awesome looking presentations and infographics quickly. Apart from infographics, users can use Visme to create charts, reports, ad banners, web pages, and more. The tool is highly intuitive and simple to use.
It has over 500 templates in different formats, making sure that you never run out of creative ideas to showcase your content. Visme is currently being used by over 3 million marketers in over 100 countries, making it a great tool to design infographics and other visual content.
Key Features
Thousands of free images, fonts, and clip art
Ability to animate any design
Analytics showing you who viewed your content, from where and for how long.
Pricing: 
Free with limited functionality
Paid plans start from: Single ($25/month), Team($75/month), Enterprise (contact sales)
Another cloud-based design tool, Piktochart is a beginner-friendly infographic creator tool. It's easy to use with an intuitive interface that anyone can follow along and create stunning designs. Users can create flyers, posters, social media graphics, presentations, and more.
Simply select one of the hundreds of awesome pre-made templates and add elements like pictures, videos, icons, charts, maps, etc to it. A great feature is the ability to import Google Sheet data and instantly visualize it into an infographic.
Key Features
Export infographic as a JPEG, PNG, or PDF file.
Over 800 professionally designed infographics, presentations, and print templates.
Password protect content to make it visible to only clients and colleagues.
Pricing: 
Free with limited functionality
Paid plans start from: Pro ($24 per month), Pro Teams ($82 per month for 5 users)
The last one on our list is infogram, an effortless, interactive, and fun way to design infographics and other social media graphics. You can create marvelous infographics that are appealing and highly engaging in a matter of minutes.
With infogram's map maker, you can create interactive maps in minutes and share it with the world. Apart from maps, you can even design charts and graphs by importing your .csv files and customizing it to make it more personal. The tool is being used by people at Intercom, Linkedin, Fast Company, and more.
Key Features
Object animations to make your designs come alive.
Create clickable maps and charts with data imported from .csv files
Collaborate with your team to remove confusion and chaos.
Pricing: 
Free with limited functionality
Paid plans start from: Pro($19 per month), Business($67 per month), Team($149 per month), Enterprise (contact sales)
Content Creation Tools for Screen Capture 
Text-based communication via Slack and email often fails to deliver the intention or express the context behind a particular concept, or problem. This is where screen-sharing tools shine and make collaboration as easy and as possible. Apart from collaboration, these tools are also helpful for quickly recording tutorials and help center articles for your product and share it with your audience.
Calling itself a visual communication tool, Cloudapp is one of our favorite screen capture tools. Cloudapp simplifies the process of collaboration by helping you provide all the tools you need to create video walkthroughs, webcam recording, GIFs and screen capture and more.
If you want to give visual feedback, annotate a web page, explain an idea to a customer or colleague, or record your actions- Cloudapp does it all. The easy to use and slick interface is an added bonus to an already feature-rich tool.
Key Features
Over 3 million users worldwide
Create webinars and video walkthroughs
Available for Mac, Windows, iOS, and Chrome
Pricing: 
Free with limited functionality
Paid plans start from: Pro($9 per month), Team($8 per user per month), Enterprise (contact sales)
Zoom combines screen recording, video conferencing, and webinar features all in one enterprise-grade tool. Named a 2018 Gartner Peer Insights Customers' choice for meeting solutions, Zoom can help you share your screen with your colleagues, get feedback, annotate screen, and even conduct webinars in a smartly designed tool.
The tool also has cross-platform messaging & file sharing which takes your collaboration up a notch. The best part is its free account option that lets you share screens with up to 25 members and host an infinite amount of meetings!
Key Features
Enterprise-grade phone system to unify all your communications
Create conference rooms to conduct meetings or can even conduct private meetings
On-demand or recurring webinars with recording and transcripts
Pricing: 
Free with limited functionality
Paid plans start from: Pro($14.99 per month), Business ($19.99 per month), Enterprise ($19.99 per month)
A reliable tool to connect any two computers around the world, Anydesk is a great screen recorder and collaboration platform. Whether you want to hold online meetings or work on the same document remotely, Anydesk is the tool for you.
Unlike other cloud-based tools, Anydesk runs on your system and is available to download for Windows, Mac, Linux, Chrome, Rasberry Pi and more. You can transfer files remotely, record meeting sessions, set up your own enterprise network and more. Screen sharing in Anydesk is a breeze as it provides high frame rates and low latency.
Key Features
Great tool, especially if you live in an area with poor internet connectivity.
Multiplatform support: Windows, macOS, iOS, Android, Linux, FreeBSD, Raspberry Pi.
Customize the interface to stay consistent with your brand.
Pricing: 
Free with limited functionality
Paid plans start from: Lite ($10.99 per month), Professional ($20.99 per month), Power($52.99 per month)
Explore more: Top 10 Highly Advanced Screen Recording Software
Content Creation Tools for Social Media
54% of social browsers use social media to research products. Social media is a great place for brands and marketers to share awesome content, gain a following, and sell products to their audience. Here are some tools that will help you do just that:
With over 4 million users, Buffer is a great social media marketing tool that lets you schedule your social media content in advance and provides detailed analytics for the same. Keeping up with different social media platforms like Facebook, Pinterest, Instagram and more can be a tough job.
Buffer lets you take a breather by providing you a single dashboard to monitor all your social sharing in one place. Buffer's smart analytics even determines which content is delivering the best results and providing you crucial insights to strategize accordingly.
Key Features
Schedule posts, track performance of your content and manage all your accounts in one place.
A browser extension for easy content curation
Reply to social conversations from a shared team inbox.
Pricing: 
Free with limited functionality
Paid plans start from: Pro($15 per month), Business ($99 per month), Premium($65 per month)
Read more: 10 Best Content Curation Tools For Marketers
A similar tool to Buffer, Hootsuite is another tool that will you and your team master social media distribution. Users can integrate over 35 social media platforms including – Facebook, LinkedIn, Twitter, etc., and manage them from a single dashboard.
You can schedule hundreds of social media posts at once for different accounts and let Hootsuite take care of the rest. Running out of content to share? Hootsuite also recommends newer content and even allows you to connect your favorite website's RSS feeds to the platform.
It also lets you find social conversations by keyword, hashtag, and location to understand what people are saying about your brand online.
Key Features
Smart analytics to formulate a content strategy
Over 10 million users worldwide
Collaboration tools to help your team work in tandem
Pricing: 
Free with limited functionality
Paid plans start from: Professional ($19 per month), Team ($99 per month), Business ($499 per month), Enterprise (contact sales)
The last tool on our list is Mention. Creating and distributing content is important. But knowing what your audience thinks about your content is even more important. Keep tabs on your brand by using Mention, a social media analytics tool that lets you monitor various activities online.
You can monitor over a billion sources like blogs, forums, social media and more and always be on top of every conversation regarding your brand, your competitors, or your industry. You can easily track what people are saying about your brand or content online and quickly jump in on any conversation. It's a great tool to build brand awareness as well as maintaining your online reputation.
Key Features
Boolean alerts to target and monitor a keyword or competitor
Automated reports to share with clients and colleagues
Visualize data based on your most important KPIs
Pricing: 
Free with limited functionality
Paid plans start from: Solo ($25 per month), Pro ($83 per month), Enterprise ($450+ per month)
Final Words
Providing value to your customers and creating an ongoing relationship is the best marketing tactic out there. With great content, you can always stay on the customer top of mind, provide value, and create brand awareness that lasts.
Even though all the above-mentioned tools can help you create content, it's up to you to determine what really resonates with your audience, what challenges are they facing, and how can you help them solve their problems.
Knowing your customers is more important than using the best tool out there to produce and distribute content. Once you know what kind of content your audience likes and in which format, you can come back to this list and find the tool you're looking for!
We hope that you enjoyed going through our comprehensive list of content creation tools and are ready to create awesome content for your audience. If we missed out on your favorite content creation tool, do let us know by tweeting us @bit_ai. Good luck!
Further reads: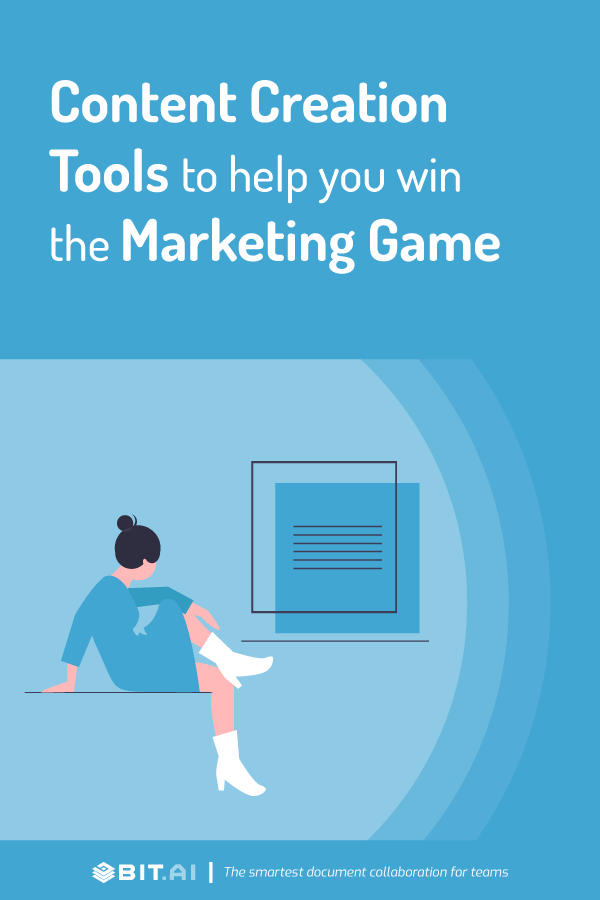 Related posts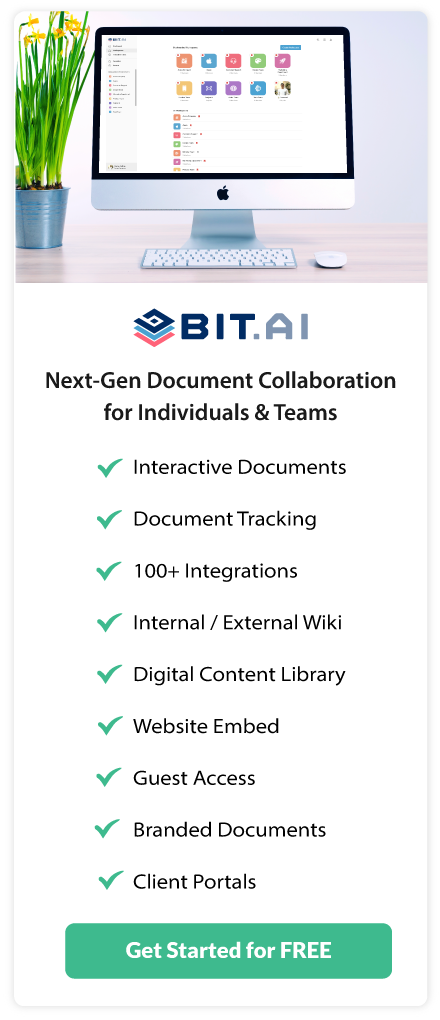 About Bit.ai
Bit.ai is the essential next-gen workplace and document collaboration platform. that helps teams share knowledge by connecting any type of digital content. With this intuitive, cloud-based solution, anyone can work visually and collaborate in real-time while creating internal notes, team projects, knowledge bases, client-facing content, and more.
The smartest online Google Docs and Word alternative, Bit.ai is used in over 100 countries by professionals everywhere, from IT teams creating internal documentation and knowledge bases, to sales and marketing teams sharing client materials and client portals.
👉👉Click Here to Check out Bit.ai.