If you have come here looking for ways to improve your team collaboration, I would like to believe that you already understand how important collaboration is to achieve success for a team.
Just to reinstate, collaboration is the backbone of a successful team. As we all know, when there are many people responsible for achieving shared team goals, effective coordination and communication among team members becomes essential.
If your team is experiencing a lack of accountability among the members, then there is an absence of clarity on roles, responsibilities, and confusion around communication channels, then you really need to develop a better collaborative culture in your organization.
Therefore, team collaboration is the perfect way to overcome all these obstacles faced by an organization!
So, let us dive into 5 simple yet impactful ways to improve team collaboration
1. Set Objectives for your Team
You should give your team a reason to show up to work every day — a cause or a long-term objective to work for and look forward to. Most managers need to understand that the reason why people come to work is not just the paycheck. If you can provide your team with the gratification of doing something useful and purposeful, the collaboration will follow effortlessly.
So, defining a clear mission for the team is very important. You should keep reminding them of this shared goal so that people stay passionate about their work. If people are passionate, they will work together with their teammates ardently to achieve those goals. Also, when confronted with challenges and conflicts, they can manage to stay focused in a collaborative environment.
2. Make Collaboration an important attribute in Your Hiring Process
At the time of hiring, set collaborative abilities as a required standard for every candidate. Also, make it a part of your onboarding process so that employees know from the beginning that you prioritize teamwork.
Employee job descriptions should include the roles they have to play as an individual as well as roles in a collaborative capacity. This kind of differentiation makes it clear that what are things they will be personally responsible for and what they are collectively accountable for.
Read more: What Is Effective Workplace Collaboration?
3. Try Hot-Desking Method
In the present scenario, businesses look for ways to introduce flexibility to foster teamwork and innovation. Hot-desking is one such technique that has been been in trend for a while.
Hot-desking is basically a concept that allows a flexible seating system. As per this, the employees are not given permanent desks, they can rather change their seats and sit at different places with different teammates on different days.

This system makes way for better collaboration as employees get an opportunity to interact with everyone. This also inculcates a sense of autonomy and flexibility in the work environment as a result of which employees don't feel restricted.
This eventually, leads to better circulation of knowledge and better performance of employees. Collaboration and creativity get a boost as people no longer stay isolated and feel fresh and energized in the company of new people from time to time.
4. Say Goodbye to micromanagement!
If micromanagement is one of your ways to deal with your employees, it's high time you get over it. You should make your team feel more responsible and that they are capable of achieving goals without you breathing down their neck all day long. Show them that you can count on them.
Micromanagement steals away engagement and employees start working just to please their employers without executing any real passion for work. Good workplace relationships are a must to reap the organizational results as collaboration can persist in an environment where people are heard.
So, managers can encourage collaboration by being open to discussions and two-way feedback. Collaboration is possible when people work out of passion and not out of obligation.
Read more: Benefits of Remote Collaboration for Distributed Team
5. Use Collaboration Tools
If you are looking for long-term collaboration among team members, a digital workspace is certainly the best solution for you. About 80% of businesses are using collaboration software to help their business processes advance.
Also, we cannot forget the importance of software solutions in an age where clients, managers, team members, and stakeholders are distributed across various countries in the digital market.
Did you know that 4.7 million full-time professionals consider their homes as their workplaces?
Read more: Why Companies Are Shifting To Digital Workplaces?
Best Tools For Team Collaboration
Here is a list of some of the best collaboration tools that can help all kinds of teams:


Bit is a document collaboration software. It saves you from a lot of chaos as it can help you create, manage and track all of your business documents in one place. It is a great way of sharing documents among loosely distributed teams.
With Bit, teams can collaborate on documents in real-time as they can tag their coworkers. The chat facility is yet another feature of Bit which lets team members keep confusion at bay.
Other features of Bit that facilitate collaboration include the ability to track documents, workspaces that keep everything organized, and management of digital content (images, videos, PDFs, and more!). The 70+ integrations offered by Bit make it all the more versatile.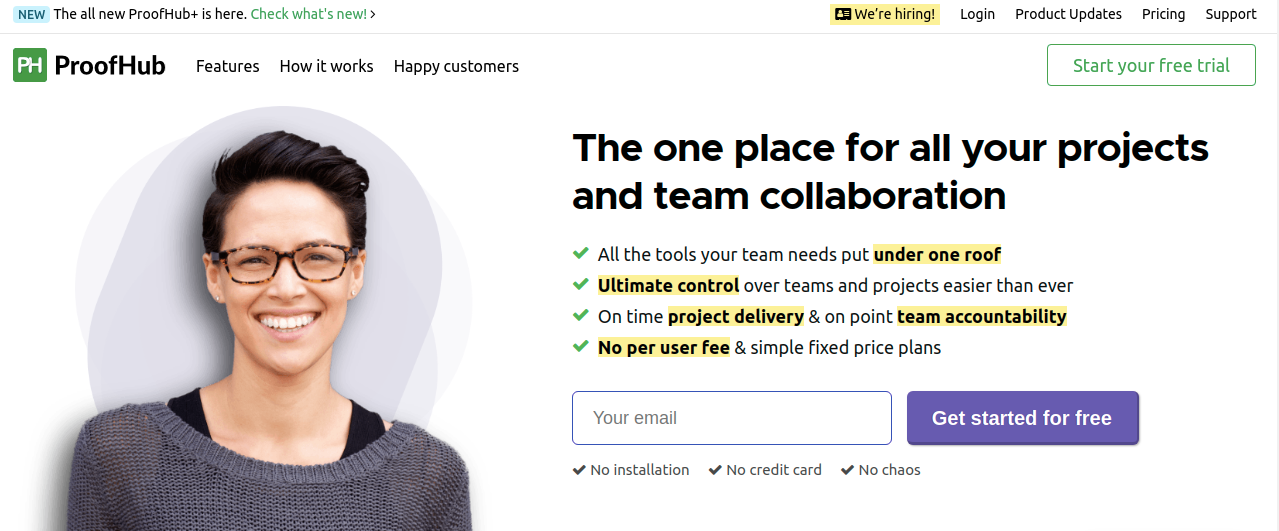 ProofHub is an all-in-one project management software. Team members no longer need to communicate and collaborate on tasks by falling into the web of email threads. It takes care of collaboration on planning to the final delivery of a project.
Teams can brainstorm on matters of discussion, managers can assign tasks and real-time notifications keep everyone informed whenever a task stage is changed so that the next person concerned can quickly take action. Apart from this, Kanban boards give clear visibility to everyone on their roles and responsibilities such that there is proper accountability in team members.
Proofing plays an important role and ProofHub helps team members collaborate on the feedback process through its inbuilt proofing tool. Team members can give feedback on a design or document using markup and annotation tools and the feedback comments can be resolved there without any need to search for it in messy email threads.
Read more: 7 Compelling Reasons Why You Need To Invest In Team Collaboration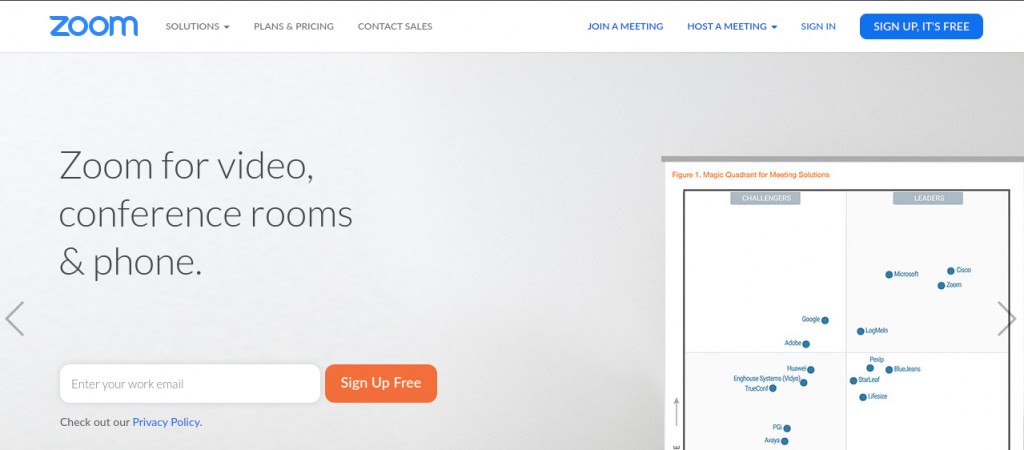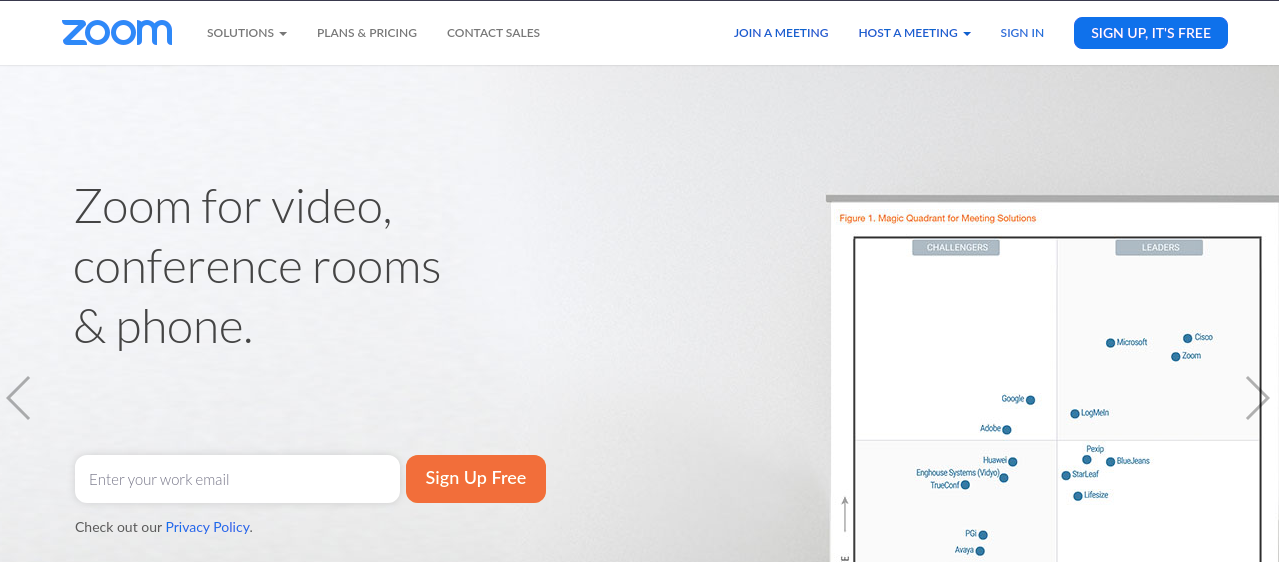 If you have a remote team and you need to speak to your team over video once in a while, Zoom is just the right option for you. It provides a face-to-face setting to employees for communication.
Other features of Zoom include the ability to schedule meetings ahead of time using digital calendars and screen-sharing features. You can record these video presentations for the reference of someone absent so that no one misses a beat.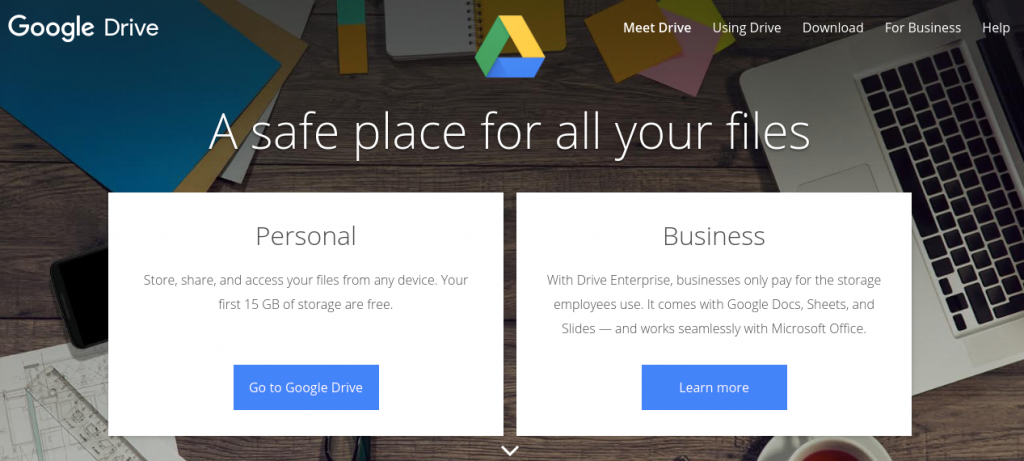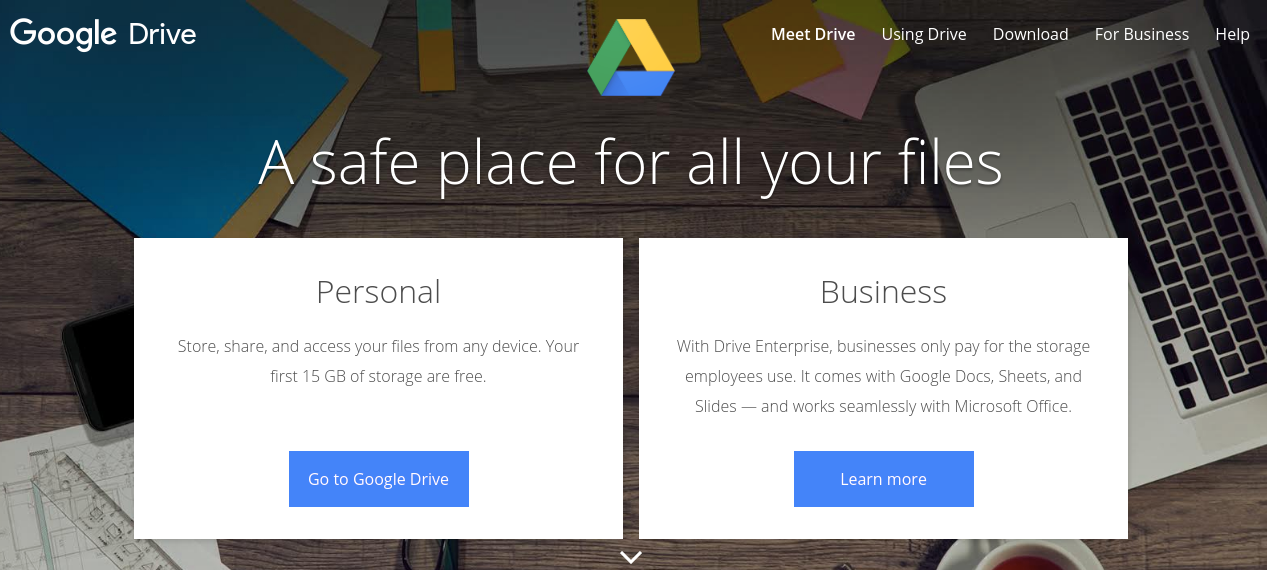 Google Drive is another tool that facilitates collaboration without burning a hole in your pocket. A Google account is all you need and you are good to go.
It is a cloud-based platform that acts as a secure and central location to keep all your files and documents. Collaborating on files becomes super easy for remote workers as they can work together on spreadsheets, presentations, and documents using Google Drive.
The ability to see the previous versions of any file, the ability to see which person has made what changes to a document by viewing edit history, and the ability to convert your document in any format be it PDF or Word easily make it a great choice for teams.
Lead your Team with Trust!
No amount of strategizing will work for your team if you, as a leader, are not setting the bar high by practicing what you preach about collaboration. So, you must exercise cooperation and collaboration at every turn.
Having one-to-one meetings with each of your team members regularly is a great way to signal out that you are willing to have a dialogue over matters seriously.
Your way of receiving requests and making promises also tells a lot about your thoughts on collaboration. Make promises only when you can keep them. And whenever somebody comes with a request, honor their requests.
If your team can trust you and feels you have got their back, the same kind of trust will filter through your teammates and a culture of collaboration will naturally prevail.
I hope that these simple tips will help you cultivate a better collaborative environment for your teams. Comment below to share what is your favorite tip and what you do to maintain collaboration among your teammates.
Author Bio:
Vartika Kashyap is the Chief Marketing Officer at ProofHub. She has been one of the LinkedIn Top Voices in 2016, 2017, and 2018. She is also a contributor at Business.com, The Next Web, YourStory, and Huffington among others. Her articles mainly revolve around productivity and leadership.
Further reads: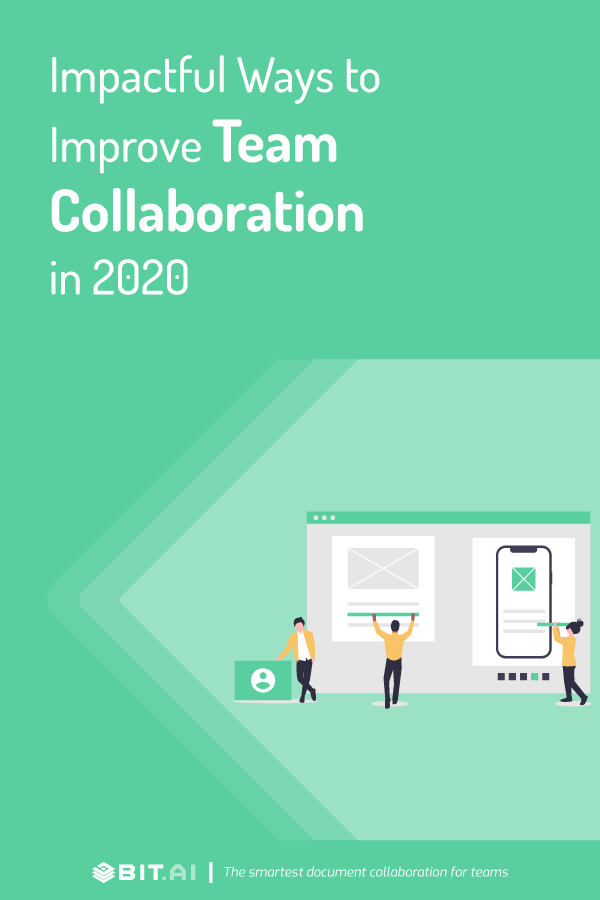 Related posts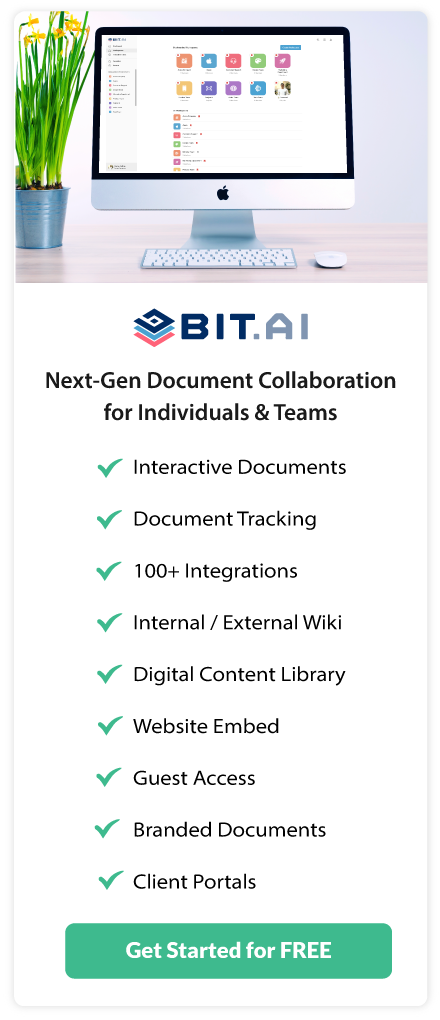 About Bit.ai
Bit.ai is the essential next-gen workplace and document collaboration platform. that helps teams share knowledge by connecting any type of digital content. With this intuitive, cloud-based solution, anyone can work visually and collaborate in real-time while creating internal notes, team projects, knowledge bases, client-facing content, and more.
The smartest online Google Docs and Word alternative, Bit.ai is used in over 100 countries by professionals everywhere, from IT teams creating internal documentation and knowledge bases, to sales and marketing teams sharing client materials and client portals.
👉👉Click Here to Check out Bit.ai.