Looking for design collaboration tools to create designs more effectively? Today's your lucky day as we bring you a list of the best design collaboration tools on the planet! Read on…
Design plays a crucial role in every business. From company websites, product design, marketing, and sales materials, design helps brands stand out from the crowd and have their own identity.
The best way to capture the attention of your clients and prospects is through design. The stats are there to prove it- according to Adobe, two-thirds of people would rather read something beautifully designed than something plain.
In fact, the human brain processes image 60,000 times faster than text, and around 90 percent of information transmitted to the brain is visual!
Now if you are reading this blog post, you already know the importance of design in business and are thus, looking for tools to create and manage designs with your teams effectively. However, design collaboration tools can involve a lot of things:
Creating design assets.
Creating mockups and iterations.
Collaboration tools where all of your design files and content exist.
Communication platforms to help communicate design ideas with clients or teammates.
What is Design Collaboration? (Definition)
Design Collaboration is the approach or way by which all the designers work together on a single design project. Its main objective is to involve all the team members in brainstorming ideas, finalizing the design, collaborate for more efficiency, and much more!
Here is a curated list of some of the best design collaboration tools from every category. Read on to find your next favorite design collaboration tool!
List of Design Collaboration Tools that Rock!
Let's look at each one of them in detail and decide which one is the best fit for you:

The first design collaboration tool on the list is Mural, a real-time digital whiteboard for teams! Mural is a great platform for design teams with geographical barriers between them.
Mural wants you to stop digitizing your content, rather start your work on its digital platform. Users can create digital sticky notes, tasks, to-do lists, design mockups, sketches, and more and share it with team members all around the globe.
Apart from its awesome collaborative features, Mural provides anonymous voting sessions so people can voice their feedback without fear of retaliation.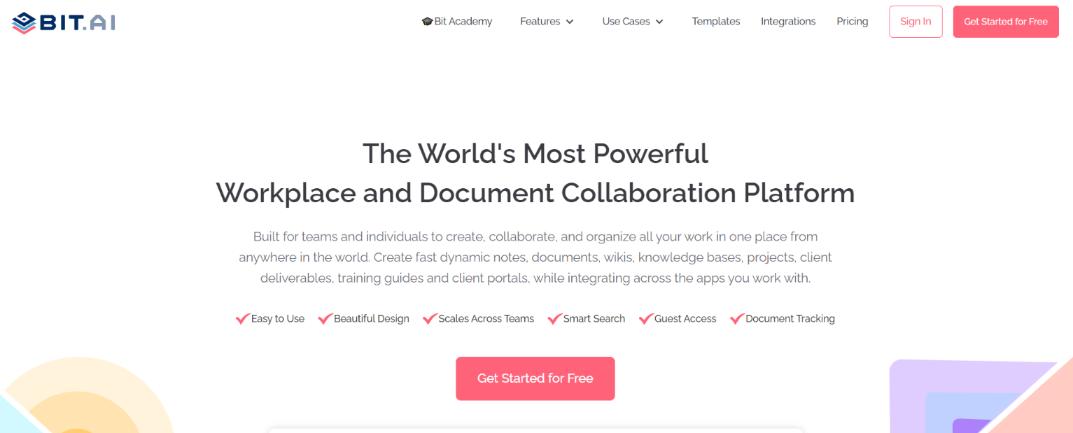 Bit is a new age collaboration tool that helps design teams create, manage and store their documents and other media assets in one place.
Bit allows teams to create workplace documents like-media kits, design proposals, project proposals, technical documents, sales decks, training documents, process documentation, etc.
If you are working on any design projects for your business or creating marketing assets, Bit is the go-to tool to do just that.
You can easily embed your designs from Behance, Figma, Invision, Framer, Marvel, Sketchfab, Canva, or more such design tools so that your design work lives inside of your Bit document and updates in real-time.
Bit makes it easy for your team to start collaborating and receive their feedback without forcing them to open up a series of tabs or log into a separate portal to view your work.
Just copy-paste a shareable URL of your design and hit enter. Bit, then generates a live preview of your design within your document. How cool is that?!
Apart from documents, Bit also provides amazing content management capabilities. Bit has a digital content library that not only saves images and files, but it also allows you to save web links and rich embeds.
This an easy way to reduce shoulder tapping across teammates so that everyone can dip in and grab what they need to get work done.
Bit is one of the smartest ways design teams can collaborate, discuss, and share work across internal teams, cross-functional teams, clients, and partners.
Read more: How To Create A Software Design Document?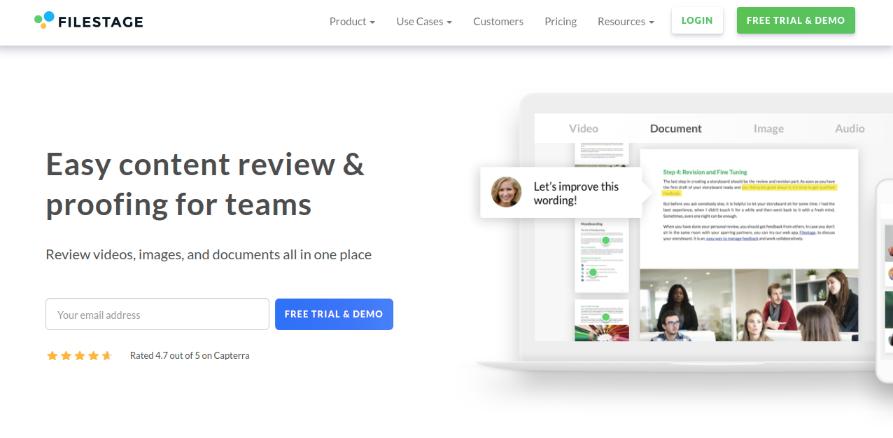 Filestage is a content review and approval platform trusted by design teams around the world. Those teams use Filestage to get the feedback that they need when they need it.
The tool makes it simple for project managers and designers to upload and share their designs with just a few clicks. Those stakeholders can then start to leave their valuable in-context feedback directly on your design. This reduces confusion and makes sure that every comment is clear.
Filestage automatically generates a handy to-do list for you based on those comments, too, so that you eliminate the risk of overlooking a piece of important feedback. This speeds up the overall review and approval process to help you execute great designs.
It's easy to create reviews workflows with Filestage too so that you can efficiently keep everybody in the loop and move your project from draft to polished design in no time at all.
On a technical level, the tool is intuitive to use and it offers best-in-class security. This means that you can share your designs with confidence and rest assured that your work will only be seen by the people you approve of.

Mockplus iDoc is an all-in-one design collaboration & handoff tool for designers to collaborate and hand off a design to other designers, developers, and product managers effortlessly. It helps connect the entire product design workflow. It facilitates handoff by taking designs from PS, Sketch, Adobe XD, and exporting into a format that can generate code snippets, specs, and assets. This can be done pretty much automatically.
Main features:
• Export designs in one click from Sketch, XD and PS
• Generate accurate specs, assets, code snippets automatically
• Show design tasks and workflow in a full-view storyboard
• Comment right on designs to give instant feedback
• Build hi-fi interactive prototypes with real design files
• Various comment styles.
• Manage the history revision of specs.
Overall, Mockplus iDoc provides impressive team management features for designers and engineers. It is fairly straightforward to organize team members, settings, and project tasks.

Built for both designers and nondesigners, Visme is another web app that helps you convert your boring content into visually stunning presentations, infographics, charts, reports, ad banners, and even web pages.
Visme makes your content compelling and presentable by using design tools that are intuitive and easy to use. With over 500 templates in all formats, Visme makes sure that you never run out of creative ideas to present your content.
Visme is being used by over 750,000 marketers, executives, and educators in over 100 countries. With millions of free images, fonts, privacy controls, and the ability to animate any design, Visme is a stunning design collaboration tool everyone should try.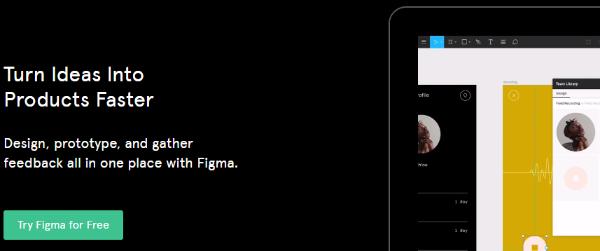 Figma is a cloud-based design tool that allows team members to quickly design, prototype, and gather feedback all in one place. Figma is the first interface design tool based in the browser, making it easier for teams to create software.
Figma stores all your design files in one place to avoid confusion regarding versions. Users can create designs on their PC and then mirror designs to mobile with a live device preview feature. They can even interact with prototypes on mobile for more reliable user testing.
Figma reduces friction between various departments by allowing users to share live prototypes with different teams – Engineers can inspect, export, and copy CSS, iOS, and Android code while marketers edit the copy. It's a great tool to design, prototype, and launch your products from start to finish.
Related: How To Embed Figma Designs Inside Your Documents?

Picktochart is a cloud-based application that allows anyone to easily create infographics, presentations or posters. The best thing about Picktochart is it's easy to use and intuitive interface that takes less than 5 minutes to master.
You can build professional-looking visual designs with Picktochart without hiring a professional designer to do so. It works by selecting Picktochart's wide range of beautifully designed templates and adding visual elements like charts, maps, videos, pictures, icons, etc to it.
You can even import your Google spreadsheet data and instantly visualize it. Once completed, each can be exported as a JPEG, PNG, or PDF file.

Marvel is another design collaboration tool built in the cloud. Marvel has a simple and intuitive interface that enables everyone to quickly create beautiful assets and mockups.
There's no learning curve and no software required, so everyone can get involved. Marvel provides a single place to build wireframes, prototypes, and design specs in one place.
Users can even sync their designs from Sketch and Photoshop or build mockups directly within Marvel's design tool with the help of millions of assets, stock photos, and icons.
Marvel even optimizes your design-to-development process by allowing users to instantly download assets and generate CSS, Swift, and Android XML code for their prototypes.
ProofHub is a project management and collaboration tool that helps design teams work together effectively. Design teams can communicate important information, provide feedback, collaborate on designs, share files, allocate tasks, and stay on the same page regarding task progress at one central place using ProofHub.
Designers can provide real-time feedback on designs using the markup and annotation tools in the inbuilt proofing tool of ProofHub. So, they do not need to go through long email threads to recommend and understand where corrections are required in a design. You can simply place your files in ProofHub and provide access to whoever you want to view that file.
ProofHub is simple to use with almost no learning curve. Also, it serves an all-in-one purpose such that there remains no need to juggle various apps for communication, task management, proofing, or reporting purposes. ProofHub facilitates all this from anywhere your team is sitting, all they need is a login credential and internet connection.

PicMonkey is a web app that allows you to do basic photo editing online without the need to download any software. If you are someone who gets dreaded by the sheer mention of Photoshop, PicMonkey can be your savior.
PicMonkey's free photo editor has a wide range of features such as touch up, collages, filters, fonts, effects, filters, stickers, and much more. However, you do have to pay for advanced features like unlimited photo storage, advanced touch-up tools, premium templates, etc.
PicMonkey is a great tool to create quick logos or social media content without having any prior design knowledge.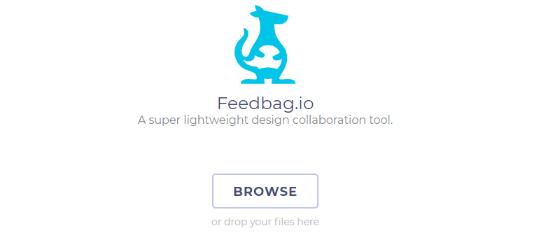 Feedbag is a lightweight design collaboration tool with no over-the-top or sophisticated features. If you are looking to simply share your designs with your colleagues, clients, or friends, just upload an image, share it, and start annotating.
Currently, you can upload png, jpeg, gif, pdf, PSD, and ai file types to feedbag, though they promise to expand their horizon soon. Feedbag keeps your designs online for 21 days after which users get an e-mail with a link to keep it online for a little longer.
For people looking for a quick fix to their design collaboration needs, Feedbag fits the role perfectly.

Notism provides everything you need to collaborate and sign off visual content. Upload your designs and review them together with your peers. Receive live feedback from team members or stakeholders right in your workspace.
You can also provide feedback by directly annotating the content and making your point visually. Apart from collaborating on pictures, Notism even allows users to review and collaborate on motion design work by adding notes, sketches, or selections to the video timeline.
It's one of the few design collaboration tools out there which provides video collaboration. A must-try!
Conclusion
Design collaboration tools are a must for teams looking to create visually stunning and standout designs. In this era of remote work, design collaboration tools bring your teams under a single virtual roof and facilitate the design process- from brainstorming to idea generation and finally the result- effectively.
Say goodbye to messy email threads and slack messages. Streamline your design process by using these design collaboration tools and get work done quickly!
If you have another tool that deserves a review and a mention here send us an email.
Further reads: 

Related posts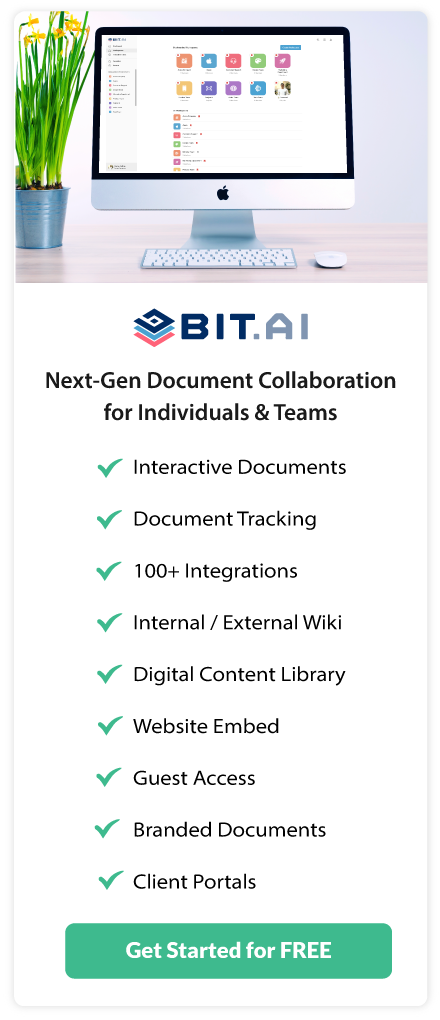 About Bit.ai
Bit.ai is the essential next-gen workplace and document collaboration platform. that helps teams share knowledge by connecting any type of digital content. With this intuitive, cloud-based solution, anyone can work visually and collaborate in real-time while creating internal notes, team projects, knowledge bases, client-facing content, and more.
The smartest online Google Docs and Word alternative, Bit.ai is used in over 100 countries by professionals everywhere, from IT teams creating internal documentation and knowledge bases, to sales and marketing teams sharing client materials and client portals.
👉👉Click Here to Check out Bit.ai.