Let's be honest: no matter how good your product is, unless you have attractive lead generators (that ultimately depend on design to a great extent), your business might fail.
To put it simply, designing and developing apps and websites is one of the most important things that a business needs to focus on.
However, a common mistake that businesses make is that they rush the design process.
While it is important to be as quick and efficient as possible, jumping straight into designing without a proper plan and strategy is a big NO.
That's exactly where a design document comes into the picture – it helps in getting everyone's ideas and thoughts on paper and leads to a more planned and organized design process.
In this article, we'll cover the definition of design documents, why it is so important, and how you can get started with documenting your design process today! Let's jump right into it!
What are Design Documents? (Definition)
Design documents cover all information related to the design of your product, software, website, etc.
These documents map out the design process of different types of customer touchpoints – such as the user interface, user experience, and the overall style and themes.
Now that you have got the gist of what design documents really are, let's understand why they are so essential in the modern era.
Why are Design Documents Important?
1. Records Information for the Future
Documents act as proof of everything you've done – all the way from the ideation, to the creation process, and then the final result. You can always refer to this document and make better decisions in the future.
Moreover, having a record of the designs, processes, and strategies allows new employees to understand the workflow of the company better.
In short, referring to the past design documents can allow them to get a hang of the business easily, and reduce the time and money spent on training costs!

2. Aligns Everyone's Workflow
When it comes to design, there are often multiple people involved along the way.
First, a few team members come up with design inspirations. Then, a few designers take the process forward by creating outlines or basic frameworks of the design.
This has to be then approved by the head designers and executives across other functions like marketing and operations. Finally, the designs are implemented, followed by testing and updates.
Design documents become a single source of information for everyone who is involved in the whole process, bring everyone onto the same page and align workflows.
3. Motivates Your Team
One of the main purposes of design documents is to get everyone thinking about the same goal and streamline all the employees' work – which ultimately leads to higher engagement.
When the whole organization is aligned and all the employees are working with each other, employees feel more motivated, which further increases efficiency and reduces employee turnover.
Now that you've understood why design documents are super important for modern businesses, let's dive deep into how you can start documenting your design process today!
What Are The Important Elements of Design Documents (Process)
Step 1. Project Overview:
This section contains an overview of the overall project. Give some details of the channel, the goals, the direction in which the team wants to go, the target audience, etc. In short, try to summarize the basic details and the purpose of the whole project.
Step 2. Project Requirements:
This area specifies the technical requirements and the resources that will be used in the design project. Describe in detail the amount of money required, how many people will be working on it, and the expected time you'll need. You should be as specific as possible so that other stakeholders and investors are on the same page and have a clear picture of the requirements.
Step 3. Design and Style Guidelines:
This is one of the most important parts of the design document! It defines the benchmarks for the designs and the direction the designer needs to take. You should add some examples and references in this section. Include guidelines about the style, the colors, where each button or option should be placed, and so on.
Read More: Design Brief: What is it & How to Create One that Works?
Step 4. User Journeys
This section is more relevant for designs relating to apps or websites where a user takes a path to reach the end goal. For example, the pathway may start from lead generation and end at purchase. You can use diagrams to tentatively describe the steps that the user will take along the journey of the app or website.
Step 5. Implementation Plan and Timeline
Who will be in charge of the various components in the design process? How will the work be divided? What's the tentative timeline of each task and how it will be completed? All this should be clarified so that the team understands what they need to do to finish their tasks by the deadline.
Step 6. Testing and Updates
Once the design is implemented on the website or app, mention what the next steps are going to be. Clearly define the metrics that will be used to test user engagement and the success of the design! Also, include a few ideas related to future updates to the design.
By the way, are you thinking about using the same old MS Word & Google Docs to create your design documents? If yes, it's time to dismantle and revamp your proposal from the ground up using Bit.ai. Remember, it's not all about the words you say – the visuals matter too, especially in design documents!
Bit.ai – The Ultimate Tool for Creating Design Document
Through its robust, intuitive, and integrated tools, Bit.ai has made the complicated and long process of creating design documents a walk in the park. Using Bit.ai, you can create a 'live and interactive' design document that highlights your text, has the perfect format, is easier to remember, and great to look at!
You can easily share these documents with your team, trainees, and your prospective clients. Using Bit will bring happiness into your workday, while also making your design documents a hundred times more awesome! Don't believe us? Check out all these mind-blowing features of Bit!
1. Real-Time Collaboration
If team members work on a design document together and take inputs and ideas from one other, the document is bound to rock. Well, Bit.ai helps you do just that. Bit allows you and your team to collaborate on a Bit document in real-time and handle different aspects of your proposal in one place.
2. Smart Workspaces
Every design needs a different design document, and storing all the different kinds of information can be daunting. Don't worry, because Bit solves that problem for you. Using Bit, you can create workspaces around different teams, departments, and more.
3. Interactive Documents
From compelling images to pricing tables, a design document is made up of a number of things. With over 100+ integrations Bit lets you add any rich media in your Bit doc in seconds. All you need to do is copy the shareable link and paste it into your Bit doc.
4. Fully Responsive Documents
Using this powerful document collaboration platform and its 90+ stunning templates, you can create and share documents that are the best in class. Moreover, Bit documents are fully responsive so your clients can view your proposal on any device, regardless of its size.
5. Get Real-Time Insights
Bit offers a document tracking feature using which you can get real-time insights on your shared docs. That means you can see how much time your prospect has spent reading your design document, how often they come back to read it, and a lot more.
6. Sleek Editor
Your design document is a super important document and it needs all your attention. Bit totally understands that and that's why it offers a minimal and distraction-free editor.
7. Guest Access
On Bit, you can give 'guest access' to your clients, trainees, or other interested stakeholders. The 'guests' aka your clients or trainees can get two types of access to the documents: comment-only and read-only.
With the comment-only access, they can @mention team members and give their suggestions or feedback while read-only access only allows them to read the content you have shared with them. The read-only access is the best when it comes to new trainees and interns!
8. Content Management
While creating design documents, there's a lot of digital media that might come in handy. Managing and storing all these digital media assets becomes a breeze with Bit.ai. It has a powerful content library that you can use to save and access all types of digital content you might need in your proposal.
Wrapping Up
Design documents have so many benefits that they simply can't be ignored!
Whether you are creating a design for your own company or for other clients, design documents ease the whole process and make everything clear for everyone involved.
So what're you waiting for? Get started with your design documents today! If you've got any queries, concerns, or suggestions, hit us up on @bit_docs! We'd be happy to help you out.
Further Reads: 
UX Testing: A Beginner's Guide & Checklist!
Design Proposal: What is it & How to Create it?
12 Best Design Collaboration Tools for Designers in 2022!
How to Embed Canva Designs into Your Documents?
How to Embed Figma Designs Inside Your Documents?
Stakeholder Management: Definition, Importance & Process!
Basic elements of design for creating awesome visuals!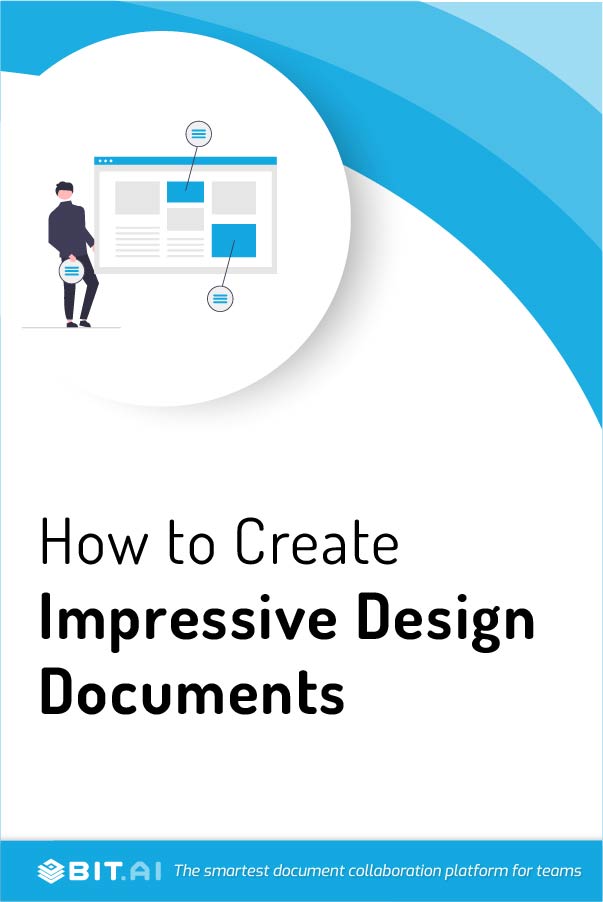 Related posts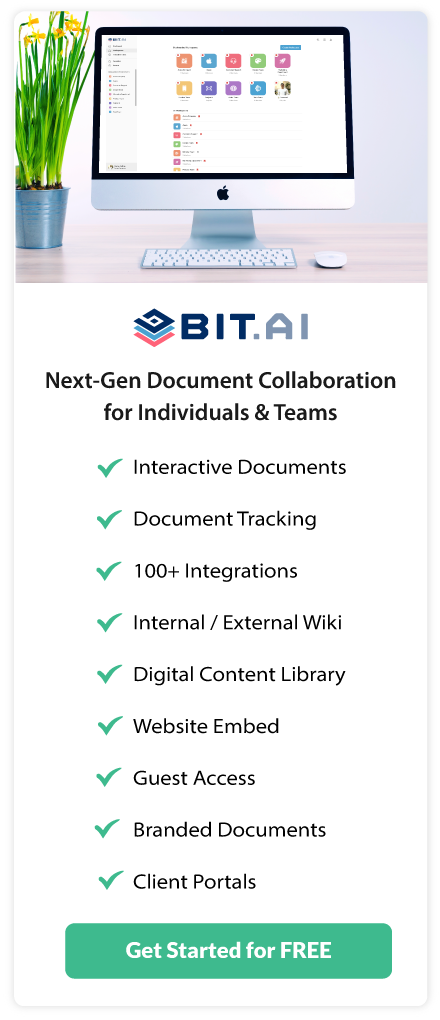 About Bit.ai
Bit.ai is the essential next-gen workplace and document collaboration platform. that helps teams share knowledge by connecting any type of digital content. With this intuitive, cloud-based solution, anyone can work visually and collaborate in real-time while creating internal notes, team projects, knowledge bases, client-facing content, and more.
The smartest online Google Docs and Word alternative, Bit.ai is used in over 100 countries by professionals everywhere, from IT teams creating internal documentation and knowledge bases, to sales and marketing teams sharing client materials and client portals.
👉👉Click Here to Check out Bit.ai.