Remember those classes in school and college when your teachers insisted on taking notes and revising whatever happened in class? Even your managers expect you to do the same after a meeting or discussion.
And the "I don't need to write anything that down, I can remember it" attitude tends to follow into the workplace. The result? Everyone forgets the key discussions that took place in a meeting.
This is why creating a meeting recap and summary is crucial. It will help your team remember everything that was discussed in a meeting and you can refer to the document while working on a project!
No idea how to write a meeting recap? Well, worry not, today we are here to help you learn how to write a good recap and summary of professional meetings to ace your work life.
In this blog, we will look at the finer details of writing a good meeting recap and what makes it such an important skill to have for a working professional. But first, let's start with understanding what a meeting recap exactly means.
What is a Meeting Recap? (Definition)
A meeting recap is basically the summary of a meeting that is sent to the employees of an organization. This recap is often sent through an email and consists of all the important details and points that were discussed in the meeting and their respective conclusions.
The meeting recap can include details of new goals that are set, any new deadlines, or a new task that the team members will have to start.
It is intended to be used as a reference point for the employees so that they have absolute clarity of what is going on in the organization and they feel included in the process.
Why Do You Need a Meeting Recap? (Importance)
A meeting recap is a healthy way of ensuring that your entire team is on the same page and has clarity in their roles and responsibilities. While writing is not an easy task by any means, its importance is something that cannot be undermined.
It is a practical way of ensuring that everyone has the information and knowledge of what has transpired in a meeting. It is practically impossible to have meetings with every member of the team or the organization all the time.
Therefore, these meeting recaps act as a way of making everyone's lives a little easier by letting them know what has happened in a meeting. This will help the team members in knowing their exact roles and have clarity over their jobs.
Ensuring that every meeting has a meeting recap means that at least one individual is paying full attention to what is exactly happening in a meeting and maintains a record of what everyone has said.

Having this will be a blessing for the team and the organization as they will know who they did not need to go to in case there is some confusion over any detail that was discussed in the meeting.
It also ensures that people have accountability for doing what has been said in a meeting. By keeping a record of meetings, people know what they have said and would be perhaps more responsible in following it up with their actions.
The meeting recap also acts as a historical record of meetings that have happened across time which can be accessed at any time by anyone.
This means that if someone has forgotten some finer detail of a meeting or wants to go through something again to understand it better, they will always have the meeting recap to go to and clear their confusion.
A well-written meeting recap will have the essence of the meeting that transpired and the to-do list that is generated as goals for the employees to achieve. It will also have the deadlines that were mentioned and the workflow that is required to achieve them.
Now that we have defined a meeting and understood its relevance and importance, it is now time to look into how to write an effective and efficient meeting recap.
How to Write an Effective Meeting Recap? (Step By Step Process)
It might seem like a daunting task if you're writing a meeting recap for the first time, but these tips and techniques will help you have more clarity and put your mind at ease. Let us see what we can do to make our meeting recap more effective. 
Step 1. Take Notes at the Meeting 
The formation of a meeting recap starts at the meeting itself. To ensure that you have everything you need to write the meeting recap, you need to be alert and take quality notes while the meeting is going on.
Ensure to make a note of all that has transpired in bullet points. Know and write who has spoken what, and remember to keep your own notes simple for your understanding.
Ensure that you have kept a note of the timings, deadlines that were assigned, and new tasks that were taken up during the meeting. These things will help you when you finally sit down to write the meeting recap.
The more efficient and effective you are in making the notes, the easier your task will be when it comes to writing the meeting recap.
Step 2. Create the Introductory Email
More often than not, these meeting recaps are sent via email to all the employees. Thus, it becomes important for you to write a professional introduction for the mail. This should include thanking all the individuals who had gathered and made relevant points during the meeting.
You can also include the names of all the individuals who attended the meeting. A good introduction email will also inform the team members of the timings of the meeting and the purpose behind it.
An introduction should be formal and respectful to set the right tone for the meeting recap.
Step 3. Write a Summary of The Meeting
With the notes that you have taken, you need to now understand and analyze what part of the information is required to be written in the meeting recap and what can be avoided. It all starts with a quick summary of what all happened in the meeting. You need to be able to explain the essence of the meeting shortly and sweetly.
The final result and conclusion of the meeting should also be included in the summary. You can also mention if there were any presentations given by individuals along with mentioning their names and the topic they presented and discussed.
A good summary is precise, simple to understand, and to the point. The language should be simple and easy to understand and you should be able to summarise the entire events of the meeting accurately without missing any important detail.
Step 4. Prepare a To-Do List
After summarizing the events of the meeting, the next step is to note down the list of items and tasks that were freshly assigned during the meeting.
This will include the names of the individuals who were assigned the tasks, the deadline that they have been given, and to whom they have to report after the completion of the task. These points can be listed as bullet points or can be provided with the help of a table.
The deadlines and due dates of every task must be highlighted in this part. This will ensure that all the team members have clarity over their tasks and what exactly they need to do and how they need to do it.
Read More: How to Create a To-Do List the Most Effective Way! (Free Template)
Step 5. Attach Relevant Documents
Sometimes in meetings, certain projects are given a lot of importance or the team leader wants the employees to look at some important documents related to the project that was discussed in the meeting.
These documents and files need to be attached to the email. Mention in the email if you are attaching these documents with a PFA (Please Find Attached) so that the team members don't miss these important documents. More often than not, the team leader themselves would let you know if they need you to attach the relevant document in the mail.
Step 6. Mention Goals and Agendas
During the meeting, if there were any agendas and new goals that were set by the team leads, they need to be mentioned separately in the recap summary.
These goals and agendas must be highlighted so that the employees recognize their importance and work towards them. You can also mention who came up with these agendas so that the relevant individual can get the credit for the task.
Mentioning the goals and agendas of the meeting will ensure that the next path is clear for the employees.
Step 7. Include a Reminder for the Next Meeting
It is often seen that after a meeting, the team members decide on the time and place for the next meeting that would happen. This information should be included in the recap summary and provided to all the team members.
The timing and place of the meeting, along with its purpose and agenda should be mentioned. The relevant individuals who are required to be present in the meeting should also be mentioned in this part of the meeting recap. You can also remind these individuals to put the date and time of their next meeting in their calendars.
Step 8. Thank and Address Queries
A good and professional way to end the meeting recap is by thanking everyone who participated in the meeting. You can also mention the recipients and let them know that if they have any doubts regarding anything that was mentioned in the recap they can always ask about it and get it cleared from the relevant authority.
These small and polite things go a long way in building a good camaraderie between you and the other team members.
Step 9. Edit and Proofread Your Documents
Every written piece of document has to be proofread before being finalized and the meeting recap is no exception. After writing the entire meeting recap, ensure that you proofread the entire document and check for grammatical errors and spelling mistakes if any, and correct them.
Also, ensure that you have included all the details that are mentioned here on the recap and add them if you missed them. Proofreading the meeting recap ensures that there is no error or wrong information in the document.
Read More: 9 Powerful Document Editors You Should Use This Year!
Step 10. Send it Out To Your Team 
After finalizing the document and ensuring that you have included all the details that are required and checked for grammatical errors, it is time to send it to the employees. You need to ensure that you know which team members and employees this meeting recap should be sent to.
You can confirm from the team leaders who these team members are then send them an email. Ensure that you have the email ids of all of these employees and then send them the email together.
Now that you know the various steps involved in writing a good meeting recap, here's a tool that can make the whole writing process easier and smoother!
Write Meeting Recaps the Right Way With Bit.ai!
Writing a meeting recap involves brainstorming, storing data, and sharing the information with your team. Though it might not seem like a lot of work, the process can be time-consuming if not done right.
So what you need is a tool that can help you store and manage multiple information and collaborate with your project teams. This is where Bit comes in!
Bit.ai is an all-in-one knowledge management and document collaboration platform designed for the modern-day workplace. It helps you create, edit, organize, manage, and share documents all under one roof! Yes, that includes meeting recaps as well!
If you're wondering how bit can help you in writing your meeting recap, then check out these amazing features:

Ready-made Templates
Writing meeting recaps don't have to be that difficult especially if you have templates to make the process effortless. Choose your favorite template from Bit's extensive template gallery that offers over 70+ professionally designed templates. All you have to do is fill in your customized content (in this case, a meeting recap) and you'll get the whole draft ready in just a few minutes!
Auto-formatting
The last thing you want to do while writing a meeting recap is to waste your time trying to fix its format. With Bit, you don't have to bat an eye because its auto-formatting feature will automatically format your entire document to give it a very uniform and consistent look.
Smart Workspaces
With Bit, you can create infinite workspaces, folders, and documents around multiple meetings and discussions to store and manage all the information you gather in an efficient and organized manner.
Media Integration
If want to include rich media integrations like charts, graphs, tables, excel sheets, etc. in your meeting recap, then Bit helps you do just that! It allows you to embed and seamlessly add over 100 rich media integrations to help bring your document to life.
Real-time Collaboration
Want to collaborate on your meeting recap with your team members? Then Bit is the way to go! With Bit, you can seamlessly collaborate with your team and work together on the same document in real-time, chat privately, make inline comments, co-edit, and do so much more to ensure that you do not miss out on any important details to be included.
Document-Sharing
With Bit, there are multiple ways that you can share your meeting recap. You can export your document by converting it into Docx, PDF, and other formats or use Bit's live link-sharing option to share your document with anyone you want or even invite members by giving them guest access to your workspace. Cool, right?
Simple UI
Even though Bit is jam-packed with features, it has a simple and easy-to-understand user interface, which makes it extremely easy for new users to get on board with the platform.
The list goes on and on, but you get the point, right?
Bit is the perfect tool to help you create documents and allow collaborative work so that the entire process of writing a proposal is effortless. It is indeed the one-stop solution for all your documentation and collaboration needs! So quit waiting around and get Bit today!
Conclusion
Meetings are the currency of the professional world and thus they need to be handled with care. A good meeting recap ensures that the purpose behind the meeting is achieved and the individuals of the organization are aware of what is happening.
Writing a good meeting recap requires you to have the skills of copywriting, note-making, and being alert and observant. These skills combined will make you the perfect writer of a meeting recap.
If you follow everything we mentioned here you can imbibe the relevant skills and improve your abilities to write a good meeting recap. That's all, folks!
Further Reads: 
Project Summary: What is it & How to Write it!
Weekly Report: What is it & How to Create it? (Steps & Structure)
10 Best Free To-Do List Apps for iPhone, Android, Mac, Windows, etc!
Planning Meetings Effectively: Steps & Best Practices to follow!
Meeting Minutes: Definition, Steps, Examples & Free template!
Meeting Agenda Template: Make Your Meetings More Productive
Project Documentation: What is it & How to Manage it?
How Bit.ai Can Improve Your Team Collaboration?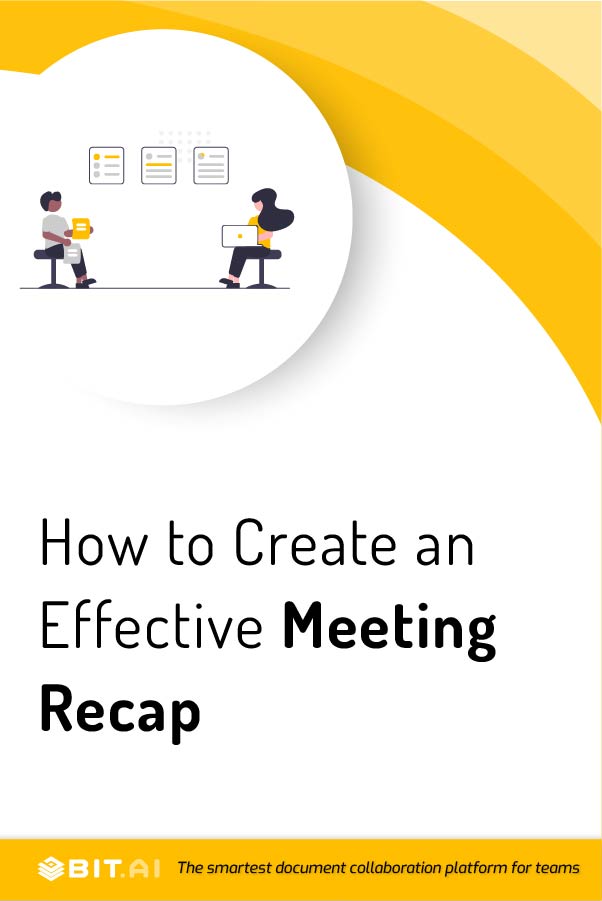 Related posts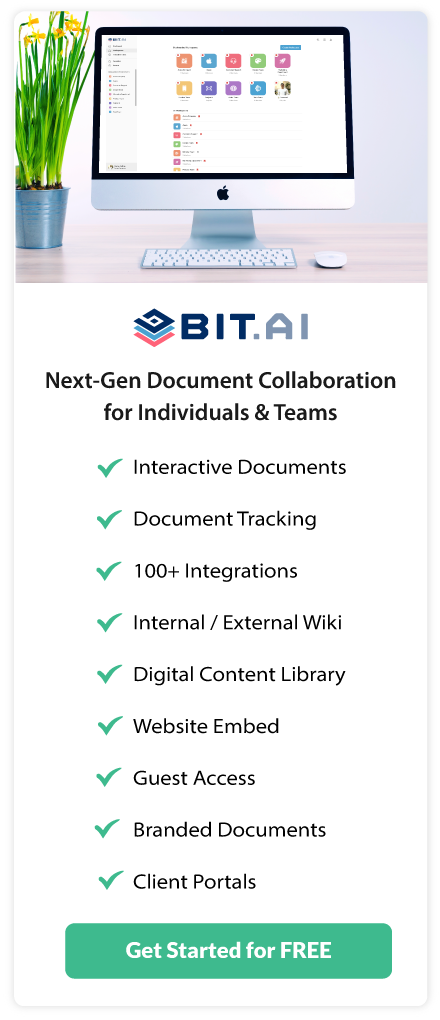 About Bit.ai
Bit.ai is the essential next-gen workplace and document collaboration platform. that helps teams share knowledge by connecting any type of digital content. With this intuitive, cloud-based solution, anyone can work visually and collaborate in real-time while creating internal notes, team projects, knowledge bases, client-facing content, and more.
The smartest online Google Docs and Word alternative, Bit.ai is used in over 100 countries by professionals everywhere, from IT teams creating internal documentation and knowledge bases, to sales and marketing teams sharing client materials and client portals.
👉👉Click Here to Check out Bit.ai.