When you have a business bustling with activities and tasks, it is important that you communicate with your employee regularly and ensure that everyone is on the same page.
For this, you need to make sure that your employees have a source of information that they can turn to see what's going on in the business, and the tasks that they need to complete.
This is where having a weekly report comes in handy. It helps summarize all the tasks carried out over the week and keeps everyone updated about the status of their project or work.
In this blog, we will guide you through the steps involved in writing a weekly report for your business.
But before that, let's try to understand what a weekly report is and why it is important to have one! And if you wait till the end of the blog, then we will a something in store for you!
So without further ado, dive right in, folks!
What is a Weekly Report? (Definition)
As the name so clearly suggests, a weekly report is a report that is produced on a weekly basis.
It usually contains an overview of all the work you completed over the week, including the work in progress and plans for upcoming work.
In short, it gives you a snapshot of your entire week's work. A weekly report is usually one page long and is beneficial for both the managers and employees.
How? For a manager or superior, a weekly report helps them track the employee's plans and activities, and acts as a great reference for annual performance reviews.
Whereas, for an employee, it acts as an effective internal communication tool and helps them keep track of and give insights into their own work progress.
Now that you have an idea of what weekly reports are, let's try and understand why they are beneficial and why you must create them!

Why You Should Create Weekly Reports?
Preparing weekly reports is a great way to ensure that your projects stay on track. But there is more to weekly reports than tracking projects and tasks. What are they? Let's take a look:
1. Helps Improve Communication
Since a weekly report is used by both upper management and lower management, it offers access to information to everyone.
This provides a proper path for better communication flow, and in turn, helps identify problems easily and come up with better solutions. Also, since data is readily available and accessible, it helps build trust and long-term relationships within the organization.
Read more: 7 Types of Reports Your Business Certainly Needs!
2. Identifies Issues
Since a weekly report tracks progress and monitors the company's performance over the week, it identifies and presents all problems and challenges at an early stage itself.
This allows you and your team to take preventive measures to ensure that those minor problems don't become bigger issues.
3. Facilitates Decision-Making
A weekly report shows reliable data of the areas where your business is doing well, where it's lacking, and how much progress you've made in the week.
This will allow you to make better decisions for your company as you will have a clearer idea of where to make improvements and changes, which will help in improving the efficiency of your company as well.
In simple words, weekly reports only add value to your company's progress. So is important that you create weekly reports if you want an organized flow of work.
Scroll down to see how you can create a weekly report in just a few steps!
Read more: Weekly Plan: What is it & How to Create an Effective One?
How to Create a Weekly Report in Simple Steps?
Let's break down the process of writing a weekly report into simple steps:
Step 1. Outline Your Objectives
First things first – You must always establish the purpose of your weekly report and outline your objectives before you get set to work on them.
Here, you will decide what will what exactly you want to put in your weekly report. This can include the progress of each project, the accomplishments, and achievements of the week, issues and challenges faced, updates on timelines, budgets, schedules, resources, and deliverables.
Creating an outline and setting objectives in advance will help you and your team to know what you need to present while creating a weekly report.
Step 2. Establish Your Responsibilities
After you outline your objectives, the next thing you need to do is make sure that you know your roles and responsibilities. This is essential in putting together a perfect weekly report.
Be clear about the tasks and projects that you're handling, define your role within it, and establish what makes a project successful.
Step 3. Keep the Reader in Mind
Before writing your weekly report, Ask yourself whom you are writing the weekly report for – the management, the legal department or your employees?
Keeping this in mind will make your reporting process easier as you can decide to include the relevant information and use the appropriate language.
It is advised to use simple language with active verbs and to avoid using passive voice, technical terms, and jargon so that it is easier for the reader to comprehend.
Step 4. Decide the Layout of Your Weekly Report
Weekly reports are not merely about putting together a few paragraphs and calling them quits. You need to make sure that you have a proper layout that makes your report brief, concise, and visually appealing.
You can create separate sections in your weekly report for each day of the week or get a little creative with your layout by adding visual infographics.
Decide what headings and sub-headings you want to use to ensure clarity and proper structure. You can even divide it into multiple sections based on the type of projects you are working on.
Step 5. Follow an Organized Structure and Format
Now comes the writing part. For a weekly report to present all the necessary and important details, you must follow a well-structured and organized format. This includes:
Headline/Title – Be sure to add a title or headline to your weekly report. This can include the role and status of your report.
Brief Summary – It is always best to start your weekly report with a brief summary of your project's objectives.
Date – Since the aim of a weekly report is to keep a record of the week's work, it is advised that you write your report in a chronological order
Daily Deliverables – Make sure that you mention what you did each day of the week
Tasks – Categorize your tasks and projects of the week into sections, namely 'in progress,' 'completed' and 'delayed.' This will help measure the progress of your work.
Results – In this section, you highlight your achievement and progress with a set of proper numerical metrics.
Challenges and Issues – Mention all challenges, roadblocks, and issues you had to face over the week and provide suggestions to manage them.
Next Step – Lastly, detail what is planned for the upcoming week to give the reader an idea of what is to be expected in the future. This can also help the reader map out your next step.
Following these steps and writing weekly reports will no longer be a bothersome task. However, it is worth noting that writing reports every week can be a bit exhausting and even boring sometimes.
So what if we tell you that there is a tool out there that can change this? Yes, that's right – a tool to simplify your work and save time and effort! Want to know more about this tool? Then scroll down right now!
Read more: Report Writing: Steps, Tips & Tools!
Bit.ai: The Ultimate Tool for Creating Reports
Bit.ai is a modern, cloud-based document collaboration platform that helps you create digital integrated documents effortlessly. Yes, that includes your weekly report!
You can just focus on the content because Bit helps you with every other aspect of your report – from formatting to sharing. With a few clicks, you can create any type of report on Bit!
Take a look at these features of Bit!
1. Stunning, Fully Responsive Templates: No matter what type of report you want to create, there's a beautiful template for that on Bit. With over 70 pre-built and fully responsive templates, Bit has turned the painful task of creating reports a walk in the park.
2. Design Automation: Writing a weekly report isn't easy. It takes so much effort that you end up having no energy to make the report look appealing. Luckily, Bit solves that problem for you with its design automation feature. With just one click, you can change the look of your entire document, its layout, and color too!
3. Interactive Documents: Bit lets you add PDFs, charts, videos, maps, surveys/polls, charts – basically all kinds of rich media in your documents. Right now, there are over 100 rich media embed integrations on Bit! So, why give someone a boring, static project report they'll never open when you could turn it into something much more engaging?
4. Real-Time Collaboration: Weekly reports are important documents, and creating one on your own is a little difficult. That's why this feature of Bit is the best. Using Bit, you and your team can collaborate on the reports in real-time, no matter where everyone is located. You can co-edit, make inline comments, access version history, chat via document chat, @mentions, and much more!
5. Smart Workspaces: Organizing and managing all your weekly reports can be a pain, but Bit is here to take the pain away. Bit lets you create as many workspaces as you want around different teams and departments, invite guests into the workspace, and manage everything much more efficiently!
6. Tables: It's better to show all the data and figures in your weekly via tables. This way, everyone who reads your report would be able to grasp the complex figures in a quick glance. On Bit, you can create wonderfully designed and fully responsive tables with the click of a button. The colors of these tables automatically change according to the colors of your document's theme!
Conclusion
With a weekly report in hand, there is very little that could go wrong!
Follow the steps we mentioned in this blog and you can consider yourself fully prepared to write a weekly report. And with Bit on your side, your writing process just got a lot quicker and easier.
Bit is everything you could ask for while creating any report. So quit second-guessing and get Bit to create amazing reports without any effort. Time to make your business lives easier and smoother.
Further reads:
Survey Report: What is it & How to Create it?
KPI Report: What it is & How to Create a Perfect One?
Performance Report: What is it & How to Create it? (Steps Included)
Management Report: What is it & How to Create it?
9 Ways to Improve Work Performance in 2022
Learn How to Create a Social Media Report Like A Pro!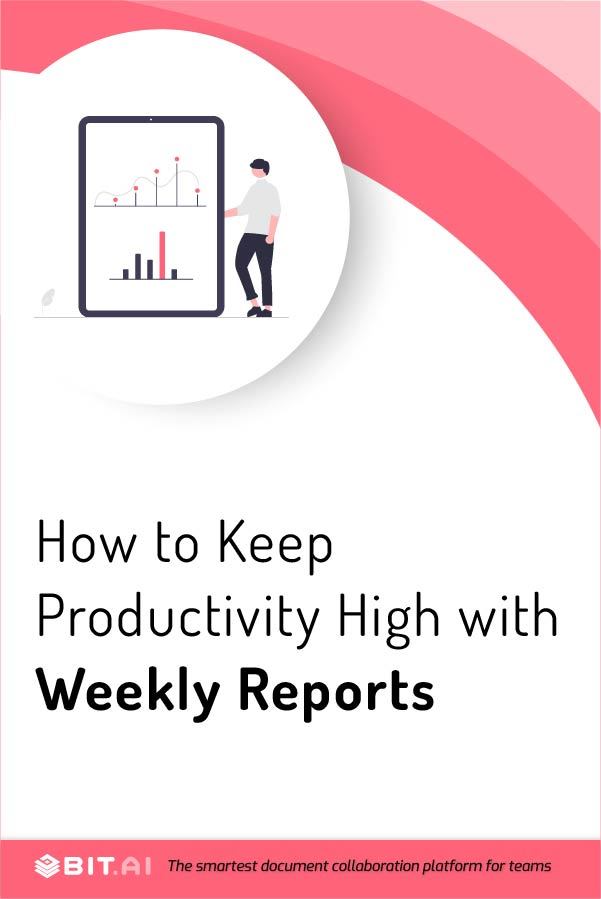 Related posts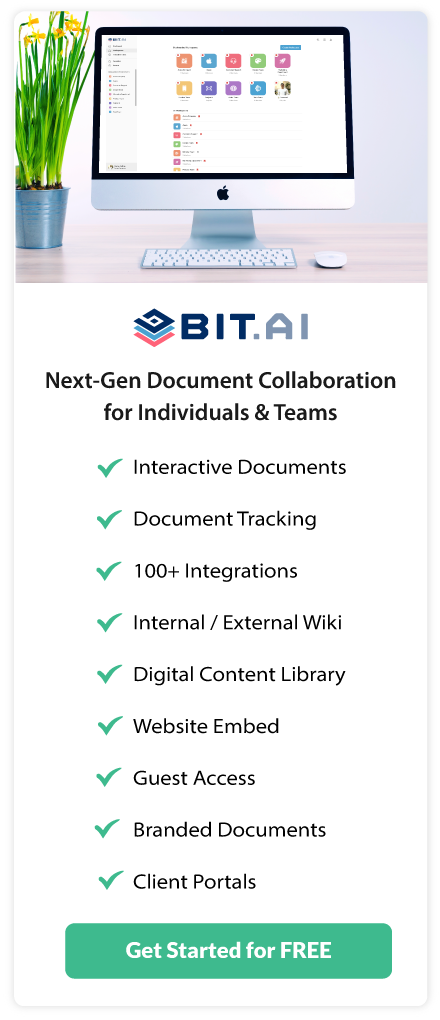 About Bit.ai
Bit.ai is the essential next-gen workplace and document collaboration platform. that helps teams share knowledge by connecting any type of digital content. With this intuitive, cloud-based solution, anyone can work visually and collaborate in real-time while creating internal notes, team projects, knowledge bases, client-facing content, and more.
The smartest online Google Docs and Word alternative, Bit.ai is used in over 100 countries by professionals everywhere, from IT teams creating internal documentation and knowledge bases, to sales and marketing teams sharing client materials and client portals.
👉👉Click Here to Check out Bit.ai.