"The purpose of life is a life of purpose" – Robert Bryne
Throughout the years, great thinkers have emphasized the importance of planning and scheduling.
Even Jack Dorsey, the founder of two tech giants like Twitter and Square claims to have a specific weekly plan in place.
In a study conducted by Harvard Business Review, it was found that 97% of the senior executives believed strategy and planning were critical to successful leadership and the future of their company.
They believe vision is the greatest thing and the first step to success. Planning is a way to jot down that vision including the steps required to reach there.
So, if planning is so great, why is it so hard to do?
Well, the planning part is not hard, the execution is.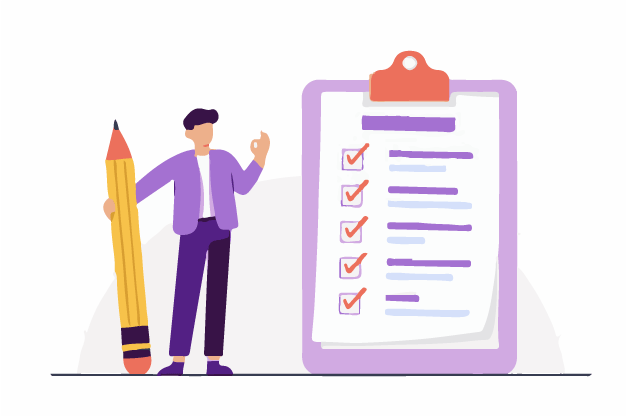 You know why? Because in the excitement of starting something new, we often overburden ourselves and end up getting nothing done.
This is where a weekly plan comes to play.
In this article, we will talk about what is a weekly plan like, why you must have it, and how you can create it.
Psst..we will also reveal a great tool for all your planning needs at the end.
Let's get into it.
What is a Weekly Plan? (Definition)
A weekly plan is simply jotting down your to-dos for each day with an end goal in mind.

For instance, if you're looking for new projects, your weekly plan would look something like this:
Monday: Update resume and portfolio
Tuesday: Reach out to previous clients via email
Wednesday: Send some cold emails and apply for jobs on LinkedIn
Thursday: Reach out to professional network
Friday: Apply for some more jobs
The goal at the end of the week is to get any leads possible.
An effective plan recognizes the gap between plan and success and fills it with new strategies.
For example, if the above plan doesn't work, it could be because you need to upskill yourself. So the next week's plan would include signing up for a course.
So, what does an effective weekly plan look like?
It is SMART i.e Specific, Measurable, Achievable, Relevant, and Time-Bound.
It has space for innovation i.e new ideas that come up.
It takes care of your mental health and ensures you don't burnout.
It takes into consideration any new high-priority task that may come up.
You see, planning isn't just about setting high goals. It's about preparing yourself to reach those goals one day.
A common question that comes up here is that, "What is the need for all this? Cant we just go with the flow?"
Read on as we answer it for you.
Why you Must Create Weekly Plans?
It is true that spontaneity brings some great innovations, however, for the operations part, planning is critical. Let's look at some more reasons why you need to create weekly plans:
1. Achieve Long Term Goals
You must've taken a 'resolution' on some new Year's eve, right?
A promise of doing something or achieving a goal by the end of that year.
However, most resolutions don't work out, rather disappear by February!
This is because we commit to a long-term goal without deciding the plan of action to reach that goal.
Weekly plans are a great way to achieve your yearly or long-term goals owing to the old adage – "One day at a time".
A weekly plan lets you develop a plan of action each day for the 5 days of the week. At the end of the week, you can analyze your performance and set tasks for the next week.
This way you only have to think about tasks for tomorrow without worrying about the future too much.
Read more: Productivity Plan: What is it & How to Create a Perfect One?
2. Balance it Out
Having a weekly plan lets you balance your life and take out time for all the important things, professionally and personally.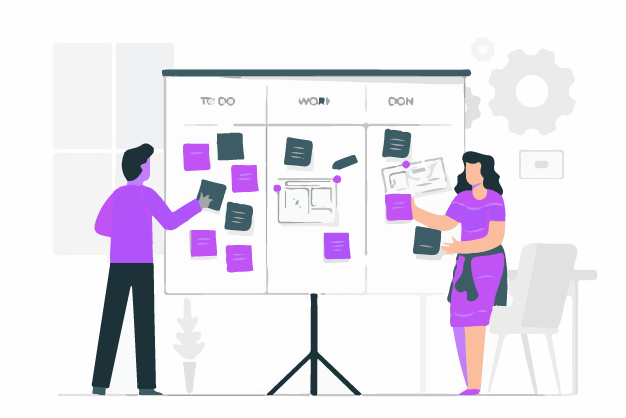 Dividing the 24 hours of the day and using them efficiently can give you enough time to do a job, have a side hustle, a social and personal life, and still have time to innovate.
Without planning, your daily life might get exhausting!
3. Avoid Burning Out
When you have different things on your plate, you try to multitask. You sit on a table at a stretch and strain your eyes from staring at a screen for hours!
Honestly, there is no such thing as multi-tasking.
From Mozart to Bill Gates, great leaders have always supported doing one thing at a time, otherwise, none of it is done properly and you end up getting burned out instead!
There is a slight line between giving your best and burning out. That line composes of a plan.
In a plan, you take time for breaks, refreshing your mind once in a while and looking at things in an organized manner.
Read more: What is Project Planning: A Step by Step Guide!
4. Keep a Track
A written plan lets you keep a track of all your activities so that you can spot errors and make amends the next time.
It also acts as a record of tasks you did so that you can refer back to them in the future and see where you started and how far you've come.
Keeping a track of your daily, weekly, and monthly progress lets you have a definite vision and the motivation to move towards it.
Now that we've understood what a weekly plan is and why is it crucial to have one, let's get into the actual steps of creating a plan that works for you!
How to Create a Weekly Plan? Follow these Steps!
Step #1: Start the Week on Sunday
This advice is inspired by the great Leonardo the Vinci.
He said, "Just as a well-filled day brings blessed sleep, a well-employed life brings blessed death".
Entrepreneurs Adrian Iliopoulos formulated the da Vinci schedule which has two main elements:
Start planning your upcoming week on Sunday evening by 8:00 to analyze the past week's performance and work upon new agendas for the coming week.
Divide the work into categories like administrative work, fitness, meetings, networking, and play.
Step #2: Set Personal Deadlines
Determine end-week goals that you want to achieve and set personal deadlines for the same. Instead of allotting specific hours for a task, allot deadlines.
For instance, Write "complete this article by 2 pm" rather than "do this article from 10-12 pm".
This allows you to take up any new high-priority task that may come up and also gives you the freedom to take breaks. The only focus is to complete the said task at a given deadline, so you can work freely as long as that is achieved.
Step #3: Divide Tasks on the Basis of Priority
When you set an end-week goal, break it down into the steps needed to achieve it.
While breaking down steps, divide them into high-priority, operations, and side tasks. Finish the high-priority tasks by the first two or three days of the week so that as the weekend approaches, you just have side tasks to take care of.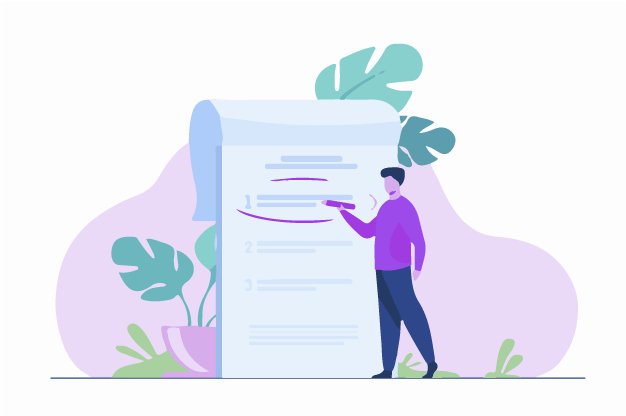 Also, at the start of the week, your mind is fresh and capable to perform more.
Another approach you can take for this is dividing a day wherein you allot one priority task each morning, operations in the afternoon, and some side tasks by the end of the day.
Remember, your plan is purely for you. So choose whatever works for you.
Step #4: Incorporate Personal Life
This is a crucial part that we often forget. Being productive is not just doing work and chasing deadlines. You are also productive when you rest, spend a day with your partner or make your parents proud.
So also tick off things like watching the movie that's been on your watchlist for weeks.
Hustle, don't burnout!
Taking care of your mental health is equally important. A healthy mind can imagine, create a vision, and most importantly, give rise to innovation.
Step #5: Reward Yourself
The last step is to set small personal rewards for yourself. When you complete a task on a given deadline, reward yourself with your favorite food or a relaxing hobby.
This motivates you and makes you strive for more.
What good is completing a deadline if there isn't anything beyond the line?
So remember to treat yourself for all that hard work!
Now, as we promised, it's time to reveal the ultimate tool for all your planning needs.
Bit.ai: The Ultimate Tool for Creating Weekly Plans
One major reason why people fail to implement their weekly plans is the boring checklist they need to visit every day.
This is why we require a tool that not only adheres to the planning needs but also gives space for creativity. It should be visually appealing as well as user-friendly.

Bit.ai is all of those things, and much more. It is a smart documentation tool that focuses on innovation with automation.
With Bit, you have access to 70+ pre-designed templates which include a To-do list, SMART goals, Brainstorming, Progress tracking, SWOT analysis, and much more. They are designed with attractive colors and professional borders.
Apart from this, all your documents can be arranged in different workspaces and nothing is ever lost. Using the Bit's smart search, you can put in the slightest of thing you remember about a certain document and it will show up.
Sharing these lists and agendas is also easier than ever using Bit. It is a highly collaborative platform wherein you can add team members, work on a document together, chat and ping each other to communicate.
Another aspect that differentiates Bit from other planners is its rich media integration and content library. You can embed all sorts of media like images, audio, video, PDFs, slideshows, and much more in your weekly plan.
If you find a piece of content useful but don't want to use it immediately, you can store it in Bit's content library and use it later. The content library is accessible by all members present in that workspace.
Awesome, right?
Bit.ai is indeed a one-stop solution for all your planning needs. It makes the entire process easy, interactive, and engaging!
Conclusion
Creating an effective plan that you can actually maintain can be a challenge.
This is why your plans not only need to be SMART but also fun and engaging to work with. It is something that you view every day, so make sure it's worth a while.
If you're reading this article, it means that you are looking to get your life together and work with the planning. So we urge you to start right now, right here.
Visit Bit.ai, create your free account and use a template to plan your first week.
Let us know how it goes by tagging @bit_docs on Twitter. We would love to know how your first step towards success turned out to be!
Further reads:
Self-Care Plan: What is it & How to Create an Effective One?
Growth Plan: What is it & How to Create One? (Steps Included)
Weekly Report: What is it & How to Create it? (Steps & Structure)
How to Create a To-Do List the Most Effective Way! (Free Template)
Tactical Plan: What is it & How to Create an Effective One?
Action Plan: What, Why & How to Write it?
Quality Management Plan: What is it and How to Create it?
Project Budget Plan: What is it & How to Create it?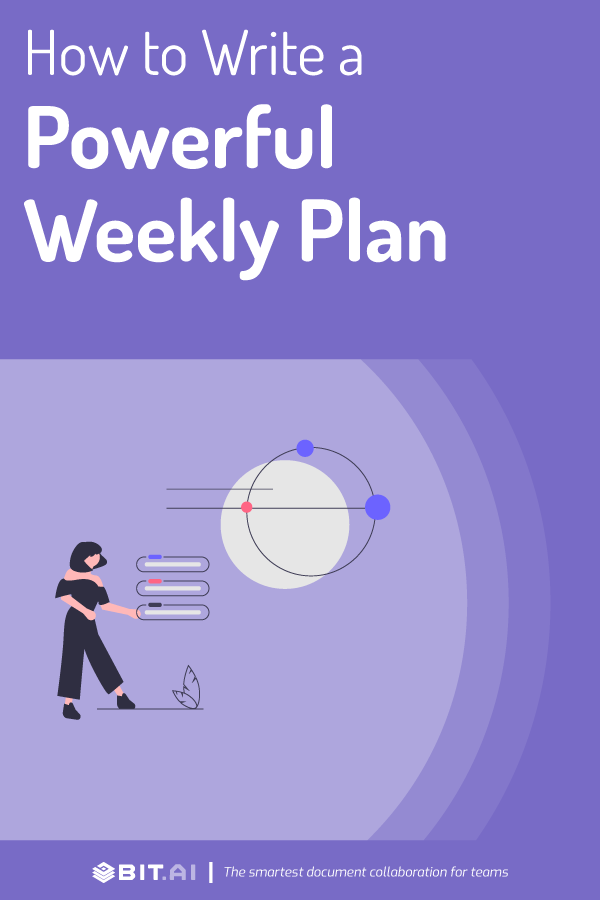 Related posts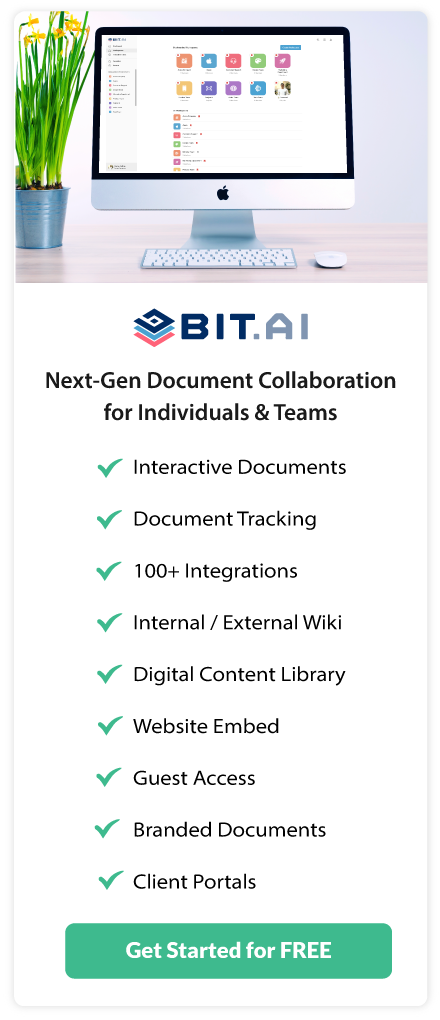 About Bit.ai
Bit.ai is the essential next-gen workplace and document collaboration platform. that helps teams share knowledge by connecting any type of digital content. With this intuitive, cloud-based solution, anyone can work visually and collaborate in real-time while creating internal notes, team projects, knowledge bases, client-facing content, and more.
The smartest online Google Docs and Word alternative, Bit.ai is used in over 100 countries by professionals everywhere, from IT teams creating internal documentation and knowledge bases, to sales and marketing teams sharing client materials and client portals.
👉👉Click Here to Check out Bit.ai.