Are you one of those beginners in entrepreneurship who has great ideas but confused about how to implement them?
Even if you have a crystal clear vision, things will not work out unless you have a clear plan in place.
According to a report, a business plan creates a 71% greater chance of growth.
Another study revealed that businesses that use business plans have a 7% higher likeliness of high growth as compared to those without an adequate business plan.
Isn't that interesting enough to consider drafting a plan for your business?
But, drafting a 40-50 page strategic business plan can really be overwhelming!
Well, what about creating a simple, yet powerful business plan to suit your company's short-term needs?
You can update the plan as your business moves forward. Such a dynamic plan is extremely beneficial since your business is definitely not static. As you learn more about your business, you can adjust the plan frequently.
Well, that is what a 'Tactical Plan' is all about. It prevents you from wasting a lot of time while helping you craft the best out of your business.
In this article, we will be focusing on what a tactical plan is, how is it beneficial to your business, and how can you create one.
Read on to dive into some exciting information!
What is a Tactical Plan? (Definition)
Even if you have clearly defined goals for excelling in the long term, and beautifully executed mechanisms to carry out day-to-day processes, something is still lacking.
You are still left out with no measure to encounter an immediate challenge, which in turn, may handicap your long-term goals and strategies.

Hence, a tactical plan is something that your business would never want to compromise upon.
A tactical plan is defined as a clear outline of the actions you are going to take in order to achieve a short-term goal.
It can either be a list of all the tasks that you will do on your own, or those which you are going to assign to your employees.
Say, if you decide to reach your potential clients or consumers through social media promotion. , Then, your tactical plan needs to lay out the entire process and steps of the promotion. This may include deciding an appropriate social media platform, arranging the necessary resources, setting up a fixed schedule for the promotional tasks, and so on, and so forth.
Or, let's take another example. Imagine you are going to launch a new website for your business. So, you should make a clear outline of the content that you are going to post, employ an efficient content management team, provide them with all the required resources, decide a strategy and timeline for posting content, choose a medium to share the content to potential clients or customers, and more.
In order to keep up with the competitors and excel in the market, it is extremely essential for your business to have a clearly laid out tactical plan in place.
Curious to know more about the specific benefits of creating a tactical plan for your business!? Well, here are the reasons why you should never fail to create one:
How Creating a Tactical Plan is Beneficial?
The question here is extremely difficult to answer since it cannot be concluded in a few lines or even paragraphs.
Though end results may vary according to the exclusive nature of your company, it is no doubt that creating a tactical plan is a task worth your time.
For an easy and better understanding, here we provide you with the top three reasons why creating a tactical plan can be extremely beneficial to you:
1. Better Understanding of the Business
Creating a tactical plan will force you to think analytically and come up with solutions to immediate problems in any part of the business.
All the research and analysis done to create a tactical plan helps everyone, from the employer to the employees, to get a better understanding of your business and help you achieve the broader vision.
Read more: Company Profile: What is it & How to Write a Perfect one?
2. Point Out Your Inefficiencies
Tactical plans are extremely beneficial to your company since it helps you to point out your business' inefficiencies and faults.
Once you understand what the faults are, you can take the necessary steps to prevent them from taking place again!
3. Benefit from Employees' Inputs
Employees involved in the day-to-day operations give their opinions and inputs, as part of the tactical plan.
This would obviously be beneficial since the inputs gained are based on their first-hand experience.
With all that being said, it is totally understood that a tactical plan can be a gem to your business.
But, how to create one?
That is something that requires not only proper theoretical knowledge but also a great amount of research and brainstorming.
Let us look at the steps involved in creating a tactical plan!
How to Create a Tactical Plan? (Step by Step)
There are certain steps that you should never fail to consider while creating a tactical business plan for your business. Each one of these should be clearly included and taken care of.
Here are those essential steps, or components to be included while drafting a tactical plan:
Step 1. Envision the Long-term Mission
As mentioned earlier, though tactical plans are designed to cater to the short-term goals, they contribute ultimately to the long-term goals of your business.
This is why it is important to have a perfect understanding of the company's overall long-term goals while drafting a tactical plan.
Once you get hold of the ultimate mission of the business, you can likely employ shorter goals to work towards them.
Step 2. Create Well-defined Goals
Learn about your company's needs and design goals well-suited to its nature.
This should be based on various objectives such as your company's productivity and output, workload, profit levels, etc.
Be sure to learn what your company is lacking and prioritize the goals accordingly.
Make sure that you create only realistic and practical goals because creating huge unrealistic goals may even handicap your company's current productivity and profit levels.
Read more: Writing Vision Statement: Definition, Examples, and Best Practices!
Step 3. Assign Actions to Each Objective
Once you are done with creating the goals and objectives, the next step is to create the necessary steps needed to achieve each of them.
These steps or actions should be clear, practical, and easy to execute.
For eg: if your goal is to get more visitors to your website, you should employ steps to make your website more appealing and attractive to people. If you think smarter, a single action can even let you achieve multiple objectives!
Step 4.  Arbitrate Key-Performance-Indicators (KPIs)
Key performance indicators (KPIs) are a set of quantifiable measurements which are used to test the long-term performance of your company.
For example, gross profit margin, liquidity availability, or even anecdotal ones such as quality of customer experience.
KPIs help you to understand if the objectives employed are making sense.
Be wise to choose KPIs that directly support your goals. Otherwise, the information will go irrelevant.
Step 5. Employ Adequate Resources
You should make sure that your employees have access to the adequate resources and tools needed to achieve the defined goals.
You should make proper arrangements to provide any sort of training or installation of new software if needed.
Your team should never be found lacking in resources.
Any minor misgivings on your part in this regard can impact your business negatively.
Step 6. Delegation of Responsibilities with Fixed Timelines
As you are creating a tactical plan, it is important to assign and divide work and responsibilities to people, according to their efficiency and potential.
It is also salient to keep a fixed timeline for each process.
Doing this will help the employers to work as per priorities, and manage time effectively and efficiently. It will also help in inculcating professionalism and a sense of seriousness, associated with the job.
Individuals and teams should be aware of their specific responsibilities or the tasks that they must carry out.
Step 7. Build Flexibility
While creating a tactical plan for your company, it is necessary to incorporate flexibility into the plan.
Each business is unique, and so is yours.
Therefore, you should never fail to create flexible plans, that suit your exclusive business needs.
Being flexible with your plan doesn't mean it has to be clumsy, rather it means adapting to the exclusive needs of your company.
With all these steps clearly carried out, it is of no doubt that you can build a perfect tactical plan.
However, the steps can be modified according to your company's exclusive nature.
Well, now, choosing a tool to create your tactical document is much-required, right!
But, how to choose the most innovative platform, to create a dynamic tactical plan?
Worry not, that's what Bit.ai stands for. Come, let us explore what really is Bit.ai!
Bit.ai: The Ultimate Tool for Creating a Tactical Plan
With Bit.ai, creating a tactical plan is easier than ever before!
The huge variety of features that Bit offers, help you in creating the perfect tactical plan for your business.
Bit does not simply boast of being the most popular document collaboration and management platform. We have solid reasons!
Well, have a look at some of the top features of Bit, on your own:
Multiple Workspaces
The Bit 'Workspace' help you customize your workflows to meet your business needs. While creating a tactical plan, you may need to discuss the parts with your attorney.
This can be done using Bit's workspaces. The workspaces can be customized according to your needs too. They can be team workspaces, client workspaces, private workspaces, and more.
Real-time Collaboration
While creating your tactical plan, you need not spend extra time, discussing it with your partners or colleagues. Bit offers real-time collaboration on your documents. This means you can save your precious time, by discussing and making changes to the plan on the go!
Anyone who is part of a workspace can easily collaborate across the documents inside that workspace. The collaborators can add or edit the content, add comments, files, embed links, and more, in real-time!
Smart Editor
Your tactical plan need not be an outdated, boring document. You can make it interactive and innovative using Bit's smart document editor features. Bit offers a large variety of templates, themes, and formatting options to choose from.
You can embed hundreds of rich media and file formats to your document, which would make it extremely stunning. Any content on the internet, with a web link, can be added to your document to make it super interactive!
Content Management
While creating any document, there would obviously arise the need for a lot of content, that must go along with it.
Storing all this digital content is obviously a task in itself. But, Bit has got your back! Bit offers an amazing content library, where you can save and access all types of digital content that are needed.
End-to-End Sharing and Tracking
Once you are ready with your tactical plan, you can share the document in live-state. Any changes made to the document will be updated in real-time. You can even track the performance of your document, by gaining real-time insights on users' interaction on your document.
Security and Permissions
You would obviously not want your tactical plan to be accessed by everyone out there. At Bit, we respect your privacy. That is why we have introduces features like password protection, file access restrictions, etc. that can ensure the safety of your documents.
Wrapping Up
Now, you must have a clear understanding of a tactical plan.
For all that information to be useful, you just need to employ it efficiently.
With all the enthusiasm you have, we are sure that you could create an excellent tactical plan for your business.
Tweet to us @bit_docs and let us know how it goes. We wish you all success and luck ahead!
Further reads:
Resource Management Plan: What is it & How to Create it?
Growth Plan: What is it & How to Create One? (Steps Included)
Weekly Plan: What is it & How to Create an Effective One?
Product Planning: What is it & How to do it? (Process & Steps)
Business Development Plan: What Is It And How To Create A Perfect One?
Business Continuity Plan: What, Why & How to Create it?
Product Plan: How to Create it the Right Way?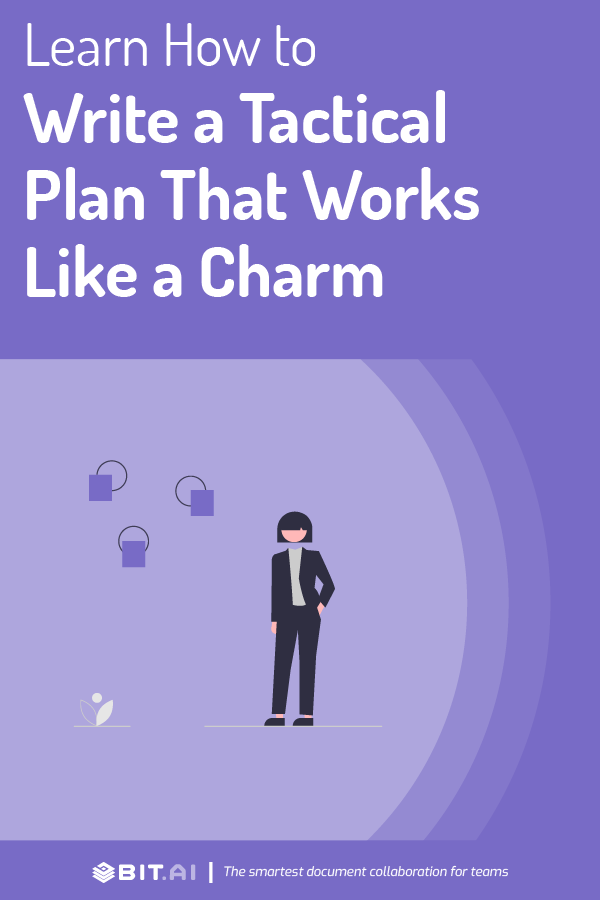 Related posts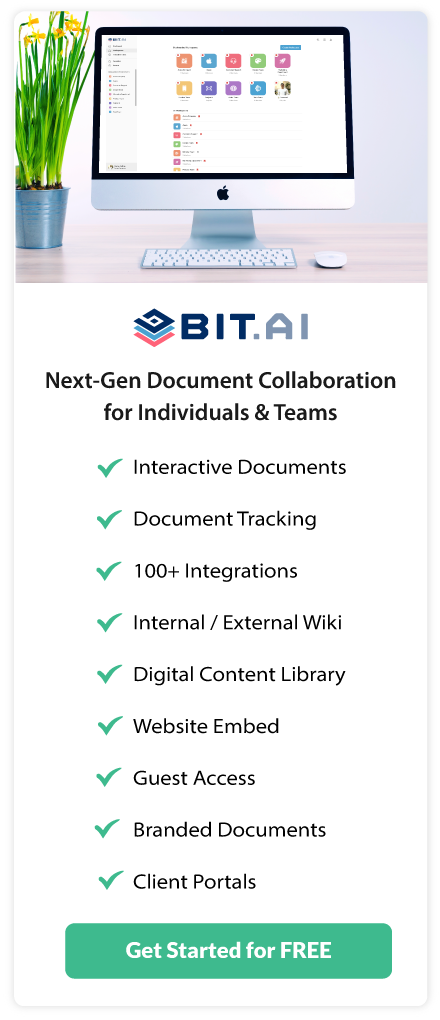 About Bit.ai
Bit.ai is the essential next-gen workplace and document collaboration platform. that helps teams share knowledge by connecting any type of digital content. With this intuitive, cloud-based solution, anyone can work visually and collaborate in real-time while creating internal notes, team projects, knowledge bases, client-facing content, and more.
The smartest online Google Docs and Word alternative, Bit.ai is used in over 100 countries by professionals everywhere, from IT teams creating internal documentation and knowledge bases, to sales and marketing teams sharing client materials and client portals.
👉👉Click Here to Check out Bit.ai.