Whether it is a short trip around the country, running a marathon, or making lifestyle changes, everything requires a starting point that will take you to your final goal.
And when it comes to project management, having a starting point is extremely crucial.
But as a project manager, you know how difficult it can be to start a project. There is always a lot of confusion and chaos about setting objectives, scope, schedule, cost, and more.
So how can you kickstart your project without much hassle – while measuring its performance?
With a project baseline! A project baseline is a critical component of project management. It's the perfect tool to ensure that your projects are on track, your teams are motivated, and your clients are happy.
If you are unfamiliar with what a project baseline is, then we have got you covered! In this blog, we will help you understand the meaning, importance, and steps involved in setting a project baseline.
Without further ado, let's dive right in!
What is a Project Baseline? (Definition)
A project baseline is an initial plan you establish together with your stakeholders, and it includes the project expectations, timeline, and deliverables. In other words, it is a starting point for your project plan.
Typically, a project baseline has three components that are usually controlled, monitored, and reported to ensure that everything in the project is on track. They include schedule, cost, and scope.
Efficiently monitoring and tracking these three components gives you insights into how a change in one component can affect the other. This means that when your baselines are merged, it can tell you how a delay in your schedule can impact your costs.
An approved project baseline also acts as a point of reference that is used to compare and measure the progress and performance of your project over time.
For example, imagine that your project is set to be completed in 8 weeks.
How do you know if that is good or bad? If your project baseline says that you were to complete it in 10 weeks, then you know that it's good a thing.

However, if it says 6 weeks, then you know that you are falling behind and you need to speed up your process to complete the project quicker.
Simply speaking, a project baseline tells you whether you're on track and within your budget.
Read more: Project Kickoff: What is it & How to Create it?
Types of Project Baselines
1. Scope Baseline
The scope baseline is a detailed set of requirements for your project which are broken down into milestones and tasks to give a comprehensive snapshot of project deliverables. It has three elements:
Scope statement – Outline of the entire project with features, objectives, and deliverables
Work Breakdown Structure (WBS) – A hierarchical breakdown of tasks in a project into smaller parts
Work Breakdown Structure Dictionary – Gives detailed information about the tasks, activities, and deliverables in the WBS.
A scope baseline is used to compare the approved project deliverables in the initial stage with the actual performance of the project.
2. Schedule Baseline
A schedule baseline is an approved project schedule with a proper project timeline. It includes the start and end dates, duration of the project, assigned roles and responsibilities, and estimates that were developed before the project started.
Schedule baselines are used to calculate and compare the difference between the planned schedule for the project and the actual duration taken to complete the project.
3. Cost Baseline
A cost baseline is the approved budget of a project which details the total cost of the project. It determines how much the project will cost and when it will be spent.
Cost baselines are used to compare the budget approved and how much of the approved budget is spent on the project.
Each of these baselines can provide useful information about the projects as it progresses. Together, they contribute to the performance measurement baseline.
Now that you are aware of the basics of project baseline, you're probably wondering whether setting one for your project comes with any benefits.
Well, let's find out, shall we?
Importance of Setting a Project Baseline
First off, let's talk about the problems that a project can face if you don't set a project baseline. Without a well-defined project baseline, you are likely to face:
Delay in schedules
Scarcity of sufficient resources
Quality management problems
Problems monitoring and tracking
Cost overruns and scope creeps
… and more. All of these can even lead to the failure of your project. That's why we say that having a proper project baseline is a key element for a successful project outcome.
To understand this better, let's take a closer look at the benefits of having an approved project baseline:
1. Evaluates Performance
The most obvious benefit of having a project baseline is that it provides a standard to measure the performance and progress of your project. It allows you to monitor, measure, and compare your actual progress with the project baseline.
It also helps determine how far you have deviated from the project actuals and even helps detect any problems that may arise. In short, it evaluates your project's performance and makes sure that it's on track.
2. Helps Improve Estimates
Since preparing a project baseline can help you measure and compare your project's actual cost, schedule, scope, and progress, it provides deeper insights into where your project has underperformed or over-performed. This information can be used to improve future project plans and estimates.
With a record of the previous estimates in your proper project baseline, you can easily compare it with the actual outcome and use the variance to come up with a margin of error, with which you can improve the accuracy of your estimates.
3. Calculates Earned Value
A project baseline helps you calculate your earned value. It is a way to monitor and measure actual performance against the project plan. It allows you to compare the planned hours and costs with the actual hours and costs.
A project baseline also enables you to analyze your project trends and performance trends to predict if there will be problems in the future.
4. Acts as a Motivational Tool
Project baselines provide solid evidence of the progress your project is making. It shows how much you have advanced from your past and allows you to raise your own bar for improvement.
This means that it also acts as a motivational tool in pushing the teams to be efficient and innovative in achieving their goals.
In short, a project baseline allows you to efficiently oversee and manage your project, monitor its performance, and identify potential problems.
So, it's important that you set a project baseline for your project. How to do that? Let's find out!
Read more: Scope of Work: What is it & How to Create it? (Template Included)
How to Set a Project Baseline? Follow these steps!
Step 1. Scope Out the Project
The first step is to bring together a team and sit down with them to outline the project scope during the initiation phase of the project.
Here, you must break down your project into milestones and bigger pieces so that it is easier to understand the critical aspects of the project.
Step 2. Develop the Scope Baseline
To create a scope baseline, you can use the scope statement as it is one of the most important aspects of a project plan.
While developing the scope statement, you can describe the expected project outcome, deliverables, the need for the project deliverables, the problems they solve, key milestones, and the approach to delivery.
Step 3. Divide Milestones into Tasks
After you've developed the scope baseline, you can make the scope statement into a work breakdown structure that helps identify all the work that must be done to create the deliverables and break the bigger deliverables into smaller ones.
Dividing your milestones into digestible tasks is central for everyone in your team to understand what they are building and how to be able to complete them.
Step 4. Develop the Schedule and Cost Baselines
Once all the tasks and activities are identified in the scope baseline, you can start developing the schedule and cost baselines together as they're interdependent and influence each other.
For this, you have to identify the resources for each task and make estimations about how long each task will take for completion. You also have to estimate how much it will cost for each task. Using the list of tasks you created and the estimates you made, you can easily design the schedule baseline for your project.
It would be great if you talk with experienced colleagues and project managers for getting pointers and tips while working on this step.
Step 5. Assign Roles and Responsibilities
After creating a schedule baseline and cost baseline, you have to assign specific roles and responsibilities to complete every milestone.
You can start by identifying the roles needed for each project milestone, then specify which team member will do what task, and how long it must take for them to complete it.
Right after that, you'll have to define the duration of how much time it will take for the team to deliver the scope of work. You can specify this by mentioning the start and end dates.
Step 6. Establish Relevant KPIs
Key Performance Indicator or KPI is a quantifiable value that is used to measure or track the performance of your company. It indicates whether your project is making any progress with its project goals or achieving its targets.
So it is extremely crucial that you develop relevant KPIs for your project, such as using historic data or setting a baseline budget. By establishing these KPIs, you can create a comparison between what was planned and what was actually achieved.
Step 7. Review and Revise the Baseline
One of the most crucial things to keep in mind while setting a project baseline is that you must review it at regular intervals and make revisions and updates to it. This is because during the execution of your project, changes in schedule, costs, and more are bound to happen and it will naturally impact the performance of your project.
So make sure that once you have fully created your project baseline, revisit, review, and revise it with the latest information.
Step 8. Meet With the Stakeholders
While you set a baseline for your project, it is essential to have the stakeholders' approval and willingness to participate. You can do this by setting up a kick-off meeting to describe your plan to your company management, clients, team, and everyone else involved.
By doing this, you aid your stakeholders to understand the project, its cost, and timeline so they have an idea of what they have to do and approve. It also helps them determine if the project is on track.
Feel free to create documents for your illustrating your project baseline to your stakeholders. Remember, if any stakeholder expresses any concerns or issues, be open to revising or updating your project baseline.
Voila! You now have all the steps to create a well-defined project baseline for your project ventures.
But before you go, we want to introduce you to an amazing tool that can help you create project baselines sans effort!
Want to learn more about it? Then scroll down right now!
Read more: 9 Project Documents You Must Create For Your Project!
Bit.ai: Tool for All Your Project-Related Documents

Bit.ai is a new-age documentation and knowledge management tool that helps you create, edit, organize, manage, and share documents – all under one roof!
Project managers can use Bit to create any type of project-related document. Yes, this includes project baselines as well. It allows you to collaborate with the team in real-time and store all project assets in one place for easy and fast access.
Check out these amazing features of Bit to find out how it can help you create project baselines:
Ready-made Templates: Bit has an extensive template gallery that offers over 70+ professionally designed templates from which you can choose your favorite one! All you have to do is fill in your customized content and you'll get the whole draft ready in a few minutes!
Auto-formatting: With Bit, you don't have to waste your time trying to fix the format of your project baseline as it automatically formats your entire document to give it a very uniform and consistent look.
Smart Workspaces: Create infinite workspaces and folders on Bit to help you manage and organize information related to your project. It allows you to bring all your documents, media files, and other important project data in one place.
Real-time Collaboration: Use Bit to seamlessly collaborate with your team and work together on the same document in real-time, chat privately, make inline comments, co-edit, and do so much more to ensure that you do not miss out on any important details to be included in your project baseline.
Media Integration: Bit allows you to embed and seamlessly add over 100 rich media integrations to help you enhance your document. This includes images, charts, graphs, tables, excel sheets, PDFs, and lots more.
Simple, Clean UI: Even though Bit is jam-packed with features, it has a very minimal design aesthetic to it. This makes it extremely easy for new users to get on board with the platform.
Tons of other features: Bit has a plethora of amazing features like document tracking, cloud-upload, templates, and themes, document locking, live-state sharing, document expiration, and much more, making it a well-rounded documentation tool.
In short, Bit is the one-stop solution for all your documentation and collaboration needs!
So what are you waiting for? Do yourself a favor and get Bit today!
Conclusion
A project baseline could make or break your project.
Create a well-defined project baseline and you can be sure that you are headed in the right direction. Not to mention, it helps you keep track of your project, motivates your team, and satisfies your customer.
So if you want to overcome your hurdles and achieve results that you will be proud of, then you should definitely start by designing the most amazing project baseline.
And we only hope that this blog has helped you understand it and will guide you through it till the very end.
Now go out there and start creating a baseline for your project and turn your project into a success story! Good luck and adios!
Further reads:
Project Calendar: What is it & How to Create it?
Project Documentation: What is it & How to Manage it?
Project Outline: What is it & How to Create it for Your Business?
Project Summary: What is it & How to Write it!
Project Report: What is it & How to Write it?
Project Objectives: What are they & How to Write them Effectively?
3 Project Proposal Examples You Must Check Out!
Related posts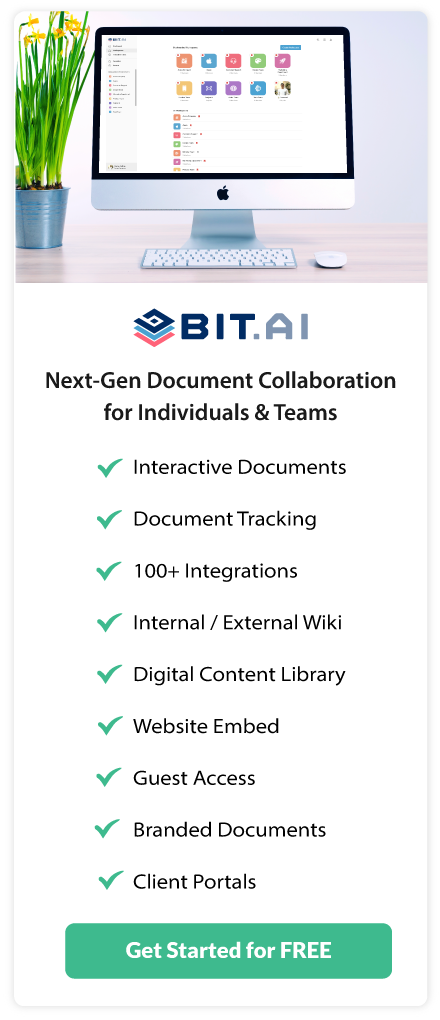 About Bit.ai
Bit.ai is the essential next-gen workplace and document collaboration platform. that helps teams share knowledge by connecting any type of digital content. With this intuitive, cloud-based solution, anyone can work visually and collaborate in real-time while creating internal notes, team projects, knowledge bases, client-facing content, and more.
The smartest online Google Docs and Word alternative, Bit.ai is used in over 100 countries by professionals everywhere, from IT teams creating internal documentation and knowledge bases, to sales and marketing teams sharing client materials and client portals.
👉👉Click Here to Check out Bit.ai.