You are assigned as a project manager. It's a huge responsibility and you don't want to let down your team or your business. After all, each major and minor project form the building blocks of your business.
So, what do you do? Where do you start? How do you make sure that you do things right? Here's a hint: you set your project objectives.
It might not seem like the most exciting part of your project, but it is the most important part. It kick-starts your entire project and sets a path for everyone to follow.
In this blog, we will walk you through what project objectives are, why they are important and how to create effective ones to succeed!
Ready? Let's go!
What are Project Objectives? (Definition)
Project objectives are a set of short-term goals that aim to achieve the final long-term goal of a project. Simply speaking, they are what you wish to achieve by the end of your project.
A well-defined project objective guides you and gives you directions for achieving your final target.
Basically, they are the what, when, and why of your project. This means that your project objective decides what your project is, why you are doing it or what your desired results are, and when you need to achieve it.
Defining the category of each objective will ultimately make it easier for you to organize and prioritize your company projects as well as track and manage objectives based on their grouping.
You can divide your project objective into different categories, like financial project objective, quality project objective, technical project objective, etc. so that it's easier to track, manage, organize and prioritize each one.
That's why your project objective might include different short-term goals from increasing ROI to improving quality and boosting efficiency and productivity.
Now comes the question: how are project objectives different from project goals? Let's take a look!

Project Objectives vs. Project Goals!
It's a very common mistake to use the terms objectives and goals interchangeably despite the distinct difference between the two.
We already discussed that project objectives are short-term goals that aim to achieve the final long-term goal of a project. However, project goals are high-level statements that give direction to what the project is trying to achieve in the long term.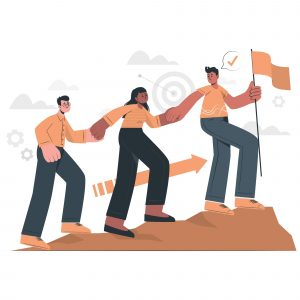 What makes the two different is the fact that project goals provide a broad and general statement to achieve the desired result while project objectives provide a highly detailed and specific target. While the goals aim to achieve the result over a long time frame, the objective aims to achieve in a smaller time frame.
Here are examples of how a project goal and project objective look like:
| | |
| --- | --- |
| Project Goal | Project Objective |
| Provide excellent customer service | Reduce the response time for sales inquiries to 10 hours by the end of this quarter |
| Maximize or increase profits | Earn a minimum of 20% return on investment in a fiscal year |
But are project objectives really that important? Yes, they are! Read on to find out why!
Read more: Feasibility Study: Definition, Types, Importance & Steps to Write!
Importance of Project Objectives
Project objectives hold your projects in place. They provide a structure and foundation which forms the crux of our projects.
Think about how lost and confused your team will be if they have no clue about what they should be working towards. With well-defined project objectives, your team members will have:
A measurable target and clear path to guide them in the right direction
Better clarity and transparency will help them focus on the ultimate goal
A clearer understanding of how to align their efforts with the overall business objectives
This will help boost your employees' motivation and foster a sense of enthusiasm which will positively contribute to the overall growth of your project.
In addition to this, a project objective enables you to measure your final results which help you evaluate how well you have performed.
Your project objectives are the first step in getting you from where you are right now to where you want to be in the future.
They communicate goals and purpose and help you in the process of decision-making throughout the lifecycle of your project. Thus, your goals are likely to be achieved in a much more efficient and quick manner.
Clearly, project objectives are crucial in the overall functioning of your project. So, it's extremely important that you lay down well-defined and effective project objectives for your project.
Read on to find out how…
Read more: Objectives and Key Results (OKR): What, Why, and How?
How to Write Effective Project Objectives? Follow these steps:
All project-related objectives must be clearly defined during the planning phase. This is to ensure that every team member is aware of all the important details even before the project starts.
Now let's take a look at the steps involved in creating effective project objectives for your business-related project:
Step 1. Start with a Vision Statement
The first thing you need to do before setting your project objectives is to start your project with a vision statement. This could act as a high-level overview of where you want the project to be or what you want it to achieve.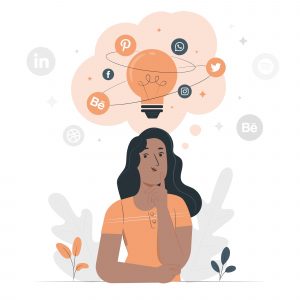 Your vision statement need not always be something achievable or attainable. It informs you about a goal that you need to achieve or work towards so that you have a general idea about the direction you should be following and a strategy you should be using.
The ultimate goal is to inspire and motivate your entire team to achieve the final target.
Step 2. Outline Your Goals
Now that you have a vision statement to give you a general sense of direction, the next step is to outline your project goals. They are usually long-term and act as the driving force behind your objectives.
Here, you define in detail what you wish to accomplish with your project. This sets the tone for creating your project objectives.
Step 3. State Your Project Objectives
Now that you have a rough outline of what you want to achieve, it's time to get into the nitty-gritty of developing project objectives for your project.
The best way to set effective project objectives is to follow the SMART criteria or framework. This means that your projective objectives should be:
Specific
When you set project objectives, make sure that they are clearly defined. It is here where you think about the who, what, where, when, and why of your project.
Narrow your objectives if you want to get a very specific and concrete result.
Measurable
Once you develop a specific project objective, the next step is to ensure that you quantify it. This means that you give a numerical value so that it is measurable.
Make sure that your project objective is defined in terms of specific numbers of percentages so that you can measure your results and track your progress.
Achievable
Ensure that your project objectives are something that can be achieved by your entire team and their efforts.
Ask yourself: are your project objectives reasonable and attainable? How can you accomplish it? This step helps you identify whether the objectives you set are achievable or not.
You have to make sure that you have the resources, knowledge, budget, labor, etc. to carry out your project goals and create objectives based on them. This will help you prevent delays, overwork, or anything that might hinder your project.
Relevant
The next step is to ensure that your project objectives are relevant to your project. This means that they should be able to achieve it within the constraints of the project.
A relevant project objective should align with your other business goals and go hand-in-hand with your organizational values as well.
Time-Bound
The final criteria to be followed is to make sure that you have a clear idea about the time duration of your project.
Your project objective should have a clear end date which will help your team members accomplish it in the given time span. This will ensure that no one gets distracted and help keep the team on a time track.
Step 4. Monitor and Update
Once you have set your SMART project objectives, you need to constantly monitor it throughout the lifecycle of your project.
Make sure that you review, track and update your project objectives to find out if the efforts or results are off track or at risk.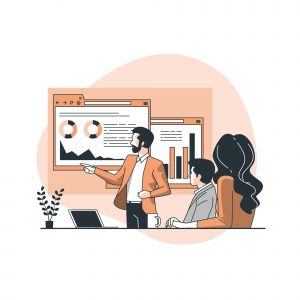 Frequent evaluations will help you identify areas that require improvement and how much you have progressed with the objectives.
In short, your project objectives should be attainable, time-bound, specific goals which you should be able to measure by the end of your project.
Wait! Before you go, we'd like to help you in the process of setting your project objectives with a special tool that we have to offer to you.
Yes, this tool can help you collaborate and create documents that will make the process of setting objectives as easy as a breeze.
Don't believe us? Then scroll down to find out more!
Read more: SMART Marketing Objectives: What are they & How to Write them?
Bit.ai: Tool for Writing All Types of Documents
While making objectives for your project, you'll need to consult your managers, multiple team members, and sometimes even stakeholders. But it's not always easy to call up a meeting every now and then to do something so simple. This is where bit.ai comes in.

Bit is the world's most powerful document collaboration tool and platform. It is built for teams and individuals to create, collaborate, and organize knowledge in one place from anywhere in the world!
With Bit, you and your team can easily create and define objectives to steer each project.
You can create multiple project folders and centralize all information within Bit. This means that you and your team members can use Bit to brainstorm for ideas and goals and communicate weekly projects, content, notes, meeting minutes, and more.
Bit allows you to create an infinite number of workspaces around different projects for different teams to access and work.
Using Bit's real-time collaboration features, you can simultaneously work together with your team by making edits, adding comments, and highlighting sentences all within the same document. It even lets you @mention each member and allows conversations to take place around work!
In short, Bit is designed to not only help you efficiently run your projects but also your entire company! So what are you waiting for? Get Bit today!
Conclusion
Your business will have multiple projects and each project will require its own set of project objectives.
Like we already mentioned before, setting clear project objectives forms the foundation of your project. It provides clarity, aligns with overall business objectives, and lets you get more work done.
With the help of this blog and with bit.ai at your disposal, you are completely equipped to create proper and effective project objectives for your project.
Now all you have to do is set goals and kick start your projects right away!
Good luck!
Further reads: 
Learning Objectives: What are they & How to Write them?
Project Summary: What is it & How to Write it!
Top 7 OKR Software You Need To Use This Year!
11 Amazing Goal Tracking Apps and Tools! (Free & Paid)
9 Project Documents You Must Create For Your Project!
Project Timeline: What is it & How to Create it? (Step By Step)
Project Scope: What is it and How to Write it?
Project Charter: What is it & How to Write it Perfectly? (Template Included)
Business Objectives: How To Set & Achieve Them?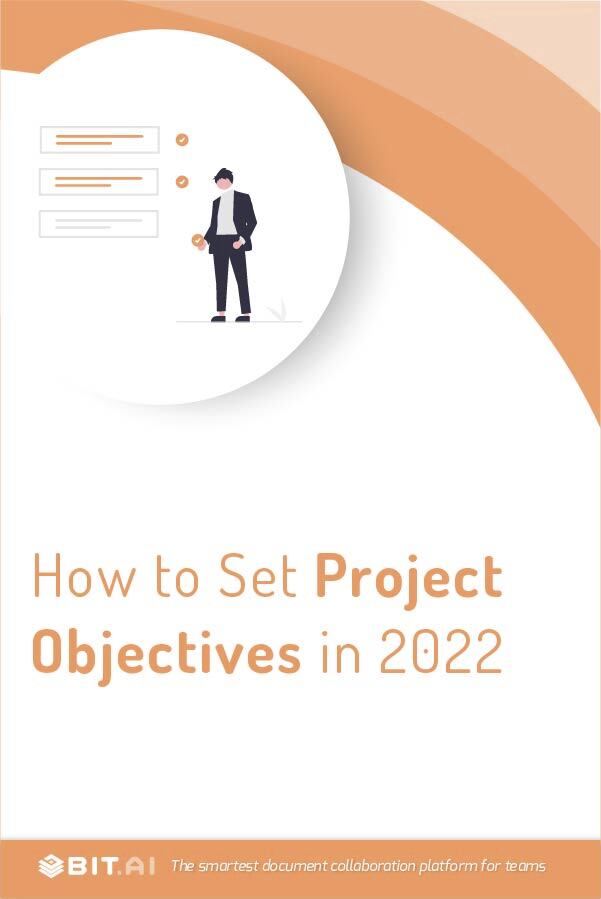 Related posts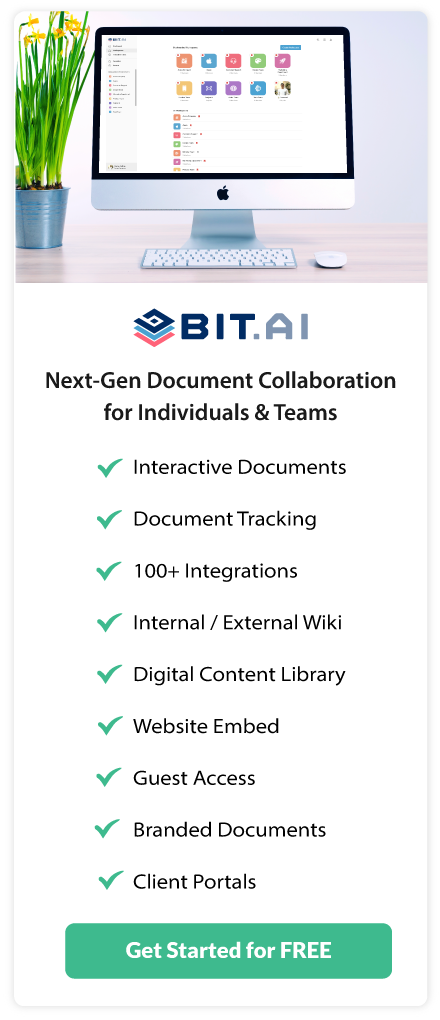 About Bit.ai
Bit.ai is the essential next-gen workplace and document collaboration platform. that helps teams share knowledge by connecting any type of digital content. With this intuitive, cloud-based solution, anyone can work visually and collaborate in real-time while creating internal notes, team projects, knowledge bases, client-facing content, and more.
The smartest online Google Docs and Word alternative, Bit.ai is used in over 100 countries by professionals everywhere, from IT teams creating internal documentation and knowledge bases, to sales and marketing teams sharing client materials and client portals.
👉👉Click Here to Check out Bit.ai.