Be it for a college application or for opening a bank account or simply for feedback, at some point in your life, you will have filled out a form or survey. It's one of the most common ways to collect data and information from people.
That's why, even in business, using forms to gather information from your customers, website visitors, and employees has become a very common practice.
With technological advancements, you no longer have to give out pens and papers to fill out your forms and surveys; you can simply invest in a form builder software and it will take care of all the work for you!
But with so many form builder software in the market, it can become difficult for you to determine which ones are the best.
To make your jobs easier, in this blog, we have compiled for you a list of some of the best form builder software out there.
But before you dive into the list, let's take a look at what exactly form builder software is and why they are important for your business.
Jump right in, folks!
What is a Form Builder Software?
A form builder software is tool that helps create professional forms for collecting information. It allows businesses to build forms to get any kind of details and information they want about their customers.
A form builder software lets you create fillable forms, such as quizzes, questionnaires, surveys, and more. This will let you get insights into the needs and preferences of the majority of your customers.
So those forms that you see asking you to fill in details about yourself or asking about your likes and dislikes or simply asking you for feedback, are all created using a form builder software.
The data or responses collected from these forms will be stored within the form builder software itself.
A form created by a form builder can be embedded or shared on your website or web pages so that you can gather responses from the website visitors.
Now that you know what a form builder is, let's try and understand the benefits and importance of having one for your business!

Why Do You Need a Form Builder Software?
Let's go over some of the major benefits of using form builders in your business and try to understand how important they can be!
1. Optimizes Decision-Making Process
For you to get to know your customers and their interests, you need to create forms, such as surveys, polls, feedback forms, etc. With form builder software, you will be able to create these forms for your customers and website visitors.
It will help you gather details about your customer, such as their name, email addresses, contact information, likes, dislikes, and more. This will not only help you capture effective leads but also greatly help you in the decision-making process.
2. Saves Time and Cost
With form builder software, you can easily design forms and share them. This helps reduce a lot of manual work that goes behind creating offline forms. By using form builders, you help save operational time and cost, thereby improving the overall productivity.
3. Creates Better User Experience
The cool thing about using form builder software is that it can help you create visually-appealing forms. It allows you to set themes, select theme colors, and fonts, and add images, gifs, and videos to your forms. It even lets you personalize your forms to give your customers a visual experience while collecting information. This naturally creates a better user experience.
Now that you are aware of how useful a form builder software can be to your business, let's take a look at the list of some of the best ones available in the market!
List of Form Builder Software

Let's start off the list with Zoho Forms, a form builder software and data collection tool that allows you to create forms and publish them on multiple platforms. It has a simple user interface with 30+ field types, customizable themes, and situation-specific templates.
Zoho Forms lets you embed forms on web pages and share links on social media or to a target audience via email campaigns. It also sends trigger conditional emails or SMS notifications each time there is a new entry to the form
With Zoho Forms, you can sort and view form entries, export them as spreadsheets, or send the data to the apps you use. With UTM tracking and form analytics, it allows you to measure your form's performance and optimize it for better conversions. Furthermore, Zoho Forms can be accessed both online and offline.
Pricing:
Free version available
Pricing plan starts at $12/month

Jotform is an online form builder software that has an intuitive visual editor that lets you create customizable forms.
What makes Jotform unique is that it offers an amazing template library that has over 10,000 different form templates, such as employment applications, market research surveys, registration forms, and more.
With Jotform, you can also start with a blank late template to build single-page or multiple-page forms, add a logo, edit using different types of form fields, accept payments, collect signatures, add progress bars, validate emails, and much more.
Moreover, Jotform lets you work in a spreadsheet, create visuals, and even set up an RSS feed to review your responses.
Pricing
Free for up to five forms with Jotform branding
Bronze plan at $24/month up to 25 forms

If you're a developer looking for a form builder software with logic branches and payment fields, then Cognito Forms is a great option for you. It offers a wide range of advanced features, such as calculated fields, webhooks, conditional logic, repeating fields, CSS styling, and more.
With Cognito Forms, you can design advanced forms from scratch or create them from a wide range of form templates, which includes marketing forms, education forms, registration forms, and lots more. It allows you to customize the background colors, font, form width, images, and more.
Cognito Forms also has a great set of reporting tools, offers secure online payments and data encryption, and even integrates with third-party apps, such as WordPress and Zapier.
Pricing
Free plan available
Pro Plan at $15/month
Team Plan at $35/month
Enterprise Plan at $99/month

Want a quick and easy way to create forms and collect customer data? Then Google Forms is an excellent form builder software for you. It has a smooth online form editor that allows you to design forms from scratch in just a few minutes.
Google Forms allows you to upload photo files, change the color of the header, change fonts, and offers a wide range of responses, such as checkboxes, drop-down menus, and short texts. It also provides data validation and data visualization options.
Since Google Forms is offered by Google, it is also built into the Google Docs suite, which means that it automatically pulls your data into a Google Sheet for you to analyze and share it with your team. What's more? Google Forms offers templates, and unlimited forms and entries.
Pricing
You can use Google Forms for free
Read more: How to Embed Google Form to Your Documents?

Formstack is an online form builder software that can help you streamline your workflows for any industry. It has an easy-to-use, drag and drop interface that allows you to build custom online forms, collect data, and automate processes.
You can get the highest levels of form security with Formstack, as it offers HIPAA- and GDPR-compliant forms and also allows you to access multiple security methods, such as 256-bit SSL, data encryption, PGP email encryption, password protection, and Invisible reCAPTCHA.
Its Conversion Kit add-on feature lets you conduct A/B testing to determine which versions of your forms get more responses. It also helps you find out where and why form users quit or don't finish your form.
Formstack also offers several integrations with payment processors, CRMs, project management, and more. Furthermore, all of Formstack's online forms are mobile-friendly!
Pricing:
The starter plan costs $50/month for up to 20 forms

Paperform is a powerful form builder software that is designed to create forms that look like landing pages or blog posts rather than the standard list of form fields. It has a modern, user-friendly interface that lets you add photos, headings, video, location maps, and long-form text to your forms.
Paperform also has templates suited for product catalogs, restaurant reservation pages, and lots more, which makes it a great choice if you're selling a physical or digital product through your forms.
Using Paperform's conditional logic and calculation fields, you can create a smart form that interacts with your respondents in real-time. It also offers over 1000 plus app integrations to automate your workflows, supports online payments, and even helps you manage your inventory.
Pricing:
Essentials plan costs $15/month
Pro plan costs $39/month
Agency plan costs $99+/month
Read more: How to Embed Paperform to Your Documents?

Here we have Typeform, an online form builder software that lets you create and design lead generation and payment forms. It offers a wide range of form templates, such as polls, quizzes, surveys, and more.
Typeform is great for brands with a young audience because it has a visually-appealing builder which offers a variety of images and backgrounds. In addition to form fields, it can also include multimedia, cover pages, paragraphs of text, and more.
Typeform takes a conversational approach where your forms can be adapted or converted to chatbot-style forms, which can then be embedded in your website as a pop-up or whole module, or even as a link. It also allows you to apply calculations and use Logic Jump to add question branching, forks, or conditional questions.
Furthermore, Typeform is mobile-friendly and integrates with popular platforms like Hubspot, Salesforce, Slack, and more.
Pricing:
Free for unlimited forms
The Basic plan costs $25/month
Read more: How to Embed a Typeform to Your Documents?

Wufoo is a cloud-based form builder with a simple drag and drop interface that allows you to build and design a wide range of forms without having any coding experience. It offers a huge collection of ready-made form templates, such as registration, lead generation, invitations, and more.
With Wufoo, you can customize the looks of your form by adding your own logo, colors, and themes, changing its alignment, label placement, descriptions, etc. It provides a number of copy-and-paste code snippets to help you embed your form into your website, email newsletter, blog post, and social media page.
Wufoo offers analytics metrics, such as bounce rate, submissions, time spent on submissions, and more. Its automated workflow allows your data to be seamlessly transferred to your CRM, marketing automation system, and more.
What's more? Wufoo provides 256-bit SSL encryption to secure all your data.
Pricing:
Free version available
Starter plan at $19/month
Professional plan at $39/month
Advanced plan at $99/month

Lastly, we have Formsite, an online form builder software suitable for creating professional forms. It is great for collecting data and market research but is commonly used for creating simple customer feedback and contact forms.
Formsite helps link multiple forms together and moves responses from one form to another so that your users don't have to refill them. Once forms are done, you can embed the forms onto the web pages or send out shareable links.
With Formsite, you will have maximum security because it lets you secure your form data and payment details via encryption.
What's more? Formsite has a library of pre-made templates and also integrates with numerous third-party apps such as Dropbox, Google Drive, Salesforce, and Zapier.
Pricing
Free plan available
Deluxe plan costs $19.95/month
Pro 1 plan costs $29.95/month
Pro 2 plan costs $59.95/month
Pro 3 plan costs $99.95/month
Conclusion
There you have it – a list of some of the best form builder software out there!
Most of these form builders offer all the essentials needed to create basic forms. Now it all boils down to what your business needs, so carefully go over the features of each software and choose the one that will help you the most!
What are you waiting for? It's time to create some really cool forms! Go, go, go!
Further reads:
10 CRM Tools and Software You Should Explore Right Now!
11 Kanban Tools and Software to Explore!
11 Dashboard Software You Should Explore in 2022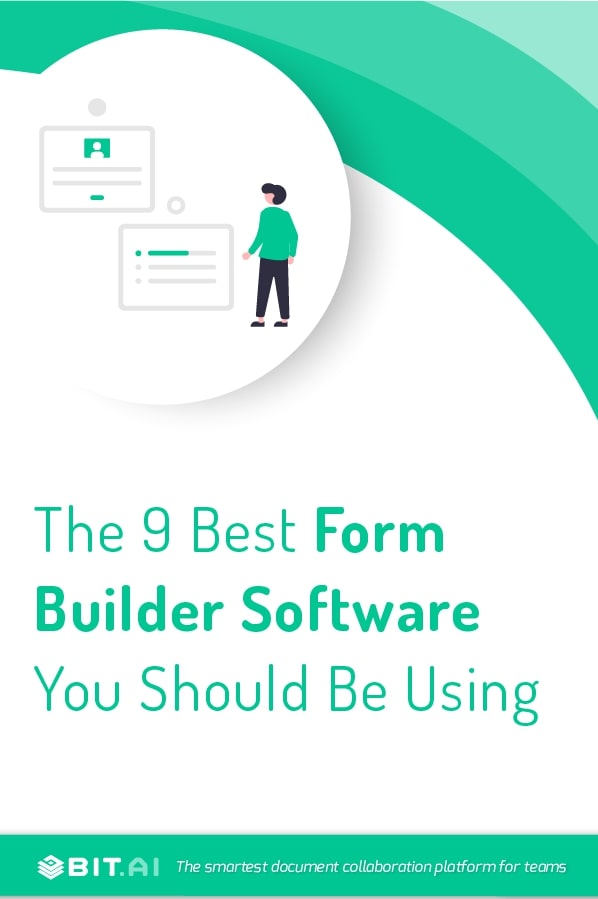 Related posts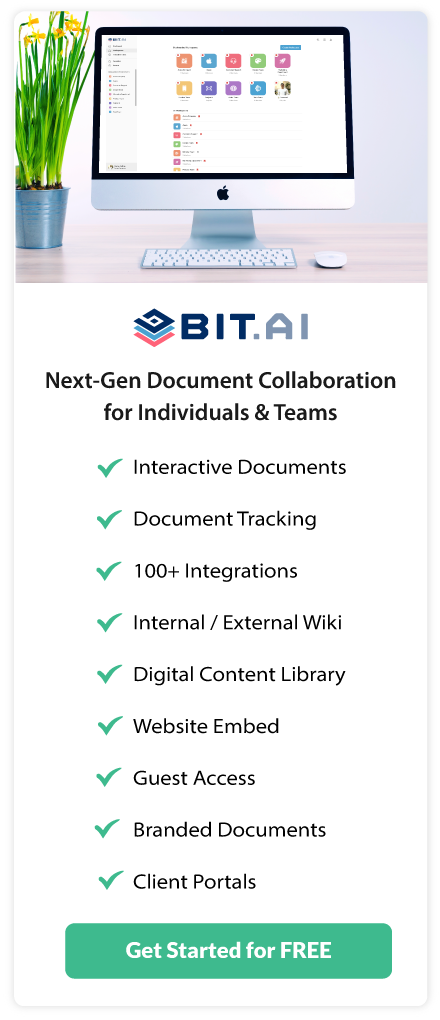 About Bit.ai
Bit.ai is the essential next-gen workplace and document collaboration platform. that helps teams share knowledge by connecting any type of digital content. With this intuitive, cloud-based solution, anyone can work visually and collaborate in real-time while creating internal notes, team projects, knowledge bases, client-facing content, and more.
The smartest online Google Docs and Word alternative, Bit.ai is used in over 100 countries by professionals everywhere, from IT teams creating internal documentation and knowledge bases, to sales and marketing teams sharing client materials and client portals.
👉👉Click Here to Check out Bit.ai.