Do you remember the time when we used to buy CDs, vinyl records, and cassette tapes?
Yes, we used to put in so much effort just to listen to music, and honestly, it was all worth it.
Anyway, fast-forward to 2021, most of us are listening to music the same way: through music streaming services.
These services have put millions of songs at our fingertips, ready to play through devices that sit in our pockets, whenever we fancy.
And the one who's ruling the kingdom of music streaming services is Spotify, with approximately 286 million monthly listeners and over 130 million of which are paid members.
Whether you're looking for the perfect soundtrack for powering a workout or just something to help you tune out of the world – there is a song and podcast for every emotion and situation on Spotify.
Considering how awesome music and Spotify is, have you ever thought about utilizing them to their maximum potential?
Have you ever thought about ways in which you can use Spotify music in your professional life? (Except for surviving the workday, of course!)
Well, let us tell you – by embedding Spotify music in your documents. 
No, we haven't lost our senses. It is, indeed, possible (and quite beneficial) to embed Spotify music in your documents.
Don't worry. We're going to tell you how to do it, but first, let's find out why you need to do it!
Why you Should Embed Spotify in Your Documents?
1. Say Goodbye to Plain Old Boring Documents
You spend countless hours compiling the most compelling ideas and carefully crafting each phrase.
You finally hit "send," and then what happens?

The recipients try in vain to make sense of what's written.
Each sentence seems like an effort as they try to wrap their heads around what the author wants to say.
Probably because you sent them an old school, a boring document full of text and paid little attention to making it interactive.
Honestly, your precious words and documents are incomplete without some engaging elements, like music.
Yes, writing less and adding music is all you need to do to attract and hold attention!
Adding music in documents can engage your readers, so they lean into your content, stay on your pages, and interact with your information.
2. Motivate Employees & Get Results
Let's consider a scenario.
You need to send your team a document that specifies all the goals the company needs to accomplish this month.
To reach those goals, your team needs to be hyped up, motivated, and ready to go at any time, right?
Huge kickoff meetings, trips to exotic locations, giant commissions – however big & flashy these techniques might be, they really can't fix a motivation problem.
But, there's one thing that most definitely works – Music.
It has been proven by science that the right inspiring lyrics or motivational songs give a quick pick me up to motivate and inspire you to accomplish your goals.
So, what if you add music to the documents you're sending to your team?
Probably something like Eye of The Tiger or maybe Get Up Stand Up by Bob Marley?
All we're trying to say is, music works like magic. Next time demotivation strikes your team, mix things up a bit and send them documents with music in them. You never know what a few Desmond Dekker tunes can do!
3. Create an Experience to Remember
If you wish to stand out from the competition, telling your prospective clients what you can do for them isn't enough.
You need to show it by using the best breed of documents.
So, how can you add an impressive and effective layer to your documents?
How can you take your documents from "dull and blah" to "wow'?
The solution is a lot easier than you may expect – by adding music.
Adding music to your documents can change how your prospects perceive you and your content.
It can create a superior experience for your prospects, which will significantly increase customer satisfaction and, with it, conversion rates.
So why give your clients a boring, static document they'll never open when you could turn it into something much more versatile by adding music?
We're pretty sure that after reading all these benefits, you're super excited to embed Spotify music in your documents.
Oh, we forgot to mention one more reason why you should do that – because there's a platform out there that makes the whole process of creating documents and embedding Spotify music in it a breeze.
Want to know which platform we're talking about? Read on…
Bit.ai – The World's Most Powerful Workplace and Document Collaboration Platform

Bit.ai is the most robust document collaboration and communication tool that helps you create, collaborate, share, track and manage all your documents in one place.
Bit allows you to collaborate in real-time, making it easier for your team to get under one single roof, give their feedback and suggestions, add comments, and discuss work together.
What makes Bit stand out is its ability to create documents that are dynamic and much more than plain-boring text. Bit can handle any rich media content you throw at it.
Be it Spotify Music, YouTube Videos, Google Sheets, GIFs, Tweets, Pinterest boards, etc. – anything on the internet with a link can be embedded into your bit doc.
All you need to do is enter any web link on a blank line, hit enter, and BAM! Bit will automatically turn the link into visual content and show it beautifully!
You can embed music from your favorite music streaming services like Spotify and share playable music, podcasts, audio-books, and more right into your Bit document! Yes, you can share a song without your readers having to leave your document.
Now, let's get to the most fun part – how to embed Spotify music in your documents.
How to Embed Spotify Music Inside a Bit Document?

Follow these easy peasy steps to add music, podcasts, or any other audio files from Spotify in your Bit documents.
Step 1: Open up any song on Spotify that you would like to add to your Bit document and copy the shareable URL.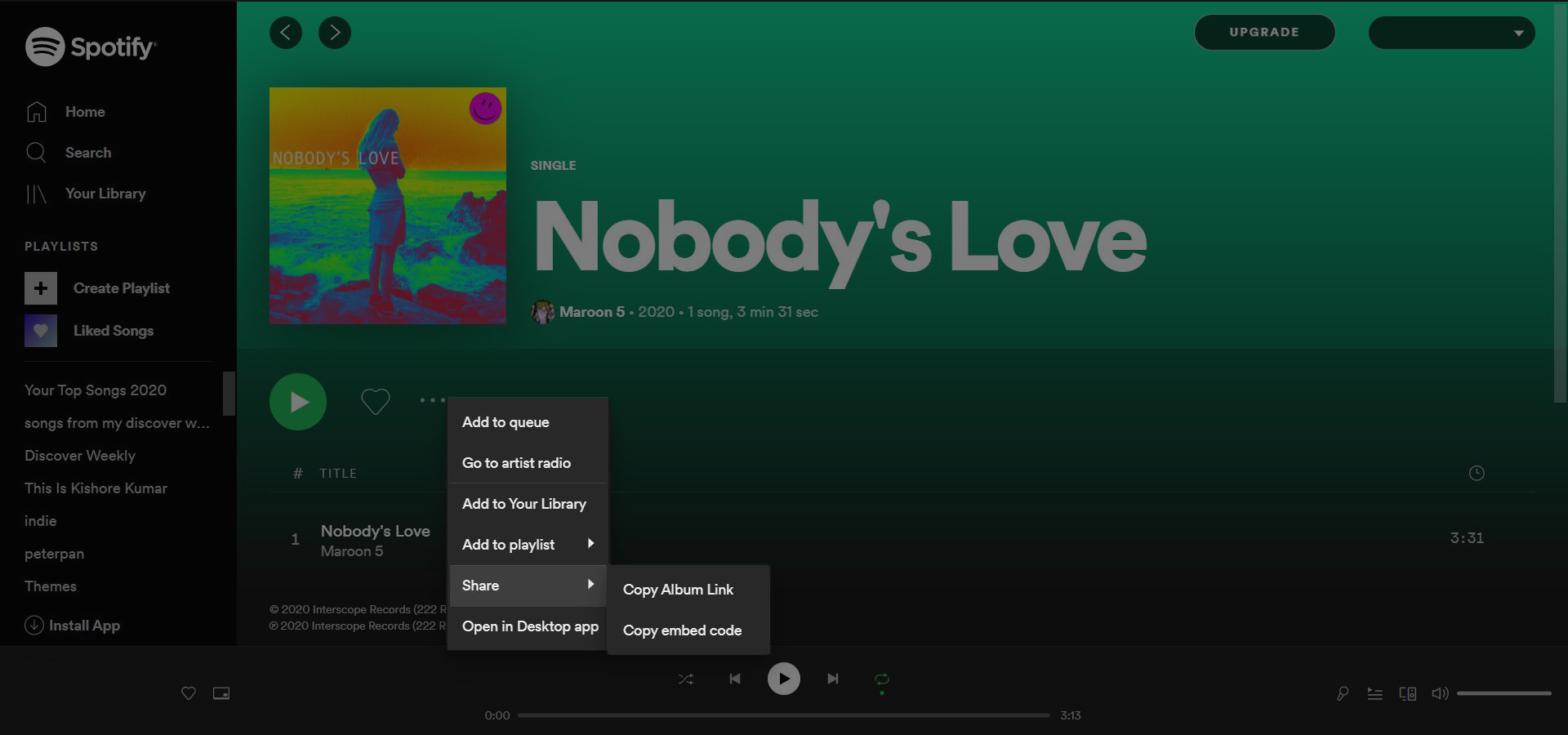 Step 2: Open your Bit document and paste the URL wherever you want the song to appear.
Step 3: Bit will automatically generate a live preview of the song right there in your document. (You can embed as many songs as you want!)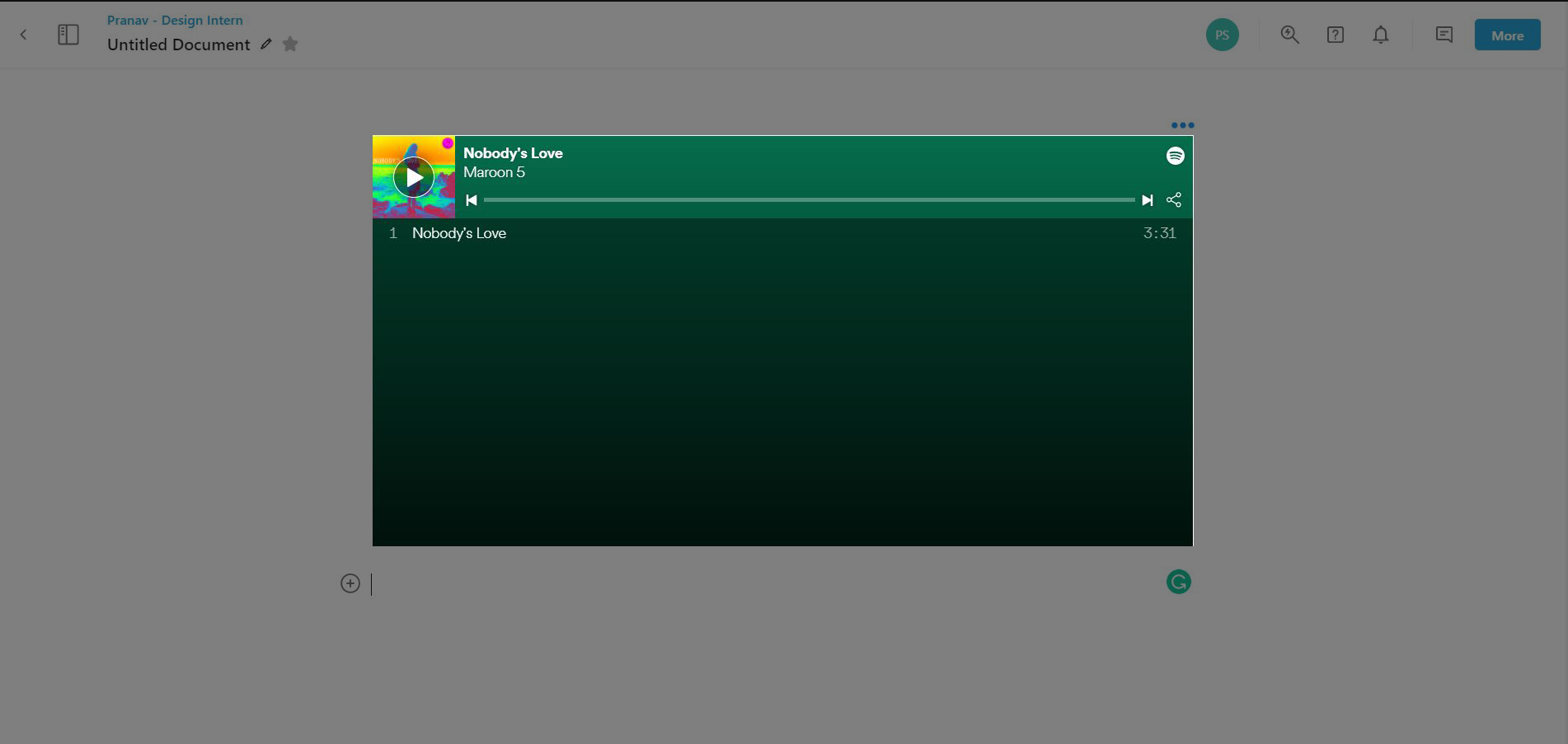 Step 4: For additional formatting options, click on the three dots on the top right corner. This toolbar will allow you to add a caption to the song or delete it!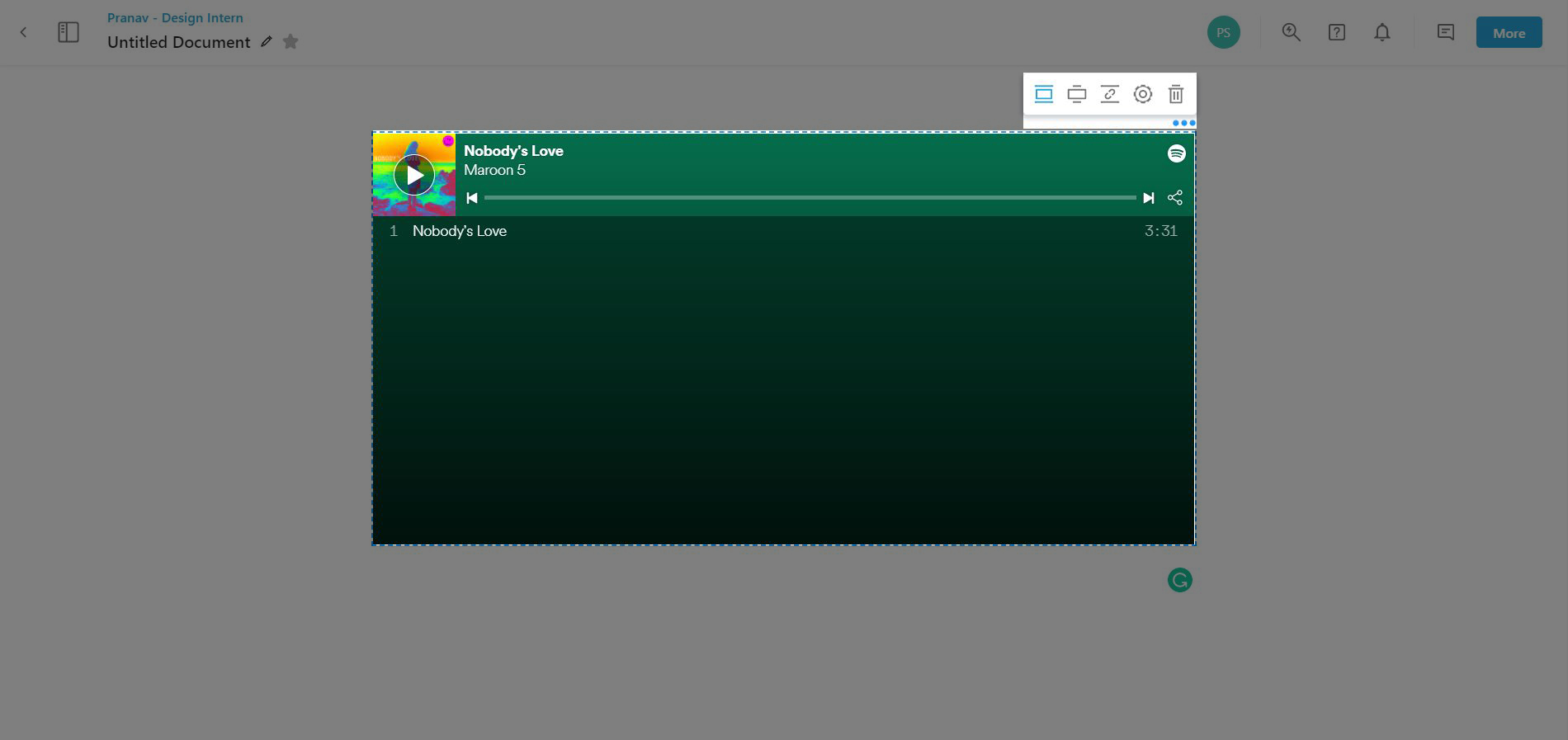 Wrapping Up
From The Sound Of Music to the business of music — music has traveled through several generations without losing its charm.
And so has the process of creating documents.
There was a time when documents with a wall of text/bullet points worked, but that's no longer the case. You need to do something out of the box to make people pay attention to your documents, like adding music to them.
Embedding music in your documents can quickly take it from zero to hero – taking communications to the next level and keeping the readers hooked.
Trust us, with Bit.ai, embedding Spotify music in your documents is as easy as eating way over your calorie limit for the day.
👉Watch this video to learn more:
Before you go! Check out other music/podcast integrations: 
By the way, if you've any queries, let us know by tweeting us @bit_docs. We'd be happy to help you out!
Further reads:
How to Embed GIFs in Your Documents?
How to Embed MixCloud in your Documents?
How to Embed Videos to Documents?
How to Embed Social Media Posts into Your Documents?
Google Docs vs. Bit.ai: Discover the Google Docs Alternative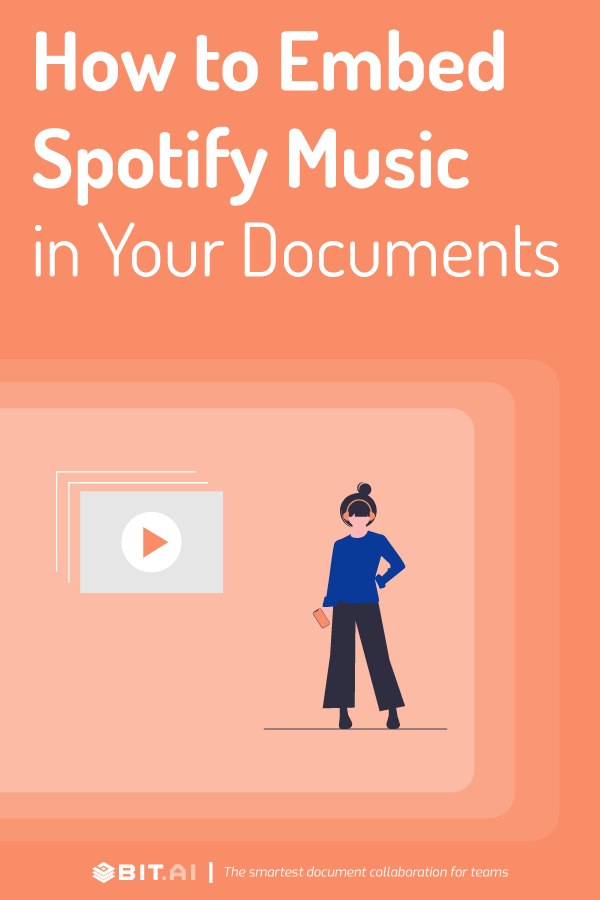 Related posts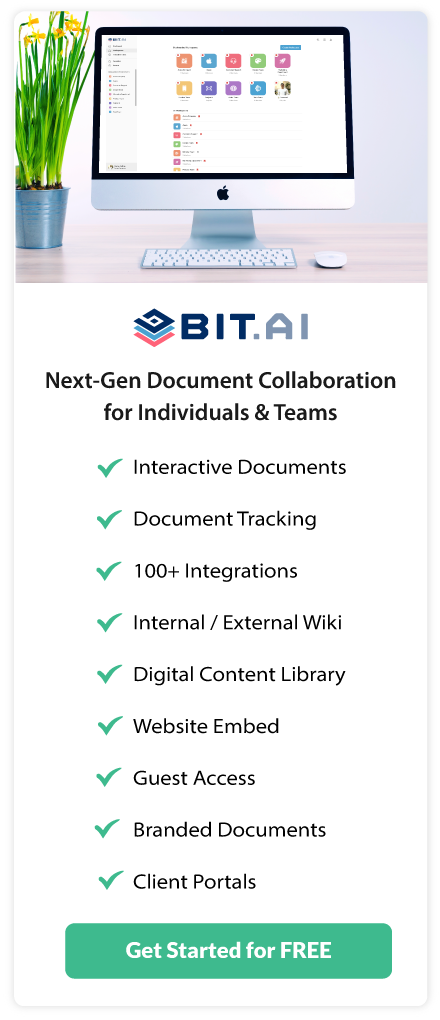 About Bit.ai
Bit.ai is the essential next-gen workplace and document collaboration platform. that helps teams share knowledge by connecting any type of digital content. With this intuitive, cloud-based solution, anyone can work visually and collaborate in real-time while creating internal notes, team projects, knowledge bases, client-facing content, and more.
The smartest online Google Docs and Word alternative, Bit.ai is used in over 100 countries by professionals everywhere, from IT teams creating internal documentation and knowledge bases, to sales and marketing teams sharing client materials and client portals.
👉👉Click Here to Check out Bit.ai.