Wondering how Bit is different than Google Docs? Let's see how both of these awesome tools compare – Google Docs vs Bit.ai!
We are all familiar with Google Docs, the cloud-based word editor by Google. Google Docs has been around for quite some time now, 12 years to be exact.
Since Google announced its Word competitor and brought document collaboration to the cloud, Google Docs has been a crowd favorite.
With a familiar Microsoft Word interface, and the added functionality of real-time collaboration, Google Docs doesn't seem to be doing anything wrong.
However, a lot has changed in the world of technology over the past decade. We are now living in a fast-paced, digitally inclined world. So, the software and tool that we use in our daily lives need to be versatile and robust, with a user-friendly interface and powerful features.
They shouldn't just match our digital workflow, but create an added efficiency. This is why we created Bit, the collaboration tool everyone needs in a 2021 world.
Google Docs vs Bit.ai!
A next-gen document management and collaboration platform, Bit.ai allows you to create, share, organize, track, and manage all your company knowledge in one place.
Bit will change the way you and your team think about collaborating and sharing information with each other. Bit's platform helps you create documents of the future.
Instead of relying on plain text and images to communicate, Bit helps you add and embed rich media like YouTube videos, Google Docs, One Drive Excel Spreadsheets, GIFs, Tweets, and much more directly into your documents.
Here are some of the bit features:
Basically, anything on the internet with a link can be shared and Bit will automatically turn it into visual interactive content.


So what are the main differences between Google and Bit.ai? Let's find out!
1. Scalability
Even though Google Docs was made to be collaborative, it's a document editor first and a collaboration tool second. It's a good tool for document editing, but when it comes to sharing, things can get out of hand.
Google Docs provides a single dashboard for a user. This means that all your documents from different departments or topics are stored in a single place.
This often creates havoc when your marketing ideas document is mixed up with financial planning, sales decks, project proposals, and HR guidelines. Your only hope is to remember the title of your document and cross your fingers that you can find it quick enough!
On the other hand, Bit was made especially with different teams in mind. No matter how big your team is or where they work, Bit handles collaboration the right way.
Bit has 'workspaces', which can be created around projects, clients, and teams. In each workspace, you can create an infinite number of documents. You can invite different team members into different workspaces, depending on who you need to collaborate with to get a particular work done.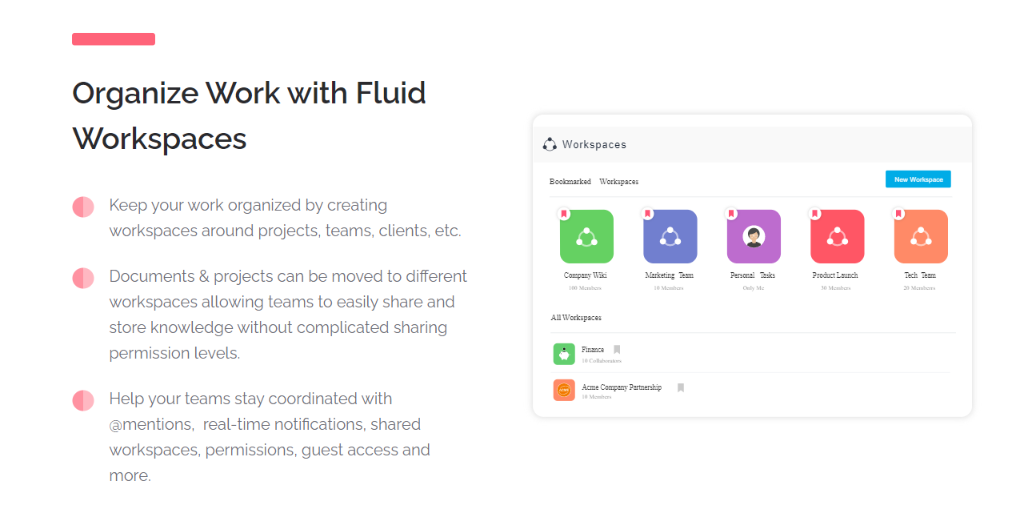 Users can create as many workspaces as they need and collaborate with their peers without their work getting jumbled in a single dashboard like in Google Docs.
Read more: How Bit Helps Teams Succeed at Work? (Use Cases)
2. Permissions
Bit allows users to manage permissions and information access that suits their organizational needs. Permissions can be centered around the document you create and/or around any designated workspace.
Bit supports features like document tracking, password protection, link expiration dates, file access restrictions, etc. that help keep your important company information safe.
Google Docs allows permissions only on a document level. Sharing each and every document individually leads to more email chaos and documents getting lost inside inboxes. Google Docs also doesn't provide features like document tracking, password protection, or restricted access.
3. The Editor
A document collaboration tool should make the process of documentation and content creation extremely robust. This is why Bit has a minimal document editor which allows you to focus on the information you're adding. At the same time, it's powerful enough to format your documents in multiple ways.
Once you open up a Bit document, simply start typing and highlight any portion of text to format it. Choose whether you want to bold, italicize, or underline your text, add a heading or subheading, create bulleted, numbered, or check-marked lists, and much more.
Bit documents were created to make creating documents easy for you and remove design complexity so you can focus on the content. It even has markdown support for you to quickly create and format content and get work done on time!
Google Docs has a similar top bar ribbon like the one provided by Microsoft Word. The editor at times can feel overwhelming. It takes time to find and perform text formatting and customize your documents.
4. Templates and Themes
Bit provides a library of fresh and visually appealing themes and plug-play document templates. No need to spend time in Google Docs formatting your documents, headers, and colors to make them look perfect.
Bit has a robust template library to help you create meeting agendas, project proposals, investor update docs, sales decks, e-books, fact sheets, surveys, and much more.
Check out bit templates now!
5. Real-Time Collaboration Without Email
We created Bit in a way that email is only an added bonus or luxury to the whole collaboration process. Bit provides users with real-time in-app alerts whenever their peers interact with the shared document.
You'll receive in-app notifications if someone leaves a comment or feedback on your document, adds you to a workspace, adds a document to a workspace, updates a workspace, mentions you in a comment, and much more.
You can click on your in-app notifications and you will be taken to the exact spot in the document you need to respond to.
6. Interactive Document 
Bit is different from most traditional document collaboration tools on the market today. It allows users to create documents beyond just text and images.
When we are always surrounded by interactive content like videos, audios, presentations, surveys, GIFs, etc, shouldn't our documents be interactive too?
What do you do when you want to send a PSD file of your company logo, a video of your product demo, social media post filled with feedback, or a web link of your competitor's recent PR release? You add links and file attachments to an email or share them in a Slack chat.
But, we know that in this digital age, you need more than just text to tell your story in a compelling manner.
This is why we allow you to add any type of rich media content to bit documents like:
7. Document Tracking
Bit has tracking capabilities built-in! No need to use a third-party document tracking tool like Attach or DocSend. Bit allows its users to share documents with a trackable link and get detailed insights on them.
You are able to see who has accessed your document, how frequently they opened the document, how much time they spent on it, how far through the document they scrolled, along with other great engagement metrics.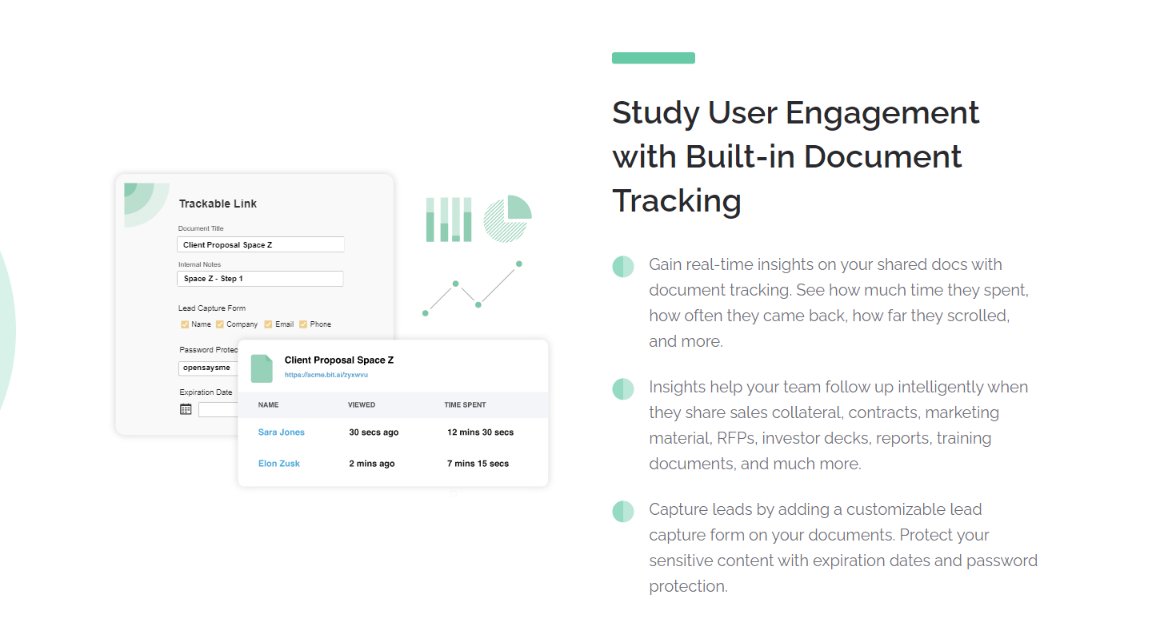 Having the ability to track your workplace documents is a game-changer for businesses. Not only does it help you understand how your audience is interacting with your content, but will also help you to improve the content you're creating and sharing.
8. Content Library
With Bit, not only can you save your smart documents, but you can also save the rich media inside of them. Bit automatically saves and organizes all your digital assets and files that you add to your documents so that you can reuse them at a later point. Saving you and your company valuable time searching across platforms for digital assets.
Bit documents can support over 150 different file types, allowing you to add nearly any type of digital content to your Bit documents. Add videos, audios, Google spreadsheet, PDFs, graphs, polls, social media posts, images, articles, PSDs, GIFs, Word files, and much more to your documents.
You can then easily search for any of this content using Bit's smart content search. You can search your digital content based on its title, keywords, tags, content type, etc.
9. Custom Branding
Bit allows you to choose a custom subdomain with the name of your company. All of the document links you share reflect your branding on the web link.
Also, your branded logo and company name show up on the top left corner of every document you share. If anyone clicks on your company logo they will be taken directly to your website.
Bit has created a document platform that is meant to be used in the workplace. These large and small details make a difference for businesses as you work towards creating a lasting impression on clients, future clients, partners, and suppliers.
10. Capture Leads
Bit smart documents allow users to add a customizable lead capture form to all their documents. This way your team can collect information (name, company, email, phone number, etc.) before your audience views your document.
Imagine creating content like e-books, white papers, case studies, etc., and adding a lead capture form to gather contact information before they can view your content!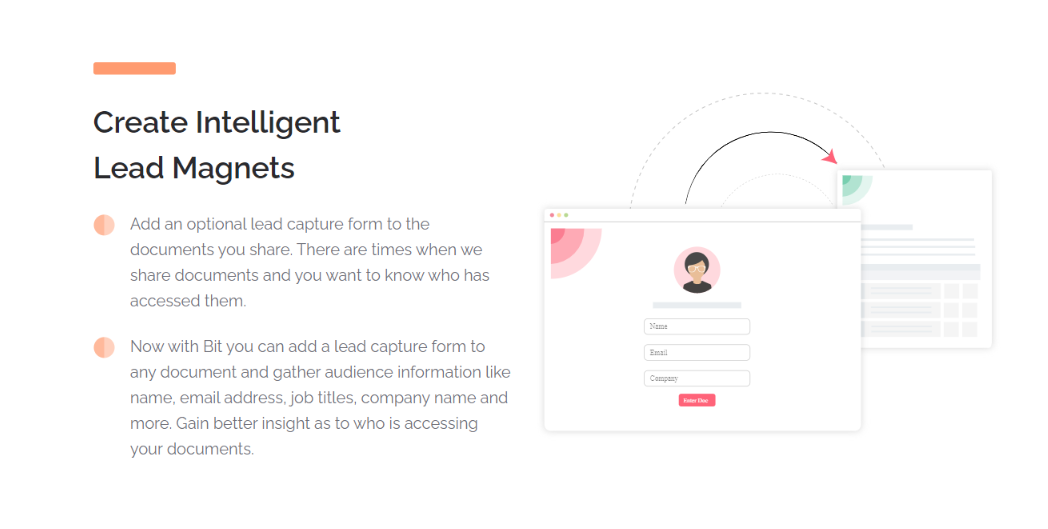 The added bonus is that traditional e-books can be downloaded as a PDF and passed around. When Bit documents are passed around, each unique visitor has to enter their information in order to view the content. This means MORE leads!
When your audience opens up the lead capture form they will see a landing page that looks like this with additional fields depending on what you need. Your audience will have to fill it out before they can view the document.
11. Password Protection
You can also add password protection to your Bit documents before sharing them. This allows only those people to access the document to whom you've given the password. You can update your password anytime and even disable it or enable it after it's already been shared!
Conclusion
No matter which profession you belong to, tasks can't get done, processes can't be created, ideas can't come alive without documents.
With employees wanting to make the most of their time using collaboration tools, Bit.ai plays a huge role in bridging the barrier between teams and making it easier for them to work together, regardless of where they are located around the world.
If you're looking for a modern way to communicate Bit will help you communicate better in this digital age. Bit reduces the need to switch between multiple tools and helps streamline your company's workflow.
The great part is if you love Google Docs, you can still keep using it and embed those Google Docs within Bit so you can communicate more effectively with your internal team and with clients, partners, investors, suppliers, etc. You can also embed Google Spreadsheets, Google Forms, Google Slides, and more!
Bit sets the bar high for other document editors like Google Docs or Microsoft Word and forces you to rethink how you've been creating, managing, and sharing your documents.
It's time to move on from your dated document editor and start creating dynamic, lively, and beautiful-looking documents with Bit.ai.
Read more: Microsoft Word vs Bit.ai: The Ultimate Showdown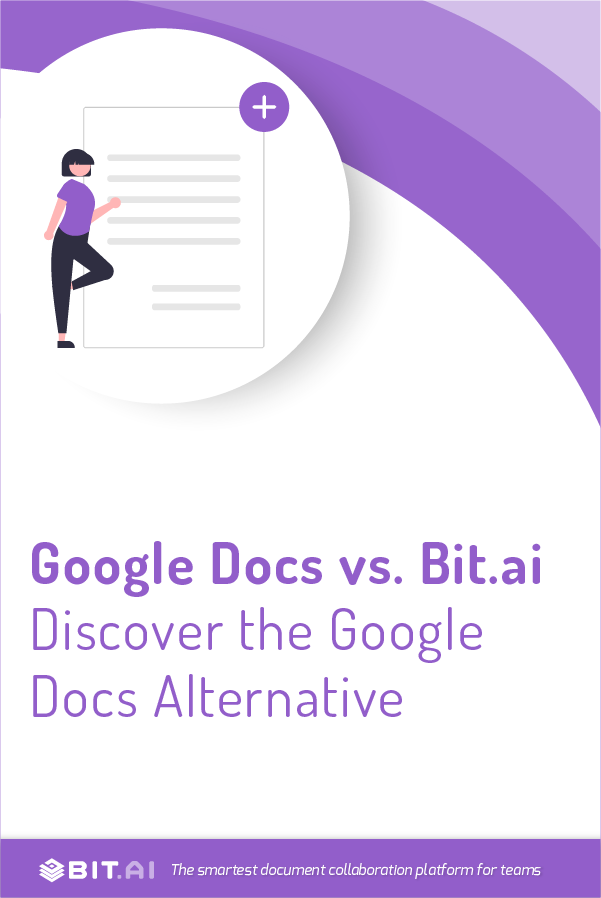 Related posts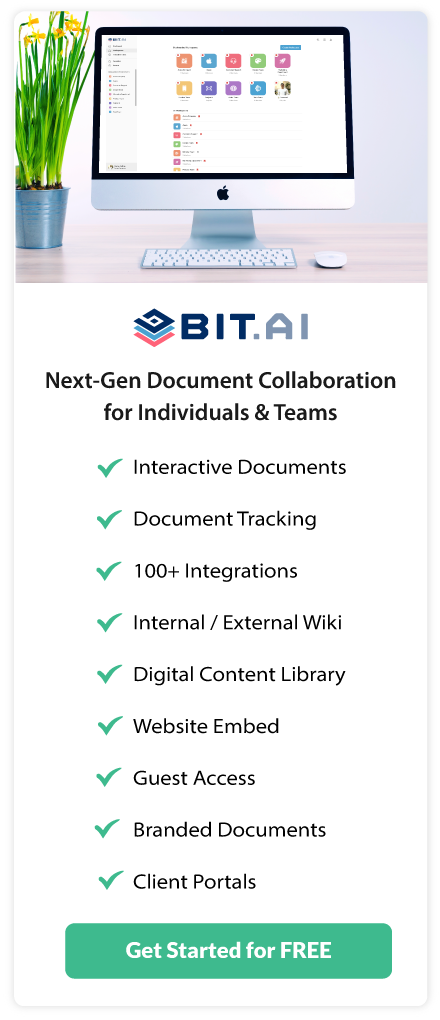 About Bit.ai
Bit.ai is the essential next-gen workplace and document collaboration platform. that helps teams share knowledge by connecting any type of digital content. With this intuitive, cloud-based solution, anyone can work visually and collaborate in real-time while creating internal notes, team projects, knowledge bases, client-facing content, and more.
The smartest online Google Docs and Word alternative, Bit.ai is used in over 100 countries by professionals everywhere, from IT teams creating internal documentation and knowledge bases, to sales and marketing teams sharing client materials and client portals.
👉👉Click Here to Check out Bit.ai.