Documents with messy layouts and huge chunks of text might have worked in the good old days, but things have changed in the world of information overload.
Eight seconds. That's the average attention span of humans right now. Believe it or not, it is less than that of a goldfish, which is nine seconds.
This is exactly why you need to create rock-solid documents that are a downright joy to read (and look at). Otherwise, they will probably wind up in the trash.
So, how will you make your documents look clearer, visually organized, and appealing? How will you take your documents from 'blah' to 'wow'? How will you add an impressive layer to your documents?
Well, all you have to do is use the best document editors out there. In this blog, we'll explore 9 documents editors that will take your document creation process to the next level. Ready? Let's go.
The #1 document editor on our list is Bit.ai, a platform that allows teams to create, manage, share, and track documents – all under the same roof.
Bit offers 90+ pre-built, fully responsive, and gorgeous templates. Moreover, it integrates with over 100 applications (YouTube, LucidChart, Google Drive, etc), so you create media-rich documents with ease.
That's not it! Bit allows you to collaborate with your team in real-time and every document comes with a separate comment stream! You can also ping collaborators to notify them of any changes.
With Bit, you can organize all your company knowledge and documents in smart workspaces and folders. Bit even has a powerful content library where you can store your media assets and reuse them anytime.
What's more? Bit has a robust search functionality that allows anyone to find information quickly. You can search for folders, files, documents, and content inside your documents across all of your workspaces.
All in all, using this document editor, you can create and share documents that are the best in class, easy to read, and ones that lead to great things.
Key Features:
Real-time collaboration using @mention, comments, and more.
Content library to store media files
Over 100 rich media integrations.
Smart workspaces and robust search.
Pricing: 

Free with limited functionality.
The pro plan is $8/member/month, and the business plan costs $15/member/month.
For details regarding the enterprise plan, please contact sales.
If you're an Apple user, a great (and free) document creation app is right next to you. Apple Notes, also called 'iCloud Notes' or 'Notes', comes built-in with macOS and iOs, and can also be accessed through a browser.
Apple Notes is convenient, easy to use, and integrates with Siri. You can add tags to your notes, and you can even share them with other Apple Users or @mention them!
You can add text, attach images, draw or handwrite, format things into tables, scan documents, insert checklists, and do a lot more on Apple Notes.
There's also a pretty powerful search feature, which helps you look for images, text you've written, drawings, attachments, text scanned in a document, and more.
Key Features:
Integrates with Siri
Share your notes with other Apple Users
Powerful search feature
Draw or handwrite inside notes
Pricing:
Free for 5GB of storage across all iCloud services.
Starts at $0.99/month for 50GB.
Read more: Types of Documents Every Business Should Create!
Another cloud-based note-taking app, Bear was launched in 2016 and quickly became one of the most popular document editors out there. The reason? Simplicity, clean and intuitive UI!
Designed specifically for macOS and iOS, Bear uses a three-column design. The largest column is for your current note. There's a smaller column on the left, which contains your notes in reverse order with a search bar.
The column on the extreme left is dedicated to the notes that you've pinned, and any tags that you have created to organize these notes and documents, such as #history.
Bear also supports Markdown, which is a syntax renowned among developers and writers. It basically lets you quickly add links and format the text before exporting the note to a CMS.
Key Features:
Cloud-based note-taking app
A simple and intuitive user interface
Three column design
Supports markdown
Pricing:
$1.49 per user, per month
$14.99 per user, per year
One of the most well-known document editors, Evernote helps in creating, managing, organizing, and editing notes and documents effortlessly and efficiently.
The tool allows you to add tables, links, attachments, and checklists to your notes. Moreover, you can easily integrate it with other apps like Salesforce, Outlook, Google Docs, Slack, and more.
The highlight of Evernote is that it can process hand-written notes, receipts, and audio files! It even recognizes handwritten text inside your notes so you can search for it later.
Besides that, you can collaborate and share your notes with other users. All in all, if you're looking to share content easily and digitize important documents, you should consider using Evernote.
Key Features:
Processes handwritten notes and audio files
Easy and smooth collaboration
Wide range of integrations including Outlook and Slack
Notes can be accessed offline
Pricing:
Free with limited functionality.
The paid plans start from $7.99/month.
An open-source online document editor, Etherpad can be used to create amazing documents. All you need to do is set up the EtherPad application and you are good to go.
EtherPad provides a decent set of features such as real-time collaboration, a highly customizable editor, a well-optimized API, chatbox, and much more.
It also has a fully-fledged library with shapes, clip arts, fonts, etc that you can import and use. However, if you can't find what you need in EtherPad's library, you can add new plugins anytime.
Etherpad provides all the information that you need related to the tool, along with tutorials and instructions on how to create good documents, resumes, articles, etc.
Key Features:
A broad range of plugins.
Important and export capabilities.
Well-optimized and powerful API.
A built-in chatbox.
Pricing:
It's completely free to use!
Another powerful document editor on our list is Quip which allows you to create documents/spreadsheets and discuss work with transparency and efficiency.
Using this tool, you can collaborate with team members via 'threads' for each document. You can even add a document to a chat and work on it together. Sounds pretty cool, right?
In addition, Quip lets you add kanban boards, countdowns, calendars, and more to your documents. It also integrates with Salesforce, so you can bring in all your Salesforce data.
Quip is available on Android and iOS as well, so you can work on the go. You can use it even without an internet connection, and your work will get synced the next time you connect to the internet.
Key Features:
Team chat rooms and 1:1 messaging.
Version history and offline mode.
Many templates to kickstart your workflow.
Advanced security feature.
Pricing: 
The starter plan costs $10/user/month.
The plus plan is $25/user/month.
The advanced plan costs $100/user/month.
With a solid Kanban board interface, Notion has streamlined the entire process of creating, storing, managing, and collaborating over documents.
This document editor offers a common platform for you and your team to collaborate, share documents, and manage projects together. You can even add a list, plain text, videos, sound, and more to your documents.
What's more? You can assign tasks and create projects for your team. Every task will be stored on a board, so you can easily move these tasks around and link everything together.
That's not it! You can further categorize your notes by creating your folders. Notion also integrates with tons of applications like Google Drive, Typeform, Google Calendar, and more.
Key Features:
Kanban board interface
Easily move tasks around and link concepts together
Multiple integrations
Categorize your notes in folders and subfolders
Pricing:
It offers a free version.
The premium plans start from $4 per month, billed annually.
Google Docs is a document editor offered by Google, and it is also one of the very first cloud-based document editors. That means you can access your files on any device – any time.
Here's how Google Doc works: create a Google ID/Gmail Account, head over to 'Google Docs', open a new document, and start working on it. It's that simple!
Google Docs has a similar feel to Microsoft Word, with a top bar filled with editing and formatting options. Furthermore, it provides 15 GB of storage with the free plan and you can buy more storage anytime.
You can collaborate with your teammates give them access to edit/view the document, and leave comments in real-time. You can even share the documents that you create via email or a shareable link.
Key Features:
Anyone with a Google account can use this tool.
A mobile version is also available.
Cloud-based document editor.
Collaborate with your teammates in real-time.
Pricing:
It's free to use and comes with 15 GB of storage. If you want to buy more storage, you need to pay.
Developed by Microsoft, MS Word is one of the most widely used programs of Microsoft Office Suite. It allows you to format and edit your files and documents smoothly and in the best possible way.
Microsoft Word is synonymous with 'word processing', and with good reason. It's a powerful document editor that is available on Windows, macOS, Android, and iOS.
MS Word has a beautiful interface, and it is action-packed with great features that meet the requirements and demands of many users. These features can be found across all its apps – regardless of the device/OS.
Features:
Efficient spell check and corrections
Create citations with ease
Available on major operating systems
An easy-to-use interface
Pricing:
Pricing starts from $9.99.
A 30-day free trial is also available.
Wrapping Up
Getting people to retain your messages and content is harder than ever, and that's why creating documents using a powerful document editor is crucial.
So, what are you waiting for? Pick one of the document editors from the list and seize the opportunities that lie beyond the written word.
With these document editors, you will be able to garner attention more quickly, enhance recipients' experience, and add an extra touch of helpfulness.
Good luck, folks!
Further reads:
Top 11 Code Editors for Software Developers!
Content Creation Tools Every Marketer Needs in 2022
7 Best Issue Tracking Software in 2022!
17 Best Business Tools Every Business Needs in 2022
9 Project Documents You Must Create For Your Project!
9 Best Collaborative Document Editing Software in 2022
How to Manage Your Documents Effectively?
4 Reasons Why Your Document Creation is Broken & How to Fix it!
Document Creation: 12 Dos and Don'ts to Keep in Mind!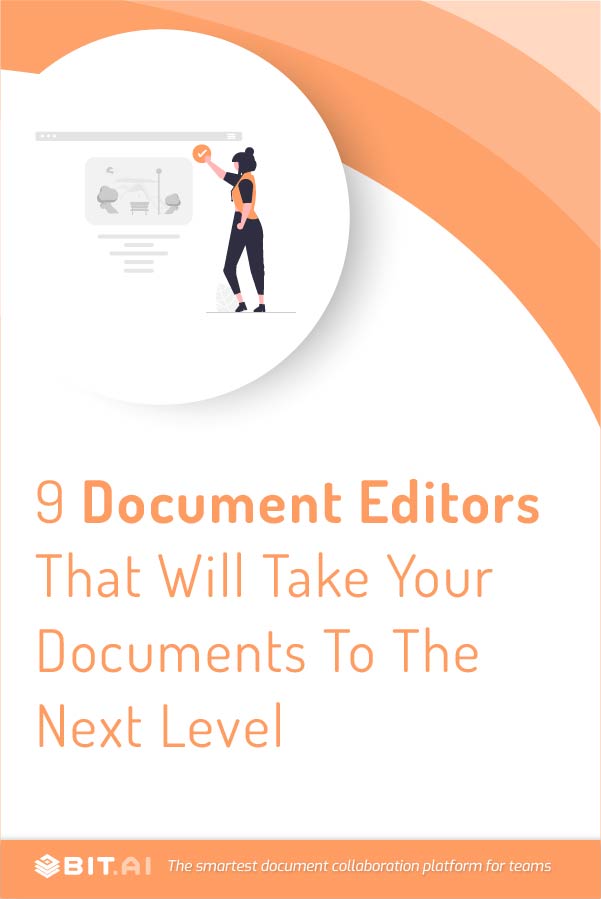 Related posts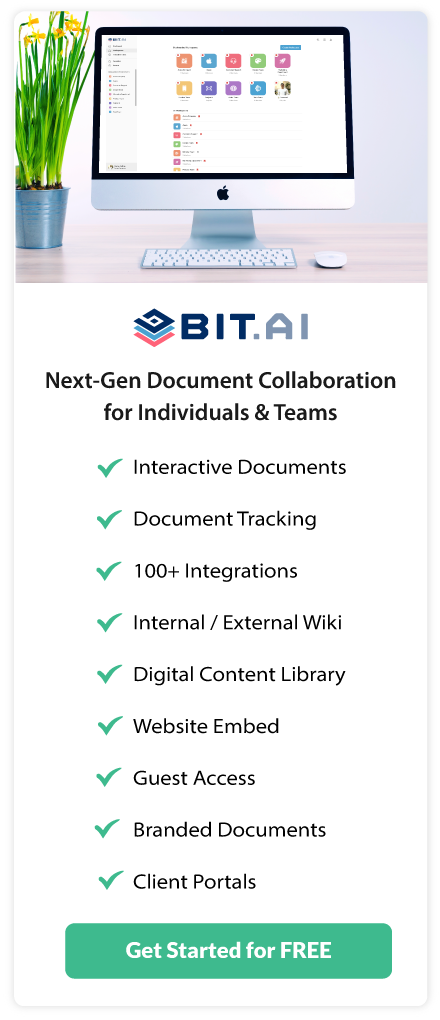 About Bit.ai
Bit.ai is the essential next-gen workplace and document collaboration platform. that helps teams share knowledge by connecting any type of digital content. With this intuitive, cloud-based solution, anyone can work visually and collaborate in real-time while creating internal notes, team projects, knowledge bases, client-facing content, and more.
The smartest online Google Docs and Word alternative, Bit.ai is used in over 100 countries by professionals everywhere, from IT teams creating internal documentation and knowledge bases, to sales and marketing teams sharing client materials and client portals.
👉👉Click Here to Check out Bit.ai.