Looking for ways to improve your leads? Curating a market targeting strategy can help a lot. Read on to know more!
Is your company trying to appeal to the entire market segment at once with a single marketing strategy?
Well, it is time for you to stop! Because you're very likely to fail…
The current state of the economy demands companies to be precise. Not only in terms of resource allocation but also when it comes to deciding on which audiences to target. No one can afford to serve everyone!
That's where market targeting comes in.
People are no longer looking for generic, one-for-all messages. They want companies to be specific and direct.
In today's age, personalization is key. When your business knows who they are targeting, let's say it's a forty-something man who's soon to be a father, you have a lot more to say and certainly more room to connect.
This in turn will help your business thrive by focusing on customers that are happy to find the right solution for their needs.
Before we tell you how to devise an awesome market targeting strategy, let's take a brief look at what 'market targeting' is all about.
What is Market Targeting? (Definition)
Market targeting is defined as a marketing mechanism that helps you communicate with your audiences more successfully. When you use a market targeting strategy, you try to increase your campaign efficiency by directing your strategy to a certain audience, separate from the general one.
The strategy depends highly on the attractiveness of the market segment. This attractiveness determines if the firm should align itself with a particular segment or not. It is based on factors like profitability, the capacity of the firm to serve the segment, and the intensity of competition.
Simply put, market targeting is about selecting a particular market from the entire market segment.
Even social media takes market targeting very seriously. We mean, who hasn't already bought something off social media that they didn't know they needed until they saw it on their feed?

All your likes and other interactions form an algorithm of all the things that you are interested in. It's this algorithm that determines the posts that appear on the feed.
So let's understand how a market targeting strategy can help your business and how you must implement it!
How is a Market Targeting Strategy Beneficial?
There is no way a '7 billion people' marketing approach will ever be effective. People want to feel special and want to be addressed directly.
Did you know that 76% of consumers expect companies to understand their needs and expectations! (Source)
A good market targeting plan does exactly that! It helps a business to understand its audience better and will also eliminate the cost of over-targeting.
Let's say, a luxury hotel 'X' owns multiple franchises that target separate customer groups.
Franchise A acts as a motel for on-the-go customers or weary travelers, whereas Franchise B acts as a luxury hotel for people who won't mind paying a premium price and Franchise C is a place for shifting professionals, who need a place to stay for longer periods.
This way a business can segment all the markets it can cater to, with different ads, products, and services that specifically identify with the audience.
This way they'll only use the most relevant techniques that are simply infallible and sound!
Let's take a look at some other advantages:
1. Builds Customer Loyalty
Your customer wants to feel like they are not just 'another sale' for your firm.
Market targeting helps you refine your market and personalize your approach towards your customer.
This way, you only direct promotions and ads that cater to the needs of the customer in that specific market segment. Thus, your customer feels valued and has an enriching experience with your brand.
Such an ability to reach your customer at a more personal level helps to retain customers to a great extent.
Customers who stay will never forget how you helped them with their past issues and further their loyalty to you by recommending your brand to more people.
And 89% of millennials trust recommendations from friends and family more than claims by the brand. (Source)
Thus, this loyalty will lead to greater returns for your firm!
Read More: 21 Rock-Solid Ways to Improve Customer Focus in Your Business!
2. High-Quality Leads
When you come up with a perfect market targeting strategy to attract your audience and try to connect with them with relevant ads, there is a greater probability of them buying your product.
And this is backed with proof!
As per a recent survey, 78% of consumers are more likely to buy a product if its content was personally relevant to them and 50% of consumers would pay more if the content was more personalized!
That is saying, that the right market targeting procedure will tip you over to higher quality leads that will, in turn, acquire your paying customers!
3. Optimal Use Of Resources
No matter what product your brand has to offer, your business cannot thrive if it doesn't make the most out of its resources!
When you are market targeting, you minimize your reach to one or two specific markets.
By doing so, you create more customized and market segment-specific plans which will make more efficient use of your resources.
For example, a new start-up with limited and minimal resources will be much more successful if it utilizes its resources in a specific market than in a larger one.
Market targeting will help you to eliminate futile efforts and make sure that your business is allocating all its resources to the right market where it will reap hefty benefits.
4. Better Focus
Think about it, now that you have picked a coveted market segment for your business, every aspect of operations will be tailored to serve them specifically.
Your marketing plans will focus on creating personalized campaigns, your R&D team will try and find innovative ways to meet this market segment's need, and more.
When you stop your mistargeted efforts to a large market base, your entire firm becomes more focused on serving a single segment.
Market targeting will help your business fall into the right place and assist your business to earn better returns than ever because of its newfound focus.
5. Bolsters Competitive Edge
At the end of the day, all your business needs are satisfied customers, impressive returns, and a solidified competitive edge.
Now that you've ticked off the former two, market targeting will help you achieve the latter one too.
It's simple!
When you offer a product combined with the knowledge of your customer demands based on your market segment, you are better able to address and fulfill these needs.
Such tailored market targeting and personalization can provide 5 to 10 times more ROI on your marketing spend!
Customers are also able to understand the true value that your brand has to offer which differentiates your brand from the rest.
And this way you are bound to leave your competitors behind and leave an indelible mark in your customer's heart!
Now that you know about the benefits, let's take a look at how to devise the perfect market targeting strategy for your firm…
Follow these Steps for Creating a Market Targeting Strategy
1. Segmenting Your Markets
A market targeting plan begins with market segmentation. With market segmentation, you can find out niches and audiences that you can target.
Segmentation helps your firm stay one step ahead of businesses that use the 'one size fits all model.'
Markets can be segmented based on many variables, some of them are:
Demographic
Lifestyles
Beliefs & Values
Location
Ask yourself these questions to analyze your decision:
Is my product affordable for the people in this segment?
Will my target benefit from my product/service?
Can I reach them with my message?
Identify what segment appeals the most to your business and then weigh in on its attractiveness.
2. Attractiveness
Before we start targeting a market, we need to evaluate its attractiveness on the following grounds:
Size
Profitability
Existing Competition
Firm's ability to serve this market
Choose only one segment to focus on at one time.
This evaluation will help you get a concise image of what the market offers, how well you can serve them, and if you can thrive in that segment.
For example:
Consider a clothing company that sells kidswear, formal wear, and student uniforms. Out of all the three, they realize that the most profitable segment for them currently is kidswear. Statistics reveal it is a fairly bigger market than the other two. Then, it's the segment you should go with.
3. Match Your Message with Your Audience 
The whole purpose of opting for a market targeting strategy is to send the right message, at the right time, to the right person.
Tailor your marketing plans and ads as per your audience. Curate a message that hits home with the audience gets better conversion rates.
Why is personalization so necessary?
Because 86% of marketers have seen a measurable lift in business results from their personalization campaigns. (Source)
Trust us, such a payoff is so worth it!
4. Reach Out to Your Audience
Now that you've singled out your market segment and also decided what message goes with it, it's time to act and reach out to your audience!
There are multiple ways you can do this, for example sending personalized emails!
Even a luxury store like Tiffany & Co. makes sure that they tailor their marketing by sending customized letters as ads!
Make sure that your advertising and marketing plans are curated based on your target audience profile and characteristics.
For example, if your target market includes teenagers, it wouldn't be so wise to place your ads on newspapers or magazines, rather use social media for such a market segment!
5. Auditing the Performance
Once you've targeted a market and implemented your strategies, it's time to monitor its performance.
Check if the message is resonating with the audience and how much of a difference has occurred since your previous plan.
Don't just make assumptions, conduct customer surveys with your new and former customers, ask them what they liked or didn't.
You can even use Google Analytics to check the average time users spent on your page, bounce rates (users who left without performing any action), and more.
Make sure your referral traffic is optimized and if not, find ways to improve it!
Join in on social listening and keep an eye on what people think about your brand on social media.
All in all, your first attempt may not be a 100% hit, but it'll get better with time as you understand your market segments better!
Keep applying adjustments and tweaks till you've found the perfect mix that not only appeals to the audience but gives back shining results!
And that's about it!
Conclusion
Knowing which audiences you want to convert via market targeting is a crucial step in making the most out of your marketing endeavors.
If yours is a company that is struggling to stand out in a sea of substitutes, use market targeting strategy as a way to grow and excel.
We're sure a tactic as good as market targeting is worth twice the amount of money you invest!
In short, market targeting is a sure-fire plan to get your firm better conversion rates, strengthen your brand status and create enduring relationships with your consumers.
So what are you waiting for? Go put these steps into practice!
Got any queries? Tweet us @bit_docs and let us know! We'd be happy to hear from you!
Further reads:
Marketing Report: Definition, Types, Benefits & Things to Include!
12 Marketing Goals You Must Include In Your Plan!
13 Growth Marketing Strategies You Must Know About!
Marketing Management: What is it, its Importance and Process!
SMART Marketing Objectives: What are they & How to Write them?
Product-Market Fit: What is it & How to Achieve it?
17 Marketing Terms You Must Be Aware Of!
Related posts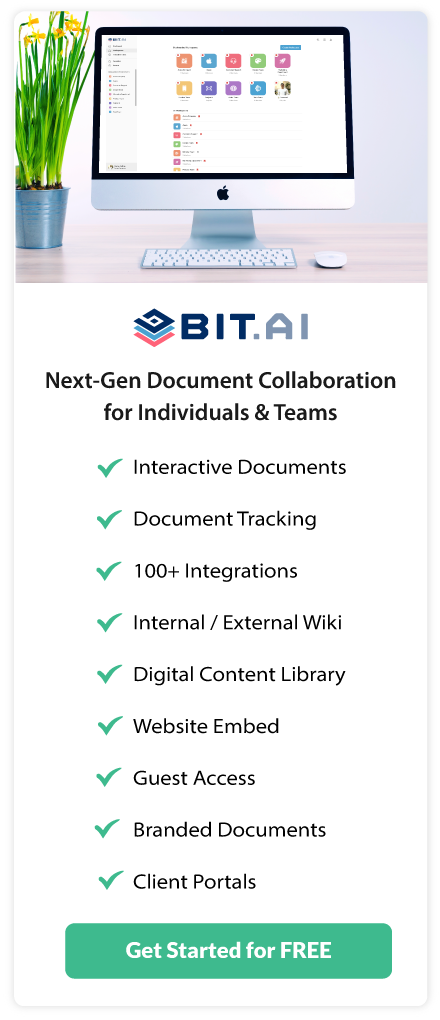 About Bit.ai
Bit.ai is the essential next-gen workplace and document collaboration platform. that helps teams share knowledge by connecting any type of digital content. With this intuitive, cloud-based solution, anyone can work visually and collaborate in real-time while creating internal notes, team projects, knowledge bases, client-facing content, and more.
The smartest online Google Docs and Word alternative, Bit.ai is used in over 100 countries by professionals everywhere, from IT teams creating internal documentation and knowledge bases, to sales and marketing teams sharing client materials and client portals.
👉👉Click Here to Check out Bit.ai.