Be it schools, colleges, markets, or the business sector – competition exists in every nook and corner of the world. No matter what your goal is, there are a thousand others trying to reach the same goal.
But, if we had to pick one field that's the most competitive, we'd certainly pick the business field.
See, almost every business is prying for attention and trying to win clients. We all know that winning clients is a painstaking process, but what makes it even more difficult is that you're NOT the only one trying to get that client.
In short, there are SO many more businesses trying to bag the deal with the same client. That just means three things: competition, competition, and competition.
So, how do you stand out? By writing the BEST proposals ever, we're going to help you with that. In this blog, we'll tell you the A to Z of writing awesome proposals. Let's roll!
First Off, What Exactly Are Proposals?
A proposal is like a pitch that offers a solution to a problem or a course of action, according to the need of the reader. The goal of a proposal is to convince the reader why the given course of action works.
For example, a digital marketing agency might send out a proposal to a software company, listing all the things they can do for them and why the software company should hire them.
Let's take another example. A researcher might send a proposal to the state government, asking them for a grant so that he can carry out state-wide research on communication practices.
In a nutshell, proposals are generally written to persuade the reader to implement the suggested plan of action or approve a proposed project. But, why do we need to write proposals in the first place? Let's find out.
Why Do Proposals Matter?
Imagine this: You want to increase your social media presence, and you're looking for a social media marketing agency to do that for you.
You set up meetings with a few agencies and they verbally pitch you their ideas. Now, you need to make your final choice, but would you really be able to make the best one?
We mean, you're human, so you obviously don't remember each and every word that came out of the agency's mouth during the meeting. You probably don't remember what exactly each and every agency said they would do.

That means, it's very unlikely that you'd make the best possible choice…unless all the agencies send you a proposal that mentions every little detail of their plan for your company.
See how important proposals are? And that's just from the recipient's POV. They are equally important if you're the one writing proposals.
How? Well, proposals allow you to share your ideas in a much more efficient manner. They help you keep track of the services you're offering to the recipient and a lot more.
Whether you're sending a proposal or receiving one, there are a few points that every good proposal should include. Ready to find out what they are? Let's go!
Read more: Proposal Letter: What is it & How to Write it?
How to Write Good Proposals? Follow these Steps!
Step 1. Give A Brief Overview
First things first, give a quick overview of the problem and how you aim to solve it. Keep in mind what the reader cares about, and the kind of things that would resonate with them.
This brief overview is the foundation of your proposal and it would decide whether the reader will read the rest of your proposal or bail out on it. So, make it solid.
Step 2. Define the Problem in Detail
What's the main issue? Why are you writing this proposal? What's the problem you're trying to solve for the reader? In this section, you've to answer all such questions.
Try to describe the problem in a way that makes the reader feel like you understand exactly what they're looking for. Explain their current situation and all the problems that they're facing or could face in the future.
Step 3. Talk About The Solution
Here comes the most important section of your proposal – how exactly are you going to solve the existing problem? What's your plan of action? What are the strategies you'd be implementing?
In short, clearly mention your step-by-step plan, the results you'd get for the company, and how you will overcome all the obstacles that come your way.
Step 4. Mention The Costs
Mention all the strategies you'd be implementing, and then next to it, write the costs involved. This would allow the reader to have a better understanding of why you're charging what you're charging.
Always try to balance the cost against the benefit. If the cost might fluctuate a little in the future, mention that as well so that there are no conflicts when the proposal gets approved.
Step 5. Wrap it All Up
It's time to reinforce your point one last time and convince the reader why you're the best choice. All you've to do is, give a quick recap of your solution and persuade the reader that they'll get a good return on their investment.
Once that's done, thank the reader for their time. Don't forget to mention your contact information at the end – the reader won't magically know how to get in touch with you!
Voila! Once you've followed all these steps, you'd have a GOOD proposal in your hand.
Wondering why we've put emphasis on the word 'good'? Because these steps would certainly help you write a 'good' proposal, but not the perfect one.
So, how can you create the most amazing proposals ever? The answer is simple – by using a platform like Bit.ai!
Read more: Sales Proposal: What is it & How to Create a Perfect One?
Create Stunning Proposals Using Bit.ai!
Your proposals should never ever seem boring or complicated. They need to be properly formatted and persuasive…and Bit.ai helps you do just that!
Bit.ai is a new-age document collaboration platform that helps you create stunning documents effortlessly. Just focus on the content and let Bit take care of the design and formatting aspect for you. Not to forget, you can easily add any type of digital content within your proposals, be it a PDF file or a video.
Bit offers you more than 70 gorgeous templates to choose from that look perfect on every device. Want to know about Bit's superpower? It integrates across 100+ popular applications like OneDrive, Tableau, Google Sheets, Typeform, and LucidCharts!
That means, your content, wherever it resides, can be a part of your proposals. 😎
The best part is, Bit lets you work with your team members in real-time. You can co-edit, use inline comments and bring your colleagues to the same place to make decisions related to your proposals.
When you're all set to share your proposals with your clients, you can invite them to view the proposal inside of Bit as a Guest. You can even share the proposal with a live link, embed it on a website, or share a trackable link to track the engagement levels of your proposals.
Yes, you can even see who is opening your proposals, how far they scrolled, and how much time they spent on them. Fascinating, right? All in all, with Bit, you can create proposals in no time!
A Few Tips for Writing Great Proposals
1. Don't Include Jargons
You're offering the reader a solution to their problem because you're a professional in the field. But does that give you a free pass to include technical mumbo jumbo in the proposal? No, it doesn't.
Keep your reader in mind while writing any proposal. Whenever you end up writing a technical word that the reader might not be well aware of, slash it down.
Remember, you're not writing the proposal for YOURSELF, but for someone else!
2. Keep it Strong & Clear
Writing a proposal is very similar to writing a pitch. Just how a pitch needs to be strong, clear, and concise – your proposal should follow the same path.
Your proposal shouldn't come off as a vague document that the reader ends up tossing in the bin. It needs to be detailed, to the point, and most importantly, clear.
3. Proofread the Proposal
You are a professional, you want to sound like one, and a professional NEVER make stupid grammatical mistakes. So, proofread your proposal as many times as you can.
Read it out loud, ask your colleagues to proofread it, add brevity to sentences, check whether you've used the correct punctuations, and look for spelling errors.
Wrapping Up
If you've made it this far and read every single thing we've talked about in this blog, we know that you are going to ace the next proposal you write. 💪🏻
Writing proposals isn't always a walk in the park, that's why tools like Bit.ai exist. They hold your hand and help you get through this tricky journey.
So what are you waiting for? Go ahead, start working on your next proposal, and send it off to the client! Don't forget to let us know how it goes by tweeting us @bit_docs!
Further reads: 
Request for Proposal (RFP): What is it & How to Write it? (Free Template)
3 Project Proposal Examples You Must Check Out!
11 Proposal Software You Must Try Out!
Consulting Proposal: What is it & How to Create it? (Steps Included)
Marketing Proposal: What is it & How to Create an Effective One?
Grant Proposal: What is it & How to Write it?
Social Media Proposal: What is it & How to Create it?
How to Write a Business Proposal? (Steps & Free Template Included)
Project Proposal: What is it & How To Write An Impressive One?
What is a Website Proposal & How to Write a Good One?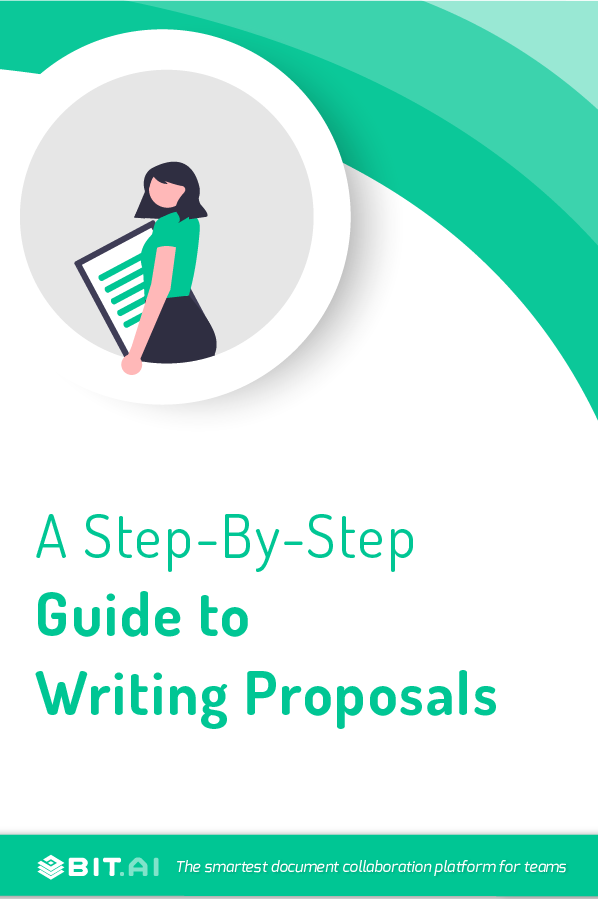 Related posts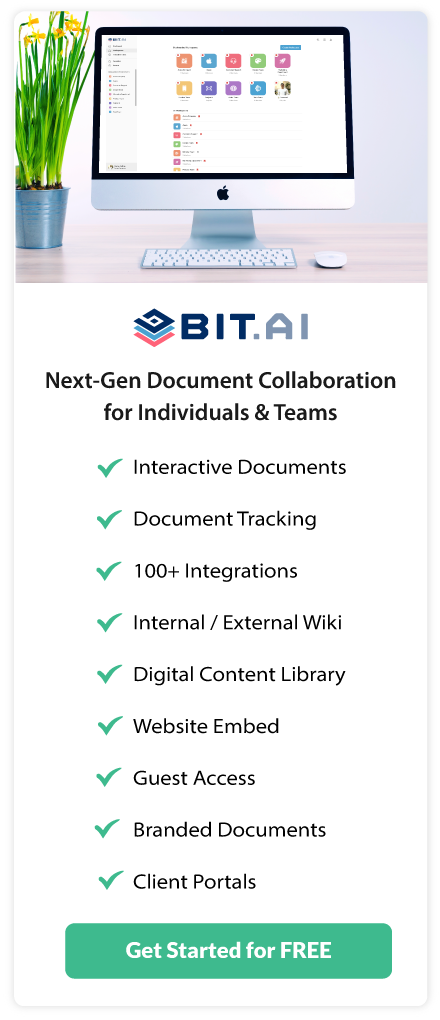 About Bit.ai
Bit.ai is the essential next-gen workplace and document collaboration platform. that helps teams share knowledge by connecting any type of digital content. With this intuitive, cloud-based solution, anyone can work visually and collaborate in real-time while creating internal notes, team projects, knowledge bases, client-facing content, and more.
The smartest online Google Docs and Word alternative, Bit.ai is used in over 100 countries by professionals everywhere, from IT teams creating internal documentation and knowledge bases, to sales and marketing teams sharing client materials and client portals.
👉👉Click Here to Check out Bit.ai.