Two heads are better than one, there's power in partnerships, teamwork is dreamwork, there's strength in numbers – we've all heard these phrases countless times, right?
Even though these mantras apply mainly to businesses and things similar to that, there's another area where they are definitely applicable: teaching.
See, teaching isn't a walk in the park, and we know that all the teachers are nodding their heads in agreement right now. Even though being a teacher is a beautiful thing, it's also a little stressful.
But, what if we tell you that you can actually make your teaching job a little easier? All you need to do is share the load, or, to be more specific, try your hands at collaborative teaching.
In this blog, we will tell you the A to Z of collaborative teaching, and how to do it the right way. Hop in teachers, we're going for a ride!
What is Collaborative Teaching? (Definition)
Collaborative teaching, also known as cooperative teaching or team teaching is the way by which two or more teachers teach, instruct and mentor the same group of students together.
But why is collaborative teaching such a big deal anyway? Well, because students are exposed to more ideas and viewpoints at once – which is undoubtedly an awesome thing.
Another reason why collaborative teaching rocks is because it improves the end results. Basically, the students learn more and achieve more than they would if teachers work independently.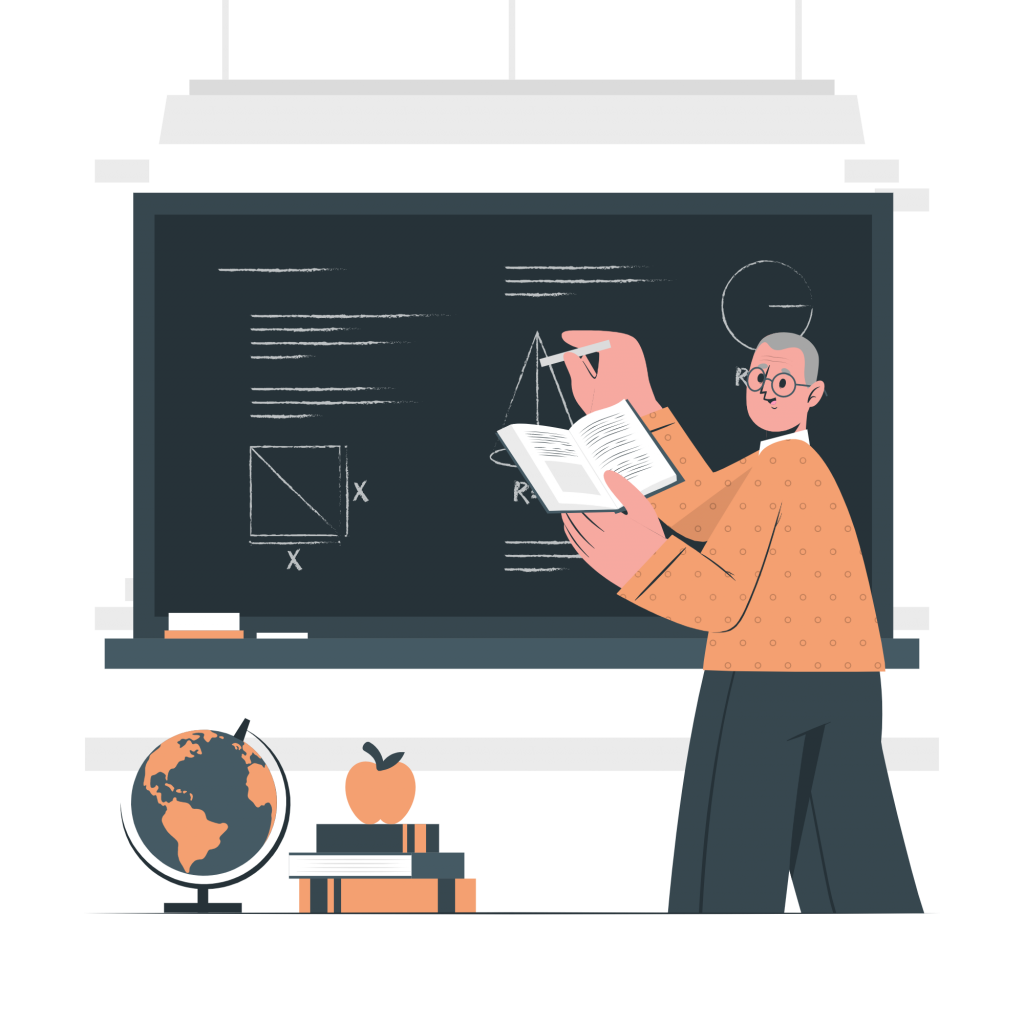 Now that you know what collaborative teaching is, let's delve a little deeper into the concept and know about the types of collaborative teaching.
Read more: Student Collaboration: What, Why, and Tools!
The 5 Types of Collaborative Teaching You Should Know About
1. Simultaneous Teaching:
This is very similar to regular teaching, except that there are two teachers and the class is divided into two groups. In simultaneous teaching, both the teachers present the same material at the same time to these two groups. This takes the load off of teachers, and they're able to teach in a better manner.

2. Instructional Stations:
As a teacher, you want to address every student. But, it's not quite possible when you have got a lot of students. That's where Instructional stations come in. In this type of collaborative teaching, the students rotate between different stations and the teachers give them instructions related to activities they're supposed to carry out.
3. Lead, Observe, Assist:
In this type of collaborative teaching, one of the teachers actually teaches the student and the other one observes and assists them. In short, he or she analyzes where the students are lacking, whether they're doing their assignments properly if they're struggling with concepts, and then help them out.
4. Teach and Reteach:
This method is kind of like the previous one, but there's one little change. In this method, the 'lead' teacher teaches the material to students, whereas, the co-instructor reviews everything that has been taught. Basically, he is responsible for conducting exams or tests and evaluate how much the students remember.
5. Supplemental Teaching:
In supplemental teaching, the classroom is divided into two groups. One group has the majority of the students, while the other is a small group. The lead teacher instructs the larger group, while the other teacher is responsible for the smaller one. The small group gets different instructional goals related to readiness, etc.
Good job! You're now very well familiar with the concept of collaborative teaching, why it's important, and its types. Now, let's go ahead and learn how to practice collaborative teaching efficiently.
Read more: Learning Objectives: What are they & How to Write them?
How to Approach Collaborative Teaching The Right Way?
1. Talk with the Co-Teacher Beforehand
You're not the only teacher in the classroom. You can't just go ahead and teach the way you want to. This won't just cause chaos for you, but also the students. You obviously don't want that to happen, right?
So, always talk to the co-teacher beforehand and understand his or her's teaching style before entering the classroom together. In short, know the kind of teaching method they prefer.

See, when you're teaching alone, you can follow your own teaching style without any hassle. But, in collaborative teaching, you've to understand the co-teachers style too, and then you both have to modify yours accordingly.
Also, figure out the topics you both are most proficient at. This way, you can enhance the learning experience for the students as you both would be teaching what you're good at.
2. Prepare Lesson Plans Together
Being a teacher is a BIG responsibility. You have the future of hundreds of children in your hands. Yes, you can definitely take on this challenge alone, but a little help won't do any harm.
So, if you want to master the art of collaborative teaching, there's one thing you should definitely do: prepare lesson plans with your co-teacher, aka, collaborate with them on the lesson plan.
This would ensure that you both are on the same page, helping you avoid any misunderstandings and confusion in the future. That's the dream, isn't it?
Another reason why you need to prepare lesson plans together is that it would make the lesson plan the best it could be…and the better the lesson plan, the better the learning and teaching experience!
Read more: Lesson plan: What is it & How to Create an Effective One? (Free template)
3. Clearly Lay Out Your Expectations
In every kind of collaboration that exists on earth, it's extremely important to know the other person's goals and expectations before moving ahead. It's the golden advice to ensure a smoother collaboration.
Obviously, as teachers, you both would have the same end goal – teaching new concepts to students and helping them learn. But, your path towards this goal might differ.
For example, one of you might prefer the modern style of teaching, and the other might prefer the traditional approach. So, discuss with the co-teacher exactly what you both expect and what you're looking for.
Once you both know these important details, try to find a middle ground that works for you both. As your end goal is the same, finding a middle ground won't be as hard as it usually is.
4. Understand the Needs of the Students
This is one of the MOST important things that you need to do before entering the classroom with the co-teacher. After all, students are the main character of your collaborative teaching story.
Find out what works best for the students you're going to teach. Is there a specific learning method that they love? Do they have any expectations from their teachers? Do they prefer to learn using practical exercises?
You will get all these answers by talking to the students, or their parents. When you find the answers, discuss them with the co-teacher, incorporate them into your lesson plan, and you're good to go.
Every collaboration brings with it a certain number of documents that you've to keep sharing back and forth with the other members. The same goes for collaborative teaching.
You've to collaborate on the lesson plan, the assignments, the test papers, and much more with your co-teacher. You've to continuously share these documents with each other so that everyone stays in the loop.
Teaching is already a tedious job, and these tasks make it even more difficult, especially if you're teaching online. But, don't worry, there is a way out of this situation – Bit.ai!
Bit.ai – The Best Tool For Collaborative Teaching
Bit.ai is a powerful, new-age document management and collaboration platform where you can create, collaborate, share, track and manage all your teaching material in one place. It's the perfect platform for teachers to get work done without having to rely on complicated apps and software!

You and your co-teacher can collaborate on a Bit document in real-time. It is indeed a wonderful way to create a wide variety of documents and working together. You and your co-teacher can create lesson plans, dynamic notes, wikis, knowledge bases, projects, assignments – all in real-time!
And, all thanks to its smart editor, Bit makes the process of documentation quick and easy. Not to forget, Bit integrates with 100+ apps so you can go beyond text or images and unleash your creativity.
You can even create different virtual classrooms through 'workspaces' and add your co-teacher and students to different classes. Students can work on assignments together too. You can then evaluate these assignments with your co-teacher, provide comments and feedback individually to students – in one single place.
Before you go!
Our team at bit.ai has created a few awesome education templates to make your processes more efficient. Make sure to check them out before you go, you might need them!
Wrapping Up
Like we said before, collaborative teaching totally rocks.
From the student's POV, they are exposed to many more ideas and they are able to learn a lot more at once. From the teacher's POV, they can share the load and make the entire teaching experience much more efficient!
In this blog, we've shared everything you need to know about this awesome concept of collaborative teaching. So, don't wait any longer. Go ahead and jump on the bandwagon ASAP!
Got any queries or suggestions? Tweet us @bit_docs and let us know. We'd be happy to help you out always.
Further reads: 
How To Make Class Notes Worth Reading?
Best Homeschooling Apps and Tools to Educate Kids!
12 Best Student Tools for Better Learning in 2022
How To Create A Recommended Reading Document?
Happy & Collaborative Work Culture: 10 Effective Ways to Create it!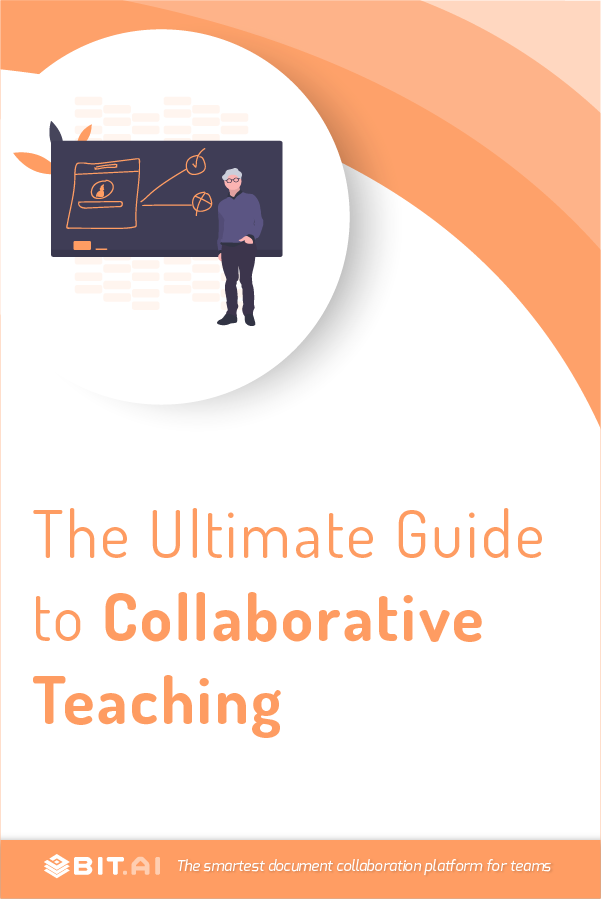 Related posts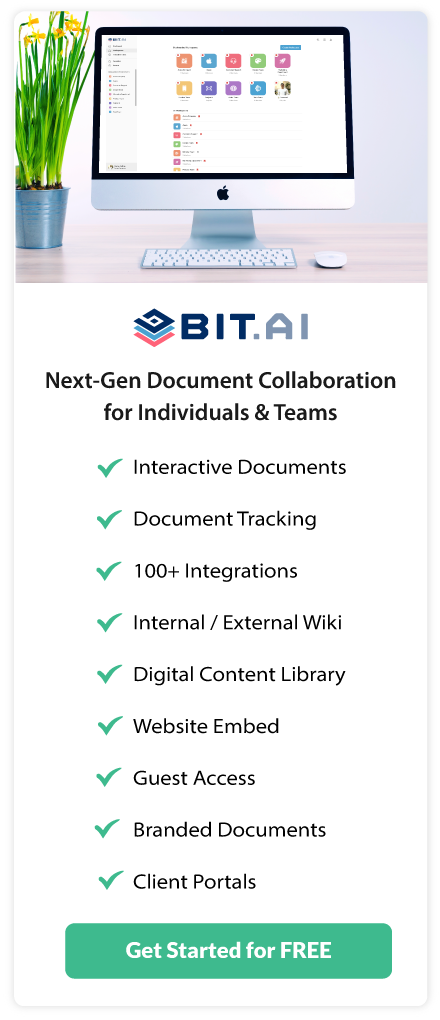 About Bit.ai
Bit.ai is the essential next-gen workplace and document collaboration platform. that helps teams share knowledge by connecting any type of digital content. With this intuitive, cloud-based solution, anyone can work visually and collaborate in real-time while creating internal notes, team projects, knowledge bases, client-facing content, and more.
The smartest online Google Docs and Word alternative, Bit.ai is used in over 100 countries by professionals everywhere, from IT teams creating internal documentation and knowledge bases, to sales and marketing teams sharing client materials and client portals.
👉👉Click Here to Check out Bit.ai.