Project management is a difficult process that needs extensive paperwork, record-keeping, and legal contracts between clients and organizations.
As a result, project managers must have a thorough awareness of the many forms of documentation that may be used to describe a project, explain its objectives, and determine deliverables.
If you're a project manager or drafting a project description, knowing the distinction between a Scope of Work and a Statement of Work might be extremely beneficial for you.
The words "scope of work" and "statement of work" are sometimes used interchangeably, however, they are not synonymous. In fact, they are two very separate entities, and knowing how they function can help you enhance your project management abilities and impact a successful project conclusion.
In this blog, we will clarify what a Statement of Work is, and what a Scope of Work is, by elaborating on the fundamental distinctions between the two, and when you might use them.
So let's get down to it, shall we?
Scope of Work: Definition, Importance, Example
What is a Scope of Work?(Definition)
Scope of work document is an agreement between two parties about the tasks that must be completed in a project. It takes a 360-degree view of the project, to aid teams in effectively implementing it.
It contains information such as the background, statement of work, requirements, deliverables, deadlines, and budget. Because the scope of work is utilized when working with external customers, it's important to make it as clear as possible, using simple language and thorough information on deliverables.
What is the importance of a Scope of Work document?
The scope of work document is a vital tool for ensuring that the project's team and stakeholders are all on the same page. So that there is no confusion and no costly redos at the end, all parties involved (customers, vendors, contractors, agencies, etc.) share their vision for the project.
The document includes timeframes, deliverables, task assignments, terms and conditions, budgets, and other information to assist everyone to understand what needs to be done, why it's necessary, and when it has to be done.
Project managers generate these types of documents to guarantee that nothing is overlooked and that all moving aspects of the project are considered.

What goes into the Scope of Work document?
The paperwork completed prior to the start of a project is critical to its success. It's critical to include the following items in your scope of work document:
1. Introduction
Give a brief overview of what you're hoping to achieve.
Establish the Background: Provide context on why it's essential and how it relates to the company's overarching objective.
Purpose of Work: Include the project's deliverables and time frames in your spreadsheet.
List the Requirements: Describe the requirements that must be accomplished in order to execute this project.
2. Compliance
Outline the standards that the team and other third parties must meet.
3. Project Deliverables
Describe how the project will be delivered and how it should be implemented.
4. Project Schedule
What is the expected completion date for the project? If required, include phase completions.
5: Project Budget 
Include the estimates of what the project should cost.
Read more: How to Create an Effective Operational Plan for Your Business?
Example of Scope of Work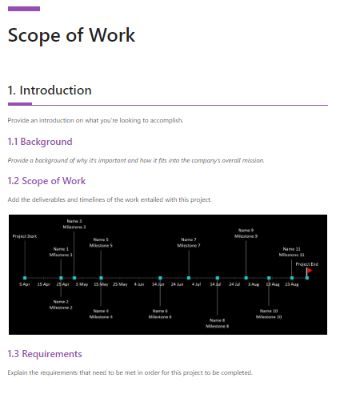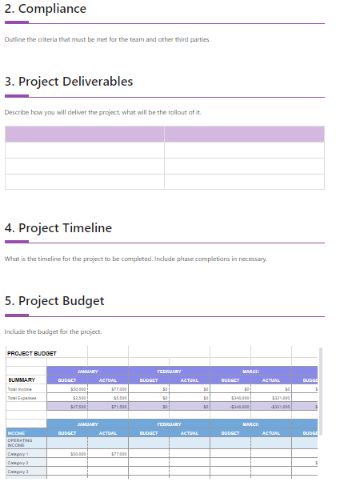 Statement of Work: Definition, Importance and Example
What is a Statement of Work? (Definition)
A statement of work explains how a project will be conducted, the risks involved, and the phases of the project, as well as milestones and deliverables, to assist assure its success.
This detailed description aids stakeholders and team members in understanding the project's deliverables and timetables, as well as what is expected of them.
What is the importance of a Statement of Work document?
A statement of work is a critical document that helps everyone engaged in a project understand what's at stake, the project's priority level, risks, budgets, and a breakdown of what has to be done and when.
This document establishes team and stakeholder expectations in order to hold each other accountable and to ensure the project's success. It helps to minimize project disputes and keep misunderstandings to a minimum.
What goes into a Statement of Work Document?
The level of documentation completed prior to the commencement of a project is crucial to its success. As a result, it's critical to include the following items in your statement of work documentation:
Project Brief: Provide a brief overview of the project's objectives and goals.
Project Method: Describe the steps involved in completing the project.
Project Milestones: Important project milestones and deliverables, as well as deadlines, should be included.
Overall Project Management: Describe the project's governance structure. This can include information such as who is in charge, what the status report expectations are, and so on.
Terms and Conditions: List out any specific terms and conditions that must be met before the project can begin.
General Assumptions: What are the general assumptions and hazards involved? Can anything be done to lessen the dangers? Before starting the project, write out all of your expectations and preconceptions.
Phase Breakdown: List out the description of each of the phases, the expectations and deliverables, the schedule, and milestones for all the phases of the project
Budget: Include the project's budget spreadsheet.
Approvals: Include information about approval and related processes wherever applicable.
Now that we have looked over the meaning, importance, and contents of a Scope of Work and a Statement of Work, let's take a look at some of the key differences between the two!
Example of Statement of Work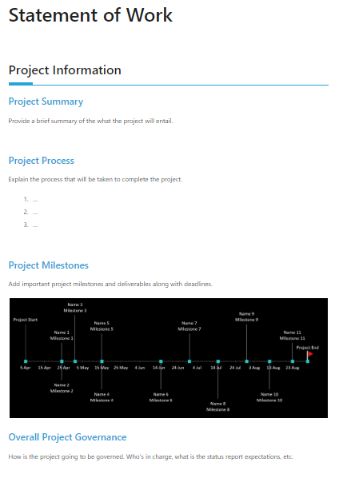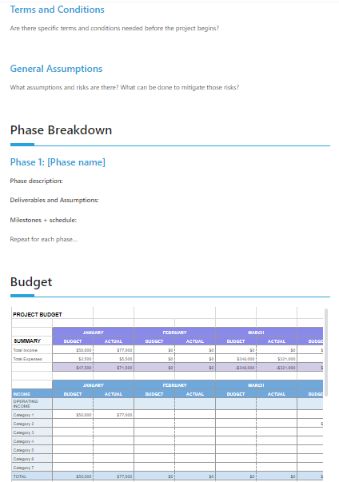 The Key Differences Between Scope of Work & Statement of Work
Several considerations distinguish statements of work and scopes of work from one another. Here are the fundamental distinctions between these two types of project documents:
1. Purpose
The function of a statement of work is to lay out the overall structure of a project as well as the broad deliverables that the project will achieve. It outlines the project's scope, each party's duties, and expectations regarding money and timeframe.
Scope of work, on the other hand, is used to outline particular tasks for staff to do, as well as how they should finish them and what tools they should apply in order to do so.
2. Function
A statement of work's purpose is to design the project and assist project managers in developing the operational infrastructure required to carry it through to completion.
Using the components described in a statement of work, project managers can review the progress of freelancers, contractors, and suppliers associated with the project.
Scope of work, on the other hand, is used to describe each professional's job inside a project, as well as their performance criteria, duties each person handles, applicable regulations they must follow, and occasionally even a work breakdown structure (WBS).
This keeps staff and stakeholders focused throughout the duration of the project.
3. Length
As mentioned above, a statement of work can be a long document with many separate sections. The average statement of work is about 12 pages long, however, this varies depending on the project.
Scope of work, on the other hand, is usually a considerably shorter document because it is provided as a single component inside the statement of work.
4. Appropriate Usage
While a Scope of Work is one of the elements of a Statement of Work, it serves a distinct purpose. This information helps determine when a statement of work should be used and when a scope of work should be used to outline the project's objectives.
Here's a quick rundown of when each form of description should be used in project management:
Statement of Work: A statement of work should be used to establish a blueprint for the purpose, goals, location, timetable, deliverables, standards, client requirements, payment schedule, and contractual elements of an entire project. Statements of Work may be used by project managers as a comprehensive planning tool for overseeing projects from start to finish. Statements of Work are often in-depth documents that explain numerous aspects of the project in this manner.
Scope of Work: Creating a Scope of Work within a statement of work help specify distinct responsibilities in the project and help elaborate on the workflow that will guide it to completion. Scopes may be used by project managers to explain activities and procedures in-depth, assist team members in understanding their specific roles, define performance objectives, and set deadlines for job completion.
Now that you have learned some of the key differences between a Scope of Work and a Statement of Work, we would like to introduce you to a proficient tool that can help you create, share, and collaborate with stakeholders and get work done efficiently.
Intrigued? Read on to find out more!
Create Scope of Work & Statement of Work on Bit.ai
Bit.ai is a new-age documentation and knowledge management tool that helps teams to collaborate, share, track, and manage all company knowledge in one place. It serves as a central hub where collaborators, content, and communications can be accessed in one all-inclusive document.
Project managers can use Bit to create Scope of Work documents and Statement of Work documents, collaborate with the team in real-time and store all project assets in one place for easy and fast access.
Whether your team is creating Scope of Work documents, Statement of Work documents, roadmap, project documentation, project charter, product requirements, API documentation, product launch marketing documents, pitch decks, business plan, SWOT analysis, competitive research, project management plan, etc, they can easily add spreadsheets, Slideshares, Google Slides, YouTube videos, PDFs, maps, charts, graphs, and more to your documents and make them visually stunning.
Check out some super cool features of Bit:
Simple, Clean UI: Bit has a very minimal design aesthetic that allows even a newbie to quickly get on board with the platform. Despite being feature-rich, it does a great job of not overwhelming a new user and provides a systematic approach to work.
Templates: Bit's extensive template gallery offers over 70+ professionally designed ready-to-use templates from which you can choose your favorite one. This includes a Scope of Work template and Statement of Work template as well! Pick a template you like and customize it however you want and you'll get the whole draft ready in just a few minutes.
Auto-Formatting: Don't ever worry about how your Scope of Work and Statement of Work documents would look with Bit around! Its auto-formatting feature automatically formats your documents with a clean, consistent, and uniform look. Just focus on your content and let Bit do the rest of the work for you!
Workspaces and Folders: Organizational information is often scattered in cloud storage apps, emails, Slack channels, and more. Bit brings all information required to create a Scope of Work and Statement of Work in one place by allowing you to organize information in workspaces and folders.
Smart search: Bit has very robust search functionality that allows anyone to search and find any files, images, documents, etc quickly and easily across all of their workspaces. Users can search their digital assets using keywords, titles, descriptions, or tags. They can even search for files based on their source. (i.e., YouTube).
Media Integrations: Want to spice up your Scope of Work and Statement of Work documents? Then Bit is the way to go! Bit.ai integrates with over 100+ popular applications such as YouTube, Typeform, LucidChart, Spotify, Google Drive, and many more to help you weave information into your documents beyond just text and images.
Sharing: Bit documents can be shared in a live state. This means that all changes that you make to the document will update in real-time. If you are sharing your documents with clients, they will always get your most up-to-date changes. You can even embed Bit documents on any website or blog.
Tons of other features: Bit has a plethora of amazing features like document tracking, cloud-upload, templates, and themes, document locking, document expiration, and much more, making it a well-rounded documentation and collaboration tool.
So if you're looking for a hassle-free and fun way to create your documents and collaborate, then Bit is the way to go! So quit waiting around and just get Bit already!
Wrapping Up
Both a Scope of Work and Statement of Work play an important role in identifying and working on implementing project goals. These documents become essential to hold staff and any other stakeholders responsible for their work and results.
Ensuring that the documents are in place and made according to specifications and team necessities will ensure that your project runs smoothly.
We hope that this blog has succeeded in explaining and distinguishing both Scope of Work and Statement of Work. Now every time you need to know anything about these two documents, you know where to come!
Thanks for reading! Ciao!
Further Reads:
Project Documentation: What is it & How to Manage it?
Project Outline: What is it & How to Create it for Your Business?
Project Objectives: What are they & How to Write them Effectively?
Problem Statement: What is it & How to Write it?
Writing Vision Statement: Definition, Examples, and Best Practices!
How To Create An Effective Status Report?
What is a Project Scope and How to Write it?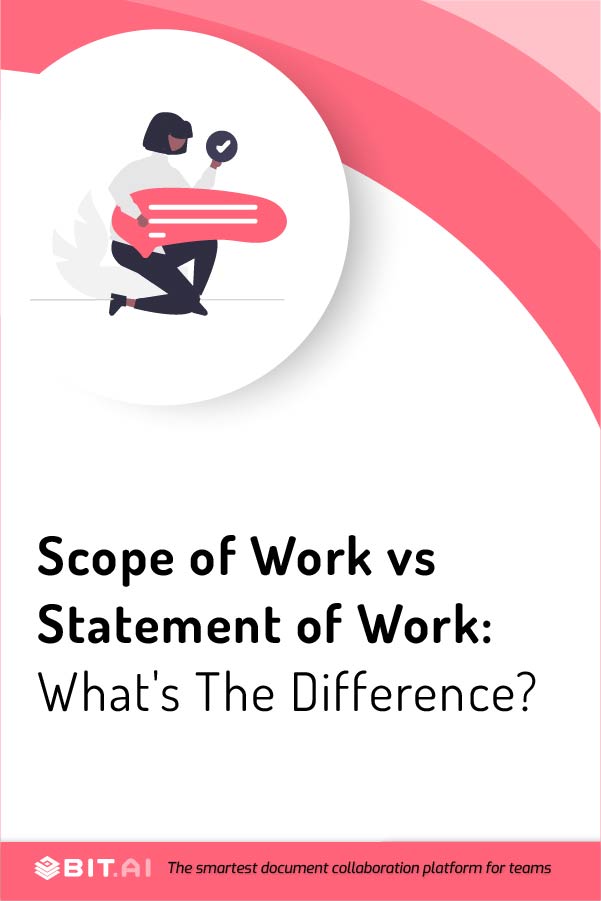 Related posts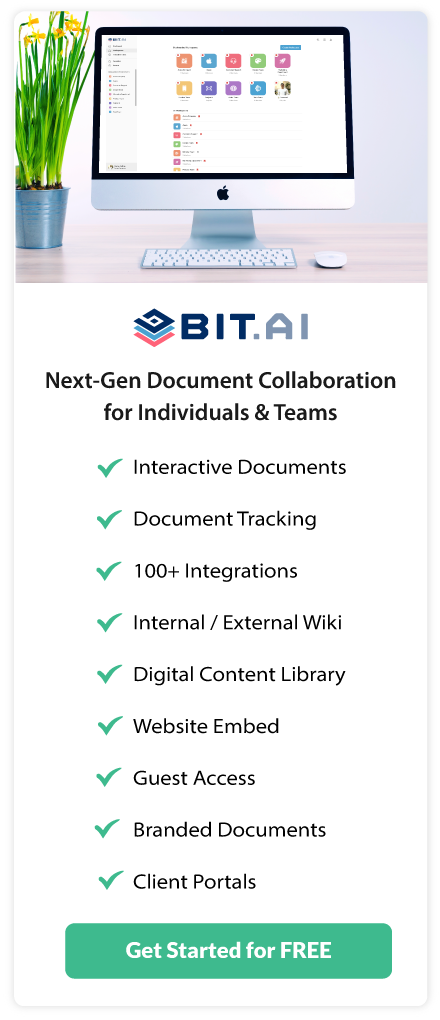 About Bit.ai
Bit.ai is the essential next-gen workplace and document collaboration platform. that helps teams share knowledge by connecting any type of digital content. With this intuitive, cloud-based solution, anyone can work visually and collaborate in real-time while creating internal notes, team projects, knowledge bases, client-facing content, and more.
The smartest online Google Docs and Word alternative, Bit.ai is used in over 100 countries by professionals everywhere, from IT teams creating internal documentation and knowledge bases, to sales and marketing teams sharing client materials and client portals.
👉👉Click Here to Check out Bit.ai.