Let's be honest here – not everyone is cut out for doing a Ph.D. because getting a Ph.D. degree can be a daunting task. Sometimes even the students who sign up for doing a Ph.D. tend to quit mid-way.
In fact, research shows that up to half of the students who start doctoral studies don't complete their studies at all. If we're looking at completion time and completion rate, then an even smaller percentage of Ph.D. candidates complete their doctorates within the three-year window.
This is often because of the immense pressure and stress that tags along with pursuing a Ph.D. degree in addition to several other challenges that research students face.
Nevertheless, Ph.D. is still a significant achievement that brings great benefits to your career path, but getting through it can be difficult.
What you need to do to ensure that your academic research is on track is to get the right balance between organizing your work and managing time while leaving room for some flexibility.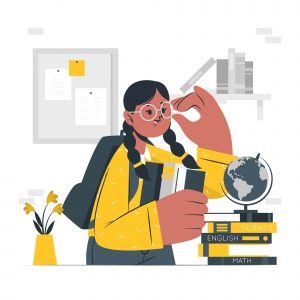 For this, you need to invest in software that can help you out in managing and organizing your academic life. And Bit is the perfect tool for you!
Find out why in this blog! But first, let's go over some of the challenges of doing academic research.
Challenges You Face While Doing an Academic Research
1. Dealing With Too Much Information
Probably one of the most demanding parts of doing your Ph.D. research is dealing with the information load.
You will always have tons of research-related materials, documents, files, and notes piling up one after the other and it simply becomes a lot to handle. Because of this, you will even have a hard time keeping track of what you read from your ever-growing reading list.
2. Poor Management of Research Documentation
Similar to dealing with the information load during your research is the poor management of your academic research documents. This usually happens when you don't structure your studies, findings, sources, and reports and you end up with a confused clutter of information.
Because of this, your information and materials for academic research tend to get lost, resulting in extra work for you to start from scratch. This ultimately affects the progress of your dissertation.

3. Multiple Tasks and Deadlines
The typical life of a Ph.D. research student or scholar is often drowned in deadlines and tasks. You always have assignments and project work that you have to do and the deadlines keep lining up one after the other.
You will also find yourself in situations where you have tons of work to do and very little time on your hand to complete them. Without proper time management strategies and organization, it becomes difficult for you to write a well-structured dissertation and thesis.
This results in work overload that causes extreme pressure and stress for the students.
Read More: How to Write a Thesis with Perfection?
4. Lack of Work-Life Balance
With the constant expectation to study and approaching deadlines, projects, presentations, etc., your academic research can sometimes blur the line between your academic work life and personal life.
It can cause a severe imbalance in your work-life schedule often consuming your weekends, eating up your free time, and even messing up your sleep schedule.
In short, the lack of proper documentation, organization, and time management can simply screw up your academic and personal life.
Now, what if we told you that you could easily plan and organize your work, gather all your materials and information, track your progress, and even collaborate with your fellow scholars and supervisors – all in one place?
Yes, you heard that right! With Bit.ai, you can do all this and more! Don't believe us? Then scroll down right now because you're in for a surprise!
Read More: How Bit.ai Can Help Students Better Manage Their Schoolwork?
Bit.ai: Ultimate Tool to Manage Academic Research
Bit.ai is a robust all-in-one knowledge management and document collaboration platform that is designed to help you create, collaborate, share, track, and manage information in one place.
It's the perfect platform for research scholars and students to get their work done without having to rely on several complicated apps and software!
Bit helps you coordinate and organize all your documents, notes, projects, and academic work, along with your personal projects in the best way possible!

How to Use Bit to Organize and Manage Your PhD Research
1. Stunning Research Templates to Ease Your Work
Whether it is creating a reading list, writing a research paper or thesis work, or simply taking down notes, your research work will require you to do tons of writing all the time. This becomes infinitely easier with Bit's extensive template gallery that offers you over 70+ professionally designed ready-to-use templates to choose from.
Here is a list of some of the templates that you can use for your academic and research work:
You can use these templates to write your thesis, create a reading list, take down notes, create a survey, and much more. All you have to do is simply pick a template you like and customize it however you want and you'll get the whole draft ready in just a few minutes.
Don't worry about the look and feel of your document, as Bit's auto-formatting feature will automatically format your documents and give them a clean, consistent, and uniform look.
Just focus on your content and let Bit do the rest of the work for you!
2. Create Multiple Workspaces and Research Folders
When you are doing research, you tend to have multiple information, research-related materials, documents, files, notes, etc. As we discussed earlier, all of these can be quite difficult to handle. Here is where Bit can solve the problem.
Bit allows you to create multiple workspaces around your research topics, mini-thesis, research findings, surveys, and more. Within these workspaces, you can create an unlimited number of documents and folders to store and manage everything you have in an efficient and organized manner.
3. Create Media Rich Papers and Case Studies
Writing a research paper will require you to showcase your findings, surveys, presentations, case studies, and more. You will need to visually present them in your document and there's no better way to do it than with Bit.
Create interactive documents with Bit's 100+ rich media integrations to enrich your notes with any kind of digital content. It lets you add images, links PDFs, tables, charts, maps, presentations, surveys/polls, excel sheets, graphs, videos, GIFs, and basically any type of rich media to your document. It automatically turns them into interactive visual cards and rich embeds that live in your document.
Another cool feature of Bit's interactive documents is that you get to choose from various themes, colors, and layouts to quickly transform your documents with just a few clicks.
Bit simply makes your documentation process more fun and engaging!
4. Access all your related assets in content library
Part of what makes research difficult is the fact that you have too many digital materials to store and keep track of. But with Bit's excellent content management capabilities, you don't have to worry about a thing!
Store and save all your digital or media assets such as images, visual web links, cloud files PDF files, Google Docs, Dropbox files, SlideShares, YouTube videos, presentations, and absolutely any other type of material in Bit's content library.
You no longer need to switch between emails, cloud storage, notes, and other applications to access your digital content as Bit's content library will keep everything organized in one centralized location.
5. Collaborate with Fellow Scholars and Supervisors
As a research scholar, you have probably had a countless number of meetings with your guide/supervisors or even other fellow scholars.
There might have been times when you wished that there was a common space where everyone could simply put in their suggestions and comments so that you didn't have to always have in-person meetings.
Here is where Bit comes into play. It allows you to add an unlimited number of collaborators to each workspace where they have access to the documents and content library within that workspace.
Here, you can seamlessly collaborate with your guide and other supervisors and work together on the same document and discuss your research-related work via private chats, @mentions, inline comments, co-editing, and much more.
You can even invite your fellow research scholars or classmates and provide them editing access to receive comments, suggestions, and feedback.
Everyone who has access to the Bit workspace can create documents and organize them into folders as well. It also lets you pin documents that are important or need to be frequently accessed.
6. Receive Real-Time Notifications
Never miss out on an update or change that has been made in your documents when you are using Bit. It's real-time notifications ensure that you get promptly notified every time someone leaves a comment or feedback on your document, adds you to a workspace, adds a document to a workspace, updates a workspace, mentions you in a comment, and much more.
Even if you are away and not working on the Bit workspace, you will still receive an email notification on your phone notifying you about the changes that have occurred.
7. Create Checklists for all your Research Planning
One thing's for sure – your life as a research student will never be without an impending task or deadline. In fact, you might have a line-up of them waiting to be finished. And truth be told, it's easy to lose track of them all.
So one way to organize all your tasks and deadlines is to create checklists and to-do lists for yourself.
Use Bit to create your very own checklist or to-do list for all your project work, assignments, surveys, interviews, meetings, and even your personal life activities.
These checklists are a great way to keep track of all important dates and approaching deadlines in order so that you can finish them off one by one. After all, what's better than the feeling of crossing out a completed task from a checklist?
8. Find Materials and Notes Easily
The problem with having heaps of articles, documents, files, case studies, and other reading materials is that it can get lost even if it is stored in an organized manner. And it can be quite frustrating to scroll up and down or open documents to find what you are looking for.
But with Bit's robust smart search functionality, you will never have to deal with such an issue because it lets you search for any information in just a matter of seconds.
Simply type what you're looking for based on title, keywords, tags, content type, and more, and Bit will quickly search across all of your workspaces and present you with the results.
9. Maintains Backups
What makes working on Bit even cooler is that you never have to manually save your work as everything you type, add, or store in Bit gets saved automatically.
So in case of a power failure or internet shutdown, you never have to worry about losing your work.
What's more? Bit documents have an unlimited version history feature that lets you go back in time to view updates and changes that have been made to your documents.
This way, you will never lose information due to accidental deletions and unintended changes, and you will always have the option to go back and restore your old version.
10. Import and Export Files in Desired Format
If your research paper or thesis requires you to import or export files without compromising on the visual quality of your document, then Bit is the perfect tool for you!
Bit makes it effortless to bring your documents in from anywhere and convert them into modern Bit documents without compromising on its visuals.
It allows you to import docs from Word, Google Docs, Office 365, Confluence, Quip, Zoho Docs, Dropbox Paper, Markdown, Text, and PDF.
With just a click of a button, you can even export the Bit document you have created into the desired format such as PDF, Word, ePublication, Markdown, Rich Text Format, etc.
11. Share Research Via Multiple Ways
Another standout feature of Bit is that provides multiple ways to share your files and documents. You can share your mini-thesis or smaller assignments with your supervisors through any of these methods:
Shareable link – Share documents in Bit by creating a shareable live link. Embed your documents onto any website or blog in minutes and update them in real-time.
Trackable link – Share your documents via trackable links to understand how users are interacting with them. Receive live analytics and insights about your work documents, such as who viewed them, how much time they spent, and even how far down they scrolled through them.
Guest Access – Use Bit to invite guests into your workspace and provide them with read-only or comment-only access
12. Manage Permission
One of the biggest dangers in academia is plagiarism. So the last thing you want is someone trying to get their hands on your hard work. This brings in the need to keep all your research data and thesis work safe, secure, and private.
By using Bit to manage your research work, you can also manage permissions and information access with the help of features such as document tracking, password protection, file access restrictions, etc. to ensure that all your information stays safe.
You can even set up a custom password (which you can update and disable at any time) or set an expiration date when you are sharing your documents to ensure that your documents are protected at all times.
Wrapping Up
In a nutshell, Bit is an excellent tool to manage and organize your research and academic work. It acts as a central location for content management, communication, and collaboration.
Bit is truly one of the best things you will find as a student in academia and now that you know how it works, go out there and get Bit right away!
Good luck, folks! Ciao!
Further Reads: 
Research Proposal: How to Write a Perfect One? (Steps & Format)
Top 13 Tools for Researchers in 2022
Research Paper: What is it & How to Write it? (Template Included)
How To Write A Case Study? (With Template)
White Paper: What is it & How to Write it?
Scientific Paper: What is it & How to Write it? (Steps and Format)
Thesis Statement: Definition, Importance, Steps & Tips!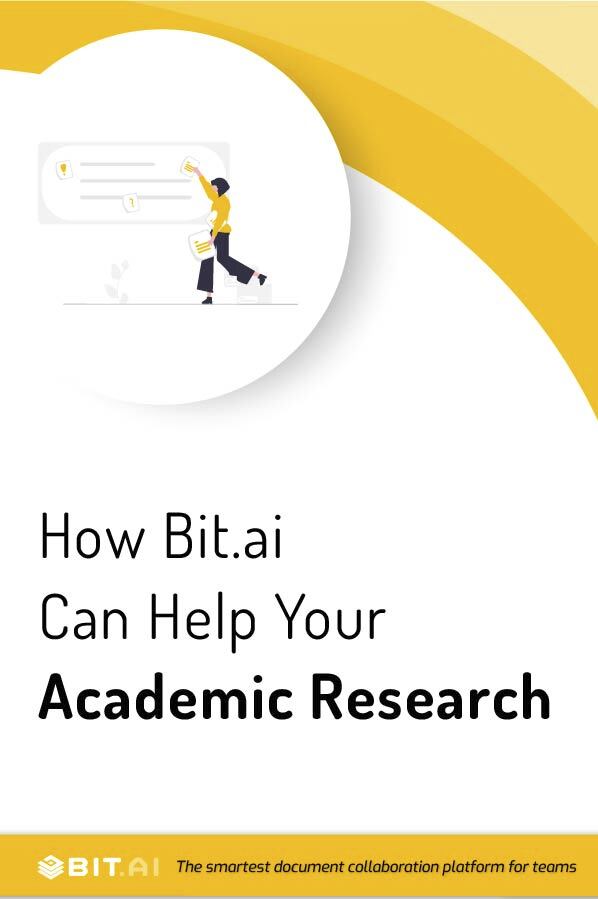 Related posts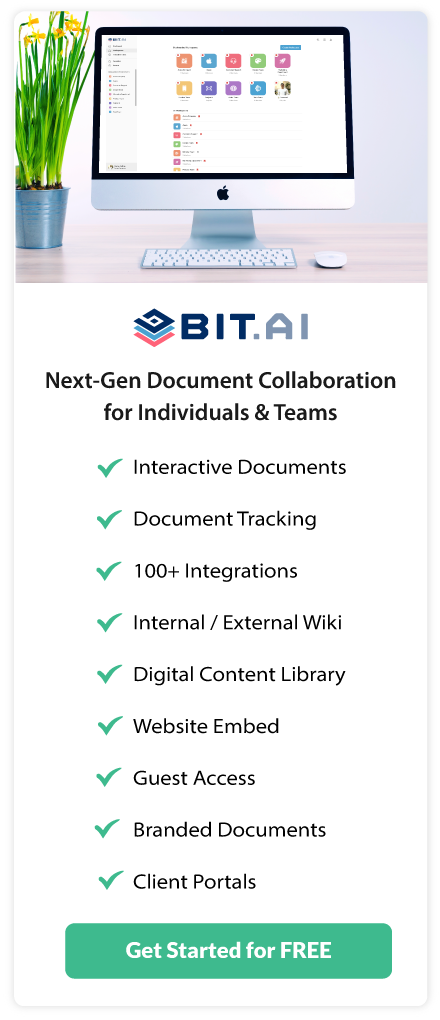 About Bit.ai
Bit.ai is the essential next-gen workplace and document collaboration platform. that helps teams share knowledge by connecting any type of digital content. With this intuitive, cloud-based solution, anyone can work visually and collaborate in real-time while creating internal notes, team projects, knowledge bases, client-facing content, and more.
The smartest online Google Docs and Word alternative, Bit.ai is used in over 100 countries by professionals everywhere, from IT teams creating internal documentation and knowledge bases, to sales and marketing teams sharing client materials and client portals.
👉👉Click Here to Check out Bit.ai.