What comes to your mind when you hear "white paper"? Well, we are not talking about a blank piece of paper, but a content marketing tool that helps marketers establish their authority in a particular industry or on a topic.
Marketers often use white papers as a way to get new leads and clients. Although white papers have been a part of every content marketer's arsenal, they haven't evolved much over time. They are filled with small print text, charts, images and that's it.
Now you might be thinking well what else could possibly be added to make white papers fit in today's digitally advanced world?
Well, how about…
Adding additional digital content like videos, slides, podcasts, etc.
Making white papers interactive
Gathering intelligent engagement insights
Creating a smarter way to gather leads
White papers aren't going anywhere and are here to stay for a long time to come. That's because we're going to teach you everything there's to know about creating a new-age white paper!
Side Note: The definition of a white paper varies from industry to industry as they are widely used in politics, technology, research, business, and various other fields. In this blog post, we're here going to discuss the business white paper and how to write one that will make your company stand out!
What Is A White Paper? (Definition)
According to Wikipedia,
"A white paper is an authoritative report or guide that informs readers concisely about a complex issue and presents the issuing body's philosophy on the matter. It is meant to help readers understand an issue, solve a problem, or make a decision."
For businesses and marketers, a white paper is essentially an authoritative, in-depth report aimed to highlight a particular problem and how the business is working towards solving the problem.
White papers are used by the sales and marketing departments to persuade or educate prospects about a particular product/service, methodology, or new technology, in the hopes of generating new leads and customers.
By providing in-depth, thorough research, backed by solid evidence, examples, and references, marketers try to provide value to the prospect and gain their trust and credibility.
Read more: How To Write A Case Study (With Template)

Why white papers? Why can't I just write a blog post?!
White papers and blogs solve different problems and are often aimed at different audiences.
Blogs are short-form content that can be written in a couple of hours or days, while white paper can take from weeks to a month to get them published.
A blog can be something opinion-based, informal, and playful, written for the general public to get your name out there.
A white paper, on the other hand, is more research-oriented content with a serious tone aimed at a target audience who are way ahead in the sales funnel.
When someone enters their email and downloads the white paper, they are looking to get a thorough understanding of a topic or an industry, which is detailed, informative and backed up by cold-hard facts.
If you're able to deliver, the person views you as an industry expert and is much more likely to purchase from you than anyone else.
White Papers are Living in the Past
White papers act as amazing marketing and sales material as they help build your credibility and establishes you as an authority in a particular industry or niche.
However, there are many reasons why most of the white papers we see today are living in the past:
1. White papers are well, boring.
Although white papers are meant to be an in-depth study on a particular topic, issue or opportunity, it doesn't mean they have to be boring.
However, much to everyone's dismay, white papers often come across as boring documents with no interactive content.
Everything is static with text and images. Often white papers are pages long and really need to be paid attention to get a thorough understanding of the topic being covered.
For some of us, it can feel like college textbooks all over again!
Read more: How To Write Project Reports That "Wow" Your Clients
2. PDFs are not trackable
White papers are usually distributed in PDF format. It's difficult to know whether someone has opened your white paper, how much time they spent, how often they reviewed it, how far they scrolled, etc.
Gathering engagement data is extremely useful for a business looking to create great marketing and sales material for lead generation.
When you're able to understand what content is working and what isn't, marketers and sales teams can make better-informed decisions on the content they are sharing.
They can improve on the shortcomings they've identified and doubled down on the things that work well.
Bottomline with engagement metrics you can see what changes you need to make to create a more appealing white paper. Unfortunately, PDFs just don't help you track these types of engagement levels.
3. What about built-in lead capture?
White pages are downloadable content marketing assets that are typically used by companies for inbound lead generation.
This is why you often see a lead capture form that you need to fill out before you can download the white paper.
However, once downloaded by a user, it can be distributed easily, without your consent. Your PDF can be emailed and shared with anyone.
Businesses end up losing out on leads because there's no way to prevent duplicity or further distribution of a white paper PDF.
Read more: Scientific Paper: What is it & How to Write it? (Steps and Format)
So What Can You Do To Modernize your White Paper?
Various whitepaper examples or studies show that one needs to fill them with tons of knowledge and data, backed up strongly by research and references, which takes a heck of lot of time and effort.
Since PDFs are not trackable, the design is boring, and losing control of your content makes you wonder whether white papers are even worth the time and effort?!
Well don't worry, we have a solution that will help you create interactive, trackable white papers that allow you to control who is viewing your white paper!
Bit is a new-age cloud-based document collaboration tool that helps teams create, manage and track workplace documents. Yes, that includes whitepapers!
How Can I Use Bit.ai To Create White Paper?
First, take everything you understand about white paper PDFs and throw it out the window. Now that your brain is clear, imagine this:
Bit documents come alive and help you share documents that are more than just plain boring text. You can add rich media like YouTube videos, Google Docs, One Drive, Excel Spreadsheets, SlideShares, etc.

Basically, anything on the internet with a link can be shared and Bit will automatically turn it into visual content. With Bit you can add code blocks, math equations, add files that can be downloaded by your audience, GIFs and more!
You can collaborate in real-time with multiple team members as you fine-tune your white paper. Often times you need additional eyes, resources, researchers, etc. to help you finalize your white paper.
You can add comments to your document and they trigger real-time notifications bringing your audience to the exact spot in the document that needs to be discussed. You and your team will save valuable time collaborating together!
Bit also has an automated table of contents based on the headers you add to your white paper. It's a fast way to scroll to different sections of your white paper as a creator, collaborator and for your audience viewing the final published white paper!
Once you're satisfied with your white paper and are ready to share it, you can create a trackable link.
Your trackable link once shared will provide you with information on how often it's viewed, how far it was scrolled, how much time was spent on it, etc.
Bit also gives you the ability to share multiple trackable links for every recipient or group you want to track.
Read more: How To Write A Research Paper?
Why You Should Use Bit.ai For Creating White Paper?
1. You can create an interactive white paper.
In this digital age, you need more than just text to tell your story in a compelling manner. A white paper in PDF format can only incorporate text and images.
Since white papers are usually longer than five pages, having to read so much text can be dull and ineffective.
This is why we empower you to add any type of rich media content, like YouTube videos, Google Docs Spreadsheets, PDFs, presentations, Spotify playlists, SlideShares, etc.
With Bit, you can create smart white papers by incorporating hundreds of file types and making it dynamic and interactive.
2. You can track your white papers!
Yes, you read that right. Once you have created an awesome-looking white paper, you can send it to your clients and prospects with a unique trackable link.
You can then gather real-time insights to understand how users interact with your content, how much time they spent on it, how often they have returned to it and how far through the Bit white paper they scrolled, along with other great engagement metrics.
Forget about doing that with your boring old PDFs!
3. Lead captures work like they are supposed to.
With Bit, you can attach a lead capture form to every white paper or any other workplace document you create.
This allows you to collect your audience information (name, company, job title, email, phone number, etc.) before they view your Bit white paper.
Since Bit white papers are only available through a weblink and live on the cloud, they can't be downloaded onto your PC like PDFs can be.
When one user tries to share the document with another user, they will have to fill out their information prior to viewing the white paper.
Read more: How To Write A Stellar Instruction Manual?
4. Create Awesome White Papers with Real-Time Collaboration:
White papers are long-form content that can take a long time to get to the point where they are ready to be distributed. Thus, it's advisable that you work with your peers to get the white paper published as quickly as you can.
Working in teams also allows you to brainstorm ideas together and get your content and design people together in a single workplace. Bit allows teams to collaborate together, give real-time feedback, suggest changes and get work done quicker.
5. Add an Extra Layer of Security with Password Protection
You can also password protect your Bit white paper before sharing it. This allows only people to access it to whom you've given the password. You can update your password anytime and even disable it after it's already been shared.
With all these great features at your disposal, who wouldn't want to create a modern-day, 2020 white paper?!
Our team at bit.ai has created a few awesome templates to make your research process more efficient. Make sure to check them out before you go, your team might need them!
🎥Watch this video to learn more👇
Over to you!
We now have taught you everything there is to know about creating a new-age white paper that is interactive, engaging, and a lead-generating machine.
With the information in this blog post and Bit's amazing ability to incorporate rich media into a white paper and track them you're going to be a rising star at your company for introducing your team to Bit.ai!
Publishing a ground-breaking, well-researched and informative white paper makes your company be perceived as an industry expert.
And honestly, who wouldn't want to do business with an industry expert?! Go to Bit.ai today, create a workspace, get your team together, and start working on your next big white paper today!
Further reads : 
[/vc_column_text]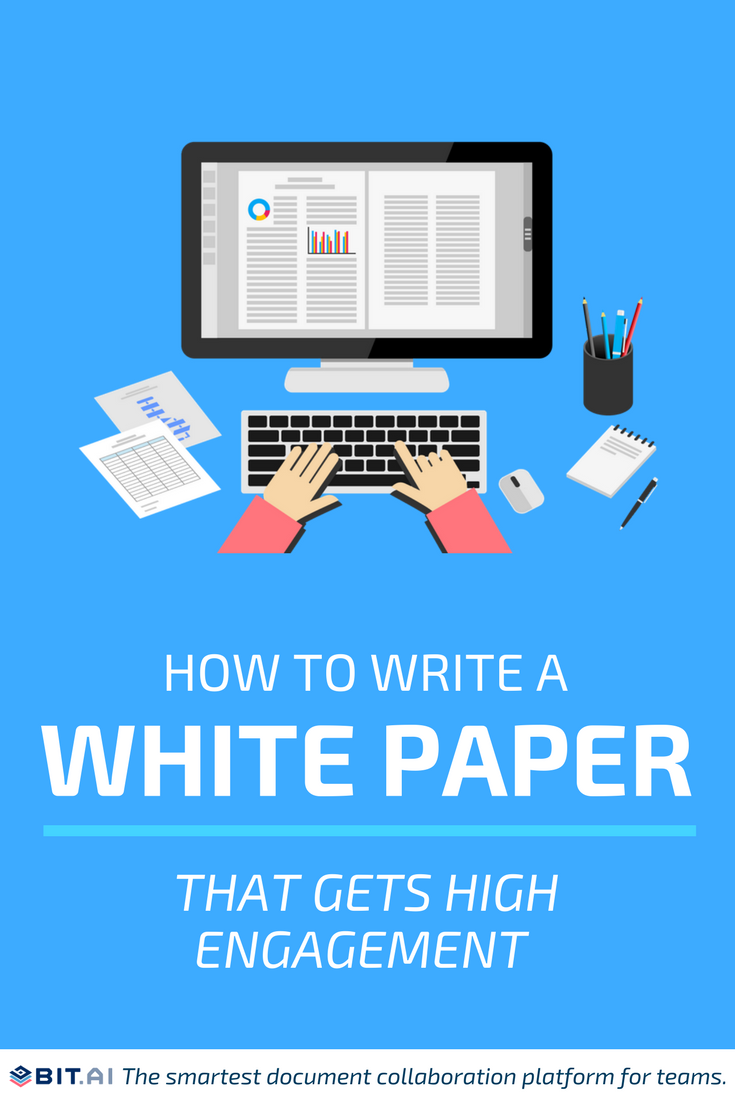 [/vc_column][/vc_row]
Related posts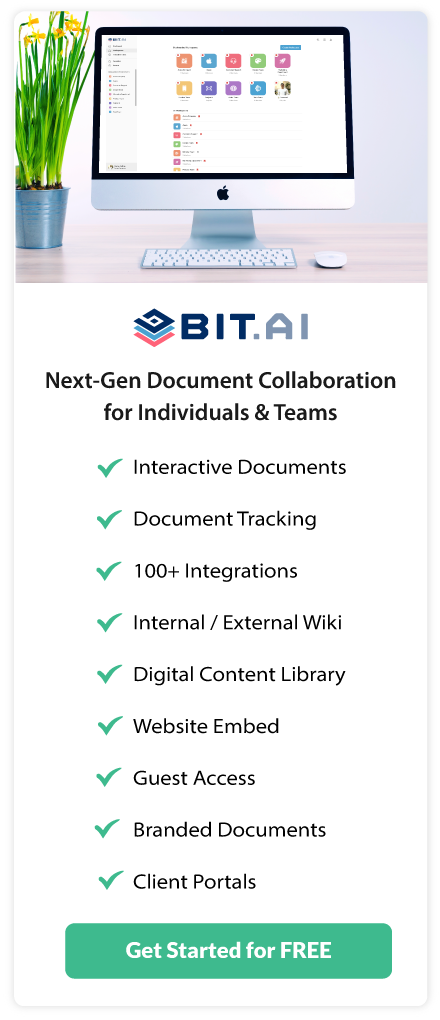 About Bit.ai
Bit.ai is the essential next-gen workplace and document collaboration platform. that helps teams share knowledge by connecting any type of digital content. With this intuitive, cloud-based solution, anyone can work visually and collaborate in real-time while creating internal notes, team projects, knowledge bases, client-facing content, and more.
The smartest online Google Docs and Word alternative, Bit.ai is used in over 100 countries by professionals everywhere, from IT teams creating internal documentation and knowledge bases, to sales and marketing teams sharing client materials and client portals.
👉👉Click Here to Check out Bit.ai.