Looking to improve collaboration and teamwork in your workplace? These online collaboration tools might help!
Technology has significantly shaped the way we communicate, collaborate, and quite frankly, work. From having virtual meetings through Skype to editing documents on the cloud, technology has helped us cross barriers we never thought were possible!
A big driver of these changing workflows and increased workplace productivity are online collaboration tools.
An online collaboration tool is a platform that can help team members view, edit, and work simultaneously on projects and tasks without sending email attachments to each other all day.
Sounds good? It is!
An Online collaboration tool makes it easy for companies to simultaneously manage projects and smoothen the flow of information throughout the organization. Say goodbye to shoulder tapping and clogged email and Slack threads!
The most common online collaboration tools these days are web-based, so that work never stops wherever your team is located around the world.
Why do you Need an Online Collaboration Tool?
One of the most common reasons for using online collaboration tools is to make sure that everyone in a company is on the same page and is able to meet deadlines without hiccups.
Online collaboration tools have significantly grown in popularity over the past few years as the culture of remote working becomes commonplace.
Around 3.3 million Americans say that they work from home thanks to the internet, it's possible for people to work on a single project together, no matter where they are in the world.
Nowadays, team members can be as close as the next apartment building or as far as the other side of the globe.
Distance is no longer a limiting factor when choosing team members to work on a project together. This allows managers to hire the best minds they possibly can to work on a particular project from around the world.
Cool, right?

Companies are quickly realizing the power of collaboration tools in the workplace as around 53% of large companies use some type of team chat and online collaboration tool to get work done.
If you don't want to be left behind in this race towards productivity and efficiency, we would suggest you find a collaboration tool quickly. Which one to choose?
Don't fret, we have got you covered. Below is a list of some of the best online collaboration tools out there that'll make your teams' productivity will skyrocket in no time!
List of Online Collaboration Tools You Must Try:
There are many online collaboration tools out there in the market today. Each collaboration tool offers some unique features that other tools don't provide.
You'll want to choose the best tools based on the needs of your organization and employees.
Here are the top online collaboration tools for businesses:

The first online collaboration tool on our list is Google Suites. Google offers a vast array of products, from document creation tools to team collaboration tools which make communicating with team members very easy.
Apart from providing a simple yet powerful experience to the users, Google products are well integrated among themselves. The products are also integrated with Google cloud storage.
A combination of all these features is what makes Google one of the most widely used online collaboration platforms on the market.
Other Google tools, such as Hangout and Keep also help users to collaborate more efficiently.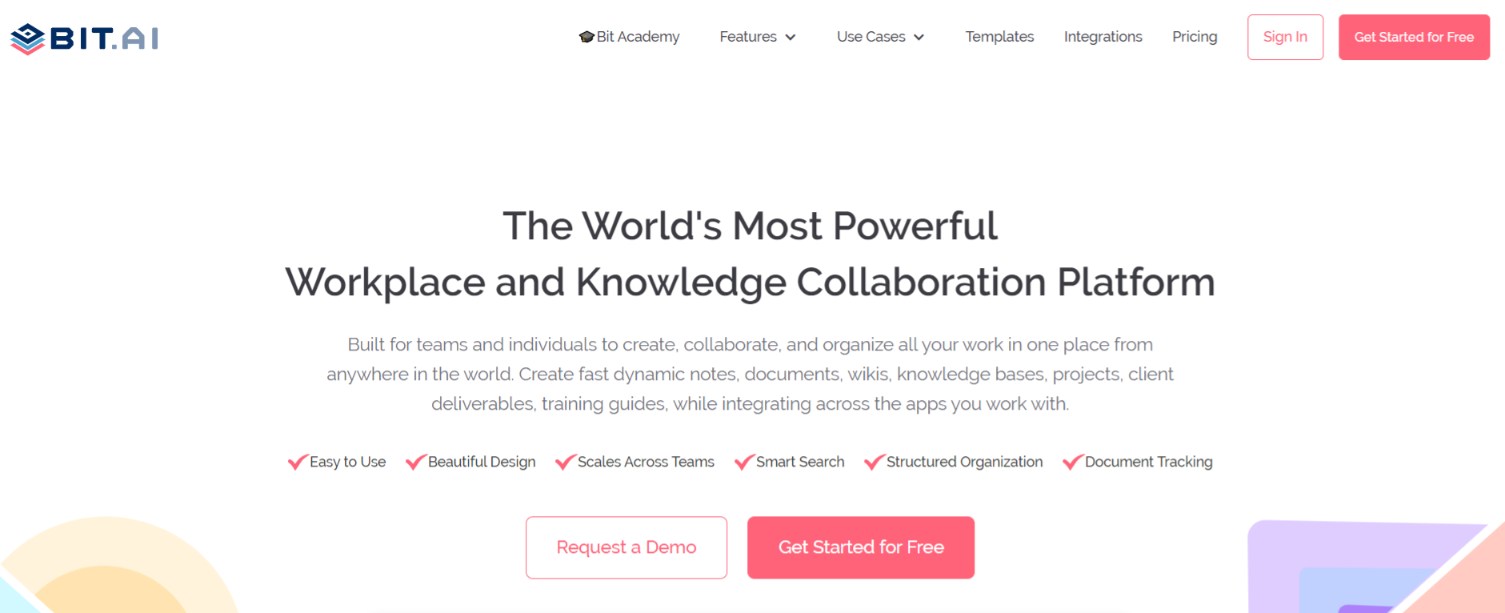 One of the most powerful and feature-rich tools on this list is Bit. A new-age cloud-based collaboration tool that helps teams create, manage, and track documents.
Bit allows teams to create workplace documents like- project proposals, sales decks, training documents, how-to guides, company policies, process documentation, media kits, fact sheets, competitive research, case studies, e-books, etc. and provides a safe and robust place to store these documents.
If you want to send these documents to external partners, clients, customers, or prospects, you can even track them to get intelligent engagement insights.
Apart from documents, Bit also provides amazing content management capabilities.
Bit has a content library that automatically saves the images, files, and digital content you add to your documents (or workspaces) so that you can access and reuse them easily. Imagine, all of your work data and files in one place for easy access and storage!
Bit's real-time collaboration feature makes it easy for your team to get under one virtual roof, give their feedback and suggestions, add comments, and discuss work together like a cohesive group.
Read More: How Bit.ai Can Improve Your Team Collaboration?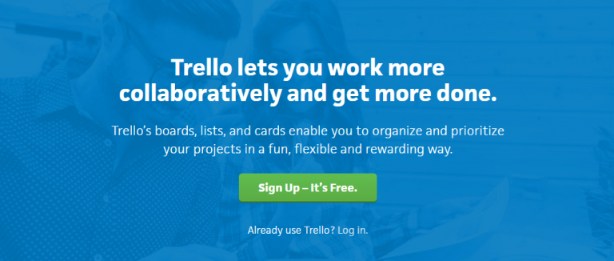 Trello is one of the best online team collaboration tools present. This reflects the fact that many top companies use this platform to manage their employees and projects.
Trello is a web-based platform, which means that info cannot be taken offline, but it does have an app to make your work mobile. Trello showcases tasks within boards in a kanban style.
Users can move the tasks around depending on whether it needs to be done, it's in progress or has been completed.
This allows users to check which tasks are done and which ones are currently being worked on. You add as many people as you want to the board and provide a chat box to message other members.
Related: Top Trello Alternatives Teams Can Use For Project Management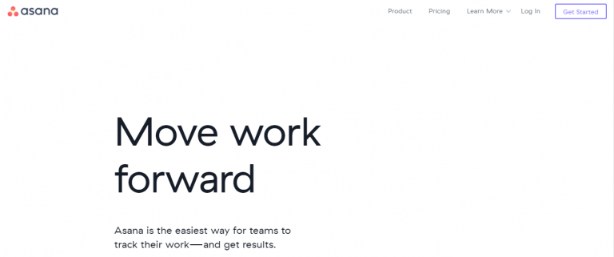 Asana is another online task management platform available for users that is similar to Trello in quite a few ways.
It offers a board that displays all the tasks that are currently assigned and when each assignment is due. The board is common to all the members so that everyone can see the status of other tasks.
One noteworthy feature of Asana is the implementation of the Timeline feature.
This feature allows members to create a virtual timeline from start to end for a project and include all the tasks related to completing it in a timeline form.
This makes sure that all aspects of a project are being worked on and that none of the task details are missed.
Read more: 11 Asana Alternatives & Competitors You Must Know About!

Quip is a collaboration tool, that combines documents and team chat in a single place.
It allows a team to create materials that are "live" meaning that all the team members can view and edit the text simultaneously.
Everyone can chip in new ideas and contribute to the project at hand. With a real-time built-in chat for every new document, decisions regarding the changes in the document are always available to everyone.
Quip's primary aim is to decrease the dependence of a team on emails, which are inefficient when digging through old conversations.
Quip also offers live apps such as poll and countdown timers for a document, which can significantly increase the team's productivity.

Mural is another excellent online collaboration tool that checks all the ticks a collaboration platform should have and then some.
Apart from all the necessary functions such as tracking tasks and members, Mural also has some unique features.
Mural allows users to add sticky notes and one can even draw freely on them. Mural supports images and videos from many different sources.
The canvas of the Mural platform allows members to analyze and prioritize tasks at hand.
Read more: 50 Best Team Building Activities For Collaboration

Slack is one of the most widely used online collaboration tools in the world.
In Slack, channels are provided to the user, and these channels can be divided by teams, projects, or anything else relevant to the organization. These channels can also be directly shared with clients and vendors.
This allows everyone related to a particular project to provide real-time analysis and feedback.
The ability to make a voice or video call directly through the platform is another huge advantage.
Another significant feature of Slack is that it has the largest app directory among its competitors. This makes integrating with other services very convenient.

NowBridge is one of the more unique online collaboration platforms available today.
Instead of providing team members with a standard board, NowBridge tries to create the illusion of being in a room with other team members.
NowBridge exchanges still images of members who are remotely working on the same project. This allows members to check who is available in real-time.
The platform is entirely mutual; therefore a member can only be seen by members he/she can see. This makes all the members working remotely feel like they are part of a team.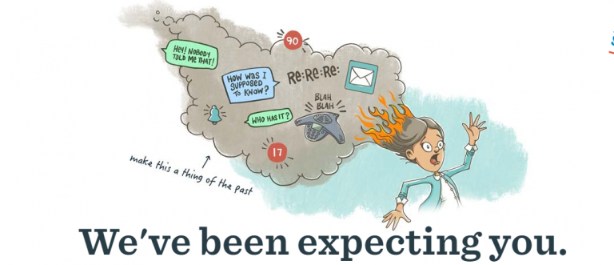 Basecamp provides users with a simple to-do list for all the tasks related to a project.
Users can also add relevant information to the list such as who the work is assigned to, along with the due dates. The functionality of making comments directly on the to-do list is also present.
Apart from that, the message board is there to keep the entire conversation regarding a particular topic in a single place.
The built-in calendar allows keeping track of all the upcoming due dates. One of the unique features of Basecamp is check-in questions.
It enables team leaders to avoid lengthy meetings and ask questions directly to a team or individual members.
Read more: 11 Basecamp Alternatives to Check Out!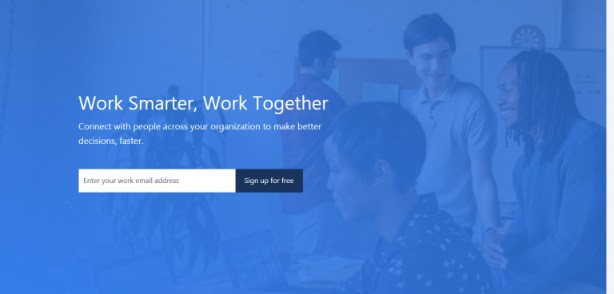 Another major player that provides a great team collaboration platform is Microsoft. MS Docs and Excel are still the most widely used document creation tools.
Microsoft provides an online version of Docs and Excel, along with a powerful online collaboration tool called Yammer.
Yammer is an enterprise social network that allows anyone in the organization to collaborate and work together with ease.
Apart from basic collaboration and communication features to keep every one of the same age, Yammer allows users to create and join groups relevant to their work and interest.
People can send files, documents, and spreadsheets, ask questions, plan meetings, and get work done swiftly with Yammer.

Zoho Projects is a cloud-based team collaboration application that provides project management tools to organizations.
Zoho Project includes a set of project templates and intranet capabilities. Using it, team managers can set up centralized sheets for current projects, and a project wiki for storage of project info, ideas, reference materials, and other specifications.
Additional data or information relevant to the project may also be stored on the wiki.
Chat capability allows team members to communicate easily regarding project details and information.
Zoho Projects incorporates style features similar to social media for data sharing in a centralized position. A feed can be used to post comments, discussions, and can provide an overview of all projects associated with the workflow of the project.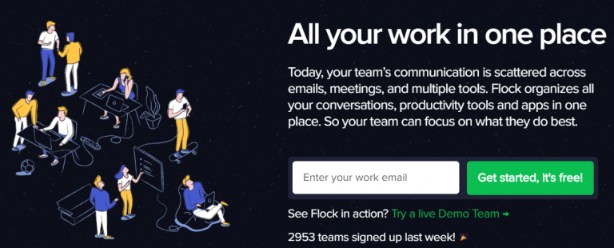 Flock is another platform explicitly designed to manage the work of the team members. It's a direct competitor to Slack and Trello.
Flock's primary aim is to reduce the reliance of organizations on email which is very efficient and hinders the pace of the workflow.
Flock provides team collaboration functions such as chat with another member or a group and video calling directly through the application.
Flock's advanced searching abilities can help members to look for anything very quickly.
WorkZone is another cloud-based online collaboration tool that is useful for mid-sized and bigger businesses. Workzone's ease of use is its most significant feature.
The project dashboard is a collection of tasks, separated by project, which includes information about who's responsible for the job, the timeline for completion, project status, and any notes that might be relevant to that task.
Users can see at a glance where all active projects are, what needs to happen next, and what might be delaying the project.
Clicking any to-do list from the dashboard allows users to see what's due, when it's due, and anything that's overdue.
Overdue tasks are marked so users can't miss them. WorkZone features a task dependency linking system that allows project managers to create cascading tasks. The completion date of another triggers the start date of one task.
Read more: 31 Uplifting Collaboration Quotes to Ignite Successful Teamwork

Wrike is a project collaboration tool that gives teams an overview of project status and team productivity.
Users also can create Gantt charts, edit tasks, and work with their teammates. Wrike lets teams break down substantial work into smaller pieces so that each task can be completed on time.
Wrike has pre-designed templates that can eliminate the time spent on designing models from scratch.
Time tracking for each member and the entire project can help make accurate decisions regarding future planning and budget management.
Write also allows teams to share real-time interactive reports and schedule notifications for report updates.

Taiga is a team collaboration platform specially designed for software developers. The application focuses on features that a developer would need.
These are quite distinct from the requirements of a project manager.
Taiga lets users track components called stories and backlogs. The idea is that a backlog is a final product.
So project managers can set up a backlog, and the team members work on it in sections, called stories. As the backlog is depleted, the team gets closer to the finished product.
The project manager can determine how the backlog is managed. Stories can be assigned to individuals or groups of team members.
The final due date can also be assigned to make sure a project doesn't end up delayed.
It's also possible to have stories that aren't attached to a specific person or team or that do not have a particular due date. Project managers can change all of that information at any time.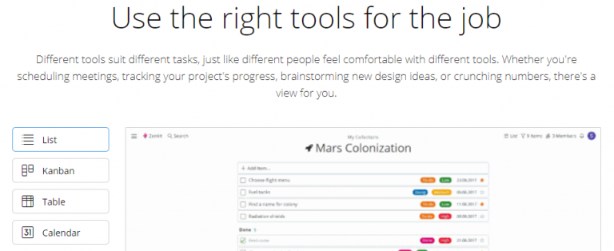 Zenkit is one of the most feature-packed collaboration tools in the market. It also focuses on scalability, so that the platform can be adjusted to the size of the organization.
Zenkit has its own text editor and spreadsheets tools.
Useful features include a calendar, checklists, marking action actions as favorites, activity tracking, team information, and the ability to add mentions.
Above all the regular features, it has other uniques features such as the ability to work offline and global searches for the entire archive for any data.
Another useful feature is the capability to customize the notification so that they do not cause any distractions.

Proofhub is another online collaboration tool that is packed with features. It tries to minimize the need for multiple tools to run an organization. It works as a focal place to manage and run projects.
This tool also helps teams with different tasks to keep things on track, share ideas, and collaborate with teams and clients. Files and documents are maintained to keep the entire information organized.
Group chat features are available to ask questions, get answers, continue crucial conversations seamlessly, analyze files and documents instantly, and track time spent on the projects.
Proofhub also helps with charts to design the project plans that'll assure the timely conclusion of the projects.
It also supports the project manager to keep a bird's eye view on project progress and generate roles in determining access levels for the teams and clients.
It helps create project reports for insights on how projects are progressing, and how groups and individuals are performing.

Walkabout is one of the unique online collaboration platforms available today in the market.
It uses 3D rendering to create a virtual office for people working remotely so that they feel like they are in the same office.
This office comes with fun features such as a lunchroom and breaks a room.
Access to documents and tools are provided, and neat features like shutting the door for privacy are also present.
Formal meeting rooms are also there. Individual and groups chat, and video calling features are also built-in.

The workplace is an online collaboration platform developed by Facebook.
The workplace is essentially Facebook for businesses where employees of a company can interact and collaborate.
Workplace's interface feels like Facebook and that's helped the Workplace to gain new users quickly. Users have the same ability to like, comment, react, real-time chat, and share information with others.
The workplace has several next-gen technologies like a live video for interacting with team members and the auto-translate feature to help employees connect and share information.
This platform also uses learning algorithms that allow the platform to become better the more it's used.

Airtable is another unique online collaboration tool available for users to consider.
This tool is like an Excel spreadsheet but with database superpowers! You can add all types of content, images, weblinks, fields, and information into each of your cells.
This highly visual aspect allows users to understand various types of content beyond text and numbers.
Airtable's relational database is collaborative across your entire team.
Conclusion
Approximately half of the employees believe that their organization is not collaborative enough. On top of that, around 86% of employees think that workplace failures are due to a lack of collaboration efforts.
It's clear that employees want more collaboration in the workplace and to get work done as a team quickly.
An online collaboration tool can help employees get work done together quickly and easily.
The trick is to pick the right tool that matches your workflow and that will fit into your company culture. We're sure you'll be able to find that tool in this awesome list!
Are there any collaboration tools we missed? Which tool do you use to make collaborations easier? Do share with us in the comment section below:
Further Reads:
Benefits of Collaboration For Teams and Businesses
Student Collaboration: What, Why, and Tools!
Importance Of Teamwork And Collaboration In the Digital Workplace
Team Collaboration: Why You Need To Invest In It?
Top 12 Content Collaboration Platforms In 2022
21 Collaboration Statistics that Show the Power of Teamwork
Workplace Collaboration For Better Productivity
Top Real-Time Document Collaboration Tools for Team Productivity
Why Workplace Collaboration is More Important Than Ever?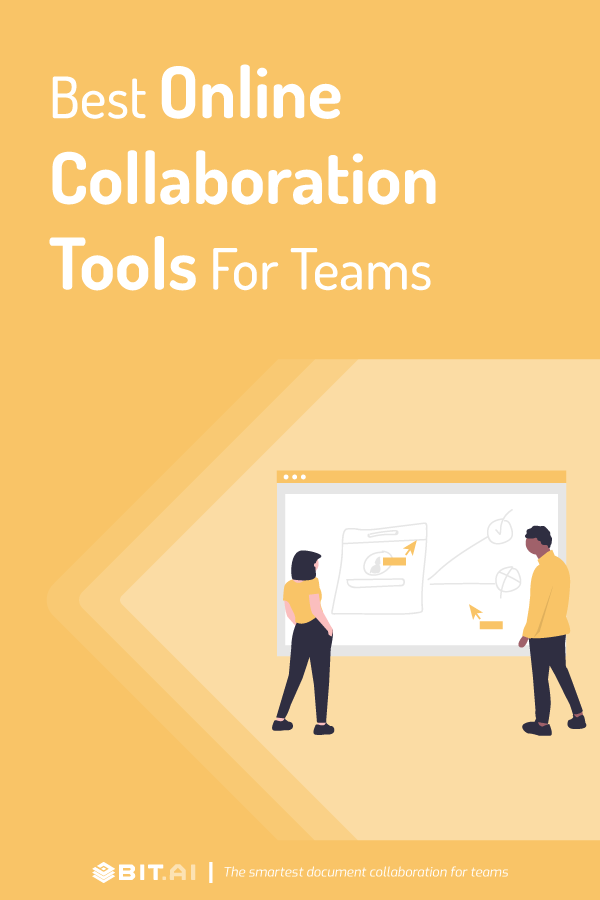 Related posts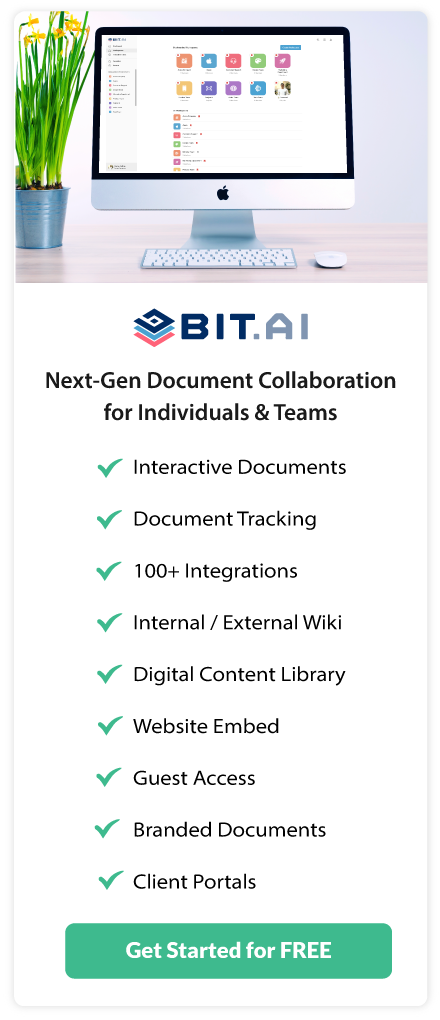 About Bit.ai
Bit.ai is the essential next-gen workplace and document collaboration platform. that helps teams share knowledge by connecting any type of digital content. With this intuitive, cloud-based solution, anyone can work visually and collaborate in real-time while creating internal notes, team projects, knowledge bases, client-facing content, and more.
The smartest online Google Docs and Word alternative, Bit.ai is used in over 100 countries by professionals everywhere, from IT teams creating internal documentation and knowledge bases, to sales and marketing teams sharing client materials and client portals.
👉👉Click Here to Check out Bit.ai.